The best grocery store wines to buy this weekend if you're a budget booze queen
May 25th is National Wine Day, but let's be real—you don't need an excuse to guzzle vino like a Real Housewife enjoying a "light lunch." Whether you're celebrating the holiest sipping holiday or not, I've put together a list of the best grocery store wines from leading retailers in the U.S. so you know just which bottle to grab on your next shopping trip. Think of me as your Fairy Winemother!
Before we start poppin' corks, though, a few disclaimers. First, I use the word "best" with a caveat: wine preferences are subjective. If you go to a wine tasting and the sommelier tells you the red in your glass has "mosswood minerality with smoked vanilla undertones," your subconscious is going to start telling your brain that that's what you smell (or your brain will just turn off because who even knows what that means). Personally, I've always been a firm believer in "pair the wine with the person," so if you hate big, bold reds, then don't listen to me if I suggest a Napa cab. Use this list as a guide to navigating the wine section of your grocery store rather than as a bible. Second, alcohol laws vary per state. I'm from Pennsylvania, which was founded by Quakers, so you can only buy beer in a special beer store and wine and spirits in another exclusive wine and spirits store. (Now can you see why I moved to California, where I can get a handle of Casamigos with my Slurpee at 7-Eleven?) Just remember that your options will vary according to region and state laws, so these grocery store wines might not all be available where you live.
I thought it would be easiest to recommend the best red, white and, as a wildcard, a rosé or sparkling wine from each retailer—Target, Whole Foods, Trader Joe's, and Walmart—and I factored in the store's demographic when making my selections. Is this a bargain retailer? Does it pride itself on offering fair trade and organic items, giving consumers complete transparency? Based on that information, I considered this grouping of all 12 wines as a whole, making sure to cover a wide variety so a broad palate could be accommodated.
Okay, enough about the specifics—let's get to the fermented grape goodness!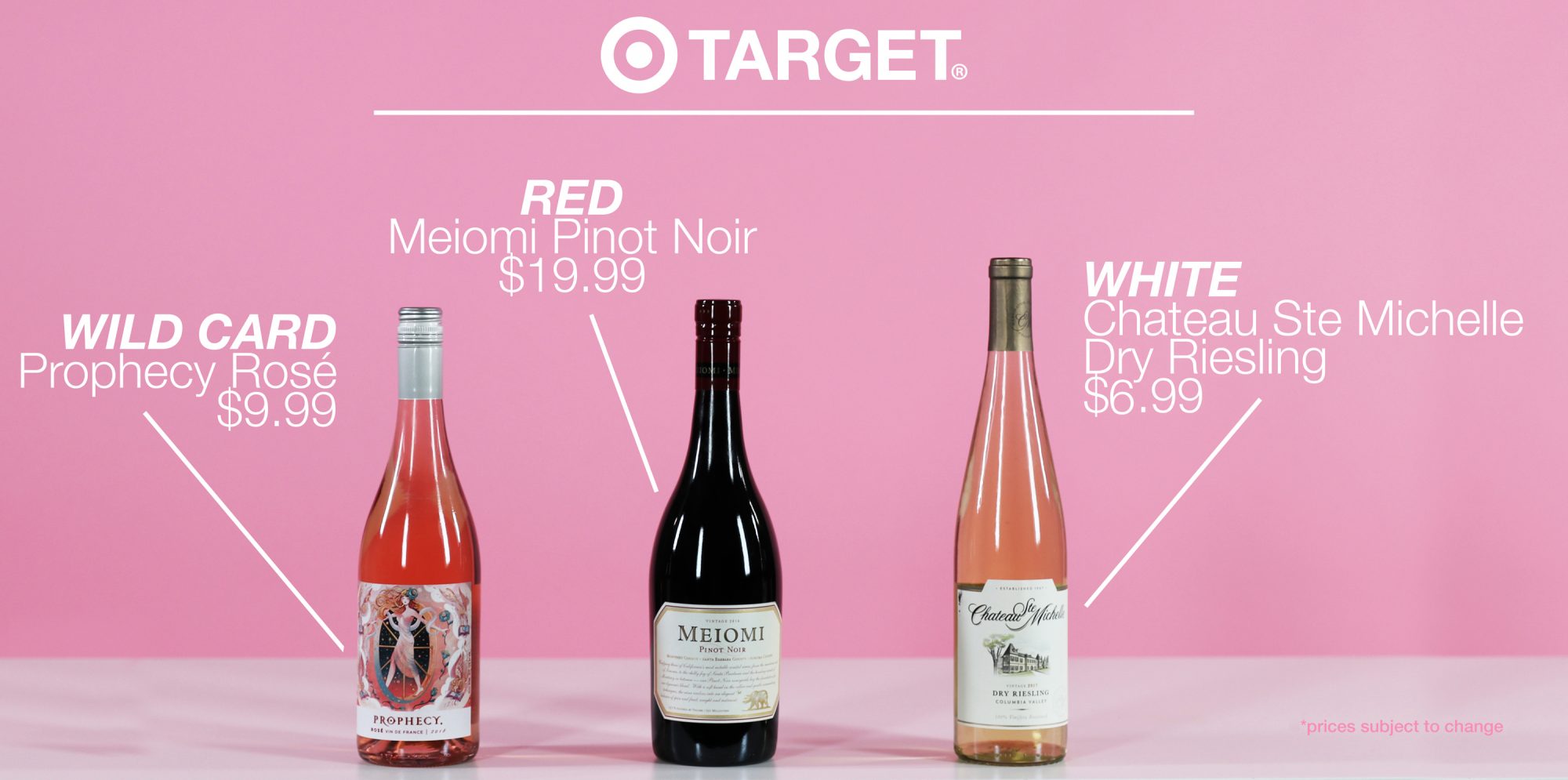 First up on the list is Target. From the Dollar Spot to a Starbucks in every store, Targét, as some say, has just about everything, and lucky for us, wine is part of that mix. I was impressed from the start when I noticed the store broke down its wines by varietal. Target didn't just print "white" and "red" signs and call it a day—the wine selection was broken up into merlot, cab sav, zinfandel, pinot noir, etc. Same for the whites and rosés.
Now, even though Target feels trendy and chic, at its core its purpose is value. Maybe not extreme bargain, lowest-prices-in-town value, but it's appealing to families and people with diverse incomes, so the wine selection reflects that. I was pleased to learn that it even has a $5/bottle value wine (California Roots) available exclusively at Target, which means there's a tad more thought put into this wine program than at most massive chains. However, since we want the best grocery store wines, I had to assess the entire inventory.
For the best bottle of red at Target, I'm going to recommend Meiomi pinot noir. It's an amazing blend of grapes from Monterey County, Santa Barbara, and Sonoma, California, and its name literally means "coast" in the language of the California Wappo tribe. Fitting, since all three of those regions hug the coast of California. At $19.99 a bottle, you're getting a reliable red that still has some jammy flavor and spice-filled aromas, but also runs light and fleeting on the tongue so as not to overpower any snacks you may be pairing it with.
For the best bottle of white at Target, I went with Chateau Ste. Michelle dry riesling. This is a Washington state take on the German varietal. Now, there are a ton of different riesling varietals out there, but what you find most commonly tend to be extremely sweet. The fact that Target carries this lesser-found white is so refreshing (literally). At $6.99 a bottle, you're getting a versatile food wine that can accompany any meal, as well as a perfect glass to day drink in rays of sunlight.
For the wildcard varietal, I assessed both sparkling wines and rosés. Since Target has a bit more variety than I was expecting, I decided to go with a rosé. I was delighted to find Prophecy rosé among the options. This perfectly pink wine is from the south of France, and is delicate and light, with fruity notes. (I mostly get melon and citrus oil.) Also, we don't judge a book by its cover, but, like, we do, and wine labels often fall victim to the same penalties. I love that this label features a beautiful illustration of the Goddess of Fortune, which, according to the company's website, represents "the delicate strawberry and raspberry notes in our rosé." At the end of the day, it's a perfect weekend day-drinking wine priced at $9.99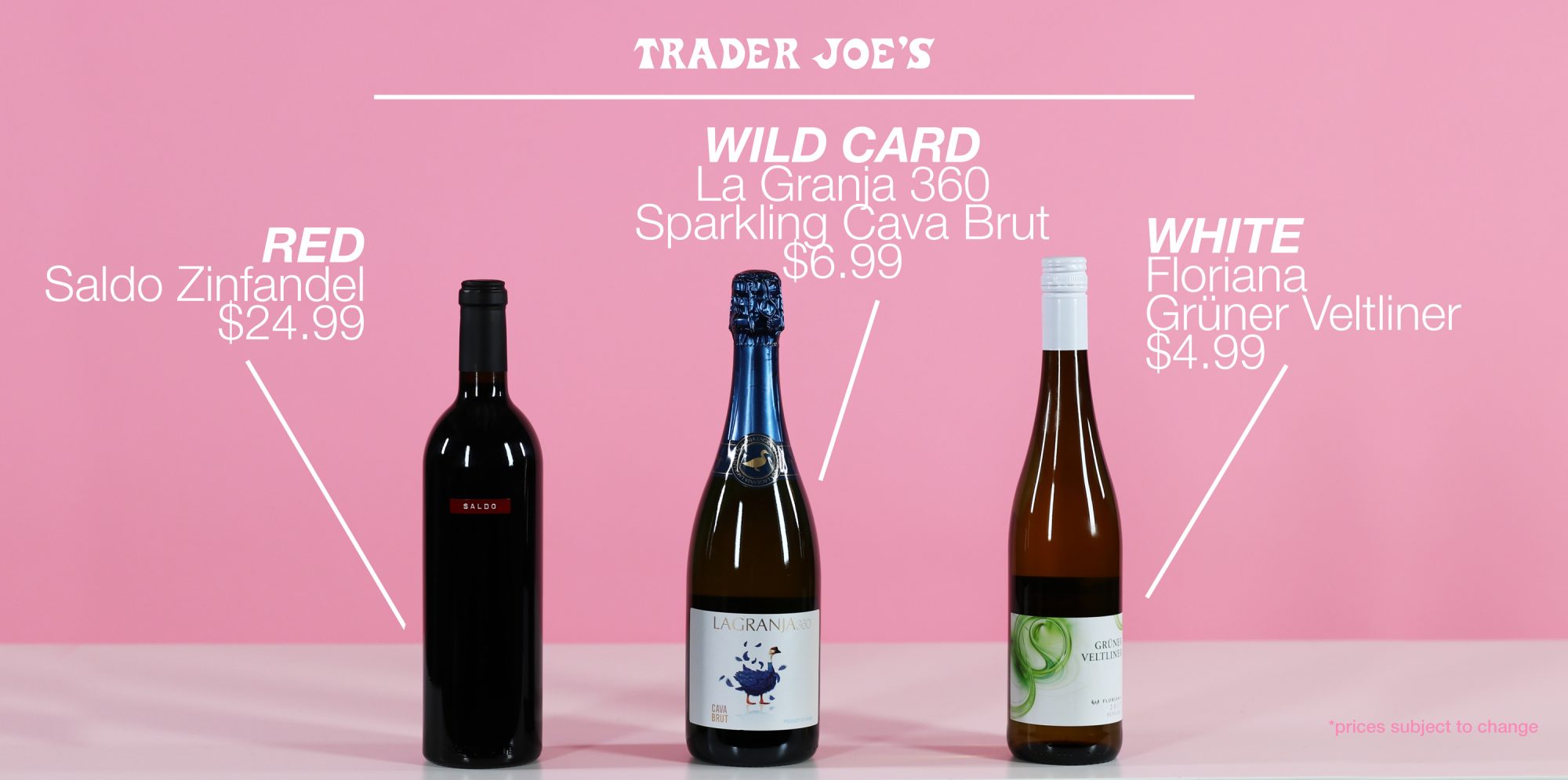 The next stop on my grocery store wine road trip was Trader Joe's. This California-founded chain prides itself on exclusive items that cater to a wide variety of diets, with a focus on specific trends and dietary restrictions. I remember applying for jobs in college, and when I went to the TJ's website, there was a specific section to apply for a job if you were knowledgeable about wine. I didn't know a white from a red at that point in my youth, but this should show that Trader Joe's goes out of its way to make sure its employees can speak to customers looking for a sophisticated bottle of wine without breaking the bank.
The first thing I noticed was that Trader Joe's does an even better job of organizing its wines than Target. It doesn't just shelve by varietal, it separates by region, both domestic and international. It also stocks a bunch of wines exclusively, including its famous "two-buck-chuck" (which I think is now up to $3 a bottle, but whatever). Another side note about Trader Joe's wine: I love that the store offers CliffsNotes tasting tips on the price tags so you can cut to the chase and know exactly what you're purchasing.
For the best red wine at Trader Joe's, I recommend the Saldo zinfandel. According to the company's website, Saldo means "when you're from here and there" in Latin, which makes sense considering this deep red is kinda all over the place in the best way. It's a California zin out of Oakville, so we know we're in for deep flavors like oak with both black licorice and cherry. Although it's bold aromatically, it has an unexpectedly elegant finish. Plus, at $24.99 a bottle, you won't be disappointed.
For the best white wine at Trader Joe's, I recommend the Floriana grüner veltliner. This bottle is from Hungary, but this white grape variety is also found in Austria, Slovakia, and the Czech Republic. It's a beautiful, dry, light wine that you can pair with chicken or seafood, but really any snacks. The best part about it is the retail price of only $4.99 a bottle. If you're popping this one open at your next brunch, I recommend serving it super chilled and cold for optimum enjoyment.
For the wildcard wine, I recommend La Granja 360 sparkling cava brut. I've been a fan of this Spanish vineyard for years, and have only found it at TJ's. This champagne alternative retails for $6.99 a bottle, is effervescent as any, crisp with a nice green apple bite, and perfect for sharp cheeses or even a splash of fresh-squeezed OJ to make all your mimosa fantasies come true. The company even has an augmented reality phone app to bring the beautiful creature on the label to life, but, in my opinion, if you have enough glasses of this bubbly baby, you won't need the App Store to make the image come alive.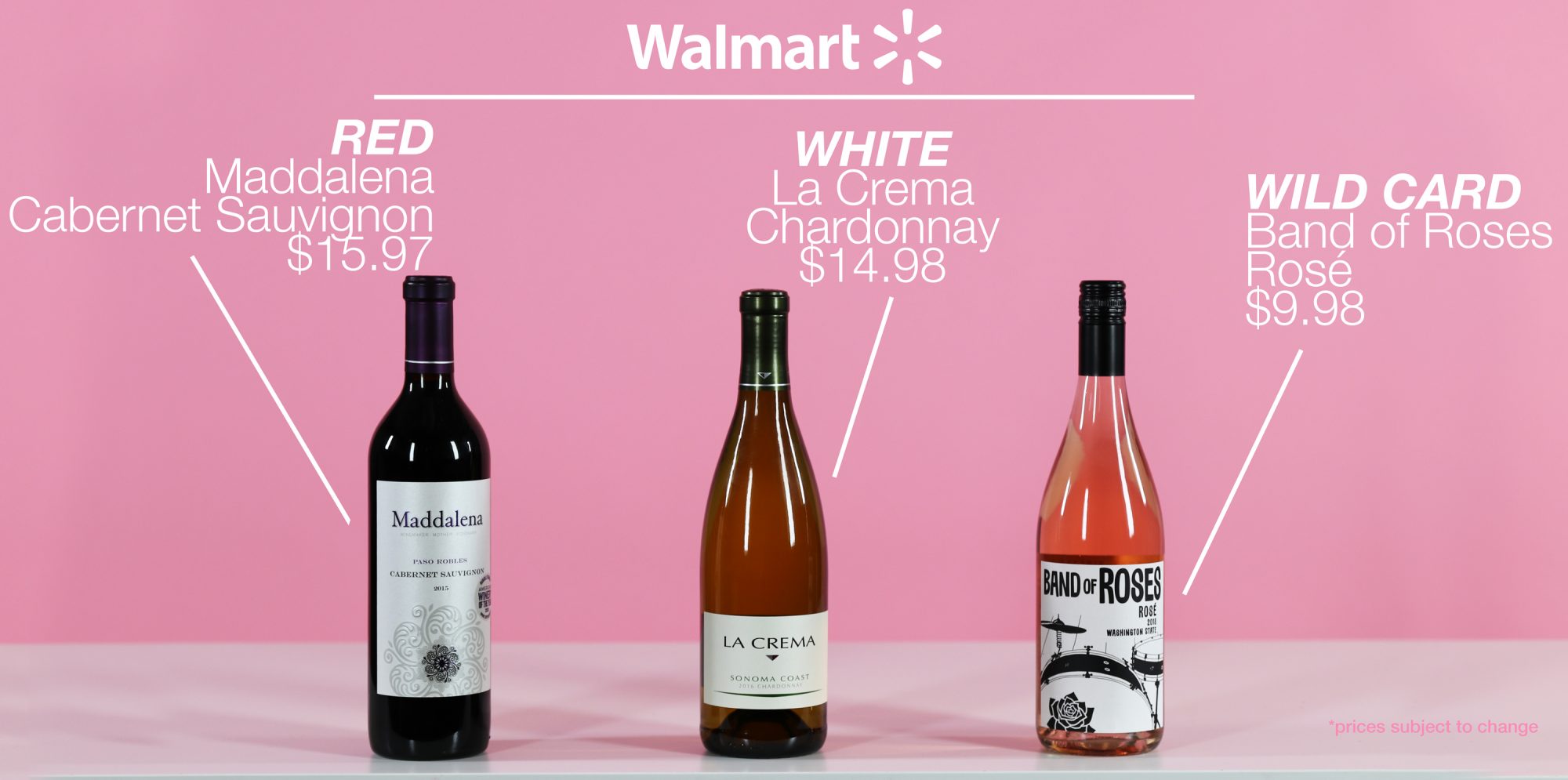 The next grocery store on my list was Walmart, and the main name of Walmart's game is low, low prices. It's a bargain retailer that is going to save you the most cash, and it's not afraid to let everyone know. The challenge presenting itself here is that Walmart doesn't carry many bottles above or near the $20 price point. Not that you need to drop dollars to get a quality bottle (see TJ's above), but Walmart is really showcasing wines where the motto is "more for less," such as boxed wines, jugs of wine, and that infamous kangaroo Australian stuff that's just $9.99 a magnum. The other thing I noticed was that Walmart only separated its wines by red and white—that's it. The rosés and champagnes were just sort of shoved into the white section as if no one would notice.
Considering these circumstances, the best red wine I would recommend at Walmart is Maddalena cabernet sauvignon. This is a big, bold red from a female-founded winery in Paso Robles, California, which means you're going to get an intense soil minerality from the steep hillsides and, as the bottle describes, a "plush mouthfeel." This ran toward the higher end of Walmart's price range at $15.97 a bottle, but it's delivering on everything you want in a cabernet sauvignon without being from Napa.
For the best white wine at Walmart, I would recommend La Crema chardonnay. When you go for chardonnays, you're typically looking for buttery and oaky. This winery uses a mix of American and French oak to age its chard, which gives it a warm, spiced undertone I found surprisingly nice. You still get some stone fruit, honeydew, and lemon, and at $14.98 you can't go wrong with this solid Sonoma Coast chardonnay.
For the Walmart wildcard, I went with Band of Roses rosé. To maintain full transparency here, I wasn't impressed with the rosé or sparkling options at Walmart. I was appalled to see a lot of cheap, sugar-laced sparklings and pink moscatos deceptively lurking among the limited rosés. Band of Roses, though, is a decent rosé that delivers on the traditional qualities you want from a rosé. Out of Washington state, this vibrant and floral rosey sip splashes perfectly with a chill playlist and any garden party. It's floral with some peachy scents and not too sweet, and at $9.98, you can't go wrong.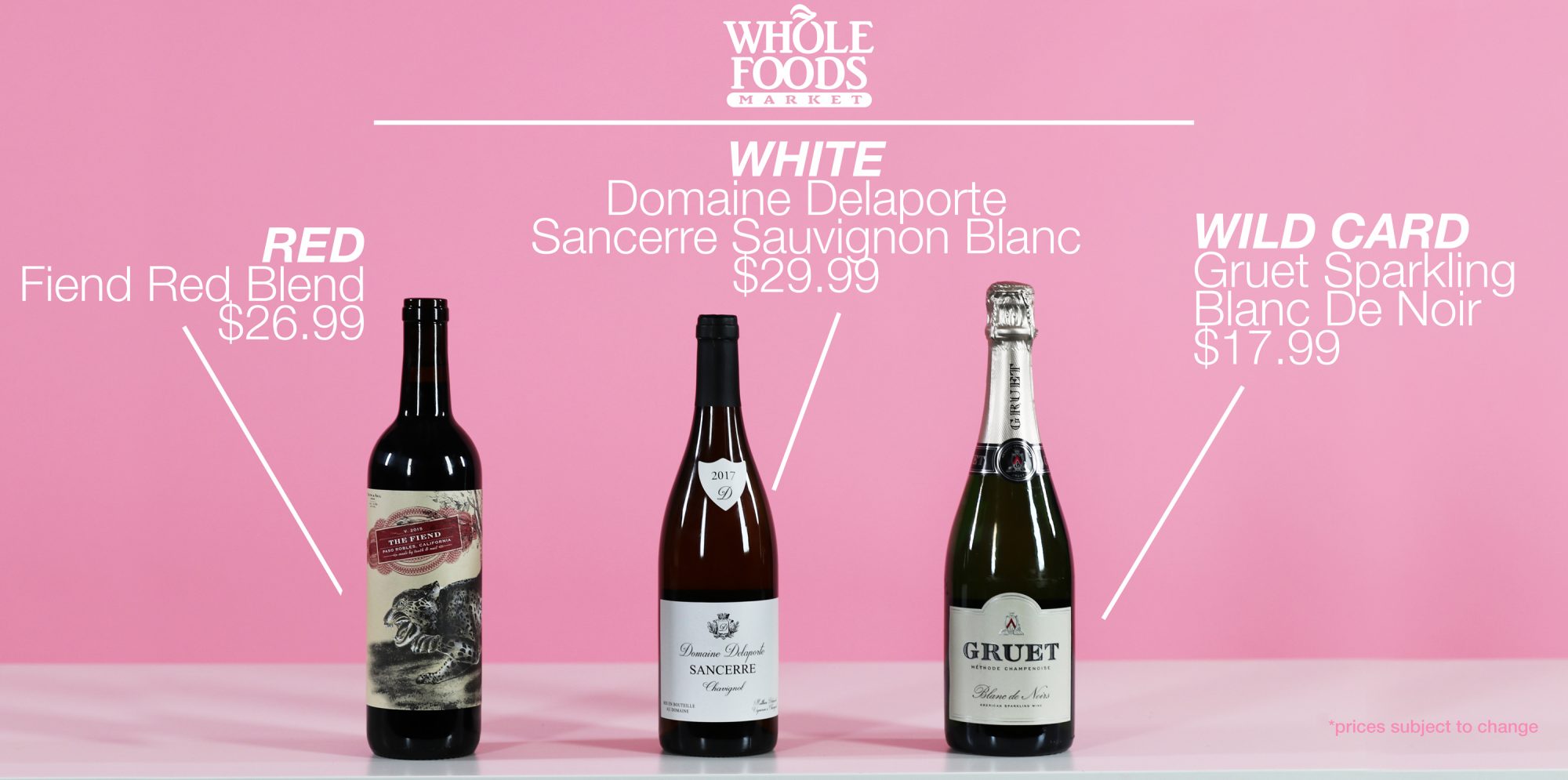 Lastly we have Whole Foods, the statement shopping store of America. Whole Foods shoppers want you to KNOW they shop at WF. Known for carrying mostly organic foods and alternative items not commonly found in other grocery stores, Whole Foods is less concerned about your price point and more concerned with delivering quality products, even if that means you pay a little extra. The wine section at Whole Foods is no exception. With bottles raging into the hundreds, you're likely to find whatever your wine-loving heart desires in the hallowed farm-to-table aisles. It's also not surprising that Whole Foods featured some great local bottles, which captured my attention. Additionally, much like Trader Joe's, Whole Foods prides itself on staffing extremely wine-knowledgeable employees to assist with any vino-related questions you may have.
There were so many options for reds, and I truly appreciated how the store broke it down not only by varietal, but even international and domestic. WF also boasted the most robust domestic collection I'd seen in all my trips. It was honestly overwhelming in the best way. After a generous assessment, I chose Tooth & Nail vineyard's Fiend California red blend as my best red wine pick. This Paso Robles blend is a mix of cab sav, petite sirah, and merlot. It's described as both rugged and earnest (I have to agree), and it's surprisingly complex but not nasty or too unstructured on the finish. If you're a fan of a jammy, black-fruit (think blackberry, cherry, black currant, etc.) wine, this one is delightful. I figure when you can pretty much get any wine imaginable, an unexpected flavor profile at a semi-decent price point ($26.99) is a surefire win.
The best white wine at Whole Foods is Domaine Delaporte's 2017 Sancerre. It's 100% sauvignon blanc and beautifully balanced. It has a green vibe, bright, fresh, and fully reflective of the high-quality grapes from Sancerre, France. Like with the reds, there were a ton of options, but finding such a supreme standard of grape running at $29.99 a bottle feels almost like a steal.
For the final wildcard, I figured I'd even out the roundup with a sparkling. You can get as crazy as you want to here (I messaged my boss to ask if I could get away with expensing a bottle of Cristal, but couldn't get the sign-off on $249.99), but I needed to stay true to the task of "grocery store wine," which meant staying somewhat approachable. I think the most realistic "best" bubbs you can get at Whole Foods is Gruet's Blanc De Noir. Guet is actually a vineyard based out of New Mexico, of all places, but it was founded by a Frenchman who studied the traditional method of production in Champagne, France, and then brought his knowledge stateside in the 1980s. The vineyard was able to find the specific climate and soil conditions needed just south of Albuquerque. A bottle will run you $17.99, and a sparkling glass is full-bodied and has hints of vanilla, raspberry, baked pear, and a crisp minerality.
So there you have it. Now you know the best grocery store wines to buy on your next shopping trip—just in time to celebrate National Wine Day. But that's not all. You didn't think I was going to throw you out there without some additional tips, did you? Listen, you can drink your wine out of a solo cup if you really want to (I won't judge), but did you know there's a specific glass designed for each variety of wine? As I said above, we could get ultra specific, but I'll give you a crash course on wine glasses instead.
Typically, your reds are big and bold, so you have a larger glass with a wider mouth to allow you to fully enjoy all the aromas going on, while also allowing the wine to breathe. Your white wine glasses have a smaller mouth because you're not usually pressed to let whites breathe, and your sparkling wines get served in a tall flute. The reason for this is that you want to keep those bubbles floating as long as you can, and the less surface area you have in your glass, the longer that effervescence will be fizzling.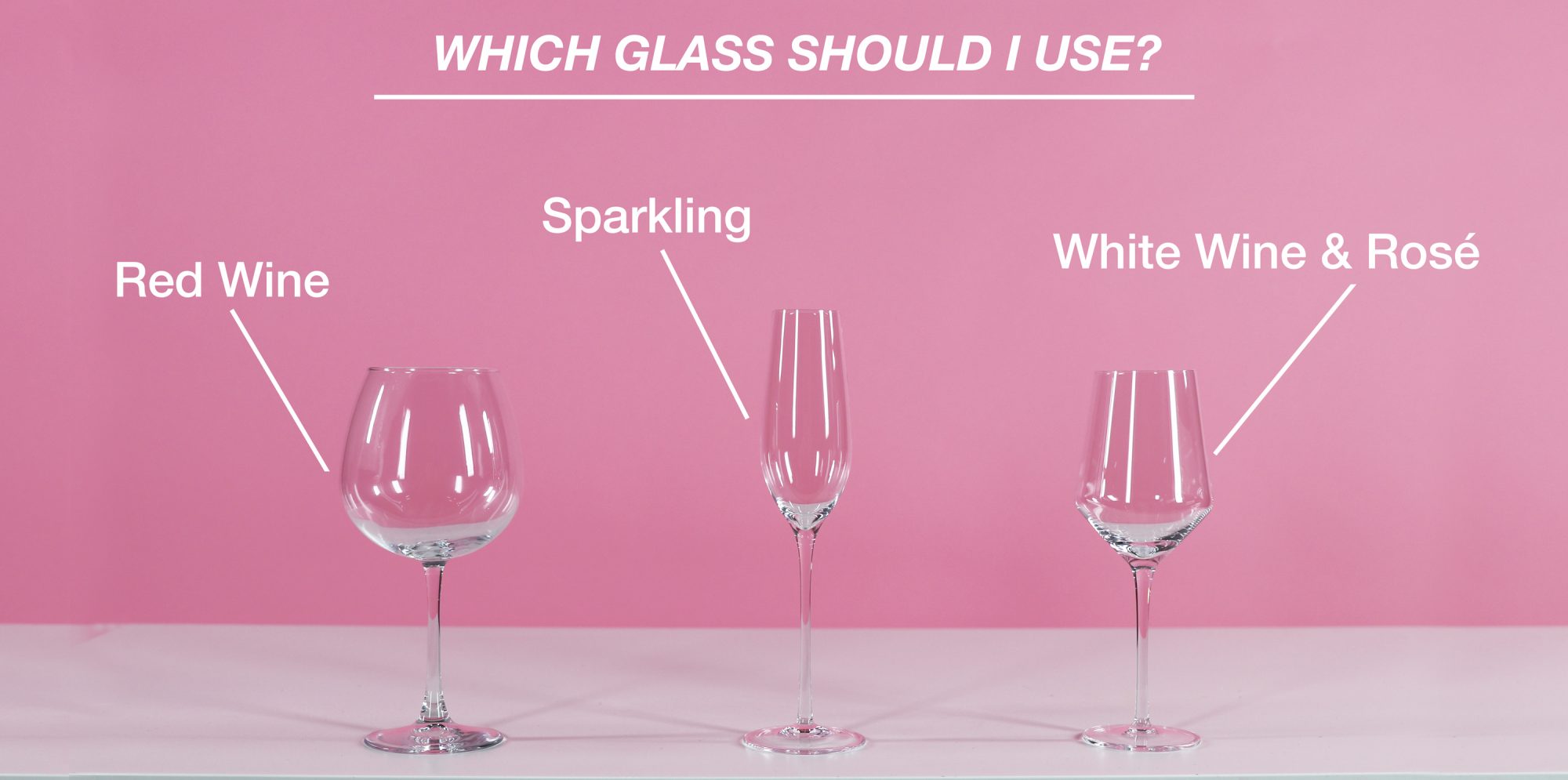 Now go forth and let the wine river flow, preferably into your mouth and not your clothing, but again, they make Wine Away for a reason, right? Cheers to you, and always remember to enjoy wine responsibly.
Dan Magro is the senior managing video producer for HelloGiggles, hobbyist mixologist, and author of Suck It Up: Extraordinary Cocktails for Everyday People.