The 25 best Golden Globes fashion moments of the decade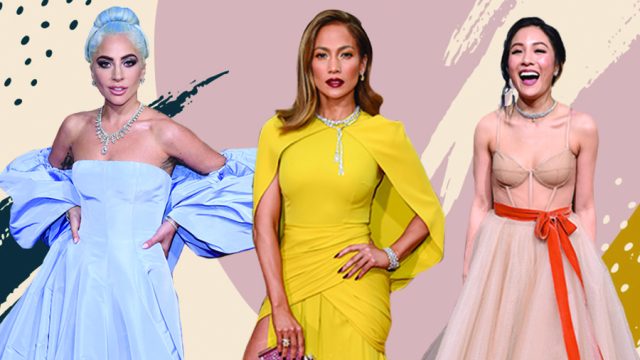 As we head into a new decade and the 77th annual Golden Globe Awards quickly approach, we're taking a walk down red carpet memory lane. The past 10 years have included countless memorable fashion moments, with many taking place on the Golden Globes red carpet. Stars pull out all of the stops for the revered awards show, stepping out in their most elegant and timeless looks.
From classic silhouettes like princess ballgowns and mermaid trains to more experimental trends like puff sleeves and pants, we rounded up the 25 best Golden Globes fashion moments of the decade. See which looks made the cut below, and start chilling some champagne for this year's Golden Globe Awards, airing Sunday, January 5th.
1Lady Gaga, 2019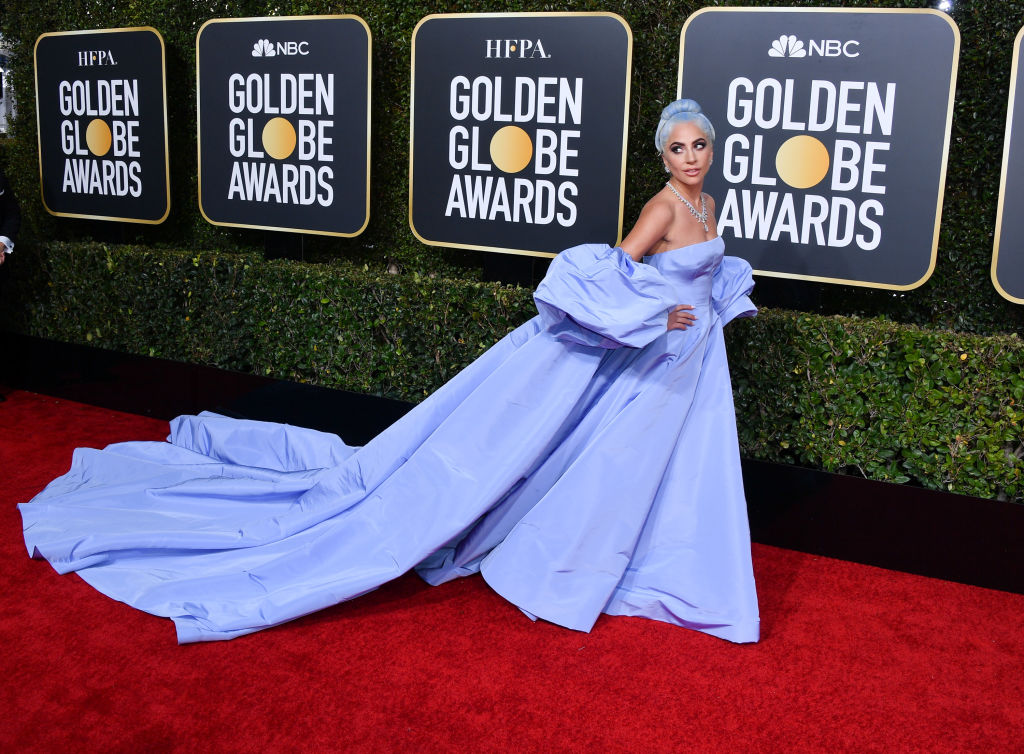 Who could forget Lady Gaga's Golden Globes debut? Her Cinderella blue ballgown took the puff sleeve trend to a whole other level, with a giant train and blue hair to match. This will go down in history as one of the best Golden Globes fashion moments not only of the decade, but of all time. A star is born indeed.
2Angelina Jolie, 2011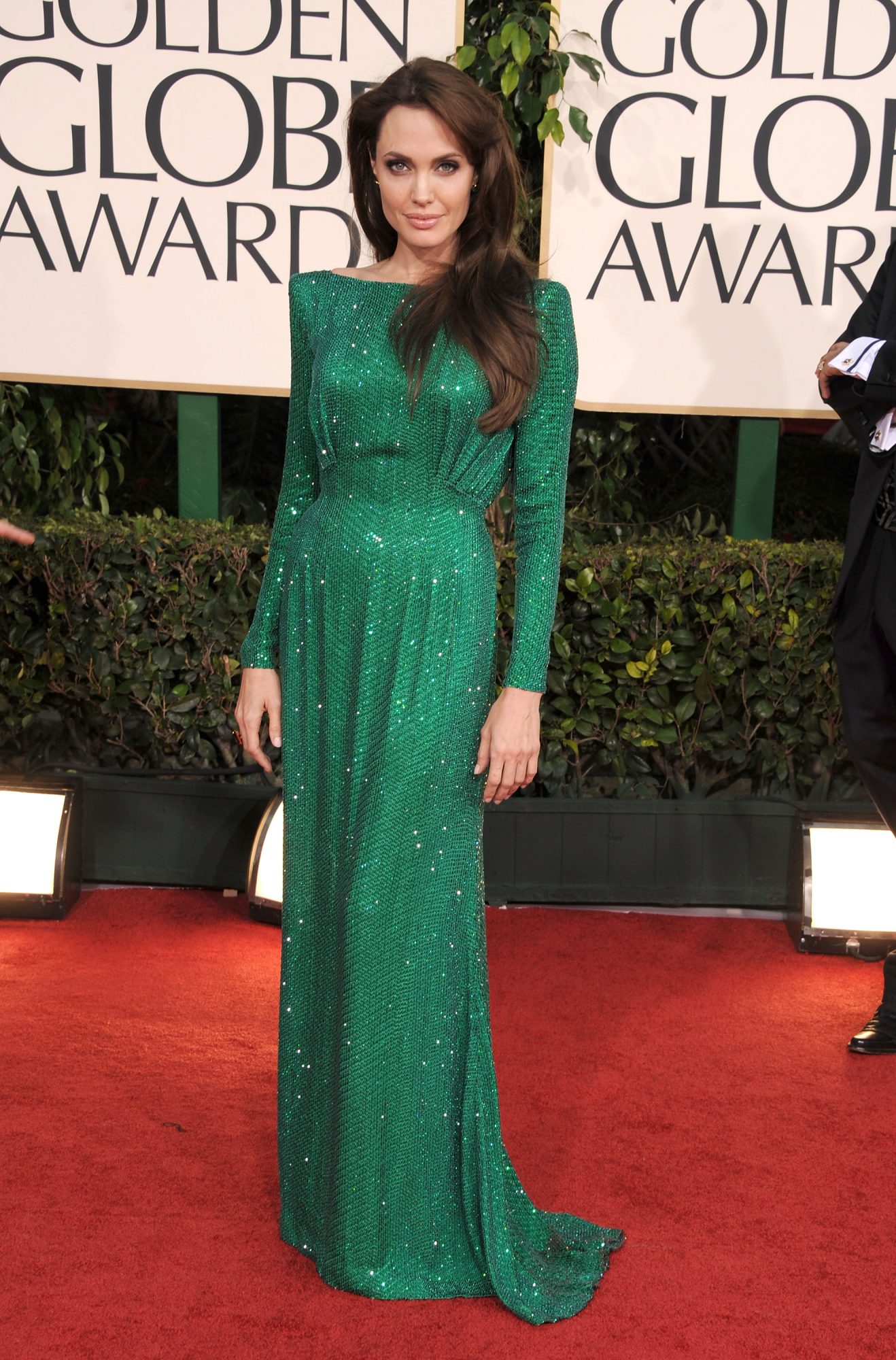 Angelina Jolie is no stranger to iconic fashion moments, and her 2011 Golden Globes look tops our list of her best. Simple hair, makeup, and jewelry were all she needed to let her green gown shine. We're transported to the glittering Emerald City just by looking at her.
3Lupita Nyong'o, 2014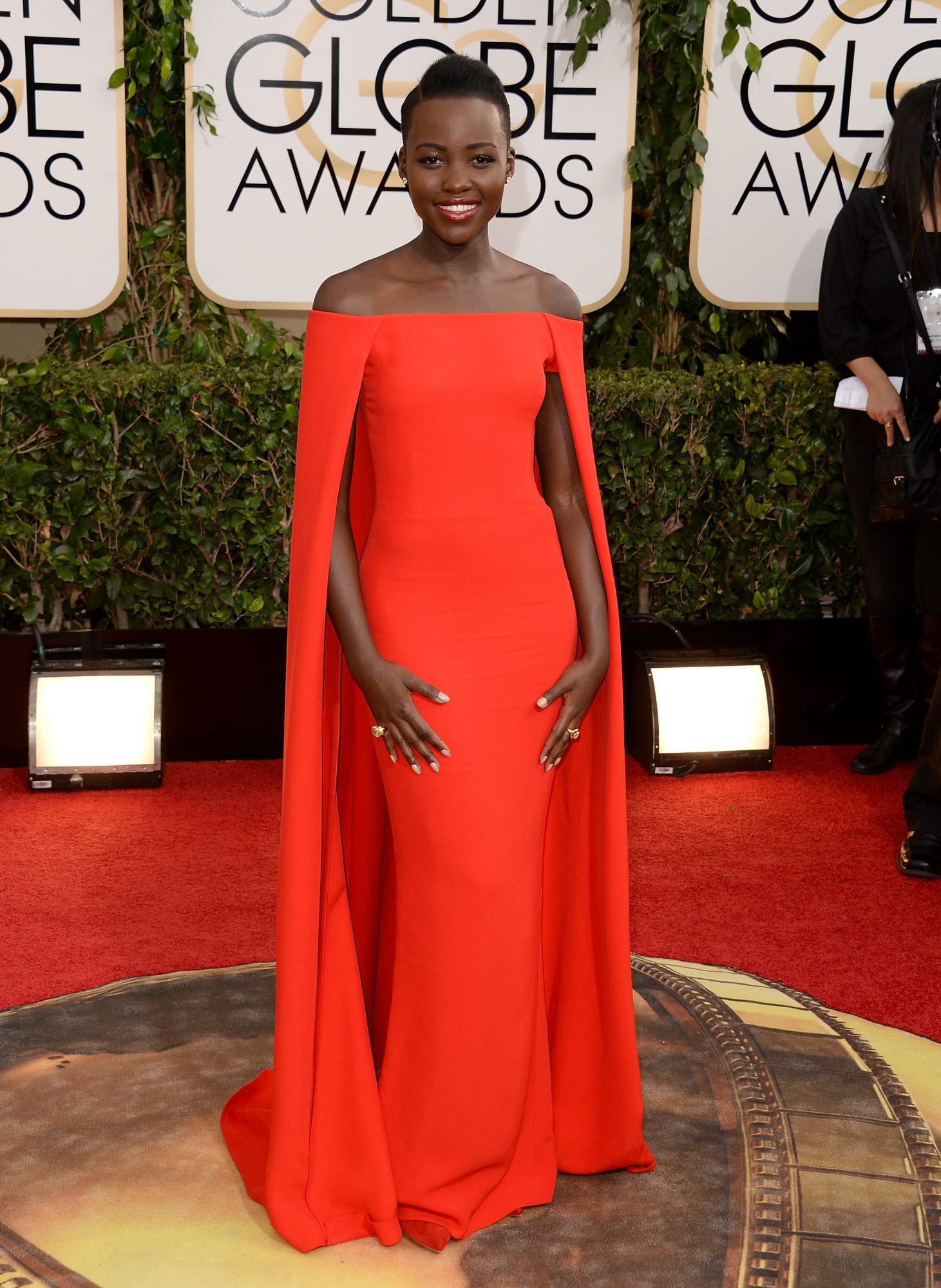 A stunning silhouette and cape sleeves make Lupita Nyong'o's 2014 Golden Globes dress a standout. Did Hilary Duff get inspo for her wedding gown from this look? We're thinking yes.
4Constance Wu, 2019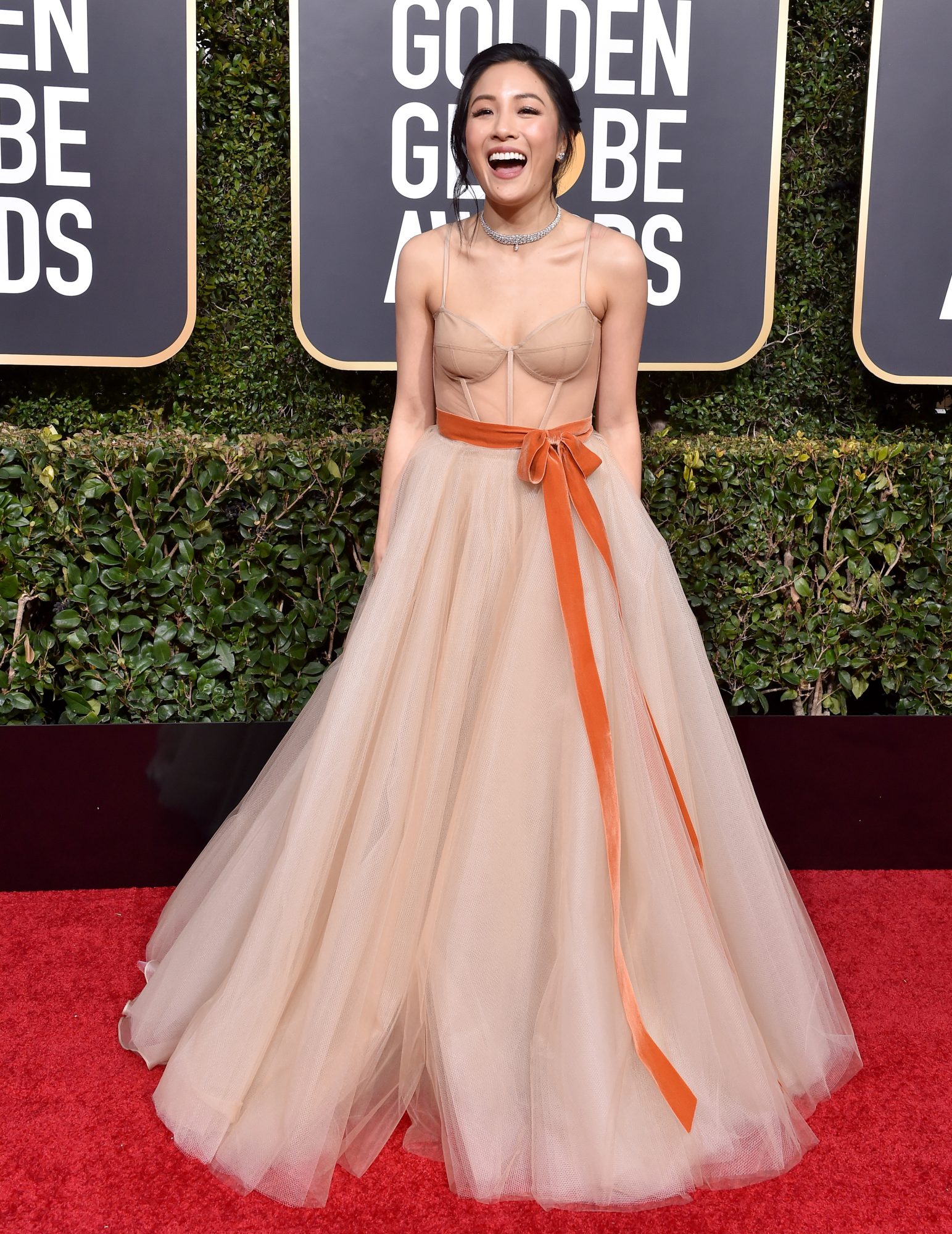 Constance Wu put her own spin on the nearly-naked dress trend by trading a form-fitting shape for a ballgown skirt at the 2019 Golden Globes. A rust velvet bow added a touch of romance to the Crazy Rich Asians star's dreamy look.
5Reese Witherspoon, 2017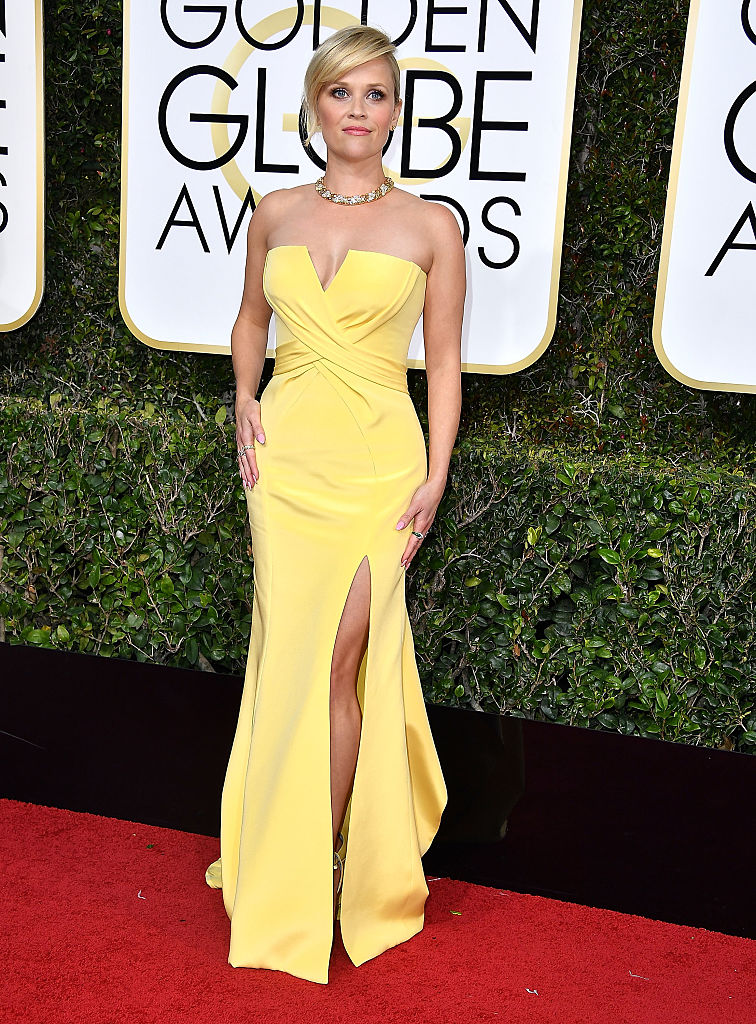 Back in 2017, Reese Witherspoon served Andy Andersen in How to Lose a Guy in 10 Days vibes with a hip-hugging yellow gown, buttery blond updo, and statement necklace.
6Emma Stone, 2015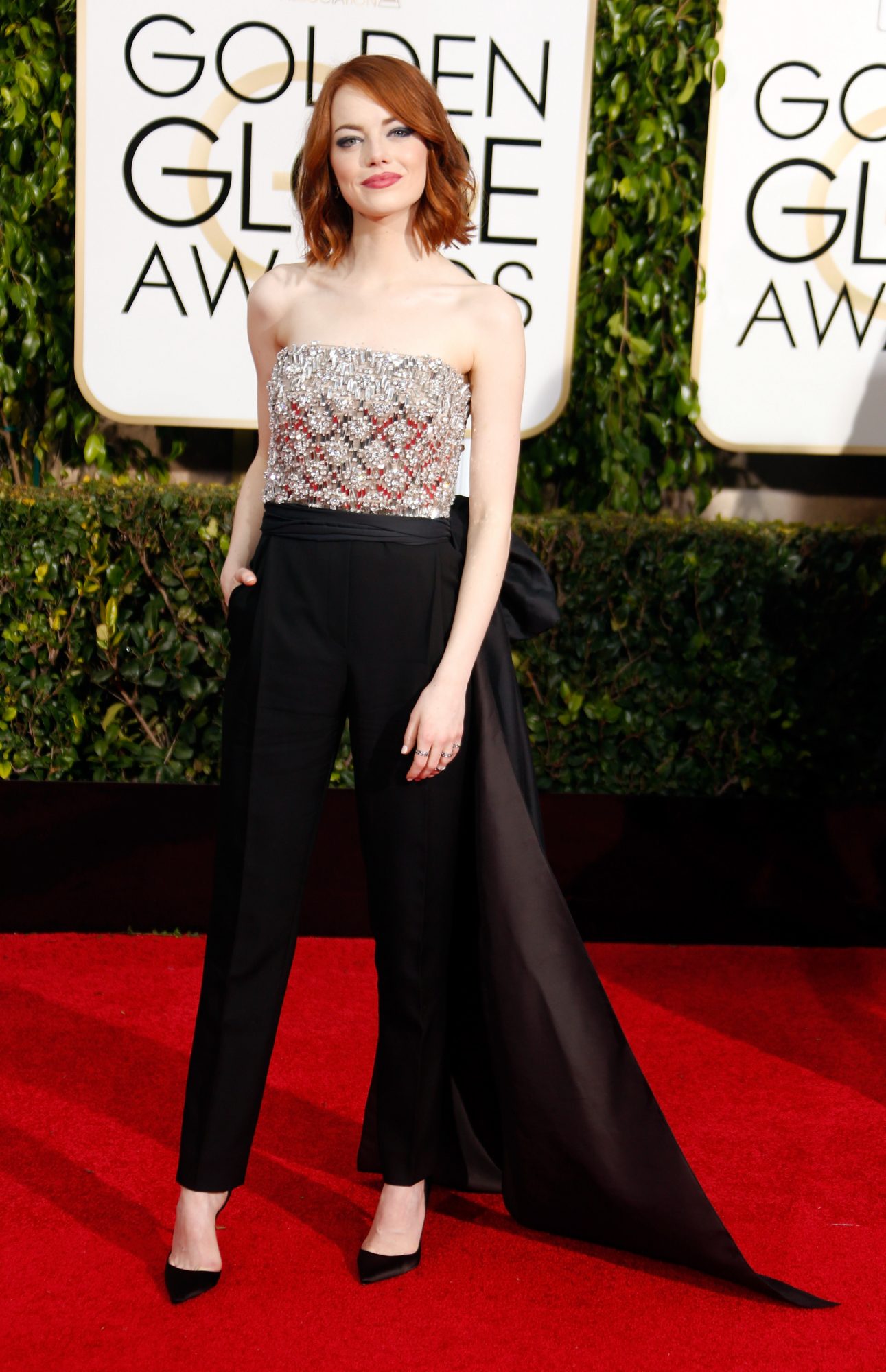 We love when a woman rocks a pair of pants on the red carpet, and Emma Stone's 2015 pair might be the best to have walked the famous walk. Paired with the disco ball-esque top and trailing bow belt, this was a look to remember.
7Gemma Chan, 2019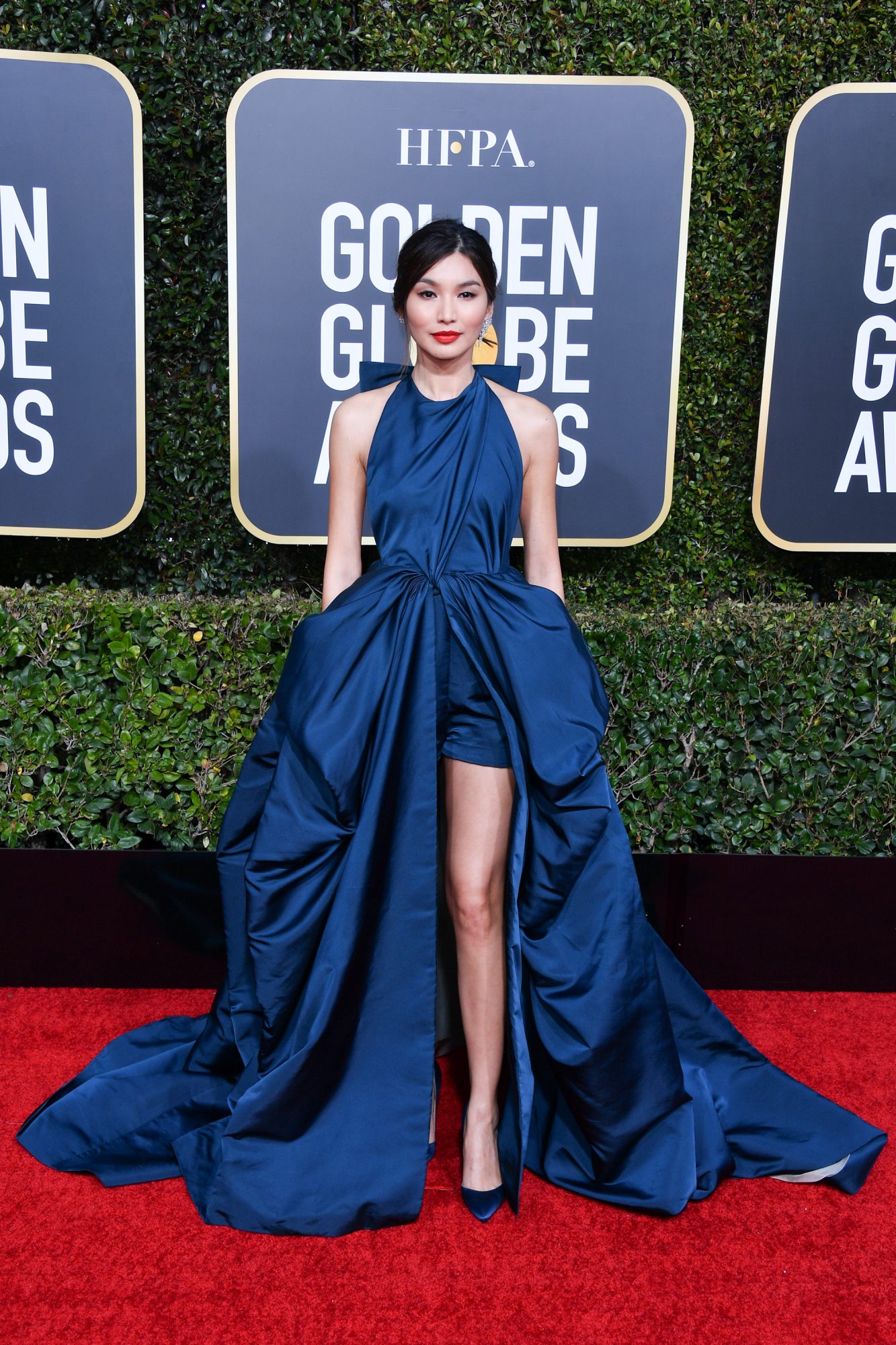 In our opinion, halter tops are super underrated. Gemma Chan doned the rare neckline in a deep blue gown that opened at her waist to reveal shorts underneath—another rarity on the red carpet. Keep your eyes peeled for what unexpected looks the Crazy Rich Asians star has up her sleeve next.
8Taraji P. Henson, 2019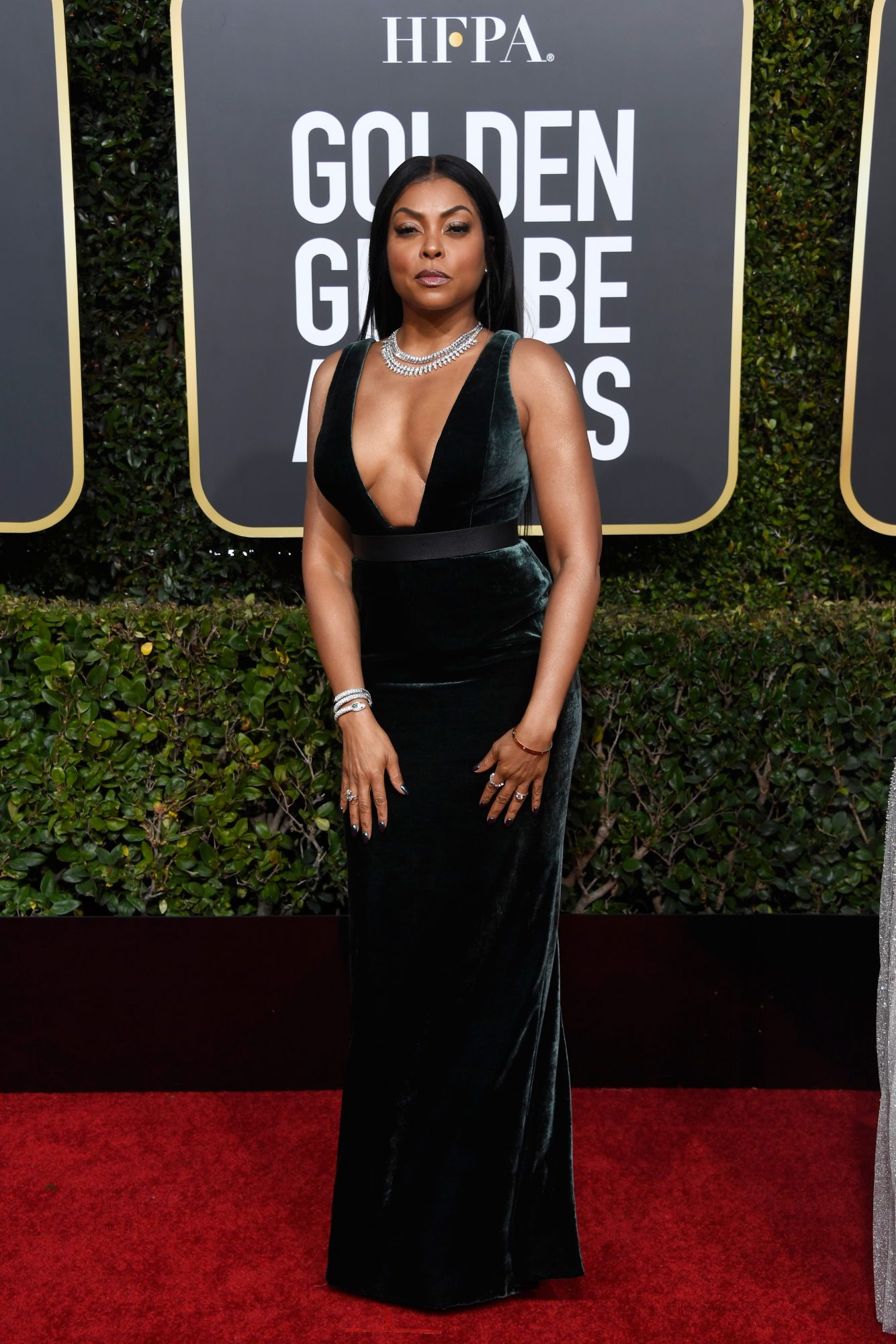 We love a velvet moment, and Taraji P. Henson's 2019 Golden Globes look was a moment indeed. A plunging neckline, stunning set of diamonds, and deep green velvet combined to create a sultry winter mermaid vibe that we're all about.
9Charlize Theron, 2012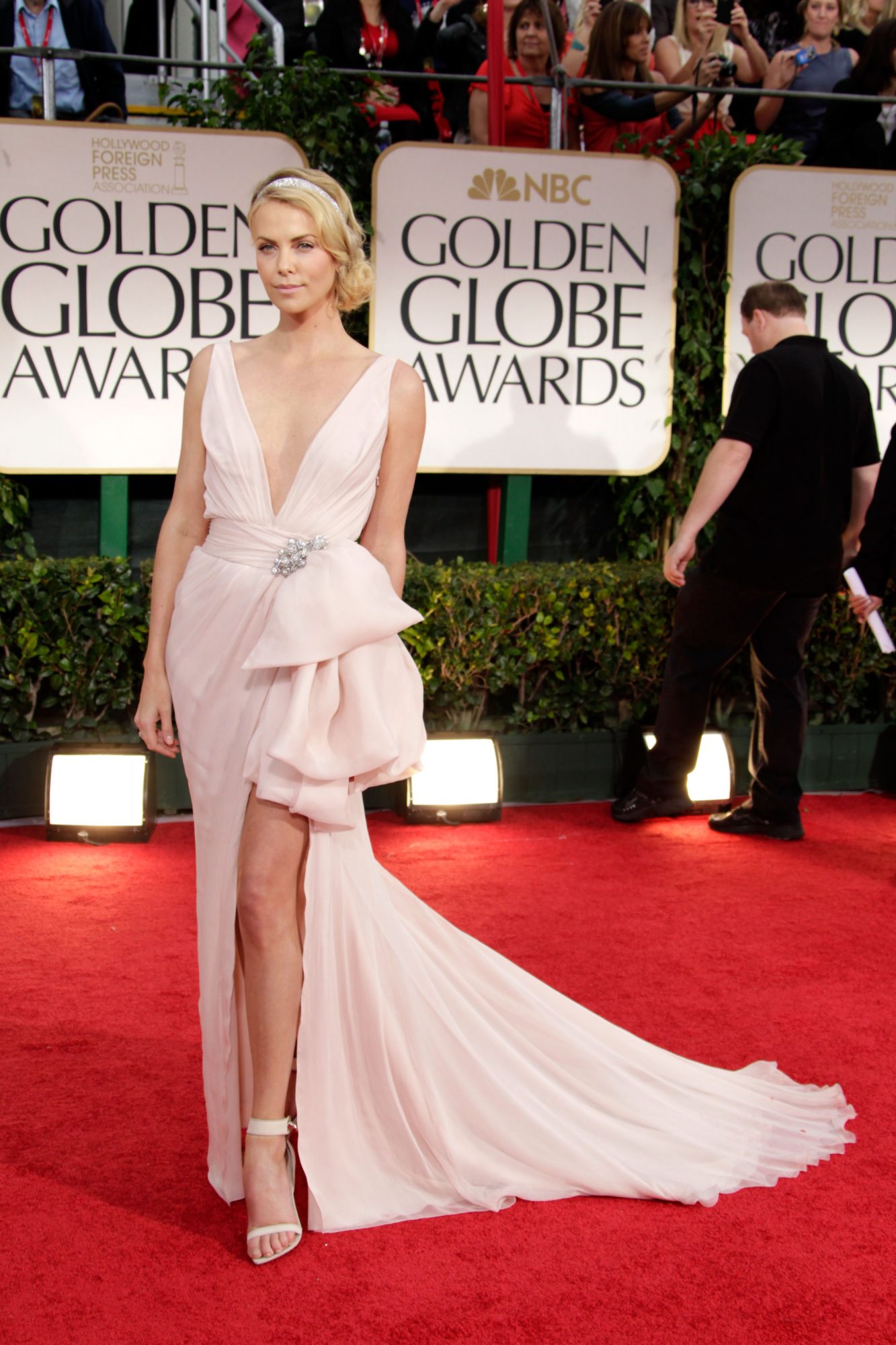 Charlize Theron easily channels countless different vibes when she steps onto the red carpet, but back in 2012, she opted for a simultaneously sweet and sexy look. From the subtle jewel accents to the romantic train, Theron was striking at this awards show (like always).
10Anne Hathaway, 2011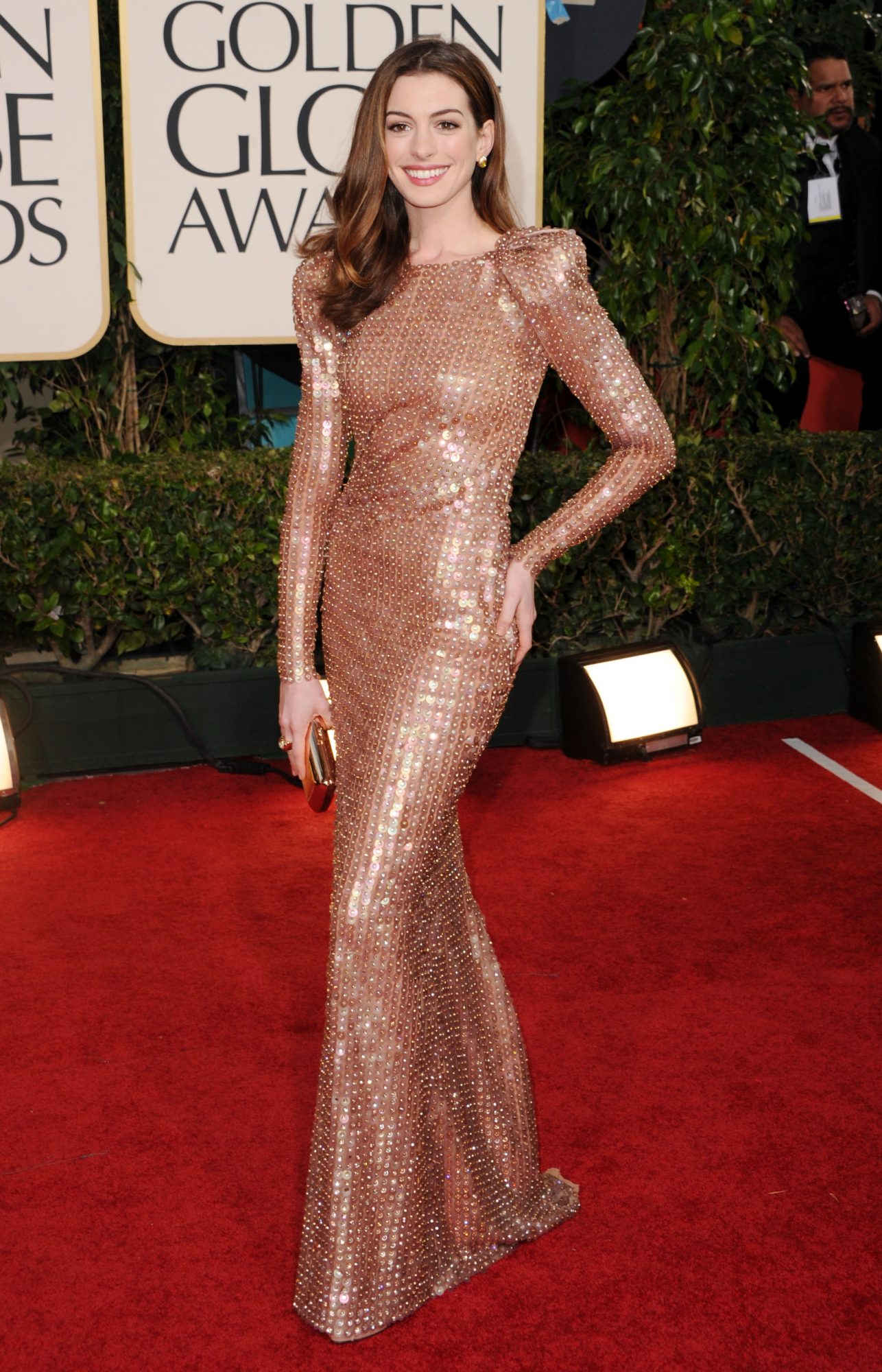 What could be more fitting for the Golden Globes than a glittery gold gown? Anne Hathaway was basically a walking Golden Globe Award in 2011. Oh, and the shoulder pads? Killer.
11Diane Kruger, 2018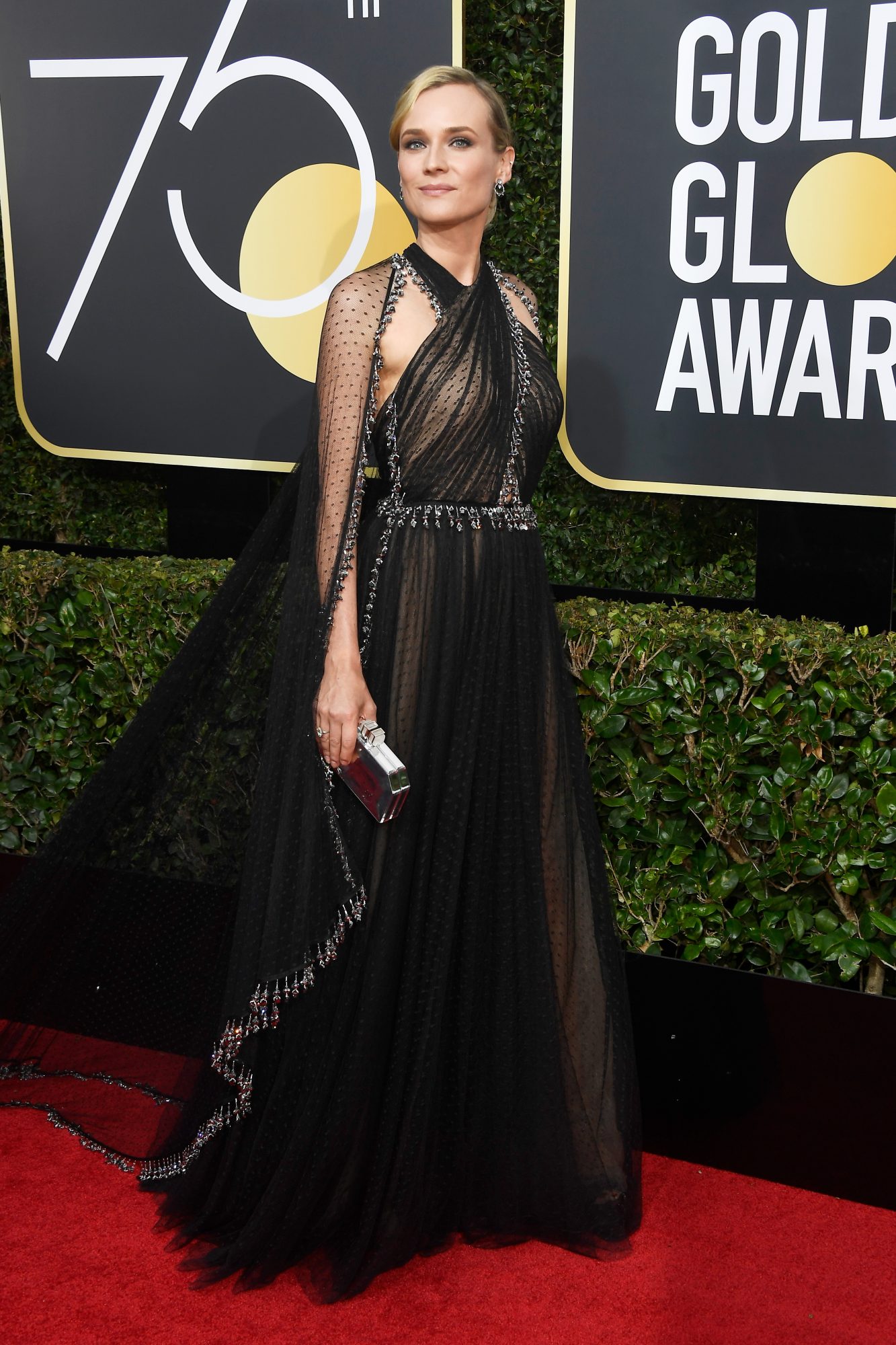 We're obsessed with the intricate details of Diane Kruger's 2018 Golden Globes look. The sheer fabric, criss-cross neckline, and jewels dripping off of her cape like candy have us drooling.
12Jennifer Lopez, 2016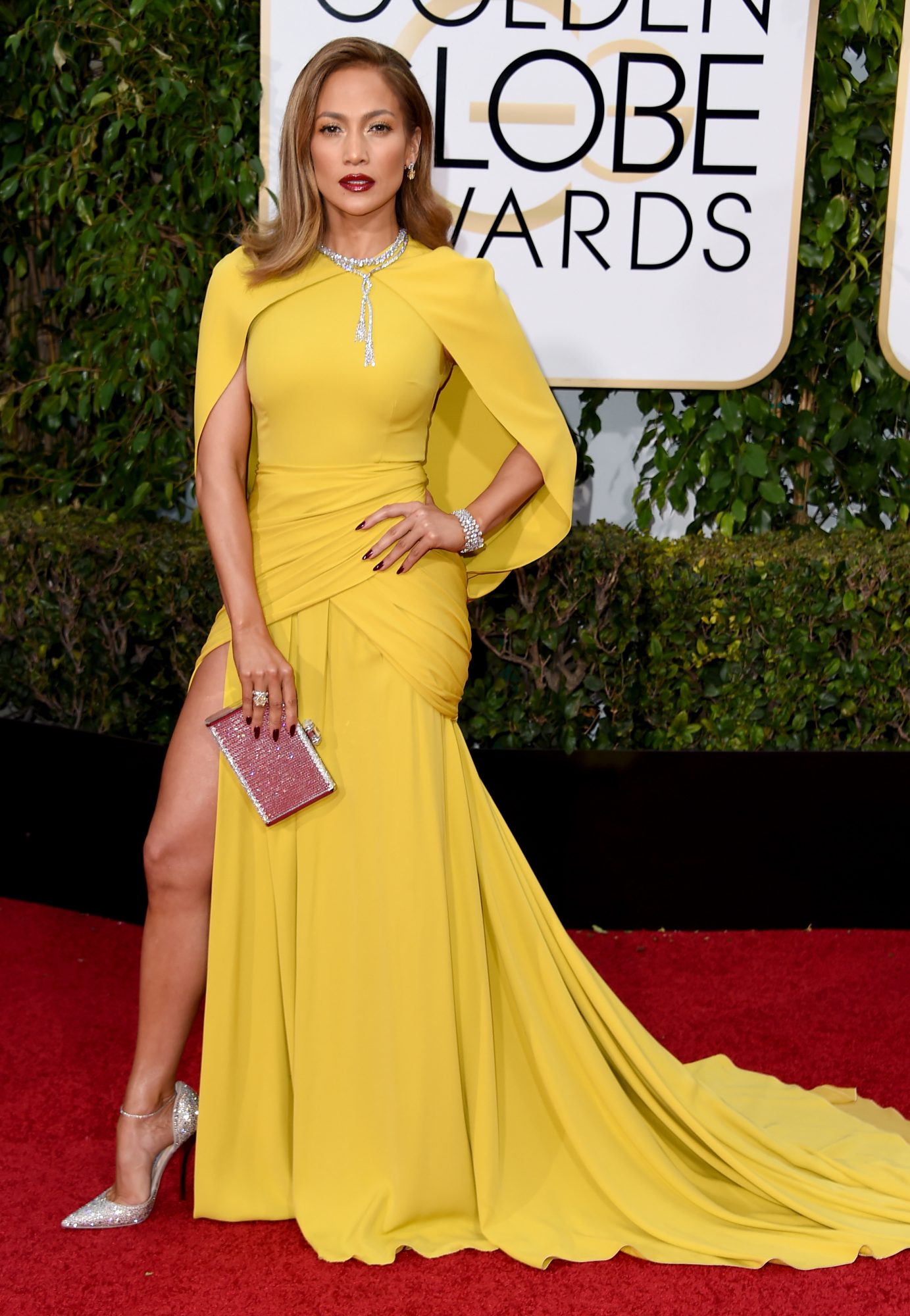 J.Lo, being J.Lo, always slays the red carpet, but this Old Hollywood, bright yellow dress-shawl combo is one of our favorite looks of hers. The diamond necktie, jewelry, and shoes are just the icing on the cake.
13Kerry Washington, 2013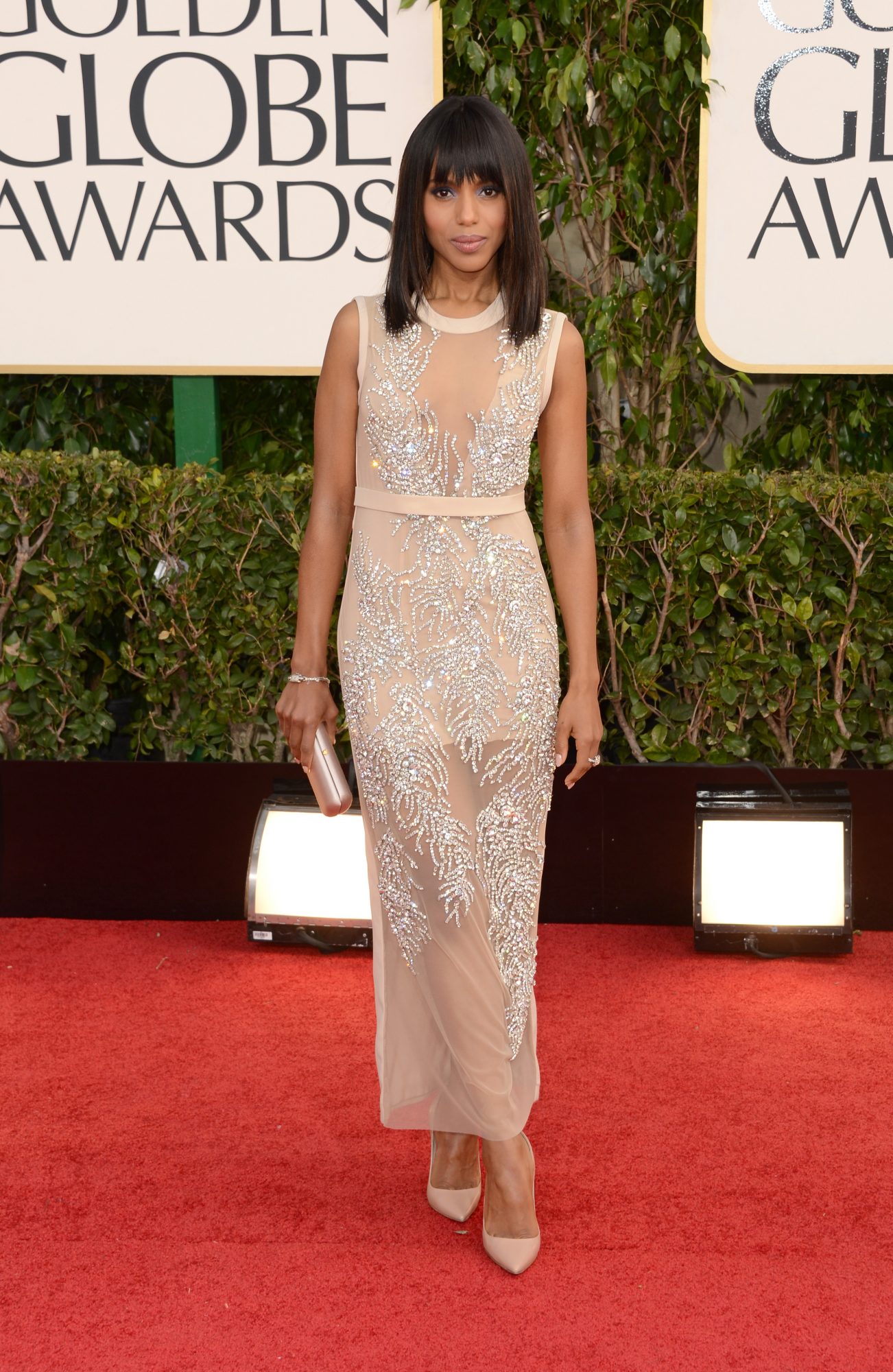 Kerry Washington stunned in her 2013 Golden Globes look. The simple silhouette of sheer nude fabric paired with intricate diamond accents had us mesmerized.
14Kate Hudson, 2018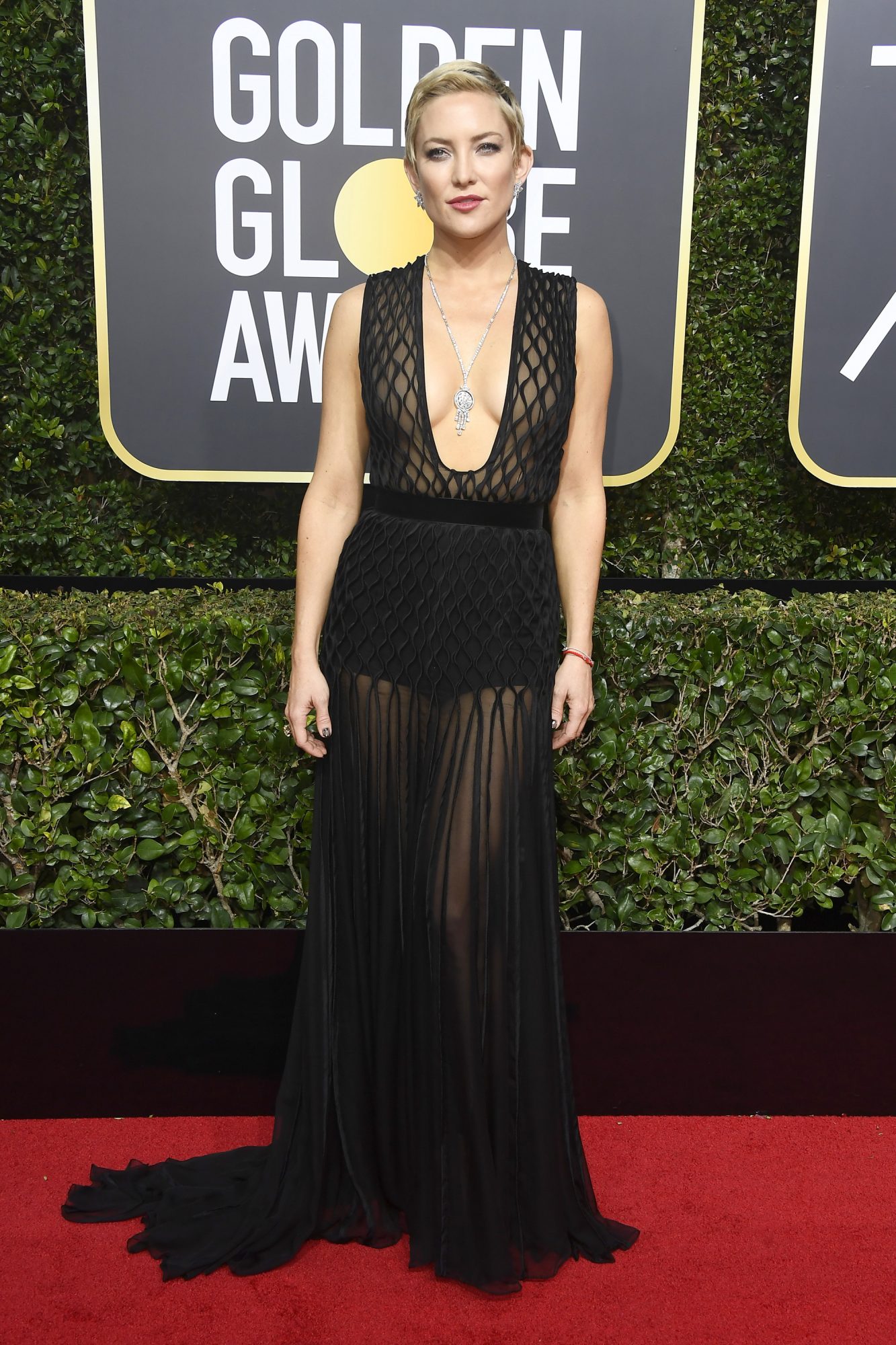 While 2018 was the year women (and many men) took a stand and wore all black to the Golden Globes to call out the Time's Up movement, Kate Hudson stood out. In a sea of black, Hudson's sheer, pleated, plunging Valentino gown did everything but blend in.
15Olivia Wilde, 2016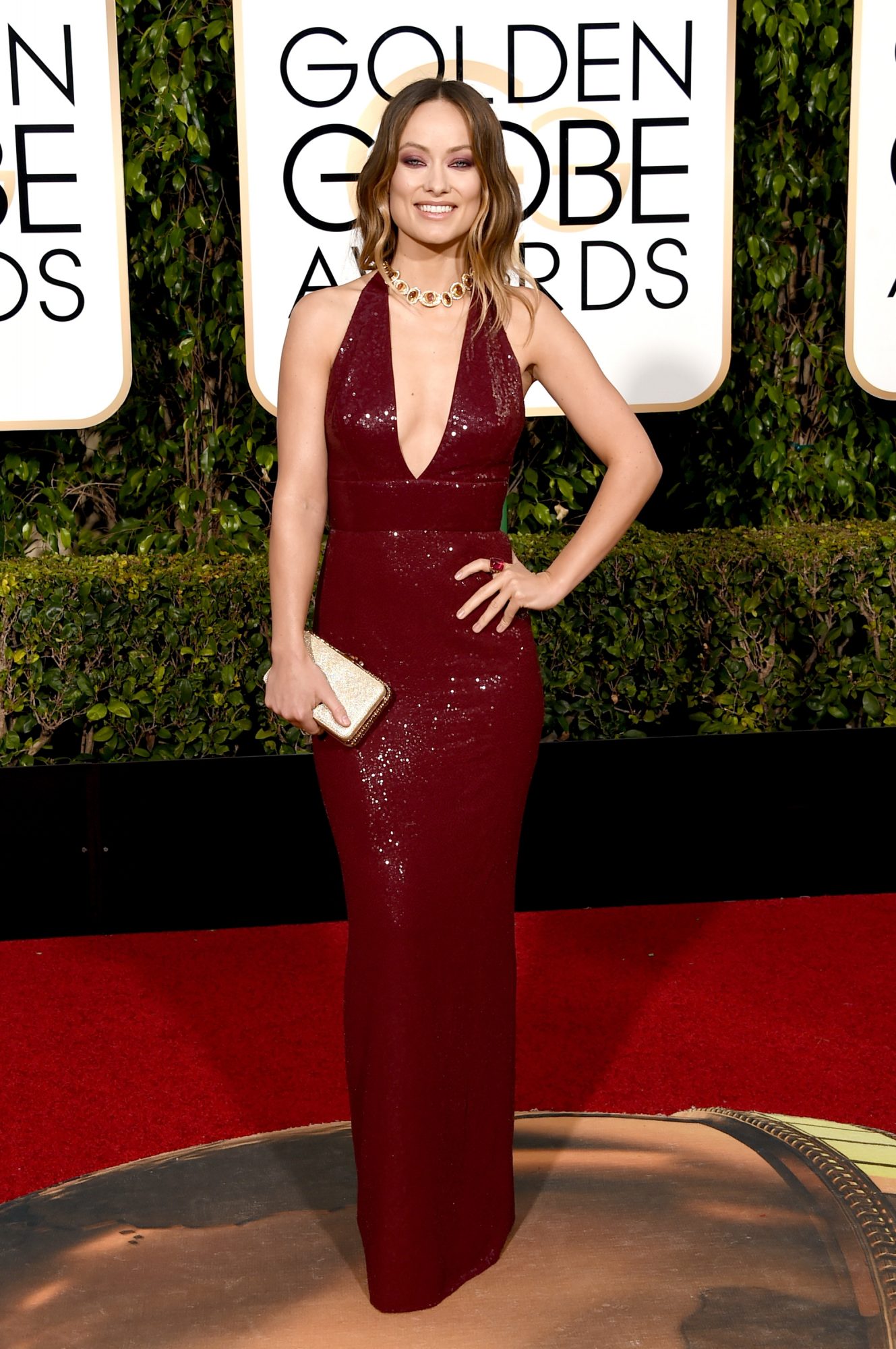 This deep maroon color is absolutely gorgeous on Olivia Wilde. Add in the plunging neckline and subtly sparkly fabric, and you have us sold.
16Julia Roberts, 2019
Golden Globes veteran Julia Roberts knows no bounds when she steps onto the red carpet. Case in point: this pleated pants and tulle cape combo that she rocked in 2019.
17Tina Fey, 2010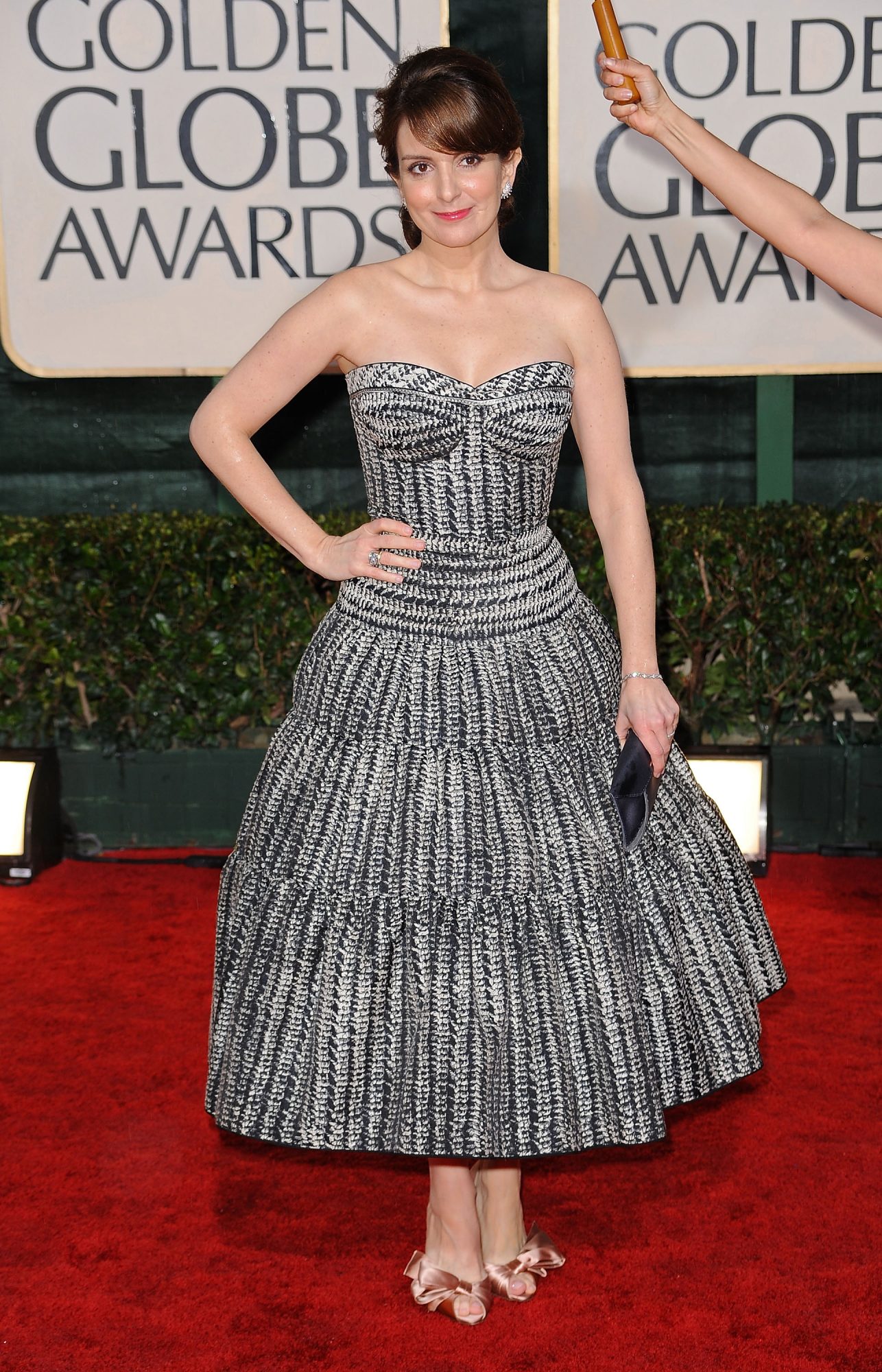 Throwing it all the way back to 2010, the first year of the decade, Tina Fey stood out in a black-and-white, tea-length, Zac Posen dress. Plus the sweetheart neckline and satin bow heels? We have major heart-eyes.
18Anna Kendrick, 2015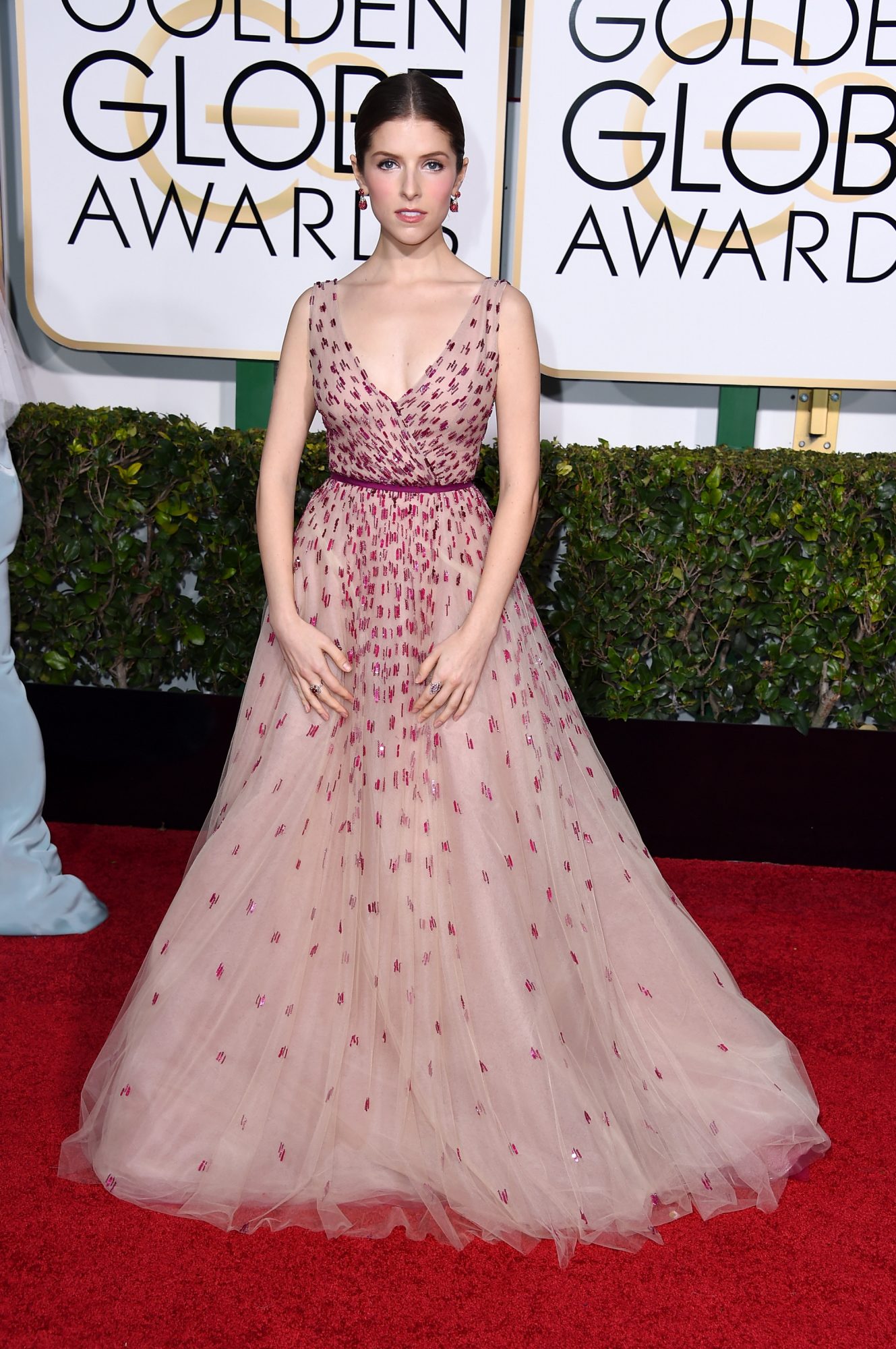 Anna Kendrick looks straight out of a fairy tale in this tulle ballgown fit for a princess. The fuchsia belt and rectangular sequins add a modern touch to her 2015 Golden Globes look.
19Mandy Moore, 2017
We can always count on Mandy Moore to stun on any red carpet, and her 2017 Golden Globes dress was no exception. The deep V neckline and sheer fabric made for a delicate yet powerful look.
20Drew Barrymore, 2010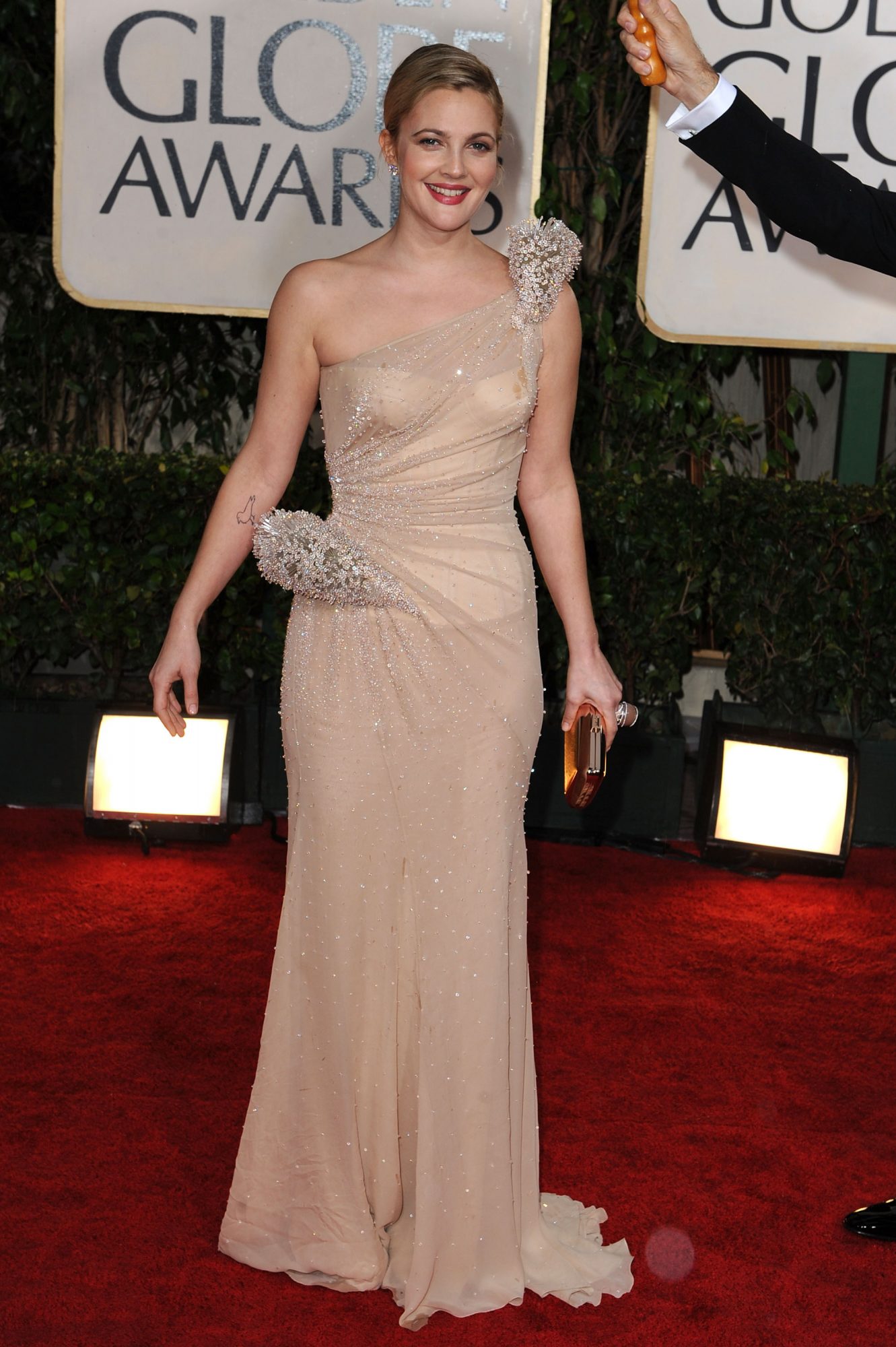 Drew Barrymore added a fun twist to her nearly-naked dress with bold gem accents on her shoulder and hip the year she won the Golden Globe for Best Actress in a Miniseries for her role in Grey Gardens.
21Lily Collins, 2017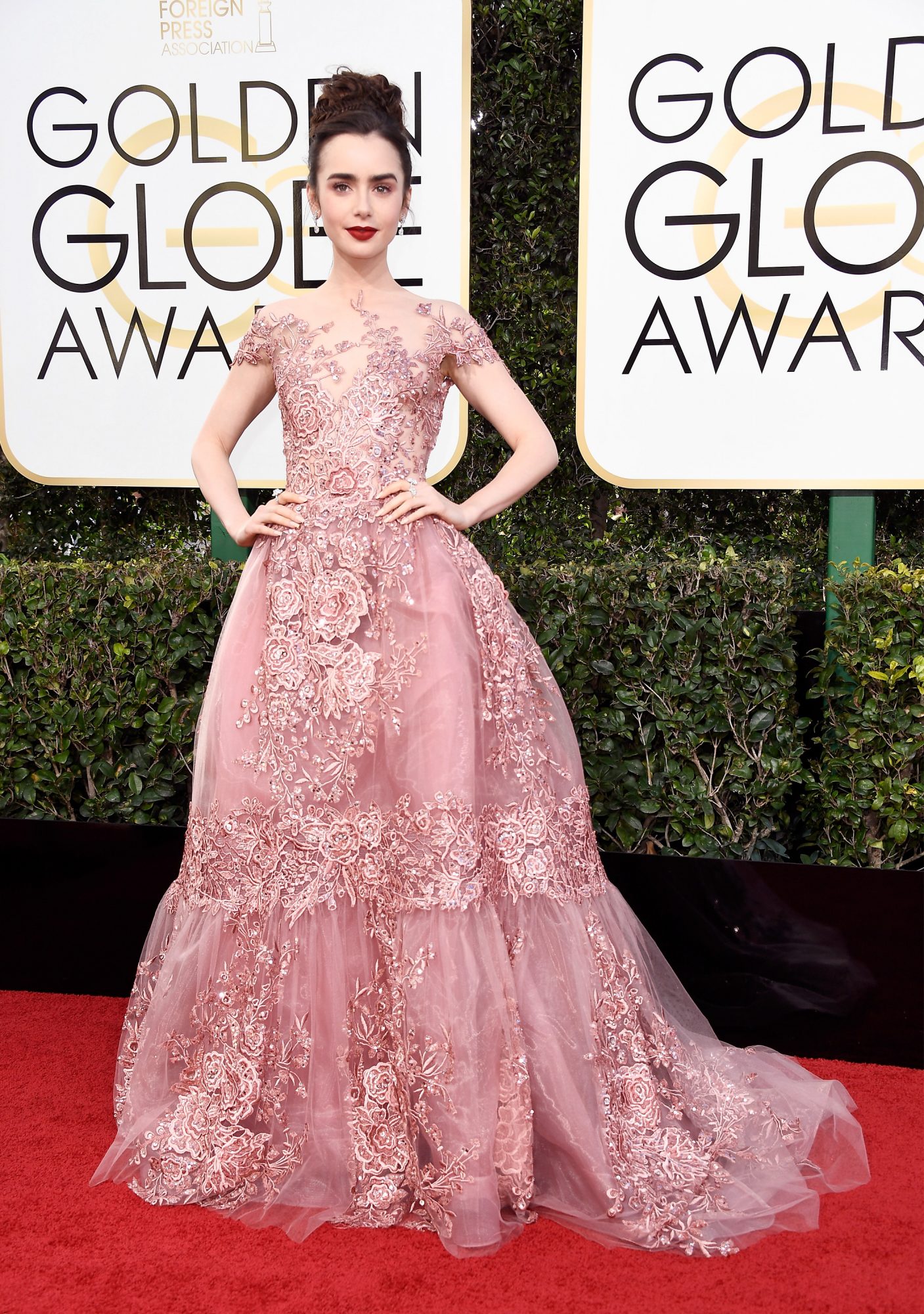 Any time Lily Collins steps onto a red carpet, we pay attention. The Extremely Wicked, Shockingly Evil and Vile star always wows us with her grace and fearlessness when it comes to fashion choices.
22Emily Blunt, 2013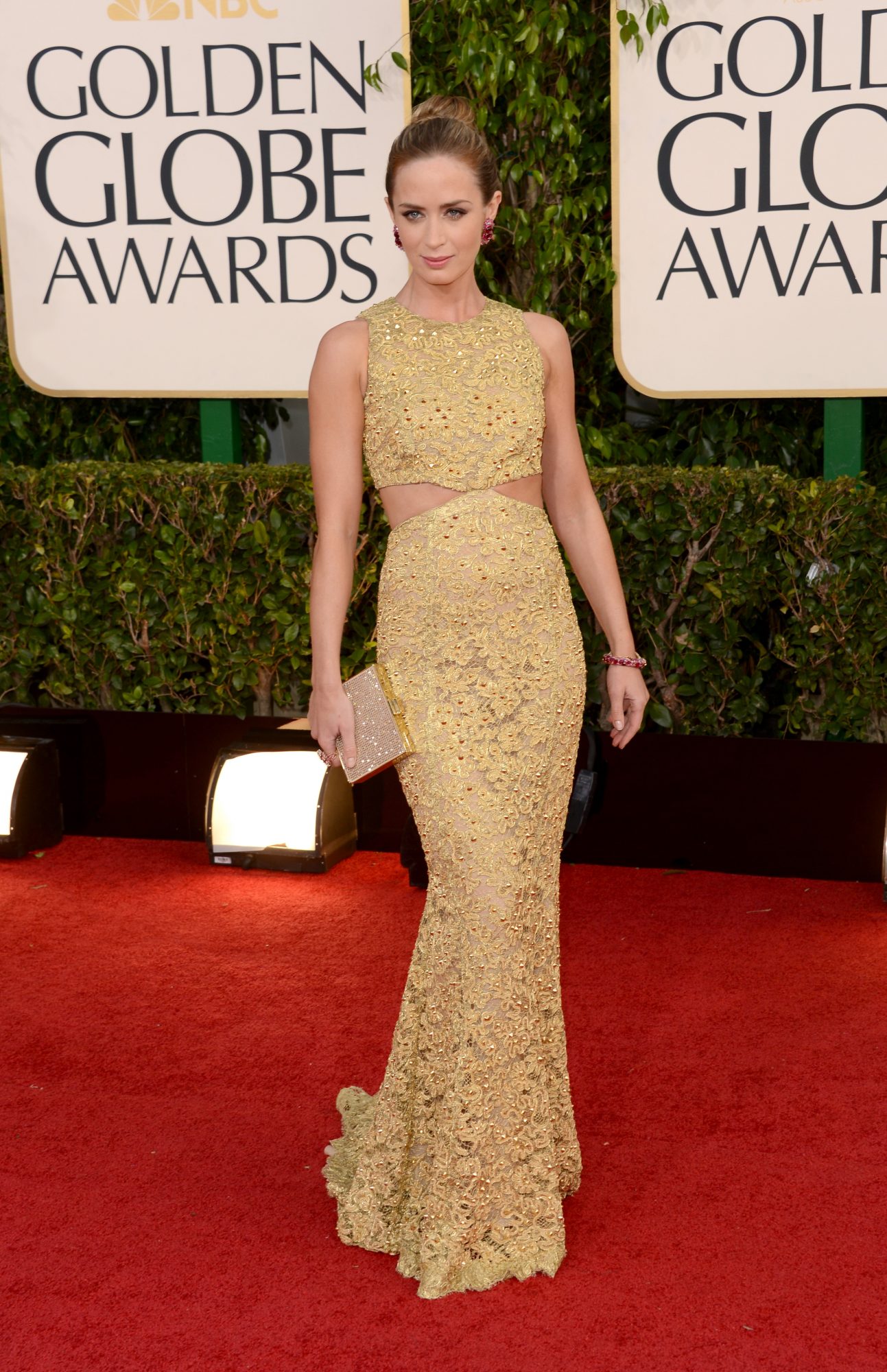 Back in 2013, Emily Blunt used honey-colored lace and cutouts along her waist to slay the Golden Globes red carpet. We like to think of this look as a prom queen channeling old Hollywood glam.
23Emma Stone, 2017
Yes, Emma Stone made the list twice. We had to include the whimsical and light-as-air dress she wore in 2017. The silver stars were a clever nod to La La Land, the film for which she took home the Golden Globe Award for Best Actress in a Musical or Comedy that year.
24Zendaya, 2016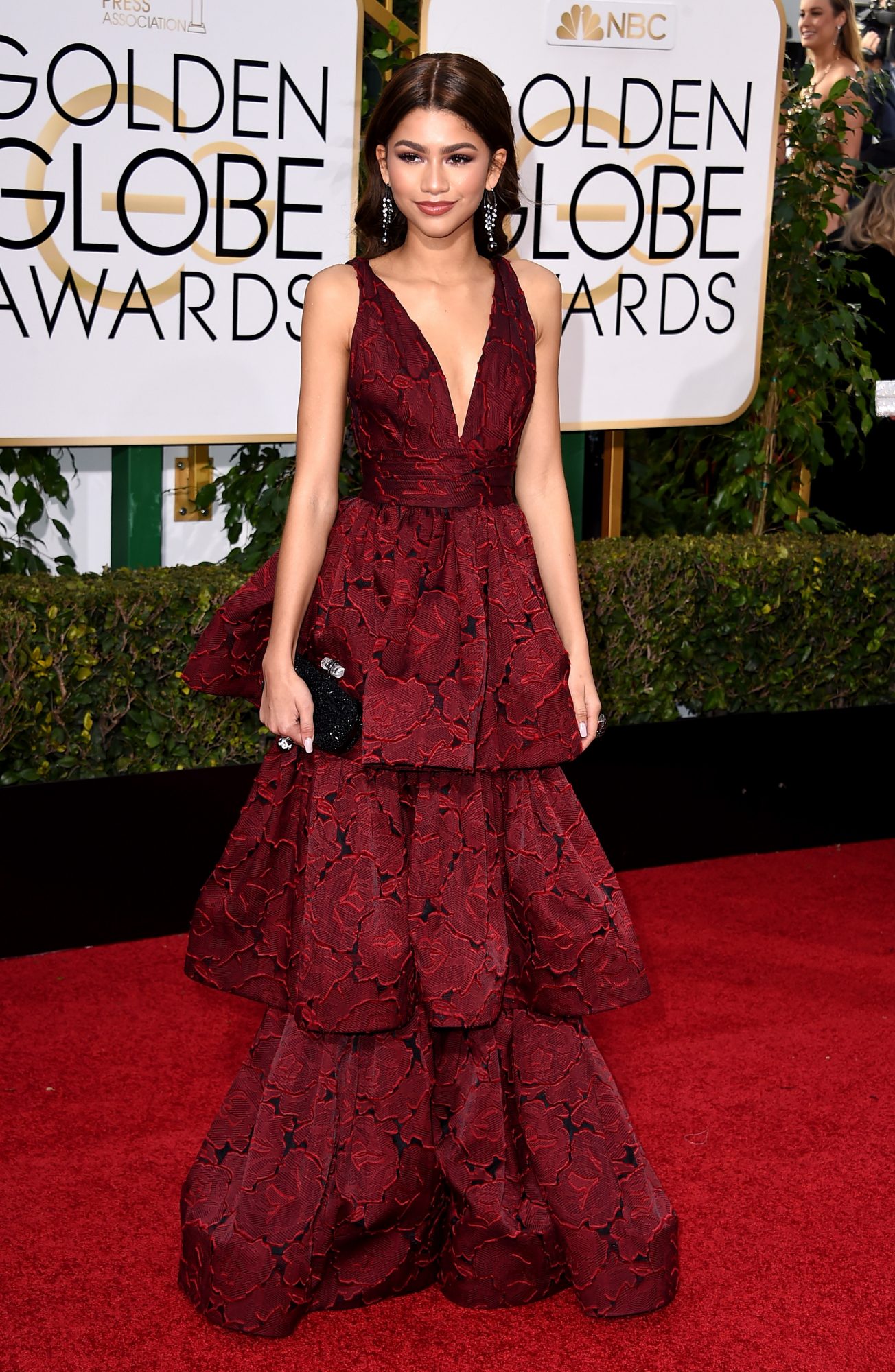 The one and only time Zendaya has graced the Golden Globes red carpet, she absolutely killed it—but are we surprised? She's a fashion icon, and this romantic three-tiered gown is just another example as to why she owns that title.
25Saoirse Ronan, 2019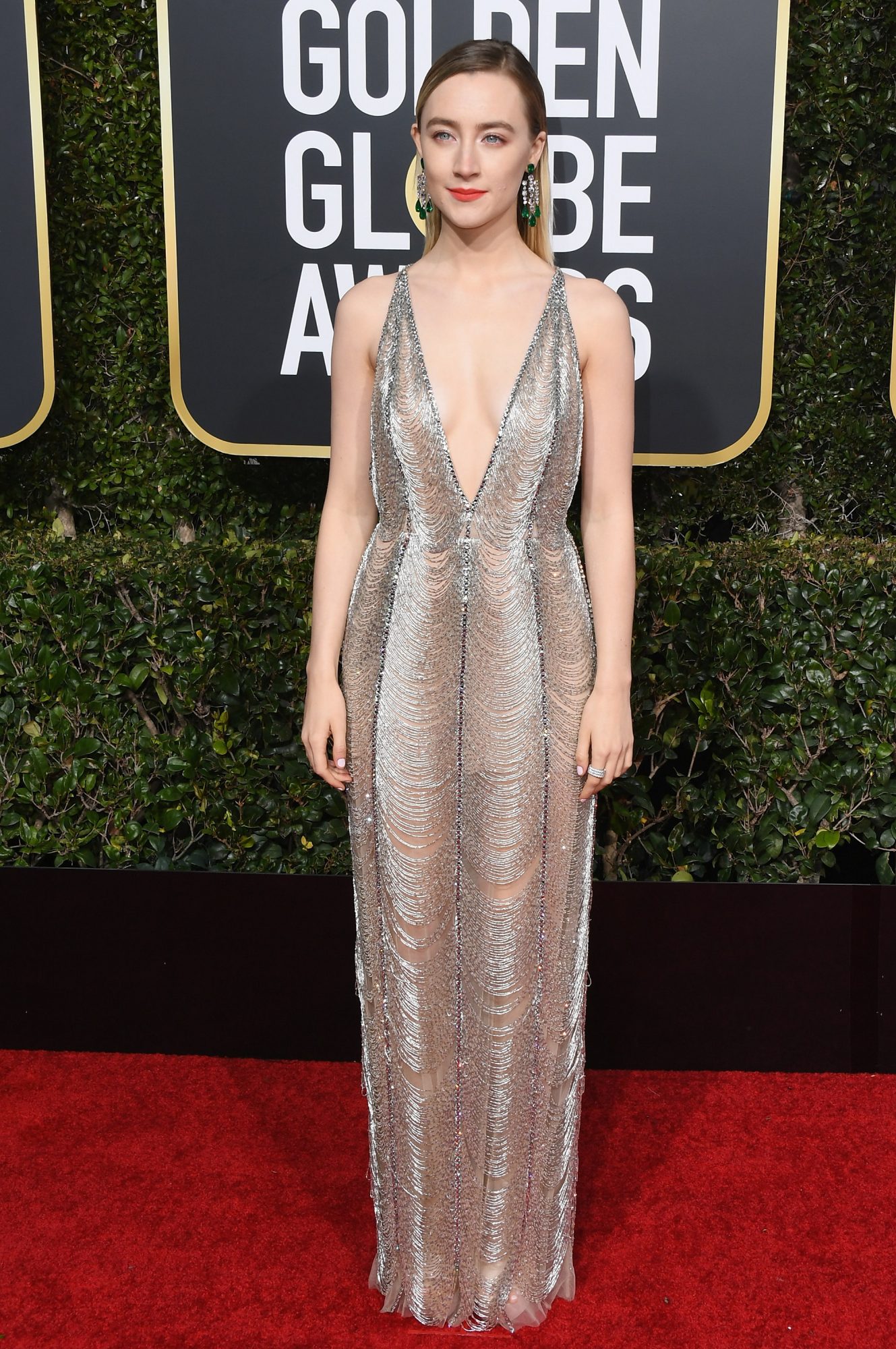 Saoirse Ronan seems to be nominated for an award every year these days (for good reason), and her red carpet looks seem to get better every year, too. This flapper-girl-meets-ice-princess look from 2019 was simply stunning.