These best friends made elaborate gowns out of Planned Parenthood stickers and condoms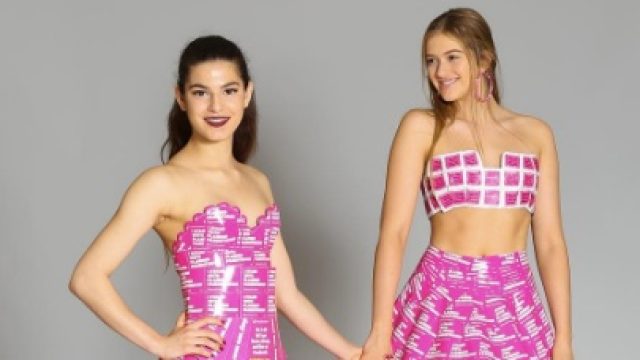 For most teens, a school fashion show is the best way to make a head-turning style statement. But if you're like these two besties, you use the opportunity to support Planned Parenthood in a super crafty way, and we're completely inspired.
Two teens from the Bronx made Planned Parenthood dresses, stealing the show at their high school's fashion show, and proving that you can show your support for Planned Parenthood in truly artistic and imaginative ways.
Best friends Karolina Montes and Zoe Balestri walked the runway at their high school, highlighting student-made designs, while making a political statement that feels so necessary in these uncertain times for women's healthcare.
Each year, the Ethical Culture Fieldston School holds a fashion show where each participant has to make the looks using anything but fabric. Montes and Balestri took the challenge as an opportunity to rally behind Planned Parenthood. They created their gowns out of bright pink Planned Parenthood stickers and condoms, right down to the wedge heels.
Of the statement-making looks, 16-year-old Balestri told BuzzFeed they simply wanted to express their support of the organization. "We've been best friends since 6th grade. This year we thought after everything that's been happening in the world and with this country, it was important to make our dresses beautiful and fun but also to give them some sort of meaning. We decided this was the perfect way to support something we both strongly believed in."
Montes, 17, agreed, adding, "it just seems like such an important part of our culture, that we need to have safer methods [of family planning] and we need to educate. That's the main the point, is to educate people."
The girls made the gowns themselves, but joked that it wasn't an easy process. "I actually sewed together the condoms with a needle. That took awhile, and I got lube all over my hands, which was kind of gross," Balestri admitted.
They used a shower curtain as a base for Balestri's skirt, adding close to 500 stickers, and pointed out that the design of the skirt was also political. "Hoop skirts were really popular at a time when women weren't given the same access to things that men are…I thought was kind of symbolic of that."
https://www.instagram.com/p/BUagO7tlB85
Montes said it was hard to walk in her mermaid-style gown made of Planned Parenthood brochures, but both girls seem to agree it was all worth it. The school loved their designs, and Balestri said, "They're trying to shut down Planned Parenthoods and make abortion illegal, and that really frightens and saddens me, because it's such an amazing thing that is provided to women. I have friends who use Planned Parenthood services. It's been there for people in high school, in college, in adulthood, for people who can't afford to have a child, or for other circumstances. It's necessary."
We couldn't agree more!