The Best 5-Minute Everyday Makeup Look You Need to Master
Trending makeup that takes 5-minutes or less, from start to flawless.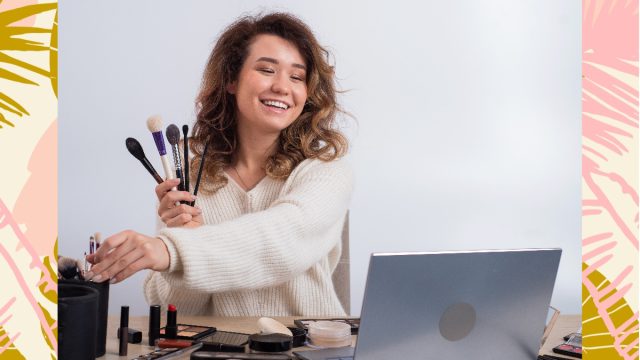 The product recommendations in this post are recommendations by the writer and/or expert(s) interviewed and do not contain affiliate links. Meaning: If you use these links to buy something, we will not earn a commission.
We all have our own kind of crazy-busy in life. I'm a mom of four young kids who is balancing their school, homework, and sports while taking care of the house and bills, my busy career that involves travel, and the grind of daily life.
Yet, women who are just as busy as me are constantly inundated with messages like "take time to meditate daily," "refresh your home," "take care of your skin, nails, and hair," "stay in shape"… the list goes on. Overwhelming, much?
That's exactly what prompted me to co-write Get It! A Beauty, Style and Wellness Guide to Getting Your 'It" Together (BenBella Books), with fellow busy mom and Real Housewife of New Jersey star, Jacqueline Laurita.
With my expertise as a beauty/fashion editor and on-air personality and hers as a licensed cosmetologist, we set out to compile all of our best tips and find solutions for busy women.
Both of us know that putting on makeup doesn't have to take hours. You can have a full, fresh face in just a few minutes.
Here's exactly how to achieve an everyday makeup look in five minutes.
Step 1: Always start with a clean, fresh face.
Your face should be cleansed and smoothed with any serums, eye creams, moisturizers, and sunscreen before starting this makeup look.
RELATED: 40 Questions to Ask Your BFF to Find Out How Well You Know Each Other
While primers seem to be trending at the moment, I've found that using step 2 below doesn't necessarily require using one.
However, if you do want to use a primer, the new sticky-gel-like one by MILK is amazing. It should be layered as the last step in your skincare routine.
Step 2: Use your finger to dab on hydrating, light-to-medium coverage foundation.
A good way to find your foundation shade (which can change seasonally depending on sun exposure) is to choose the closest three matches to your skin tone and then swatch each one on your jawline. Choose the one that blends in the most. (I prefer to use a tinted BB or CC cream with a heavier feel, like It Cosmetics or whipped foundation by Jones Road.)
Once you have your match, simply dab it on certain points of your face, like under your eyes, around your nose, on your forehead and chin—concentrating on the areas that need it most.
Then, blend it in with a sponge, brush, or your fingers, moving in a circular motion around your face (don't forget your neck!). If you're having an especially oily day, dab your blending tool in a little bit of pressed powder before you start blending.
3. Dab a cream blush or stain on your cheekbones.
Using your dabbing finger, take a cream blush or stain (I am loving this one right now) and dab along your cheekbones and upward toward your temples. Quickly blend using fingers or a blush brush.
You can also dab it on your lips for a pop of color!
4. Fill in your brows.
I never leave home without filling in my brows (a casualty of the overplucked '90s). I give them a quick brush upward and outward, using one end of this $3 Elf brow pencil, then use the pencil end to quickly fill in sparseness using upward strokes.
Shade tip: Use a shade one step lighter than your actual brow hairs.
5. Apply soft eyeliner and mascara.
Using a felt eyeliner pen or eyeliner pencil (whichever you're comfortable with), line your upper lash line only with a soft, non-harsh application.
Finish by curling lashes with an eyelash curler and apply two coats of your favorite waterproof mascara.
Now that your face is done for the day, if you want to take it into the evening later on… simply focus on one area and amp it up! Whether it's adding shadow and making a smokey eye or doing a bold, red lip, your look can be transformed.
It's as easy as that! But don't just take my word for it…
TikTok influencers all have their own versions of the 5-minute face:
We love this one from mega-influencer @Erinduganjurchak, who uses all green color-changing products.
She starts with a green primer (that's meant to color-correct any redness in the skin) and applies that all over in lieu of foundation. (This is great on days when you're not breaking out and really want your natural skin to show through.)
Next, she uses a green lip oil that, when dabbed on cheeks, gives a flushed appearance. Then, she finishes with a green lip balm, that turns to a pink stain when applied, and a quick coat of mascara!
@Daceycash starts with the trending Supergoop Glowscreen, a product meant to help skin glow but also has SPF.
She dabs on a self-setting concealer (i.e. no powder needed) and blends before brushing on bronzer in spots the sun would normally hit her face. She uses that same bronzer as an eyeshadow on her eyelids and bottom lash line.
Finally, she finishes with a tinted brow gel (so you can skip the pencil) and "a spot of" blush, then fills in her lips with a pencil so the color stays put. Mascara on both her top and bottom lashes and a lip tint/gloss complete the quick and easy look.
Makeup artist @kyleefleekmakeup dabs on a liquid foundation, and blends using fingers.
Kylee follows with a liquid bronzer, dabbing onto the spots the sun would normally hit (down the bridge of the nose, cheekbones, and the top of forehead). Be sure to blend that well!
Next, dab on a cream blush stick to cheeks and blend. Finish with a tinted brow gel that's applied with a mascara-like wand, a quick coat of mascara, and some lip balm.
Kylee's final words of encouragement? "Now you're ready to slay the day!" We agree!
Jené Luciani Sena is an accredited journalist and internationally-renowned bestselling author, regularly seen on national TV outlets such as Access Daily, Today and Dr Oz. Touted as one of Woman's World Magazine's "Ultimate Experts," she's a TEDTalk speaker and a busy Mom of 4.
Read more