5 Best Fall-Themed Manicures You Can Do Yourself
Chocolate-glazed donut nails are all the rage.
With a new season (hello fall!) comes a new set of colors and trends when it comes to your manicure. Everyone knows your nails are a fabulous way to express yourself and nothing makes you feel more on top of the world than that moment you look down at your fresh mani. The viral "just got my nails done, and I've immediately started acting different" TikTok is all of us and we're not hiding it.
If you're looking for inspiration for this season's manicures, here are five fall-themed manicures you can do yourself at home.
1. The glazed donut trend evolves
We've seen the glazed donut nail trend, but what about for chocolate lovers? Behold, the chocolate-glazed donut manicure that's perfect for fall. Plus, it's an easy one to create at home. All you'll need is Nailtopia's But First, Coffee topped with their Doing Great Sweetie as a shiny top coat. 
RELATED: 5 Best Pumpkin Beauty Products You Need to Try
"I think the glazed donut nail wearers will want a little more shine or texture in their mani's this fall, asking for pearl manis—either shades of white pearl polishes or even actual (flatback) pearls adhered to the nails, like these I did for Camila Cabello," says Celebrity manicurist Julie Kandalec.
2. Cosmic designs will be everywhere
According to celebrity manicurist, Mar y Sol Inzerillo, cosmic nails inspired by the Carina Nebula are going to be everywhere this season. "The recent photos from the James Webb Telescope have shown us all that we are but a tiny spec in this tiny universe, and this trend is easy to do and perfect for fall," she says.
To get this manicure at home you'll need a makeup sponge, a nail art brush or a toothpick and the following colors: Nailtopia's Jomo, Shooting Stars, Dynasty, and Top Of Your Game. First apply a base coat to all of your nails, then paint one coat of Dynasty, next using Shooting Stars gently press the brush near the cuticle area on one side of your nail and paint a zigzag shape towards the tip—be careful not to over apply. While it's still wet, using Jomo repeat the motion of step three and four leaving some silver peeking through. Finally, using your nail art brush or toothpick, paint your white star and when dry apply a top coat.
3. Get inspo from the leaves falling around you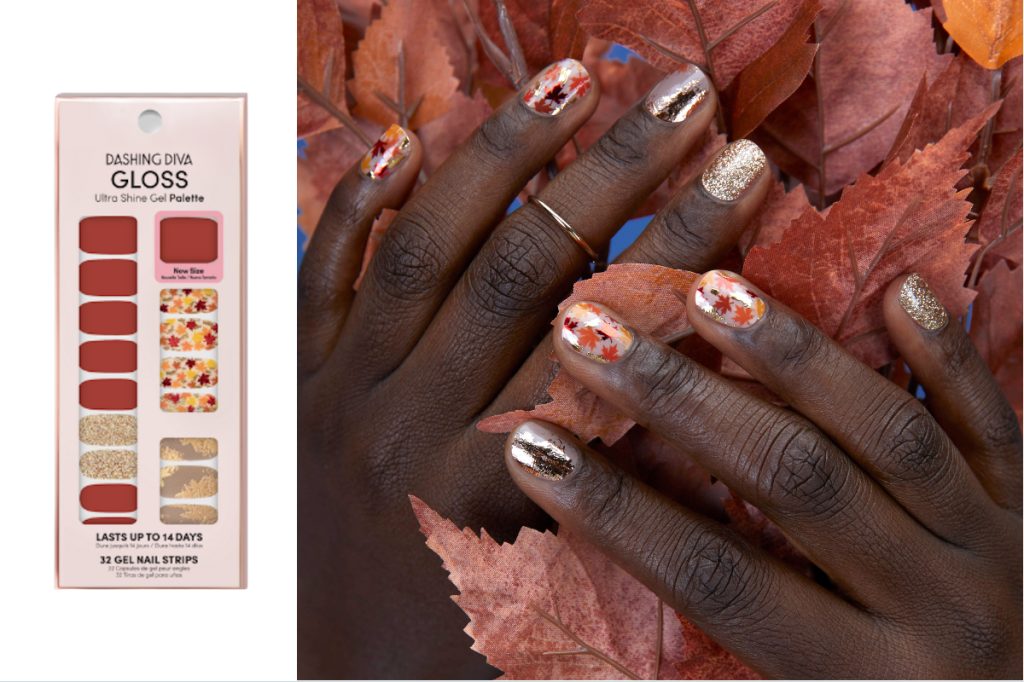 One look at the leaves in this manicure and you'll be falling in love. This set of auburn press-on gel nails from Dashing Diva ($7.99, ulta.com) feature gold glitter, gold foil, & multicolor fallen leaf accents. These ultra-shiny gel nail strips are chip-resistant, quick to apply, and last up to 14 days. 
4. Pumpkin Spice-inspired nails, anyone?
If we're into glazed donut-inspired manicures, then nails that resemble the cult classic pumpkin latte should be right around the corner. With Dashing Diva's gel press-on nails in Syrup Latte ($9, ulta.com), you can get the look in minutes.
5. Blushing reds with a bit of sparkle
These colors make it easy to slide right into the holiday season. With hints of sparkle, mauve pinks, bold reds, and chic burgundy colors all present easy-to-do-yourself gel nail tips with a glossy, high-shine finish. 
"I love that nail tips are a huge trend right now. People are leaning into at-home press-ons so much more over acrylics and other nail extensions. Press-on nails provide nail lovers the flexibility and ease of having a trendy, salon-worthy manicure right at their fingertips—pun intended," says Kathleen Fuentes, founder of Lights Lacquer.
Amber Love Bond is a Miami-based freelance hospitality and lifestyle writer.
Read more