9 of the best Earth Day deals that will reward us for saving the planet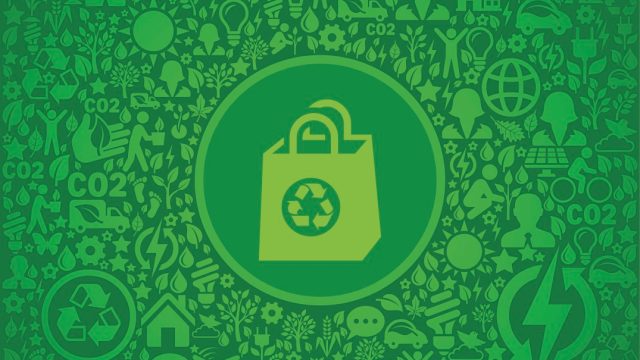 In our minds, every day is Earth Day. We strive to make decisions that benefit the health of our planet. But everyone needs the extra push and reminder that working alongside Mother Earth, instead of working against her, is more beneficial for everyone. So on Earth Day, Sunday, April 22nd, we're going to go the extra mile to donate, shop sustainably, and educate ourselves about living greener lives. To reward us, many different companies and businesses are offering Earth Day deals as incentives to get us to go green while saving some green.
We recommend that before you head to one of the below stores, check your local establishments to see what Earth Day deals are available. Shopping locally means that you're supporting your community, your local land, and especially when it comes to restaurants and food services, you're supporting local farmers and lessening your "food miles," as gogreen.org explains.
When you head out of the house on Earth Day, make sure you have your reusable tote and reusable water bottle in hand. If you can, opt to walk or ride your bike to your local shopping center. Set a goal to learn something new about how you can better the Earth and appreciate how lucky we are to live on this planet.
Of course, the below deals are great and all, but giving back to the Earth is what really matters.
1Ikea
From Saturday, April 21st to Sunday, April 22nd, IKEA will host its Make Room For Nature event at local stores. You can RSVP to take part in "sustainability themed activities and workshops," all designed to help consumers "bring your home to life." Freebies, coupon codes, and giveaways will also be up for grabs.
2Blue Jeans Go Green
https://www.youtube.com/watch?v=5_Frd0OFBfo?feature=oembed
If you have a stack of old denim you're dying to get rid of, think about recycling them with the Blue Jeans Go Green program. You can mail your old denim in or take your denim to a local participating store like J. Crew, Madewell, or Rag & Bone. You'll receive a discount or gift card to the store in which your donate and those in need will receive insulation for their homes made from your recycled denim.
You can donate your denim after Earth Day as well. Check the Blue Jeans Go Green website to see how long your local clothing stores will offer their recycling program, or mail in your denim at any point during the year.
3National Parks
The National Park Service extends Earth Day celebrations for an entire week. Starting on April 21st and ending on April 29th, those who visit their local national park can take part in National Park Week 2018. A variety of special events and programs will take place including a free admission day on April 21st and a Military & Veteran Recognition Day on April 28th.
4Staples
Bring your unused electronics to Staples from April 22nd to April 28th to ensure that the precious metals from inside your electronics are properly recycled. Your recycling efforts can also reduce the risk for mercury, lead, and cadmium from entering the air, water and soil.
After donating, you'll also receive $10 off your next purchase of $30 or more if you're a Rewards member. Check out Staples' list of recyclable electronics to see if you can donate.
5Kiehl's
When you buy $65 or more on Kiehl's products (which is very easy to do, might we add), you can use the coupon code "EARTH" through April 22nd to receive four deluxe samples. Spend $100 or more and the code will get you a free water bottle on top of the deluxe samples.
6Origins
Origins is celebrating Earth Month by giving out Earth Month tote bags and a free bottle of super deluxe Plantscription Anti-Aging Power Serum when you spend $45. This offer is available in-store and online.
7Buffalo Exchange
The recycled fashion chain Buffalo Exchange is running a $1 Day Sale to "Turn The Tide on Plastic Pollution." On Saturday, April 21st, customers can shop a selection of $1 clothing to benefit The 5 Gyres Institute. 5 Gyres researches ocean plastic pollution and educates the community on how to properly use and discard of plastic materials. And please, BYOB (Bring Your Own Bag).
8Goodwill
Many Goodwill locations across the country are offering special deals like discounts off purchases or free reusable totes. You really can't go wrong with donating to Goodwill on Earth Day (or any day). If your clothes aren't sold in the store, they're recycled and made into something useful.
9Chipotle
When you show your Chipotle cashier your reusable tote bag or water bottle on April 22nd, you'll receive a free burrito, taco, salad, or bowl alongside your purchase of one of the listed items. Chipotle is known for working with local farmers to responsibly source food products, and the company is working to increase their waste diversion from landfills to 50% by 2020.
Enjoy your Earth Day and do something good for the planet. When you help her out, you're helping us all.