11 Drugstore Dry Shampoos That Zap Greasy Roots and Instantly Refresh Hair
Say hello to voluminous hair.
Finding the best beauty products has never been easier thanks to Pia's Picks, our weekly curated list. As the Senior Beauty Editor at HelloGiggles, I test and examine the latest skincare, makeup, hair, and nail products so I can confidently recommend the best ones to you.
We all know that we need to wash our hair, but sometimes we just can't be bothered. We can all agree that the process of washing, conditioning, drying, and styling hair can be time-consuming and exhausting, especially for those who have long or curly hair. If you have taken the extra time to give yourself a bouncy blowout or beach waves, you probably want the style to last you several days. However, the laws of nature play against those of us who have oily scalps, making the roots of our hair limp and lackluster after just one day of not washing our hair. Thankfully, dry shampoo exists.
Many consider dry shampoo their holy grail product—keeping locks alive in between washes and providing extra volume and texture on days that would otherwise lack body. If you're on the lookout for a great dry shampoo that's high quality yet affordable, look no further than your local drugstore.
These effective drugstore dry shampoos are all under $15, so whether you want to stock up or just keep a bottle on hand for those sweaty hair emergencies, you can feel good about buying them. Here's to being clean.
The best drugstore dry shampoos for every hair type:
1. Best long-lasting drugstore dry shampoo: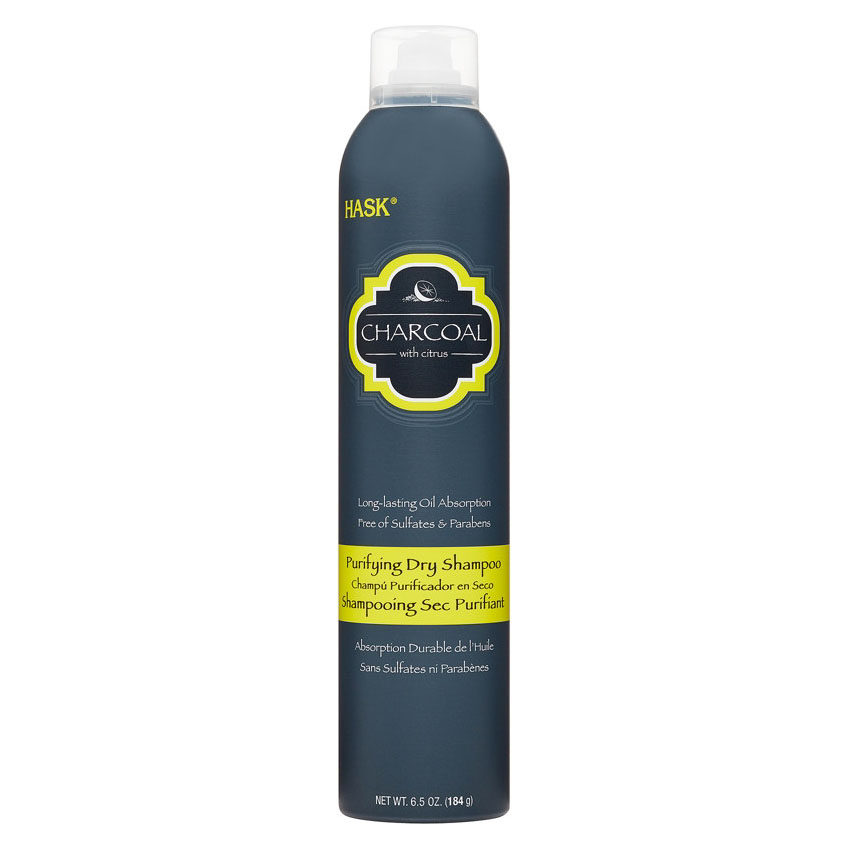 Hask Charcoal Purifying Dry Shampoo
$$7.99
Shop it
Ulta
The colorless charcoal in this purifying dry shampoo acts like a magnet to attract dirt and impurities throughout the day. Its ultra-fine rice starch formula absorbs oil, sweat, and odor and leaves hair feeling soft and touchable.
2. Best drugstore dry shampoo for oily hair: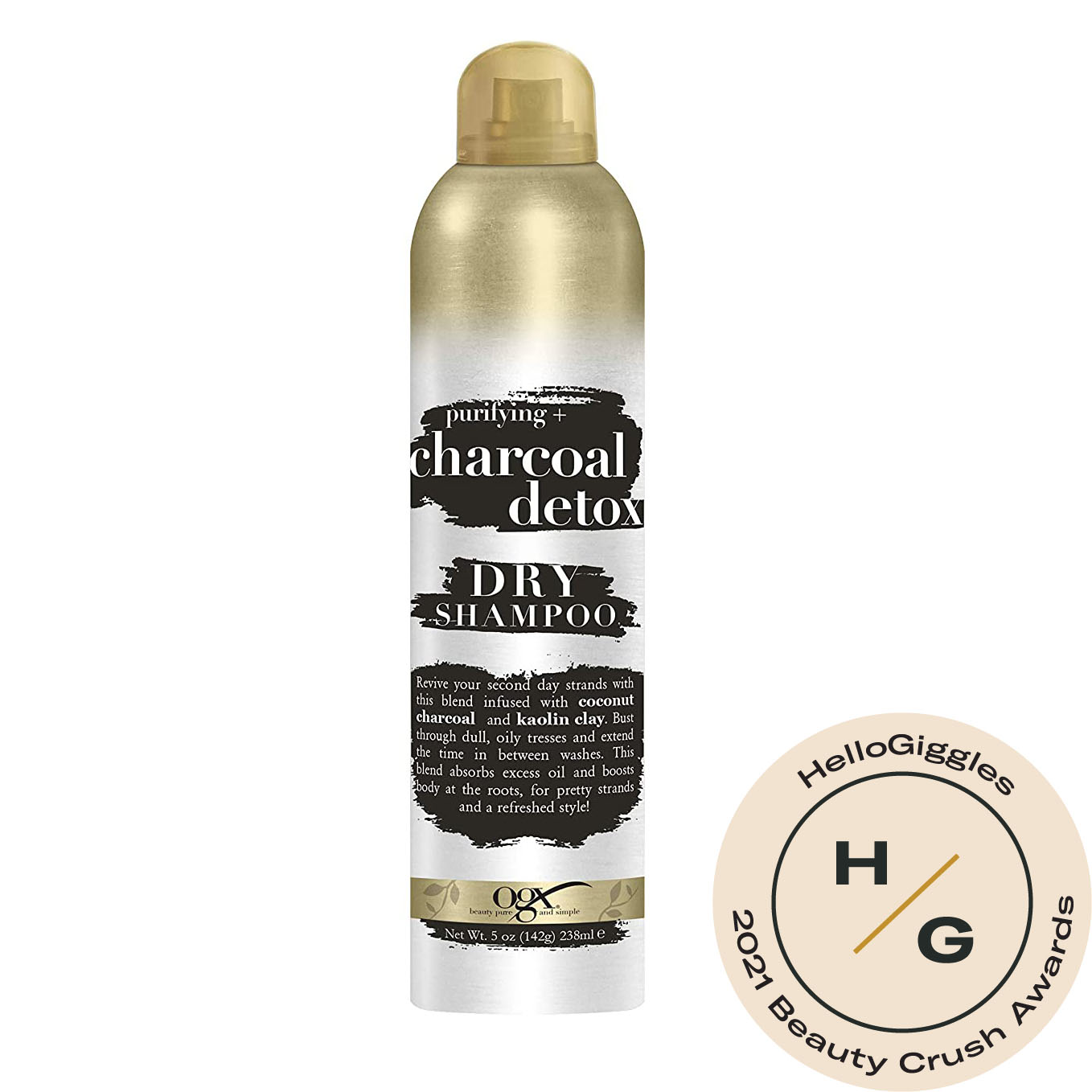 OGX Purifying + Charcoal Detox Dry Shampoo
Shop it
Amazon
"Though it took some time to work the product/powder residue into my roots, once I did, my hair looked much less damp, oily, and weighed down," said one tester during our 2021 Beauty Crush Awards testing period. "The charcoal definitely helps sop up oil. If you have very oily hair as I do, this is one of the best dry shampoos out there."
3. Best volumizing drugstore dry shampoo: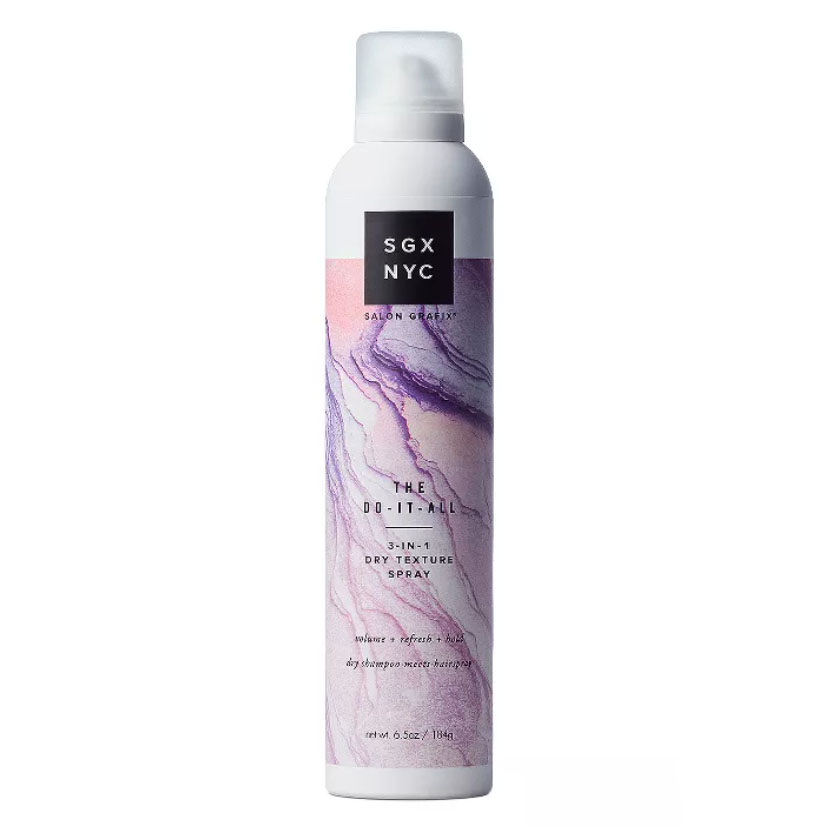 SGX NYC The Do-It-All 3-In-1 Dry Texture Spray
$$8.59
Shop it
Target
Greasy, days-old hair can look flat and weighed down, but this three-in-one spray shampoo will instantly add life back into your 'do. It won a 2020 Beauty Crush Award for its multitasking abilities: This spray is a hairspray, dry shampoo, and texturizer in one. Featuring oil-absorbing cleansing powders infused with sea botanicals and bamboo, it will boost your roots and provide instant fullness, extending the life of your previous blowout in just one spray.
4. Best drugstore foam dry shampoo formula:
Pantene Sulfate-Free Cheat Day Dry Shampoo Foam
$$6.99
Shop it
Target
This unique foam formula dry shampoo is especially great for people with curly hair because the rich lather re-hydrates curls while purifying, though it works on all hair types. Simply pump a small amount into your hands, work through the roots, and let the product air dry or use a blow dryer or diffuser to re-style. Tapioca sops up excess oil while luscious vanilla and jasmine leave hair smelling like it was just washed.
5. Best drugstore dry shampoo for brunettes: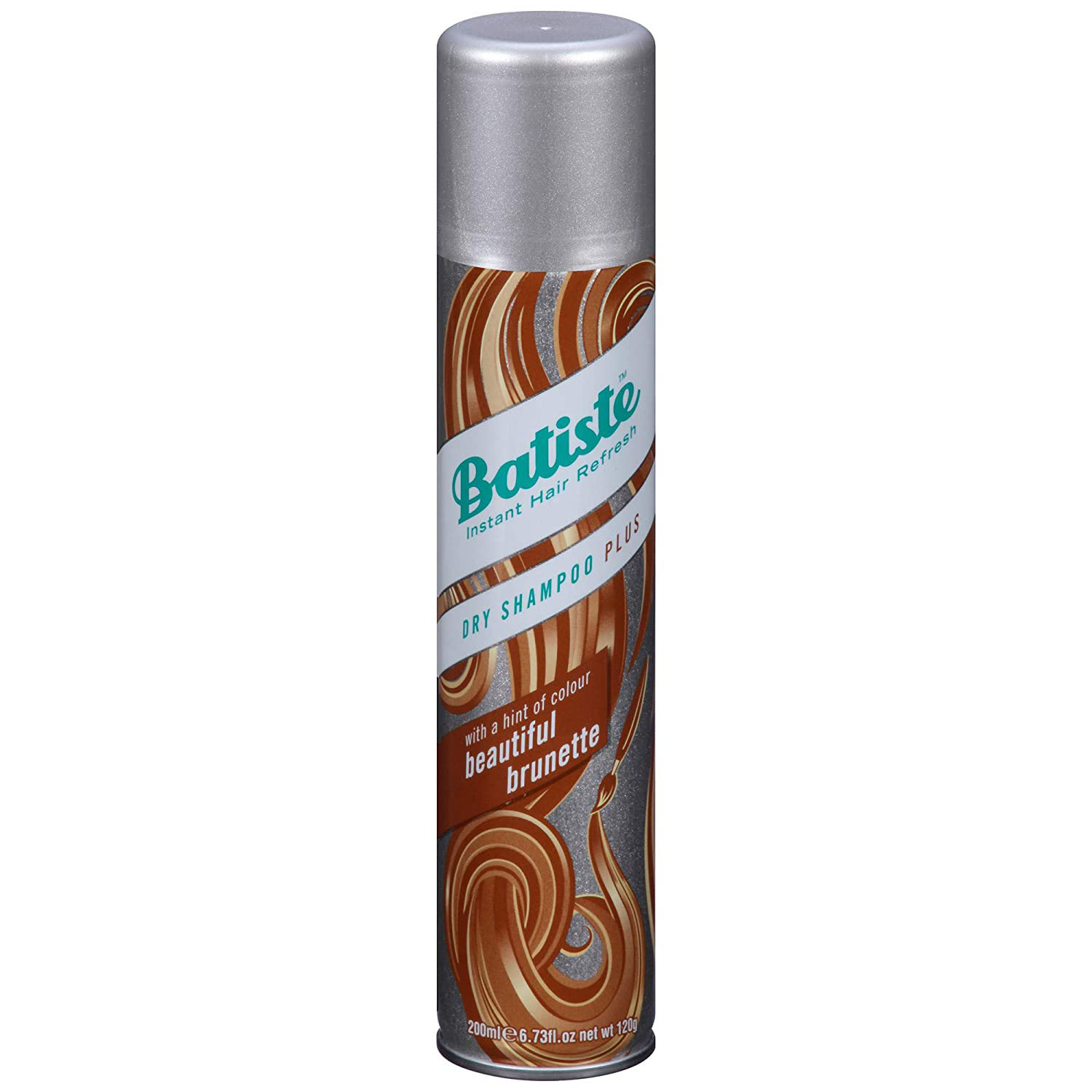 Batiste Hint of Color Dry Shampoo in Beautiful Brunette
$$9.99
Shop it
Ulta
People with dark hair sometimes shy away from using dry shampoo since many formulas leave a powdery white residue that doesn't always blend in, making it look like dandruff. This one from fan fave drugstore brand Batiste has a hint of color that blends seamlessly with rich brunettes and auburn, all while absorbing dirt, oil, and grease and leaving no residue behind.
6. Best drugstore dry shampoo for color-treated hair: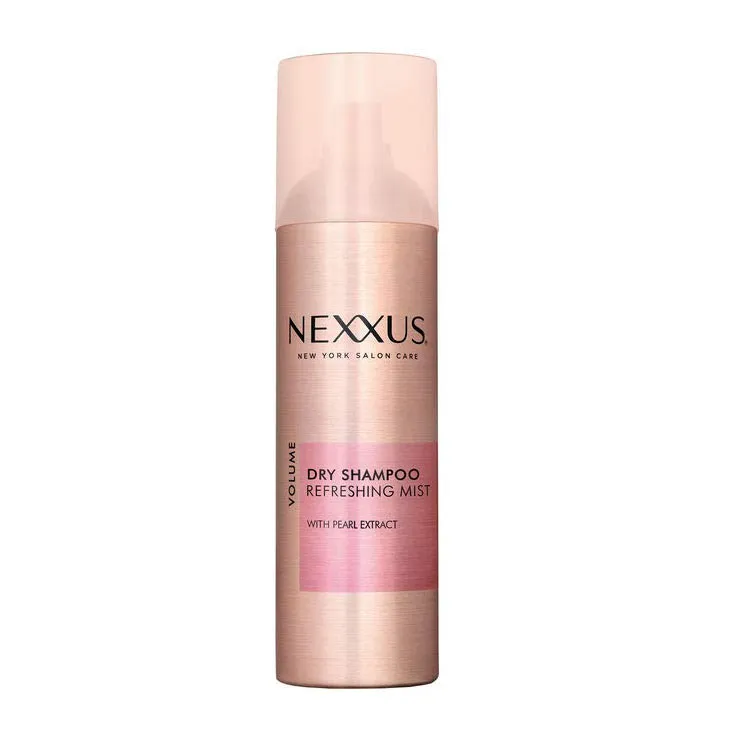 Nexxus Dry Shampoo Refreshing Mist
Shop it
Amazon
Nexxus's dry shampoo refreshes your scalp and hair texture while leaving virtually no powdery build-up behind. It's ideal for color-treated hair because the gentle mist and non-drying formula help fight color fade. It's made with silica, an oil absorbent agent, along with hydrolyzed pearl for a shine boost.
7. Best drugstore dry shampoo with no residue: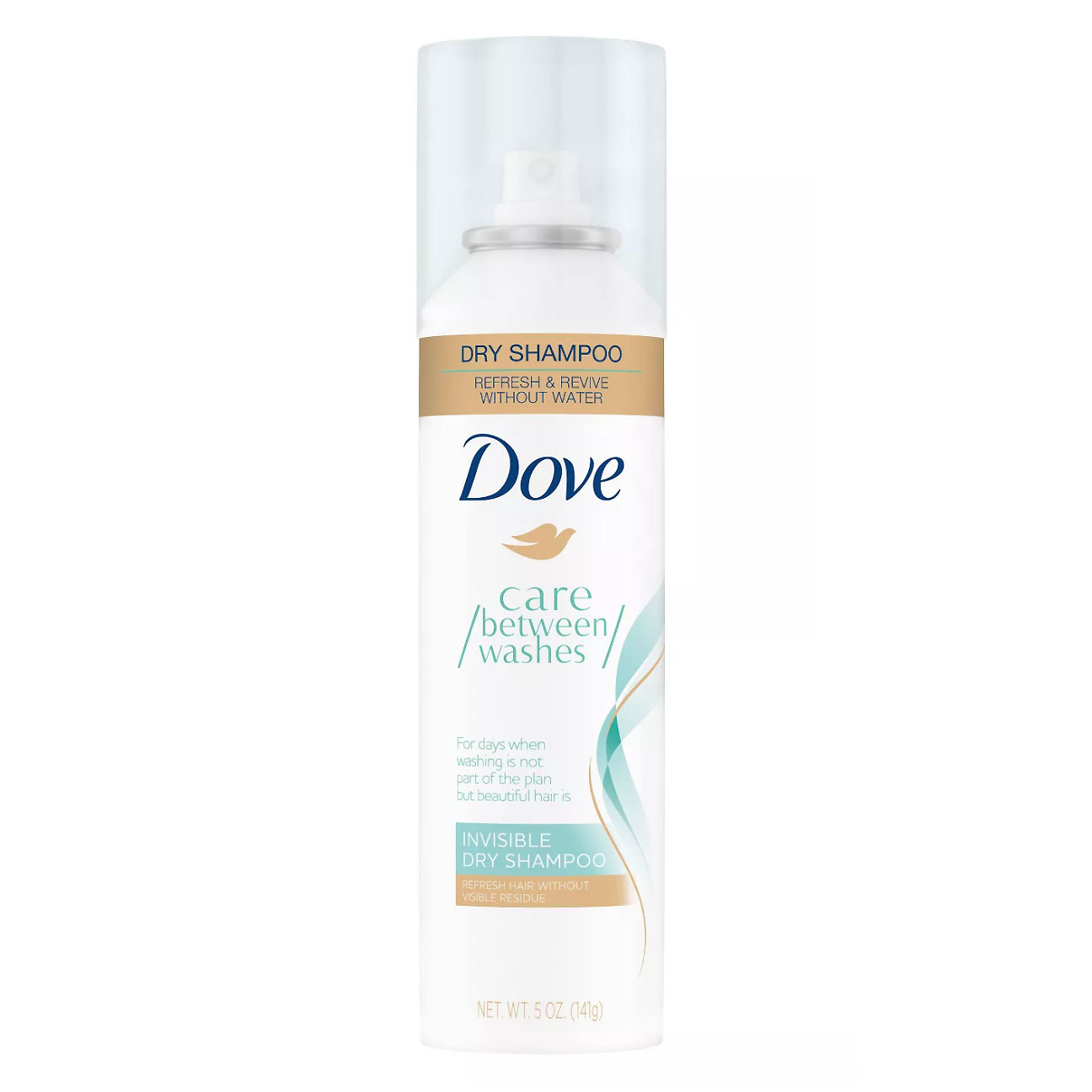 Dove Invisible Dry Shampoo
$$4.89
Shop it
Target
With this truly invisible formula, you don't need to worry about that baby powder look other dry shampoos sometimes leave behind. The weightless formula won a 2020 Beauty Crush Award for its ability to not only freshen your 'do, but rehydrate hair from root to tip with silk amino acids. Plus, the small size makes it the perfect on-the-go option for whenever you need touchups.
8. Best drugstore dry shampoo for damaged hair: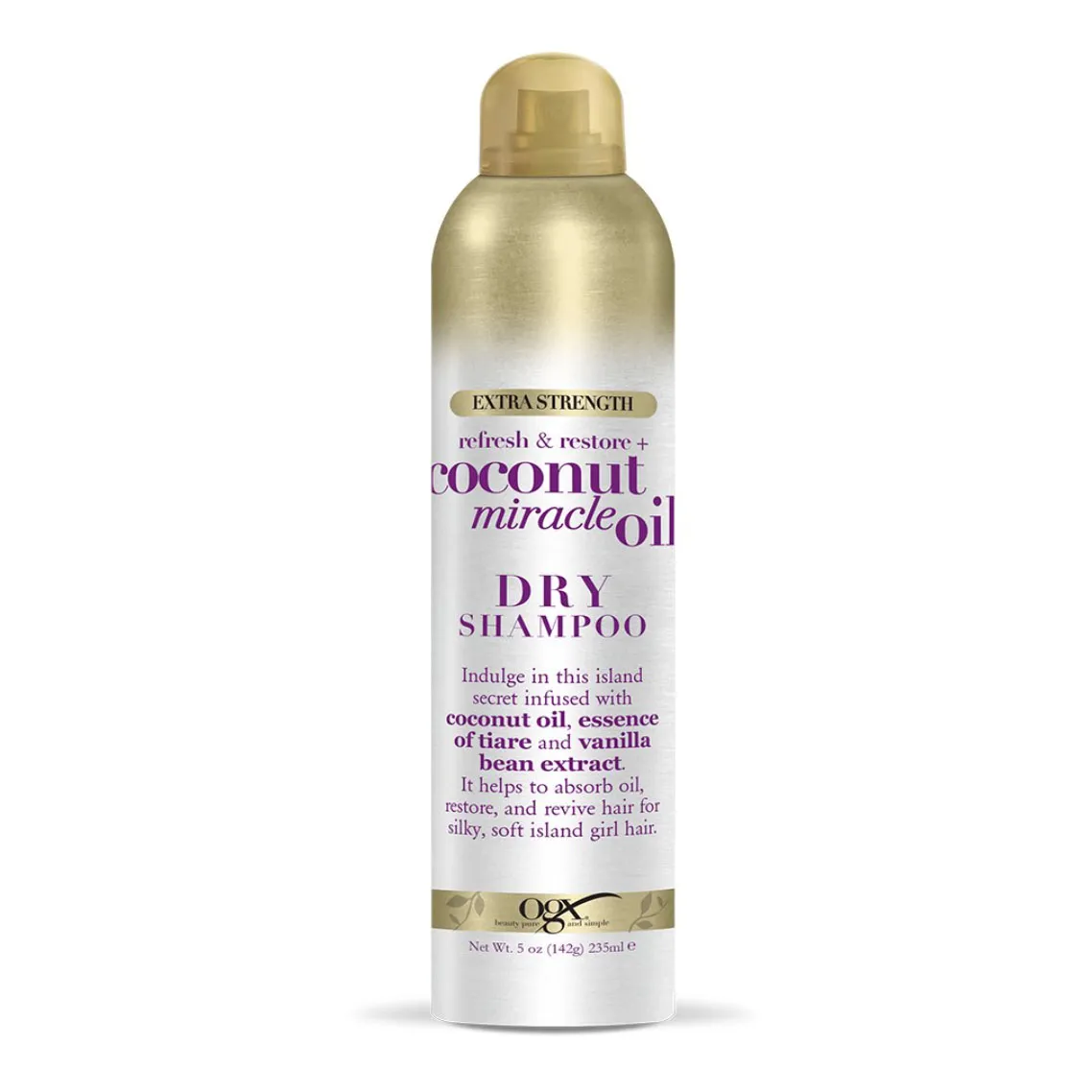 OGX Coconut Miracle Oil Dry Shampoo
Shop it
Amazon
Dry and damaged hair gets an added dose of hydration with this dry shampoo that sops up dirt and oil at the scalp but refreshes strands with moisturizing coconut oil. Plus, it smells like delicious vanilla and coconut dessert. *Swoon*
9. Best refreshing drugstore dry shampoo: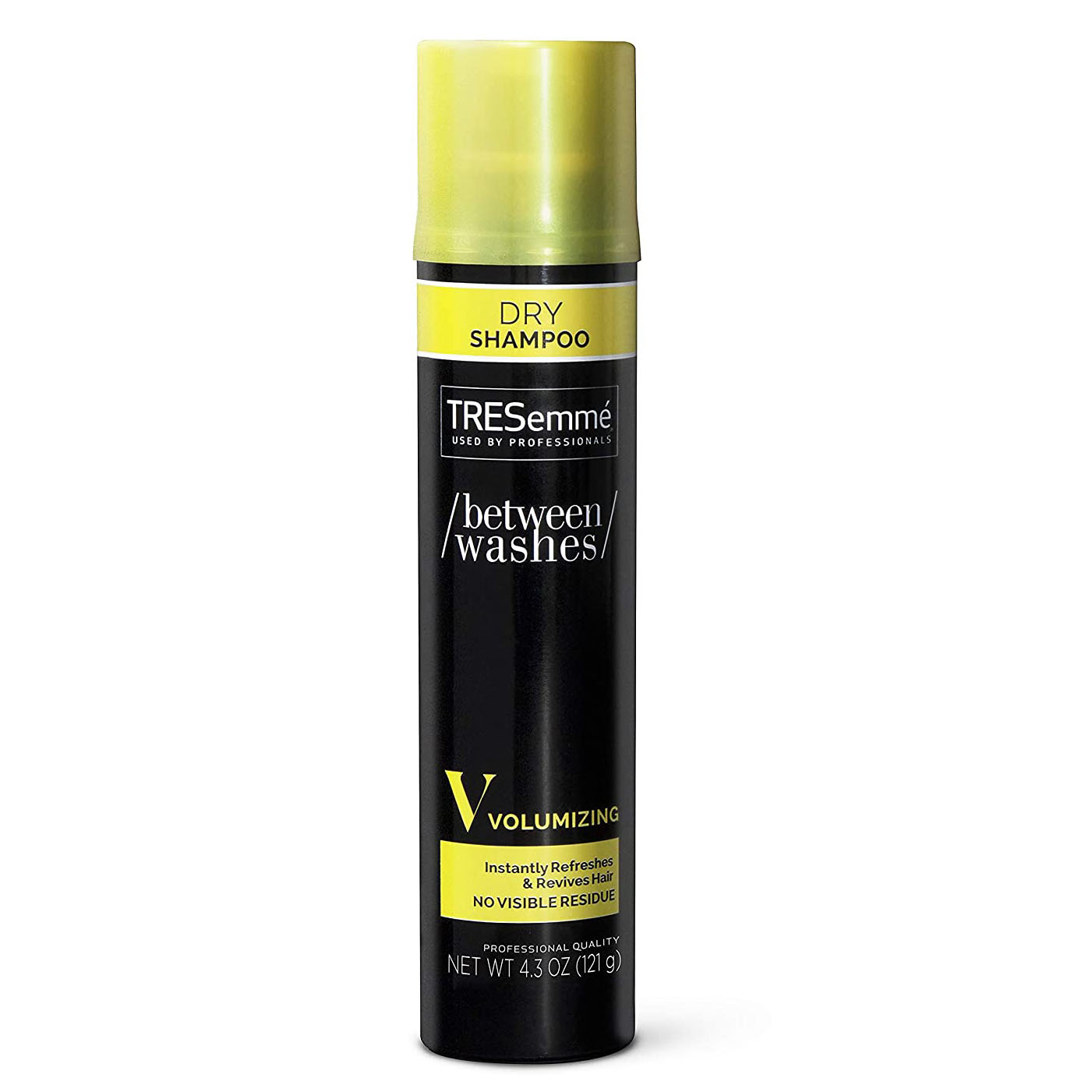 TRESemmé Between Washes Volumizing Dry Shampoo
$$5.99
Shop it
Ulta
Limp, lifeless hair will be revived with this ultra affordable dry shampoo. The lightweight formula is infused with clay and citrus while containing keratin and vitamin B12 (a nutrient that promotes healthy hair growth) for extra nourishment. Spray just a little bit on your roots and work in with your fingertips for beautiful body and movement.
10. Best scented drugstore dry shampoo: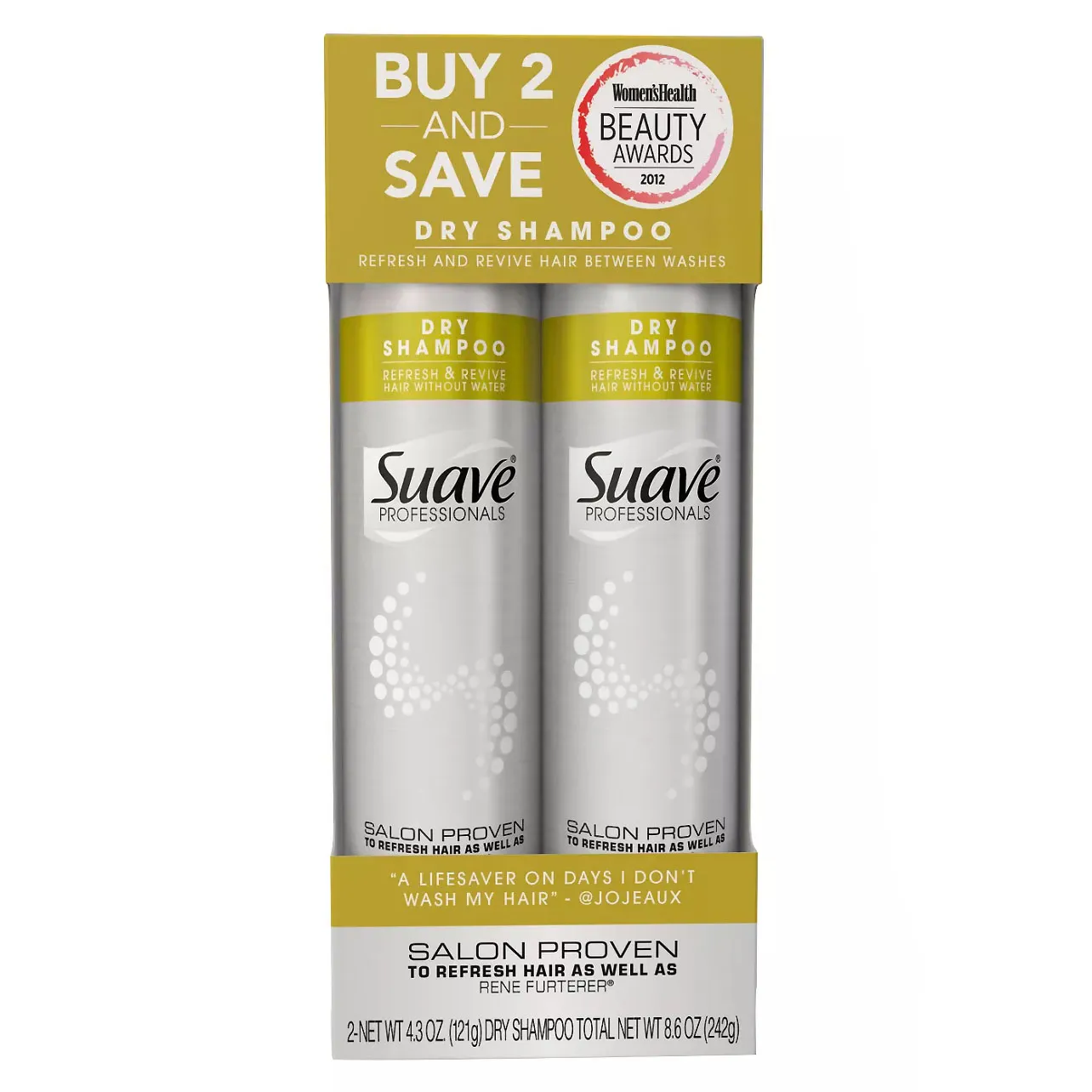 Suave Professionals Refresh and Revive Dry Shampoo 2-Pack
$$6.79
Shop it
Target
Another super affordable option, this Suave pick contains mineral clay to help absorb excess scalp oil. Bonus points for its smell, which is delightfully fresh and citrus-y.
11. Best silicone-free drugstore dry shampoo:
Love Beauty and Planet Citrus Peel Radical Refresher Uplifting Dry Shampoo
$$8.59
Shop it
Target
Revitalize day-old hair with this purifying dry shampoo that's infused with coconut water—it helps removes excess buildup without any parabens or silicones. It's also vegan and uses nitrogen instead of CO2 to mist for a more eco-friendly, non-greenhouse gas propellant.