The 7 Most Adorable and Hilarious Dog Halloween Costumes You'll Ever See
Take your pick from these adorable costume ideas for your pet.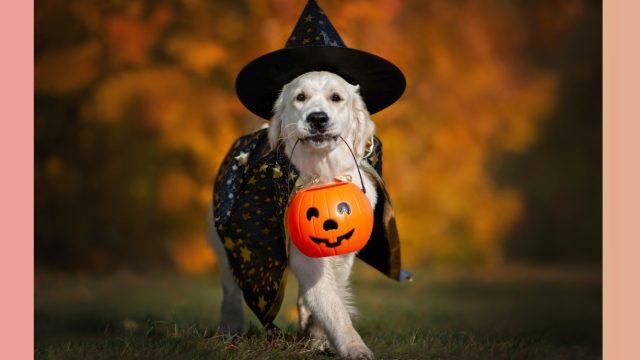 If you're a pup parent with a penchant for all things spooky, chances are you'll be on the look-out for a cute costume that will be perfect for your four-legged friend this Halloween. And whether you want to opt for an altogether adorable outfit or something more sinister, there are endless get-ups to choose from.
From a do-it-yourself ghost costume to some freaky zombie attire, over on Instagram there's a wealth of inspiration to find something perfect that both you and your pup will love.
Whether you want to keep it budget friendly, or splash out some dough on your pooch, we've rounded up the most adorable and hilarious dog Halloween costumes you'll ever see.
RELATED: 27 Halloween Eye Makeup Ideas That Are the Cherry On Top of Any Costume
This Golden Retriever dressed as a Lion
What's not to love about this adorable Golden Retriever complete with lion's mane and pumpkin lantern? The ultimate Halloween set up, try Amazon for a similar costume for your treasured pooch.

This Boxer pup dressed as Dorothy
While this lovable boxer pup may be missing his ruby red slippers, he more than makes up for it with these cute braids and gingham dress. Want to add a touch of magic to your dog's Halloween get up? Pet Costume Centre have a cute-as-a-button Dorothy dog costume.
These Corgis dressed as turkey drumsticks
This gorgeous duo looks good enough to eat in their turkey drumsticks costume — and it'll double up as a great get-up for Thanksgiving too. Find something similar at Pure Costumes.
This pint-sized pooch dressed as a monkey
This three pound pup has to be one of the cutest dogs on Instagram, and in his Halloween monkey attire, he takes the level of charm up a notch. Treat your pet pooch to their own monkey get-up on Etsy.
This French Bulldog dressed as a dinosaur
This gorgeous French Bulldog looks just adorable in his dinosaur outfit. Want to get in on the fun with your four-legged friend? Dress your pet pooch in something similar from Etsy.
This Bull Mastiff dressed as a vampire
Looking for something more spooky than cutesy? Why not take some inspiration from Odin the Bull Mastiff and dress your furry friend is a vampire outfit? We love this one from Chewy.
This Corgi dressed as a ghost
Further proof that Corgis are among the cutest pooches around! It doesn't get easier — or more purse-friendly – than a simple ghost costume for your dog. Simply find an old white pillowcase, and – voila! – you're ready for a night of trick or treating with your favorite furry friend in tow.
Lucy Pearson is a freelance writer, book blogger and host of The Bondi Literary Salon based in Bondi.
Read more