The best new deodorants to try before sweaty summer days come into full effect
With summer on the horizon, it's time to start pulling out those cute crop tops, daytime dresses, and comfy T-shirts. But while a warm wardrobe is exciting to plan, the impending season also means more opportunity to sweat. With rising temperatures comes the task of finding the best deodorant that keeps your pits dry and free of stench. Don't worry, though, we've got you covered.
If you aren't exactly sure about what kind of deodorants to try, cosmetic dermatologist Dr. Sonam Yadav, M.D., suggests looking for deodorants that nourish and protect the skin on your underarms while keeping you fresh at the same time.
"The perfect deodorant is safe and effective," Dr. Yadav told HelloGiggles. "Be sure to look out for fresh and organic ingredients that nourish and protect the skin." While it's tempting to mask nauseating odors with strong deodorants, Dr. Yadav suggests looking for products containing more natural scents like soothing lavender, rose, and vanilla.
Now that you have helpful dermatologist-approved advice under your belt, we've got 19 deodorants to try before summer comes along, including everything from traditional sticks to pads.
1Dove Dry Serum Antiperspirant
Soothe rough and sensitive skin under your arms with this antiperspirant product, which uses a special dry serum to keep your underarms fresh and free of irritation.
2Myro Deodorant
Made without aluminum, parabens, and talc, this non-toxic deodorant stick fits nicely in your bag or tote for hassle-free deo application.
3Schmidt's Naturals Water+Wood Deodorant Stick
Enriched with natural magnesium and detoxifying activated charcoal, this deodorant stick is perfect for those who love vegan-safe and cruelty-free products.
4Sumbody Deodorant Pads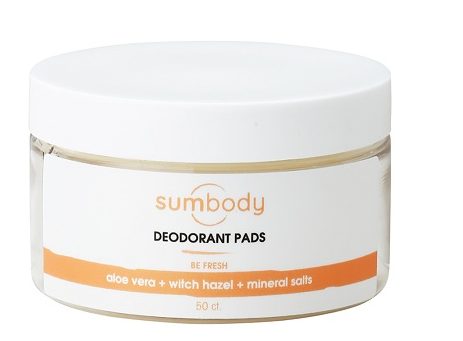 Great for your work desk or gym bag, let these fresh deodorant pads give your underarms an instant burst of freshness whenever you need it most.
5Native Coconut & Vanilla Deodorant
Take a trip to the tropics with this coconut- and vanilla-scented deodorant, which goes on easy and boosts an aluminum-free formula.
6DeoDoc Intimate DeoSpray
This pH-balanced deodorant spray is perfect for the person on-the-go, as it neutralizes icky odors fast.
7Kaia Naturals the Takesumi Detox Deodorant
Featuring irresistible scents like Nordic frost, black oak and bourbon, and sakura blossom, this charcoal deodorant is suitable for those who want a luxurious deodorant product that actually works.
8Saje Peaceful Warrior Deodorant
Next time you sweat up a storm during your yoga or pilates class, be sure to pack this earthy deodorant which leaves your underarms smelling like total nirvana.
9Milk & Honey Baking-Soda Free Stick Deodorant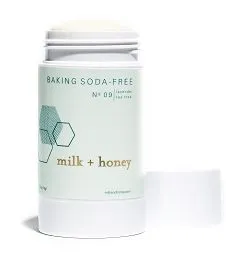 Sensitive skin users will adore this baking-soda free stick deodorant, which comes in a gentle lavender- and tea tree-infused scent.
10Love Beauty and Planet Murumuru Butter and Rose Deodorant
This deodorant is made with ethically sourced and hand-picked Bulgarian rose extract. Fancy!
11EO Products Deodorant Spray
There's no denying that this certified organic deodorant spray keeps you fresh and cool after a long day spent outside, especially since it contains pure essential oils and organic ethanol.
12Earth Mama Organics Mini Deodorant Pack
This purse-friendly pack of organic deodorants leaves your underarms smelling fresh with scents like calming lavender and bright citrus.
13Korina Naturals Deodorant-Citrus & Eucalyptus
Indulge in a cheerful citrus scent with this deodorant, which utilizes refreshing notes of citrus fruits and eucalyptus.
14Kopari Coconut Deo
Coconut enthusiasts will swoon over this deodorant stick that features no aluminum and genetically-modified ingredients in its formula.
15Pacifica Coconut Milk & Essential Underarm Deodorant Wipes
Perfect for long walks back to the subway, these handy deodorant arms come in a refreshing coconut scent that isn't too overpowering.
16Own Beauty Deodorant
With five unique scents, there's nothing stopping you from grabbing this deodorant, which keeps your pits dry all day.
17Biossance Squalane + Bamboo Deodorant
This non-toxic deodorant absorbs excess moisture with added grapefruit, geranium, clary sage, and bamboo powder.
18Vichy 24-Hour Dry Touch Deodorant
Expect nothing but long-lasting protection whenever you use this deodorant, since it contains an effective mineral formula that lasts for a solid 24 hours.
19By humankind Deodorant
This customizable deodorant brand can also be refilled. Plus, $1 of the container purchase goes to removing plastic waste from the ocean.