19 deep conditioners that will bring your dry, straw-like hair back to life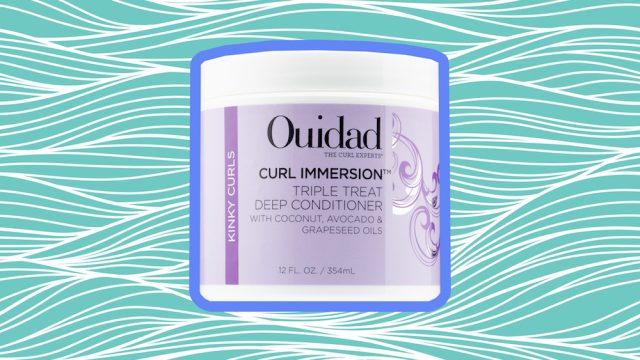 We all know how harsh the winter weather can be on our precious hair. Whether your hair is straight or super curly, the harsh temperatures can leave it feeling like straw and looking lifeless. Going to a stylist to receive professional hydrating treatments can be a hassle (and costly!), especially when you'd much rather stay at home snuggled up.
This season, keep the salon trips to a minimum by trying a deep conditioner treatment at home. Your hair and wallet will thank you. Not only will you beat dry winter hair, but you can use it as an excuse to have an extended wash day. If you're looking to tackle dry hair from the comfort of your own home, here are 19 products to try while sipping a hot cup of cocoa:
1Briogeo Don't Despair, Repair! Deep Conditioning Mask
In as little as five minutes, this ultra-hydrating mask (which is enriched with vitamins) will bring the life and moisture back to your dry, brittle hair.
2Mielle Organics Rosemary Mint Strengthening Hair Masque
Whether your hair needs hydration or strengthening, this biotin-packed masque has you covered. Curly-haired girls will especially love this.
3Redken All Soft Mega Conditioner
Formulated to treat severely dry, medium-to-thick hair, this conditioner will leave your hair feeling smooth and manageable.
4Shea Moisture Manuka Honey & Mafura Oil Intensive Hydration Hair Masque
This deep conditioning treatment is the bee's knees for parched hair. The manuka honey in the masque soothes the scalp while the mafura oil replenishes your strands.
5Kinky Curly Stellar Strands Hydrating Deep Treatment
Having dry, curly hair doesn't have to be a headache any more. This treatment is made especially for stubborn dry curls. Leave this in your hair for up to 30 minutes if your strands need a lot of hydration.
6Matrix Biolage Hydra Source Conditioning Balm
This aloe-enriched conditioning balm will help balance out moisture in your hair while making detangling a breeze.
7Keratin Complex Smoothing Therapy Keratin Color Care Conditioner
This technically isn't a deep conditioner by name, but by effectiveness, it most certainly is. If your color-treated hair needs some extra love, this smoothing conditioner will do the trick.
8AG Hair Care Curl Thrive Conditioner
This fast-absorbing conditioner hydrates and defines even the tightest of curls with the help of sunflower oil. Consider this a quick-fix.
9Hempz Original Herbal Deep Conditioner & Hydrating Hair Mask 
Dehydrated and damaged hair will be high on life when it gets a hold of this hemp oil-infused conditioner.
10Brite Bar None Hydrating Conditioning Bar
This solid hair conditioner will ensure you hydrate your hair down to the very last drop. Put this in your travel bag so your strands can be quenched during any winter get-away.
11TXTR by Cantu Leave-In + Rinse Out Hydrating Conditioner
Get the salon treatment when you use this conditioner. Formulated with shea butter, spearmint, and canola oil, it will totally hydrate your thirsty strands.
12Moroccanoil Intense Hydrating Mask
This intense treatment contains the ingredient of all ingredients: argan oil. Your hair will immediately feel nourished and hydrated—and we're so hair for it.
13Oiudad Curl Immersion Triple Treat Deep Conditioner
This deep conditioning mask will help curly hair bounce back with much-needed hydration and definition. It's jam-packed with good-for-you ingredients like grapeseed, coconut, and avocado oils.
14Garnier Fructis Smoothing Treatment 1 Minute Hair Mask, Avocado Extract
Made with 98% naturally derived ingredients, this hair mask can also be used as a regular conditioner or leave-in to meet all of your hair's needs.
15Pravana Nevo 60 Second Deep Treatment
In just 60 seconds a week, your hair can be on its way to repairing itself from the damage of winter weather. If that's not impressive, then we don't know what is.
16Keratase Nutritive Mask For Dry Thick Hair
This conditioning mask doesn't only repair dry, brittle hair but it also protects it from further damage throughout the winter season.
17Pantene Pro-V Gold Series Repairing Mask
This argan oil-infused deep conditioner will make you say goodbye to straw-like hair.
18Living Proof Restore Mask Treatment
This treatment restores dry, damaged hair with powerful ingredients like tacuma butter and glycolic acid.
19Aussie 3 Minute Miracle Moist Deep Conditioner
This deep conditioner may be super affordable, but the proof is in the pudding (and the name). In just 3 minutes, dry, distressed hair will transform into silky strands.