The best dating apps for relationships, according to real people who found success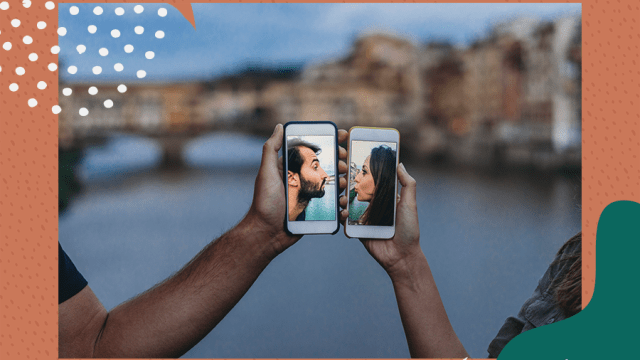 If you didn't meet you partner online, chances are you know someone who has. According to Pew Research, the likelihood of people using dating apps has increased more than two-fold since 2013, making matches more probable, more possible, and often, longer-lasting. Gone are the days when people would roll their eyes because someone met their person on Tinder. Thankfully, dating apps no longer carry a stigma. They're more common, more diverse, and more accessible, not to mention, more successful among young people who are looking for love. In fact, Pew reported that more than half of Americans (54%) believe that relationships that begin on a dating site or app are just as successful as those that begin in person.
There's absolutely no shame in this game. The rise of popular dating apps has allowed the many (yes, many) couples who have found a successful partnership online to be more open and honest about their origin stories. In a recent study, 12% of people said they have married or been in a committed partnership with someone they first met through a dating app, which was up from just 3% in 2013—and that number is growing.
Though the usership among apps tends to skew on the younger side—with most users falling into the 18- to 34-year-old range—relationships that began on apps are budding into more than just convenient connections, but true forms of romance including long-term relationships and even marriage.
These platforms work a bit through chance and a bit through the willingness of the users to put themselves out there, but ultimately, the concept of all of them is the same: to allow people to form a romantic connection with someone who they may have never met otherwise.
So, if you're over casual hookups in 2020, we hear you. And if you need a little more proof that those tiny, square-shaped icons on your phone can actually work, here are the best dating apps for real relationships, according to real-life people with heartwarming success stories.
Proof that these are the best dating apps for relationships:
Coffee Meets Bagel
"Jason and I met on Coffee Meets Bagel in 2017. I almost didn't meet up with him. After a two-year stint of app dating, I was frustrated and ready to call it quits. I realized pretty early on that dating with apps was a numbers game and that the more dates I went on, the closer I'd get to finding the right person. So I approached dating like a full-time job: I spent at least half an hour to an hour each day swiping, talking to potential boos, and setting up dates. In that two-year span, I went on some memorable dates, some forgettable ones, and some I wish I could forget. I dated someone for six months before we amicably parted ways and I learned more about myself and what I wanted in a partner than I thought was possible.
Tired as I was of the game, I figured I'd give it one last shot before taking a well-deserved sabbatical. I'm happy I did—Jason and I clicked right away. I felt that I had known him forever, despite just meeting him.
App dating can be exhausting, but it's also worth it once you've found the person you want to ceremonially disable your account with. Personally, I think that if you're consistent, going on a few dates a month, you'll find someone—and at the very least, you'll know exactly who you *don't* want."
—Elissa, 26, Denver, CO
OkCupid
"My boyfriend and I met after we both moved to New York City in 2017. I had been here for a month and he was just here for a few weeks, and I think we both wanted to make friends in the new city. He was the first guy I met off a dating app—OkCupid to be specific—and we connected so much that he just stuck around after. I'm Latina, and it was the first time I was dating someone who didn't share my same culture. It was a roller coaster, at first. After eight months, we broke up but stayed friends for a very long time. Fast forward to now, and we're now back together and moving in together soon, which I'm totally looking forward to."
—Sophia, 28, New York, NY
Plenty of Fish
https://www.instagram.com/p/B66NMCypzsd
"I met my fiancée Nicolle on Plenty of Fish. I met her when I was in the process of moving to North Carolina for a new adventure. Nicolle had messaged me a year prior on POF and after not answering for that full year, I spontaneously decided to answer. I wasn't really thinking about being in a relationship at the time, but thought I would make a cool friend before I moved. In just a few weeks of dating, I pulled out of my lease in North Carolina, and Nicolle and I ended up moving in together instead. Now, we own a house in Florida and the rest is history! We're so looking forward to our big day this year."
—Lauren, 31, Nicolle, 34, Delray, FL
Tinder
"Michael and I met when we were studying abroad in Dublin. I think my thought process at the time was how excited I was to meet new people, and Tinder felt sort of easier and less intimidating than approaching people at cafes or pubs. I had a bunch of matches on the app, but he was the only one I ever met up with in person.
Because I'm from the U.S. and he's Irish, there was the big feeling that it was all going to come to an end when I went back to finish school. We did long distance for about a year, and then I returned to Ireland for grad school.
Now, it's been four years and he asked me to marry him last fall, so thankfully no more distance after this.
I think Tinder worked for both of us because we are both painfully shy and lacking in confidence. It helped us both break the ice without the need to do so in person and potentially fumble over words."
—Mary, 25, Dublin
Hinge
"After a serious post-grad slump coupled with a bad heartbreak, I decided to give dating apps a try. Originally, my best friend and I downloaded Hinge as a way to get through our feelings of loneliness after we moved home, and I'll admit that I spent about six months of empty 'liking' on the app before I matched with David. His profile was marked as a 'most compatible' potential match, which either means Hinge has a really smart algorithm or it was total chance that we turned out to be insanely compatible IRL. I'm a romantic, so I like to believe it was fate.
Hinge worked for us because we connected over a simple shared interest (Mario Party) and then he asked me out on a date after just a few exchanges on the app itself. He was forward and to the point, which I appreciated, and made concrete plans with me that we both followed up—and followed through—on. Now, the very first date I went on from an app may very well be my last.
For people who are frustrated or disheartened with the dating app scene, I like to tell say, 'all it takes it just one.'"
—Mackenzie, 24, New York, NY
Bumble
"My boyfriend and I met on Bumble and had quite the crazy early dating story. We went on just three dates before I had to travel for work, but we agreed that we wanted things to continue, so we started dating long distance. Our fourth date was in-person, when he came to visit me in Europe for spring break, and we've been pretty inseparable ever since. It's been three years, and we live together now.
Bumble is nice because it lets the girl make the first move, which I liked, and I'm happy to have found someone who was looking for the same things as me on there."
—Pippa, 23, Newport, CA
Stories have been edited and condensed for clarity.