This is the dating app you should definitely use, according to your zodiac sign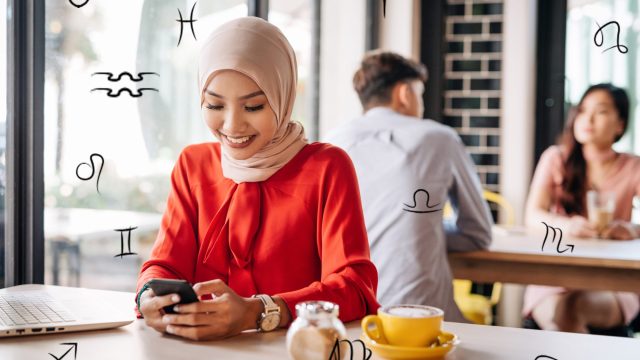 Navigating online dating can be overwhelming at times. With so many different dating apps available, all boasting that they can help you find your perfect match, it can be difficult to decide which app is the best fit for you. While the purpose of all dating apps is to help you find that special someone, each one works a little bit differently. Knowing which one will suit both your personality and needs is half the battle (the other half being, of course, finding a match whose breath doesn't stink).
Enter: astrology. Your zodiac sign's unique characteristics can help to determine which dating app will work most effectively for you. By letting the cosmos guide you, there's less chance of signing up for a bunch of apps that you don't really want or trust, which will in turn save you from chatting with matches you don't really want to talk to.
Whether you're seeking long-term love or a casual fling, here's the best dating app for your zodiac sign. May your swipes always be right.
ARIES
You're all about staying active and keeping busy, which means sitting around swiping through matches isn't your thing at all. You'll love Sweatt, a dating app for fitness lovers. Its algorithm promises to match you with people on the same fitness schedule who love the same activities as you do.
TAURUS
You're a practical person who seeks stability and security from your connections. But you're also ruled by Venus, the planet of love, so you believe in long-term romance. You'll like Match, a paid app that focuses on finding, err, matches who are looking for marriage.
GEMINI
Your mind's often racing a mile a minute, so it's no wonder you're not really paying attention to the world, and possible matches, around you. That's why Happn is the best option for you. The location-based app shows you potential matches that you walked by and didn't even notice.
CANCER
You're a homebody who's not seeking one-night stands. You want a long-term partner, but you also don't want to spend a lot of time talking to strangers. You'll like Zoosk, an app that not only focuses on long-term relationships, but also pulls data from your social accounts so you can easily sift through matches.
LEO
You might not ever date Idris Elba, but that doesn't mean you don't want someone who comes close. Enter Badoo, a dating app that usesfacial recognition technology to help users find a match who looks like anyone—from your celeb crush to your ex. It's right up your alley, lioness.
VIRGO
If you're going to bother with a dating app, you want to make sure it's organized to your high standards. The League, a self-proclaimed elite dating app, is made for picky perfectionists like you. Aimed at working professionals, potential members are approved based on data from their Facebook and LinkedIn profiles.
LIBRA
You're the social butterfly of the zodiac signs and you love meeting and connecting with new people. You'll love Coffee Meets Bagel, which not only curates your matches (which is perfect for you), but also encourages users to meet up in person to talk or have coffee and form authentic connections.
SCORPIO
Sometimes you want a one-night stand, and sometimes you want someone to hold. But most of all, you want pure honesty. OKCupid is an app made for you. It not only has a ton of users, but it matches users based on percentages, so the odds are ever in your favor. Bonus? It also helps you sort through matches based on political views.
SAGITTARIUS
You don't like waiting around for someone to approach you; if you like someone, you want to do something about it. Your dynamic and adventurous nature works best for Bumble, which puts women in the driver's seat by allowing female users to start the convo first.
CAPRICORN
When it comes to love, you're in it to win it. You don't want to waste your time on apps, and you also want someone who's as smart and ambitious as you are. EliteSingles, which is aimed at highly-educated professionals looking for long-lasting love, is perfect for you.
AQUARIUS
You're finicky when it comes to love. Sometimes you want companionship, sometimes you just want sex, and sometimes you want to be left alone. Tinder, with its plethora of options, including matches who want to get down and those who want to date, is your go-to app.
PISCES
The idea of meeting strangers on such an intimate level sometimes terrifies you, and that's why Tastebuds will help you feel more at ease. It matches you with others based on your taste in music, which caters to both your artistic and sensitive side.
Dating apps don't have to be scary, bbs. Bottom line: have fun, and get swiping.