The 10 Best Dandruff Shampoos For Eliminating Flakes
Two experts weigh in on the treatments.
Finding the best beauty products has never been easier thanks to Pia's Picks, our weekly curated list. As the Senior Beauty Editor at HelloGiggles, I test and examine the latest skincare, makeup, hair, and nail products so I can confidently recommend the best ones to you.
No one wants to deal with dandruff: It's itchy, messy, and can make you feel unkept. As much of a nuisance as those pesky flakes are, we find solace in knowing that the skin condition is super common—50% of people in the United States deal with dandruff. The solution? An effective anti-dandruff shampoo.
To better understand how to treat dandruff, we first have to understand what causes it and the different ways to approach it. Therefore, we tapped two experts to give us their professional insight.
What causes dandruff?
"While we do not completely understand the causes of dandruff, we do know that it tends to occur in areas of high sebum production such as the scalp, parts of the face, and the center of the chest," explains Caroline Robinson, M.D., a Chicago-based board-certified dermatologist. "In these areas, breakdown products of sebum that occur in the presence of yeast can lead to an inflammatory reaction for some people."
Additionally, Kathleen Riley, a California-based celebrity hairstylist, says that she also notices dandruff in her clients who don't wash their hair frequently enough. "While it's definitely trendy to avoid shampoo, not washing the scalp can cause a build-up of oils and dead skin cells leading to flakes and itch," she says. "Additionally, while I absolutely love styling products—too much can be bad for your scalp."  
Lastly, lots of people think that dandruff is caused by dry scalps, but most often, it's the opposite. One of the most common kinds of dandruff, seborrheic dermatitis, is caused by oily skin, and symptoms are a red scalp and white or yellow scales. Scalps suffering from dryness are extremely itchy and shed smaller white flakes. The type of anti-dandruff shampoo you choose should depend on the type of dandruff you're dealing with and your specific hair type.
What's the best way to treat and prevent dandruff?
Dr. Robinson says that unfortunately, there's not a cure for dandruff, but there are great treatments available to control the symptoms that make living with dandruff a lot more manageable.
Certain ingredients are needed to reduce dandruff-causing bacteria and provide relief for your scalp. When browsing for dandruff-fighting shampoos, look for products with ingredients such as zinc pyrithione, ketoconazole, and salicylic acid. "Additionally, if you are looking for more natural products, I always recommend to look for shampoos that use ingredients with natural properties known to prevent excess oil and itch like witch hazel and apple cider vinegar," adds Riley. These ingredients soothe itchy scalps and work to kick dandruff-causing bacteria to the curb.
To avoid the dreaded dusting of white flakes on your dark sweater, we've rounded up the 10 best dandruff shampoos on the market right now.
1. Best nourishing dandruff shampoo: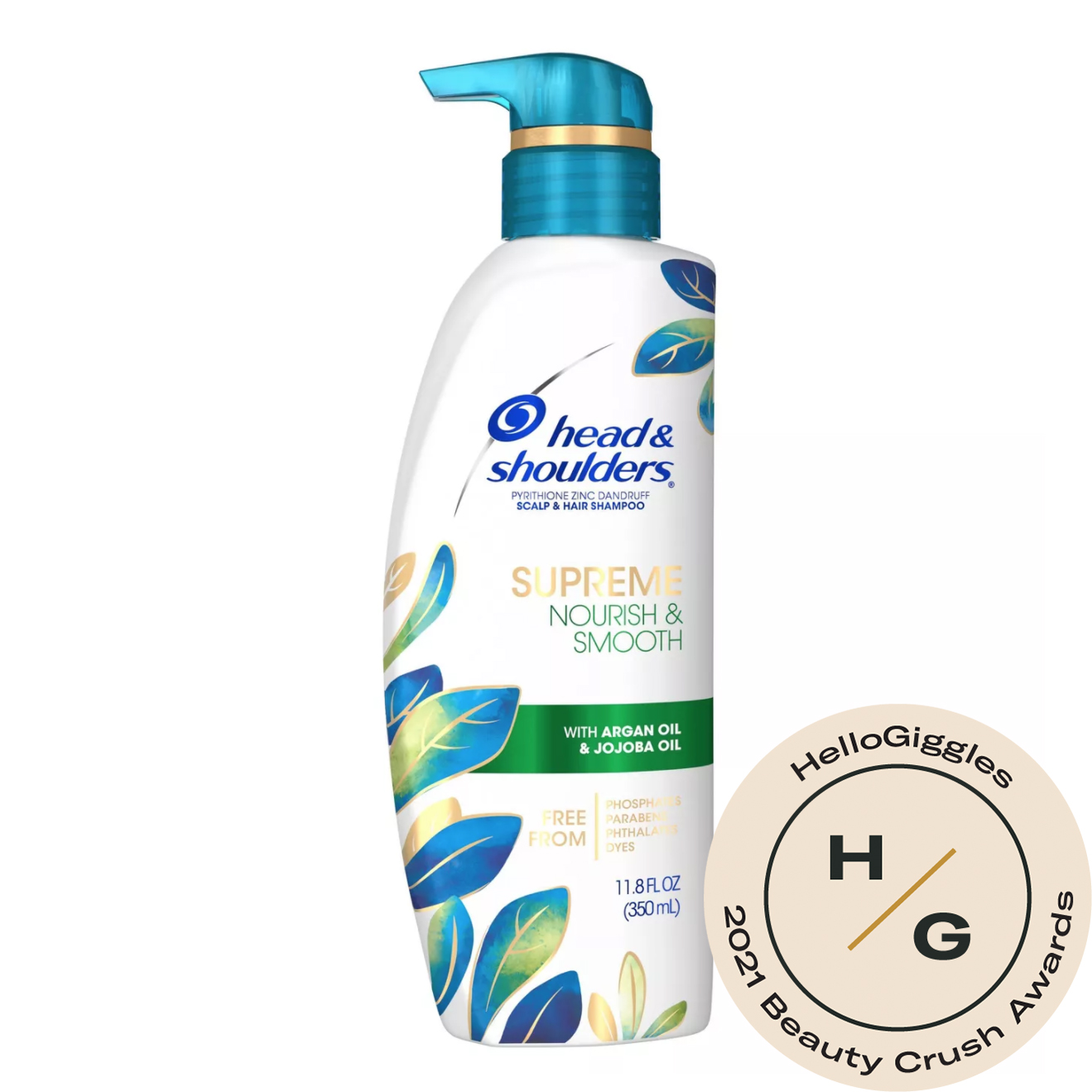 Head & Shoulders Supreme Nourish & Smooth Shampoo
Shop it
Amazon
Pyrithione zinc, which has antibacterial, antimicrobial, and antifungal properties, is the anti-dandruff hero ingredient in this award-winning shampoo, but what makes it stand out from other products are the jojoba and Argan oils that soothe and moisturize the hair and scalp from drying out.
2. Best itch-relieving dandruff shampoo: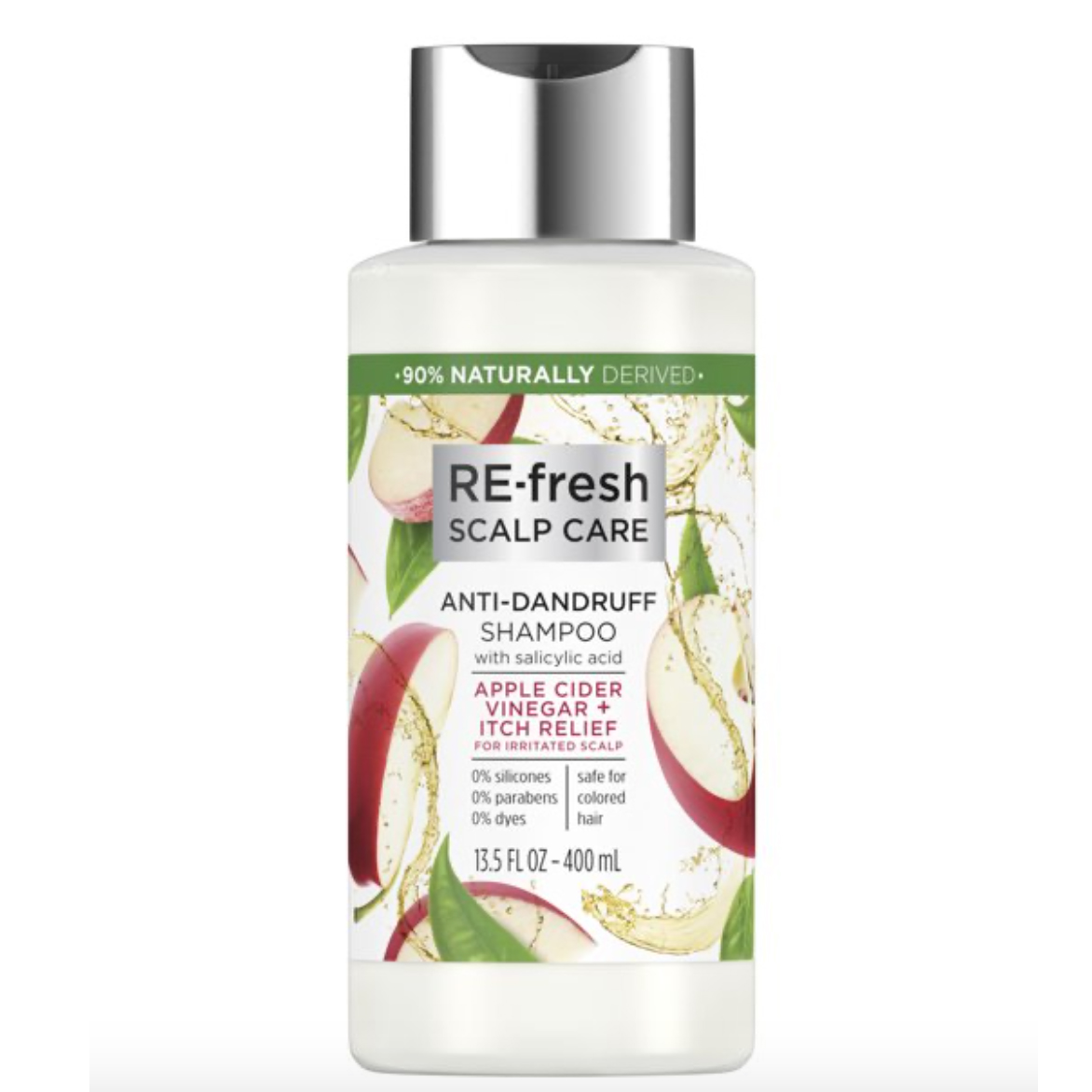 RE-fresh Scalp Care Apple Cider Vinegar + Itch Relief Shampoo
Shop it
"Apple cider vinegar rinses are the latest beauty hack to restore dry brittle locks and are well-loved by other hairstylists," says Riley. "This [shampoo and conditioner] duo feels natural since it contains 2% salicylic acid, a natural alternative to fight flakes, and the natural antibacterial and antifungal properties in the ACV formulation help prevent dandruff and itch."
3. Best anti-inflammatory dandruff shampoo: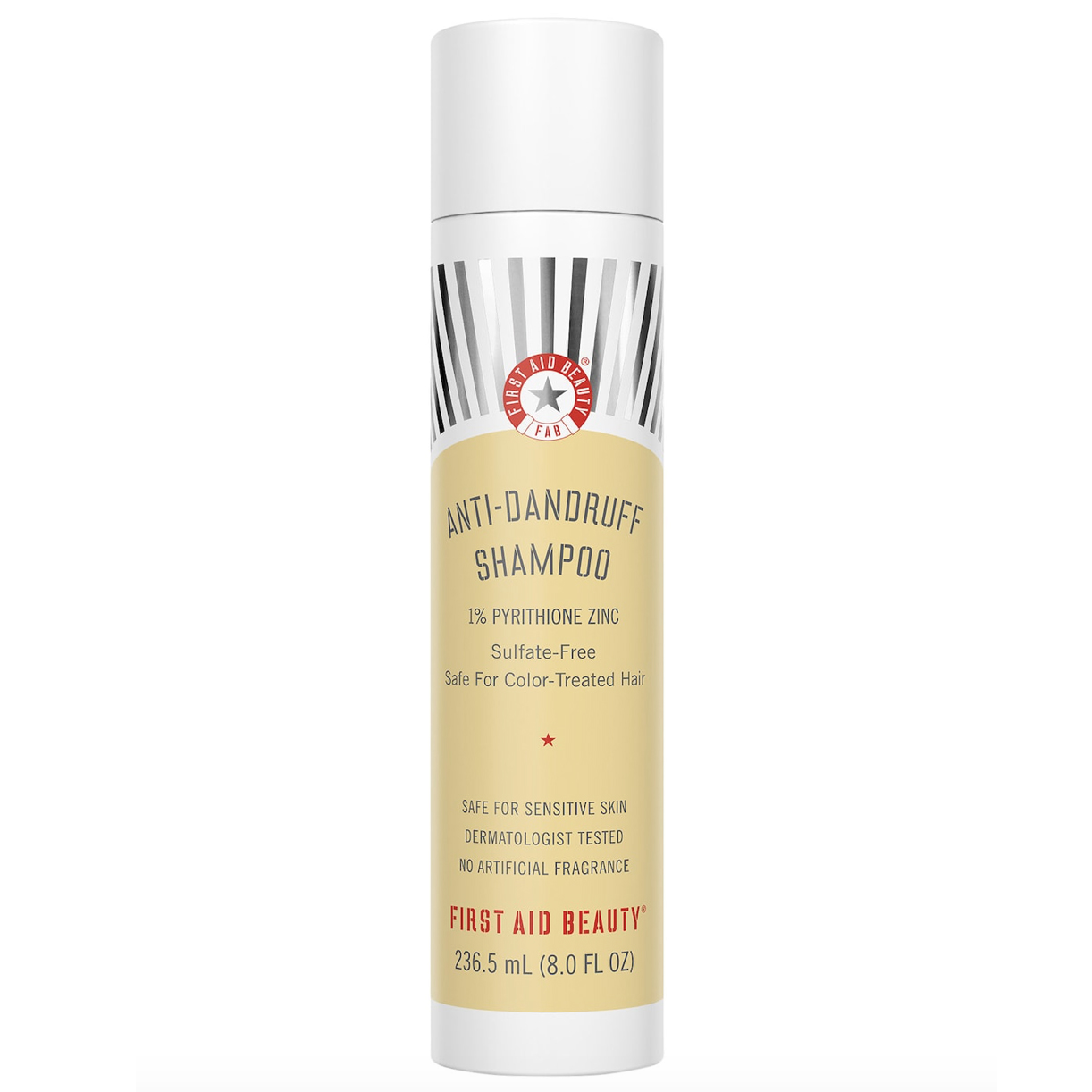 First Aid Beauty Anti-Dandruff Shampoo
$30
Shop it
Sephora
"First Aid Beauty's Anti-Dandruff Shampoo is a great option for all hair types and is formulated with anti-inflammatory and anti-dandruff 1% zinc pyrithione as well as silk peptides, calendula, and vitamin E to fight flakes on the scalp without overly drying the hair," says Dr. Robinson of this shelfie-worthy pick. 
4. Best shampoo for built-up dandruff:
Neutrogena T/Sal Shampoo Scalp Build-Up Control
Shop it
Walmart
This therapeutic shampoo has a dose of salicylic acid that works to clear built-up flakes and prevent dandruff. Neutrogena has an entire line of anti-dandruff products, including another shampoo, T/Gel shampoo. However, that one contains coal tar, so be careful if you're blonde as it could darken your hair. Pro tip: Make sure to follow up this shampoo with a moisturizing conditioner.
5. Best instant-relief dandruff shampoo:
Redken Scalp Relief Dandruff Control Shampoo
$23
Shop it
Ulta
If you're looking for quick results, this is the best dandruff shampoo for you. This fast-acting formula is packed with pyrithione zinc, and works to enrich and relieve irritated scalps super quickly.
6. Best OG dandruff shampoo:
Head and Shoulders Anti-Dandruff Shampoo
$$5.99
Shop it
Amazon
As the OG anti-dandruff shampoo, Head and Shoulders has the most sales of any other flake-fighting product. It's important to pair your anti-dandruff shampoo with a complementary conditioner, and this 2-in-1 bottle works double-time to nourish your scalp.
7. Best smelling dandruff shampoo: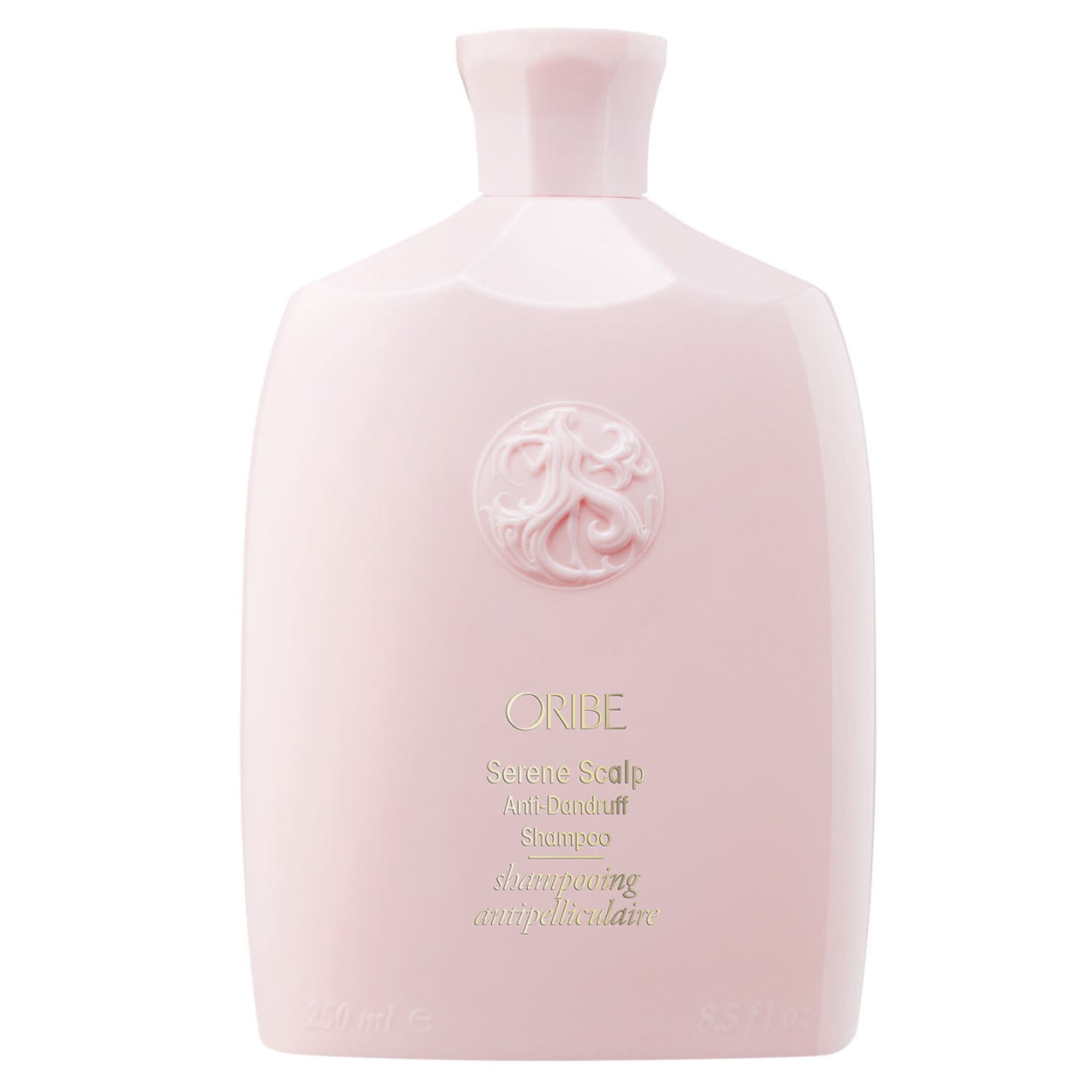 Oribe Serene Scalp Anti-Dandruff Shampoo
$$46
Shop it
Nordstrom
With a pleasant fragrance and sleek packaging, this isn't your average medicinal anti-dandruff shampoo. It's packed with salicylic acid for fighting flakes and is known to strengthen and smooth hair. This one's a splurge, but loyal users say it's worth it.
8. Best prescription-strength dandruff shampoo: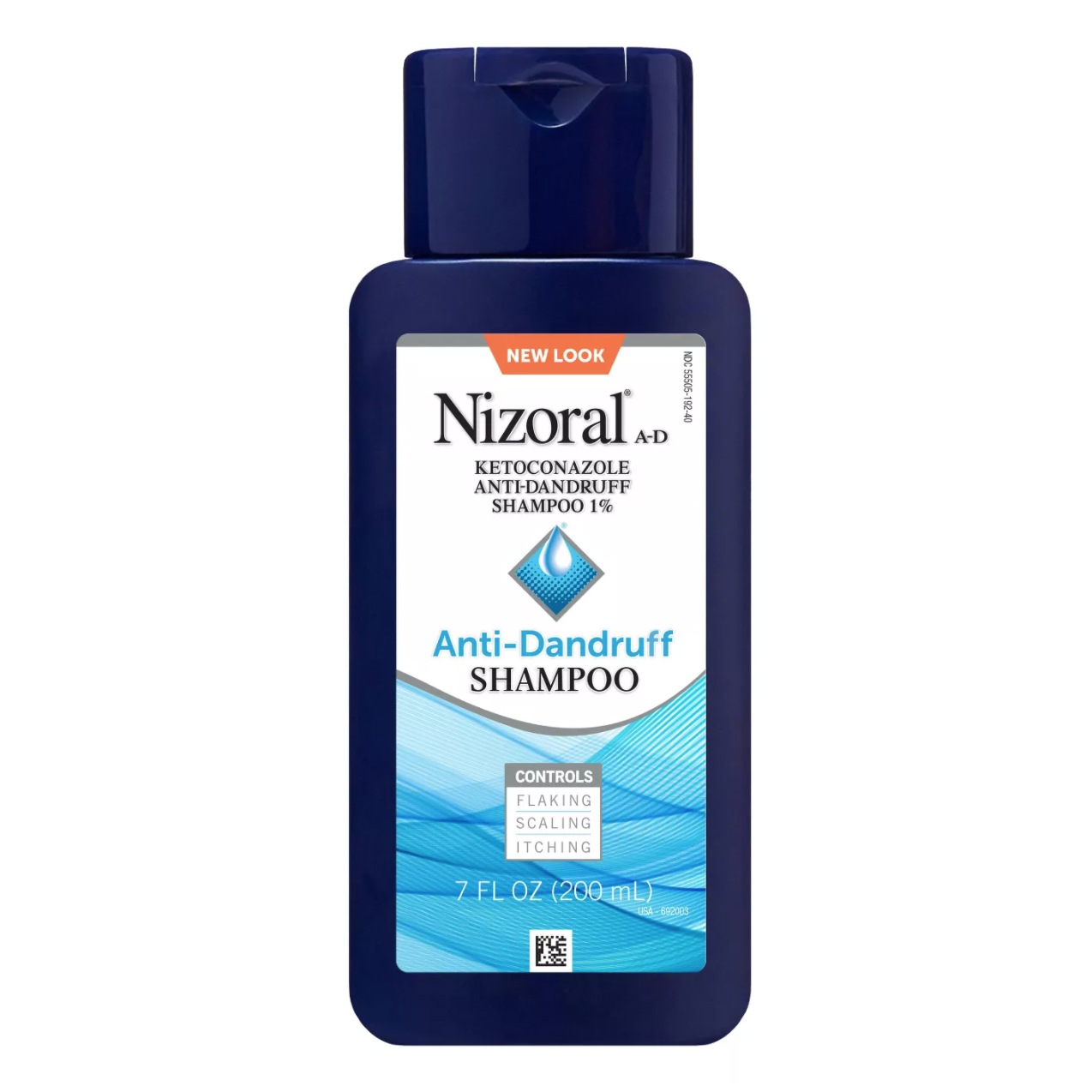 Nizoral A-D Anti-Dandruff Shampoo
$$14.89
Shop it
Amazon
This over-the-counter shampoo works like a prescribed shampoo, only it's way cheaper. It contains ketoconazole, which is used to treat scaly skin, and works on all hair types and colors.
9. Best moisturizing dandruff shampoo: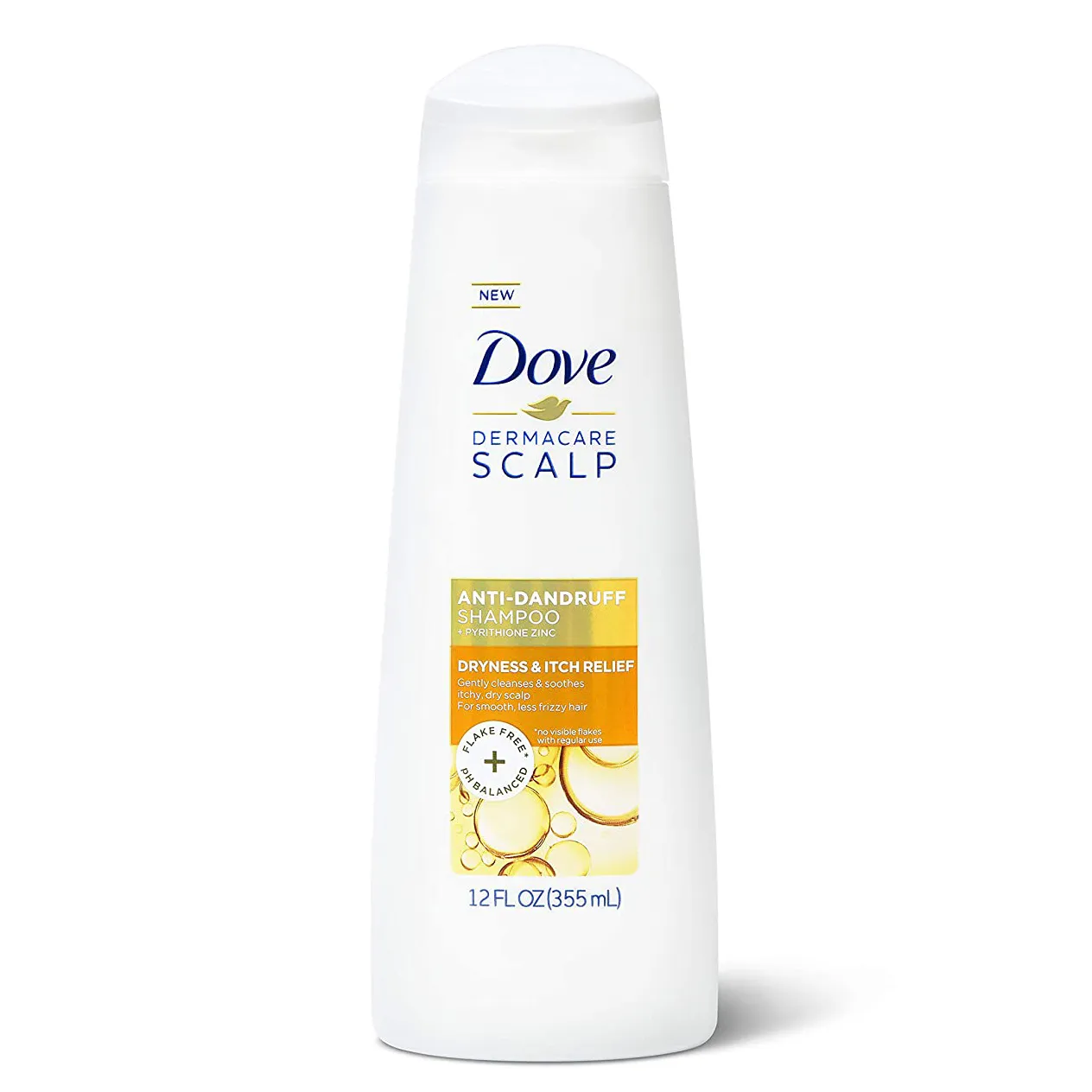 Dove Derma Care Scalp Dryness and Itch Relief
$$4.89
Shop it
Amazon
Like Head and Shoulders, Dove's anti-dandruff shampoo formula is an overall winner for every hair type. It's packed with pyrithione zinc, which relieves and prevents dandruff, plus moisturizing Shea butter and coconut for a soothing fragrance. Another benefit: You can find this one at any drugstore, so if you're in a pinch, this dandruff shampoo is your go-to.
10. Best dandruff shampoo for irritated scalps: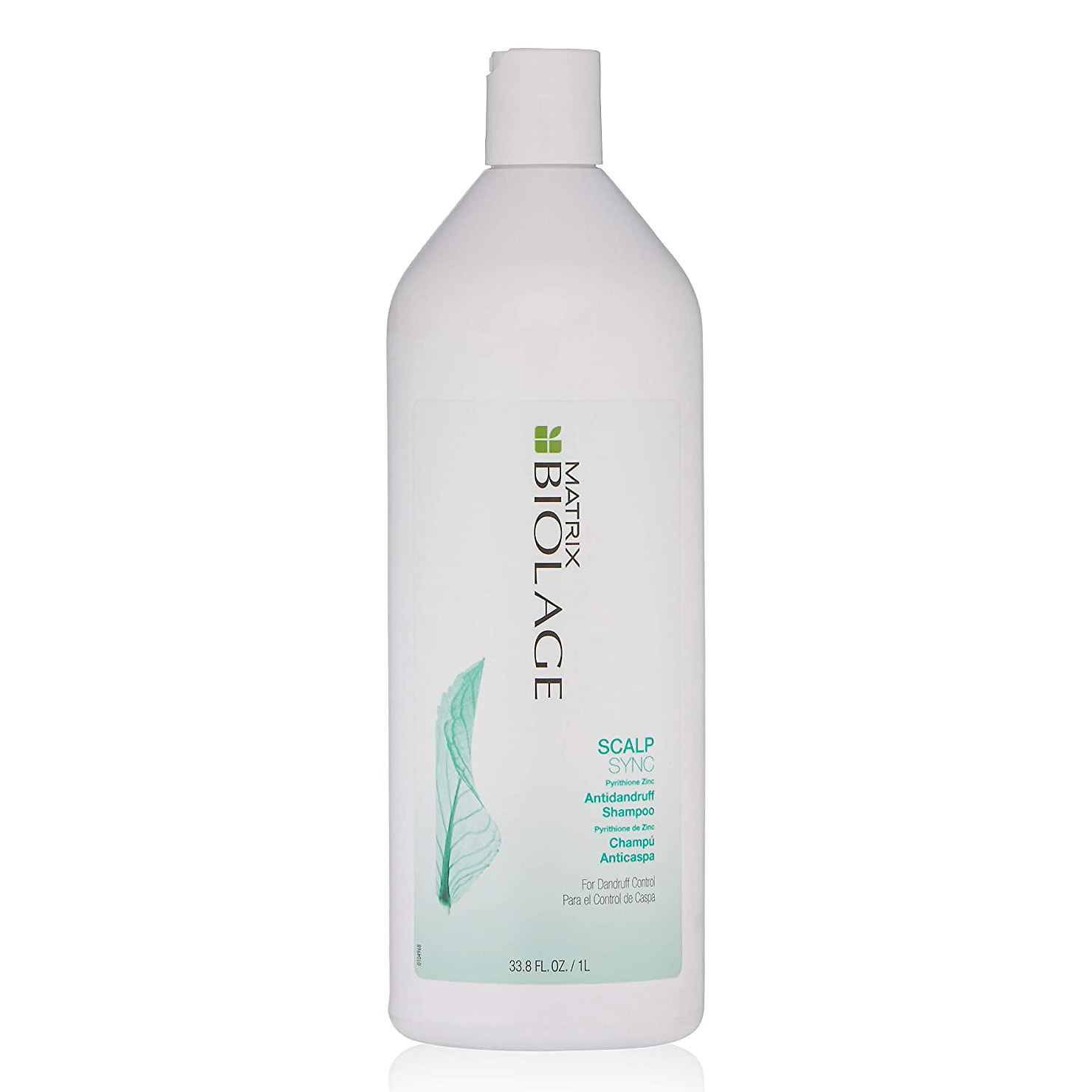 Biolage Scalpsync Anti-Dandruff Shampoo
$$28
Shop it
Amazon
With a cult following, this anti-dandruff shampoo is a trusted solution for irritated scalps. It contains anti-inflammatory pyrithione zinc and scalp-soothing mint, resulting in a calming, flake-fighting formula.