We found the best Daenerys Targaryen costumes because every Halloween party needs a Mad Queen
Warning: Spoilers for Game of Thrones ahead.
Daenerys may have gone out with the worst possible bang in the series finale of Game of Thrones, but that doesn't mean we love her any less. Before she was the Mad Queen, she was the Breaker of Chains, Khaleesi, and The Unburnt. All those good titles totally outweigh that bad one, right? Right?
To celebrate Daenerys at every phase, we've compiled a list of the best Daenerys Targaryen costumes the internet has to offer, because hey—what's a Halloween party without a Mad Queen?
Daenerys on her wedding day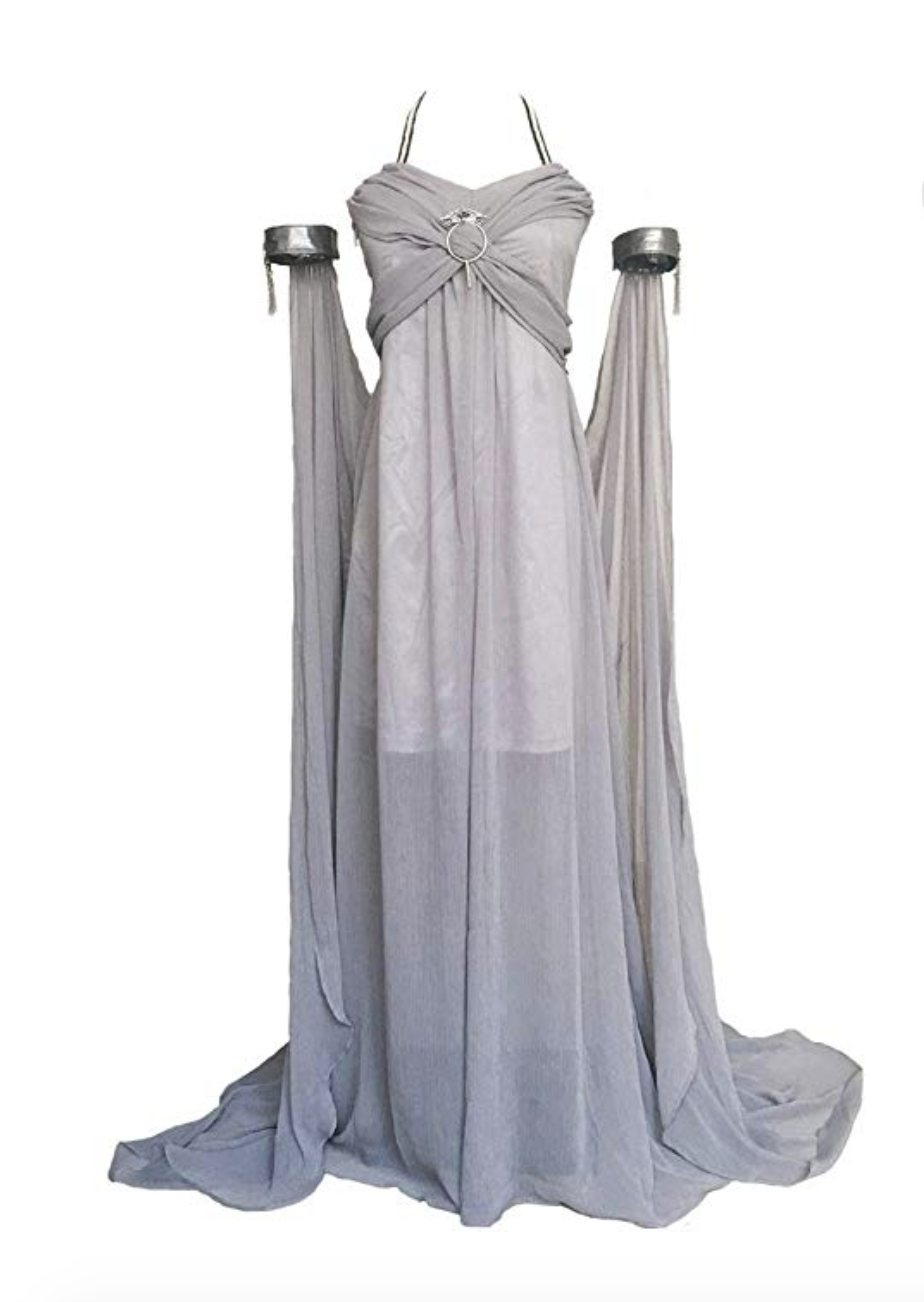 If you'd like to remember better days, when Daenerys was softer, naive, and unaware of the ups and downs of her future, you may wish to dress up in her wedding day costume. When she was handed off to Khal Drogo on that fateful day, Dany wore a dusty mauve dress made from transparent material symbolizing her assumed fragility. This dress from Amazon is the perfect dupe for Dany's wedding garb.
It even comes with the matching armbands and three-headed dragon brooch (her house's sigil and a foreshadowing symbol of what's to come).
Breaker-of-chains era Daenerys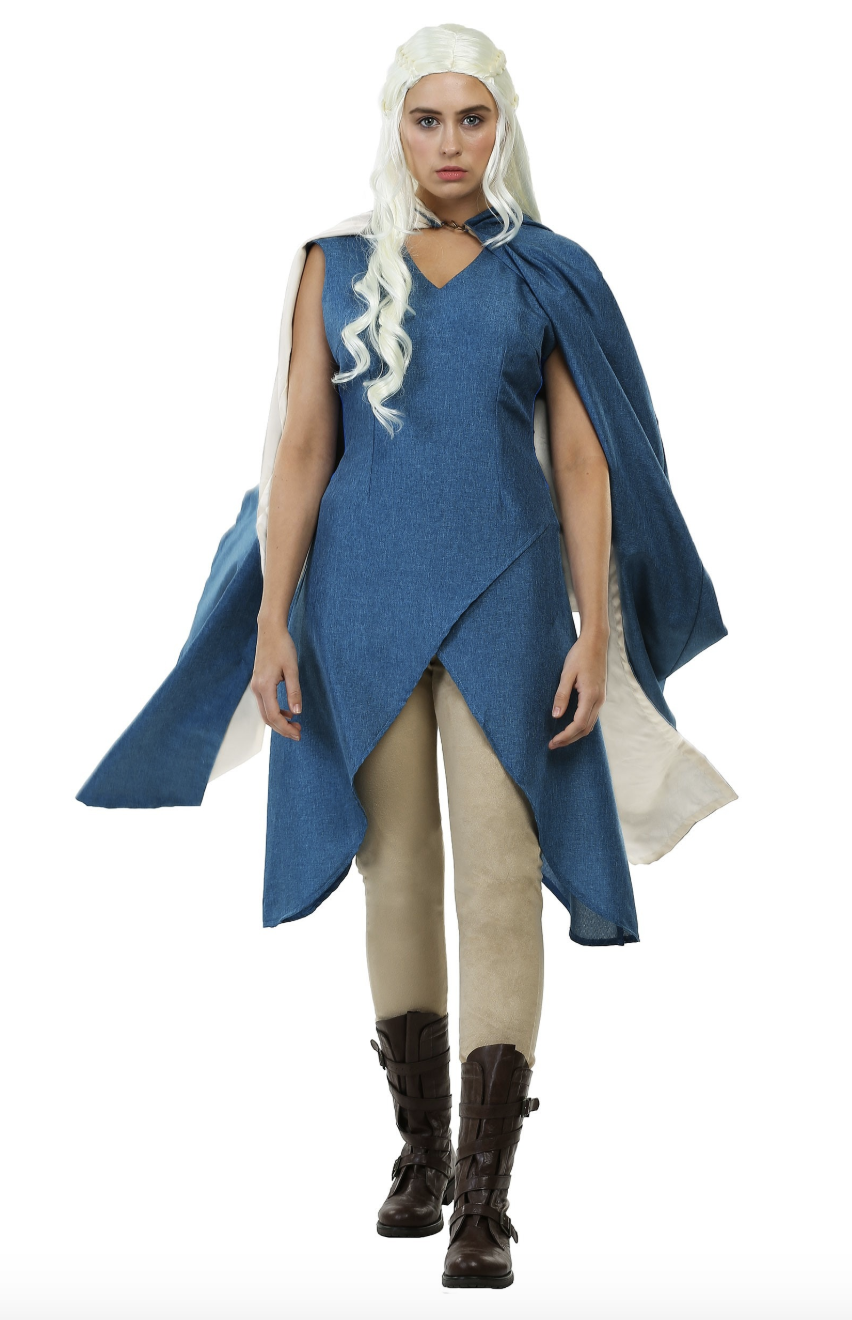 Perhaps you want to jump straight into a badass Daenerys Targaryen costume (we don't blame you). If that's the case, you may want to opt for this layered blue-dress-and-riding-pants combo, which Dany wore during Seasons 3 and 4 while she was in the process of gathering her Unsullied army and breaking chains left and right.
All it needs is a dragon claw statement necklace, which you can make at home using clay or even cut out of foam and paint it.
Daenerys as the (questioned) ruler of Meereen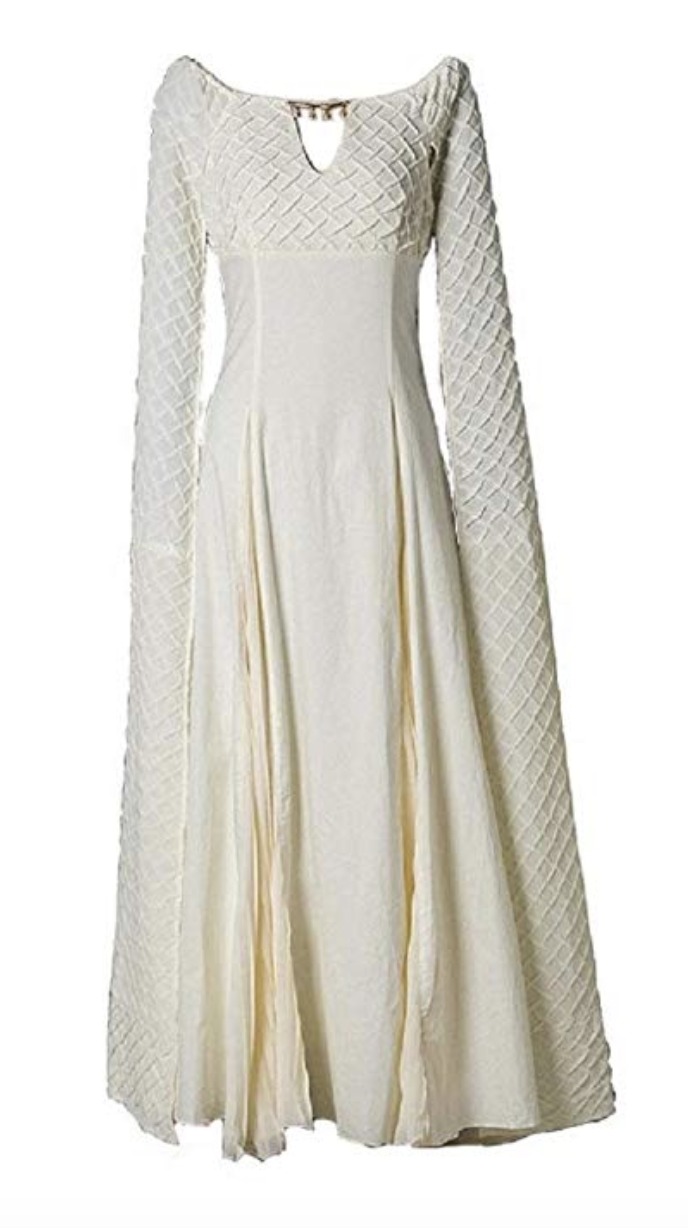 Once Dany attempted to rule the unchained Meereen after freeing the slaves, she began wearing dresses made from weighty, gray and white fabrics. Her new wardrobe symbolized the impracticality of her trying to maintain her throne there, and how she seemed untouchable to those she ruled.
This dress looks just like one of the memorable numbers Dany donned in Season 5. Plus, it's made with chiffon, so it's breathable and higher quality than most polyester Halloween costumes.
When Daenerys finally made her fateful journey to Westeros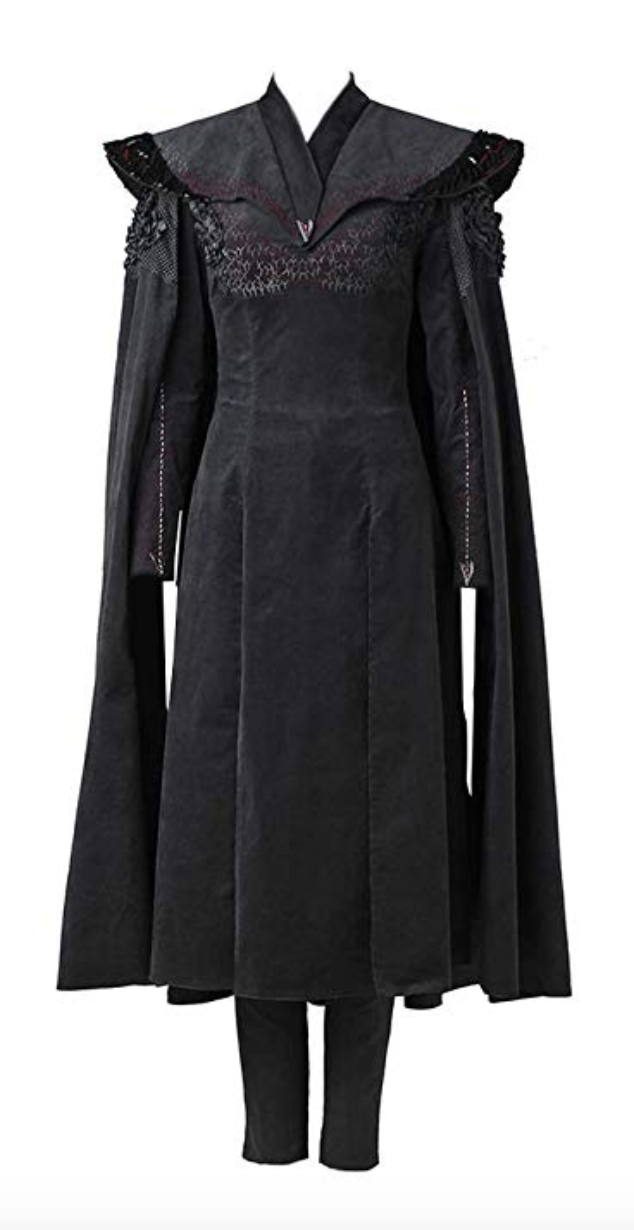 When Dany touched down in Westeros, having forged her alliances with House Tyrell and the Greyjoys, she begins to show some major authority through her sartorial choices. Ditching her airy whites, Dany opted to go all-black and wore clothing with more militaristic silhouettes.
This three-piece set is a great dupe for the outfit Khaleesi wore in Season 7 when she felt Westerosi sand in her fingers for the first time. The top shoulder part is also removable, so one can get that deep-V neckline Dany wore on the ship crossing to Dragonstone—basically, this is a two-for-one buy.
Daenerys, Queen in the North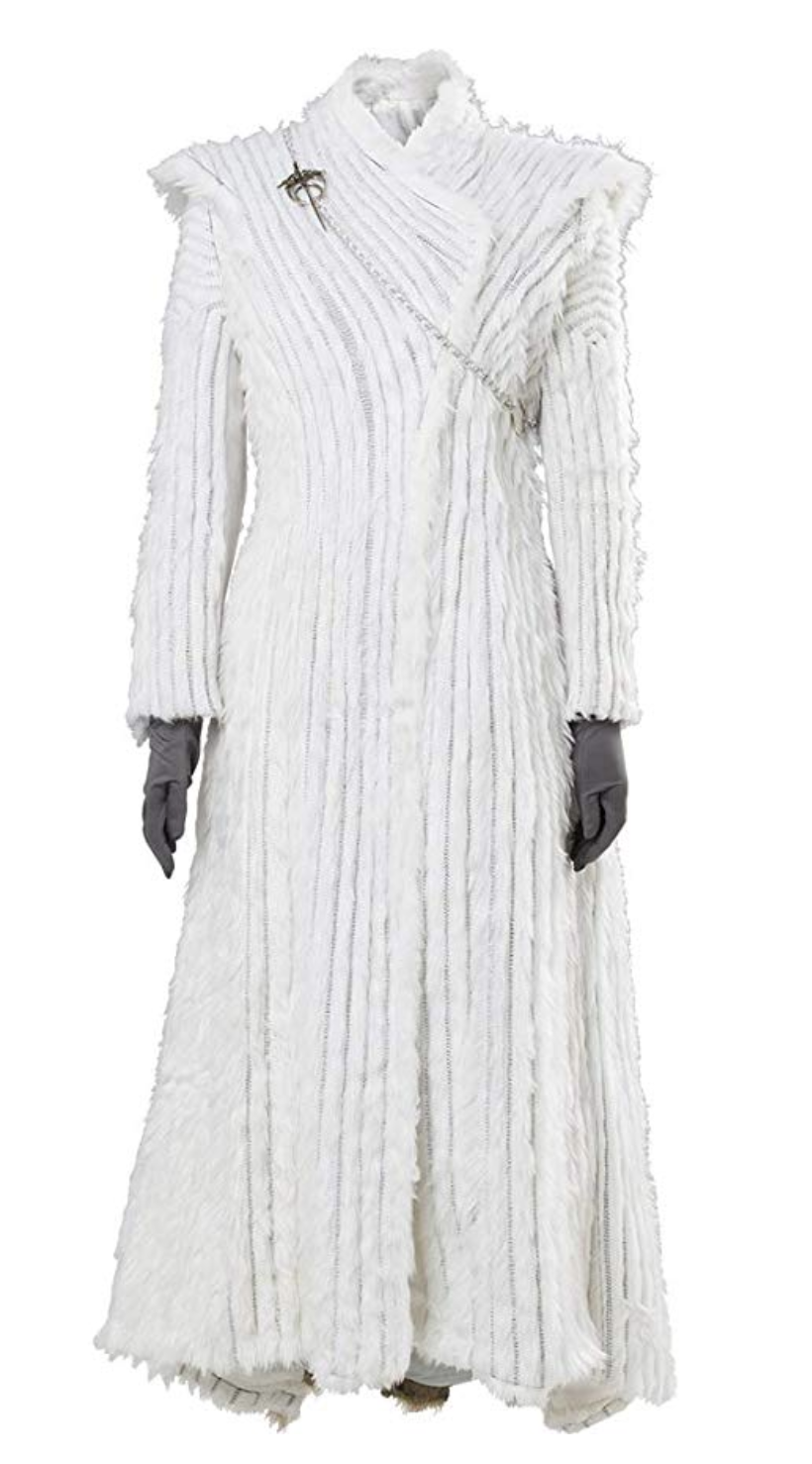 Of course we're going to include a Halloween costume dupe for Dany's fur coat, which she wore to go save and support Jon Snow at the Wall. This masterpiece is our new favorite thing. In fact, we're not just wearing this on Halloween. We're wearing this all winter long.
The Mad Queen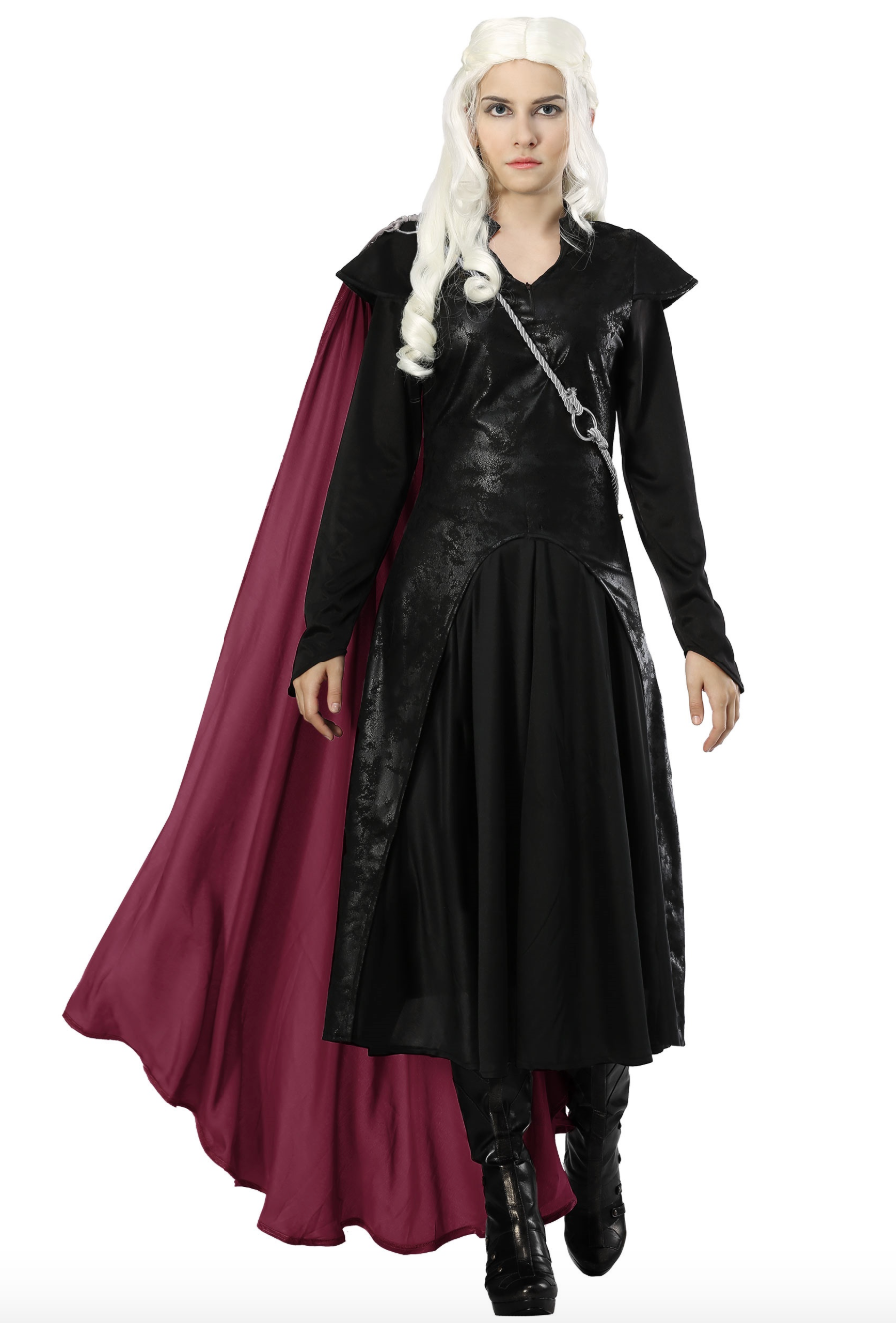 And finally, we reach the final costume: her Mad Queen attire. With her Targaryen colors on (red and black) and her three-headed dragon chain across her chest, Dany snapped and burned down King's Landing and everyone in it. You can feel her rage in this costume.
Don't forget the platinum blonde, Targaryen wig.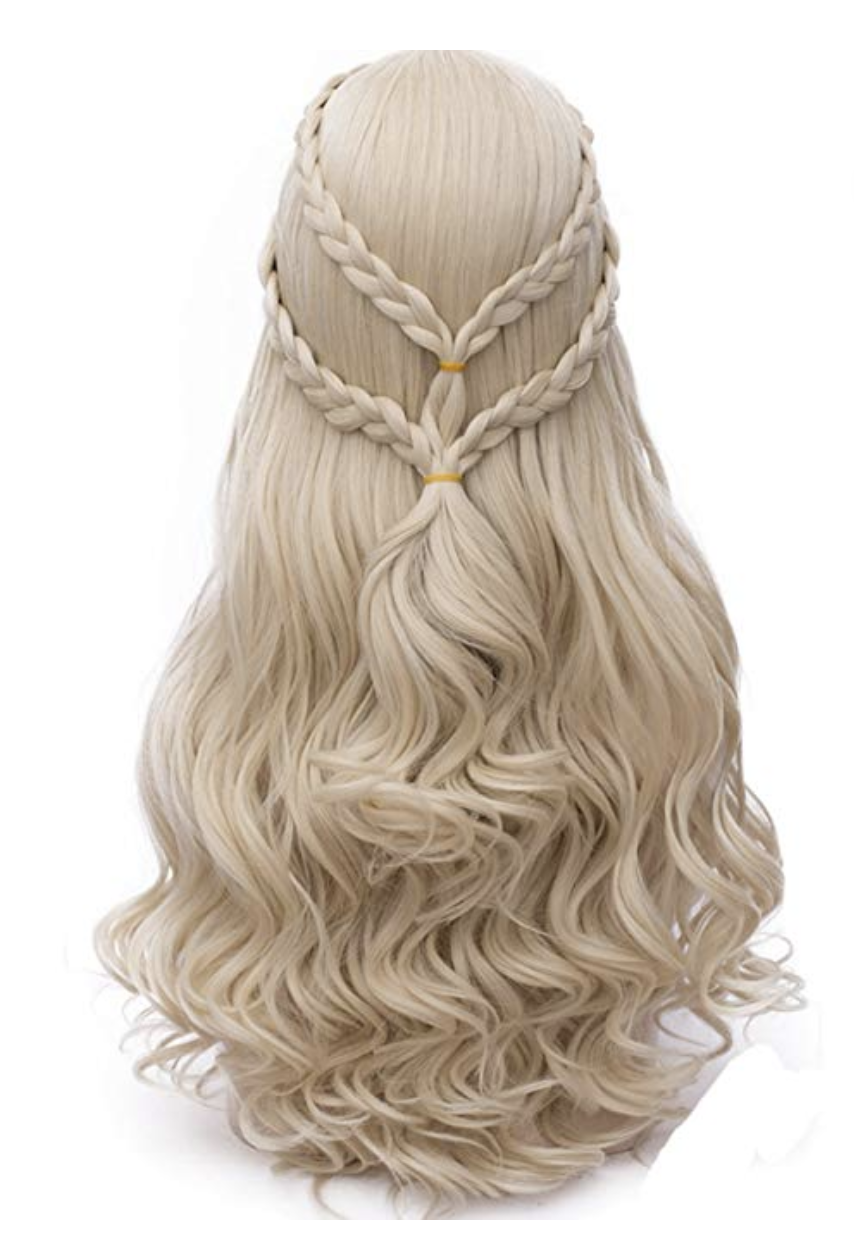 Obviously, you can't be Daenerys Targaryen without the perfect platinum wig, right? We like this one, not only because it's reasonably priced, but also because you can actually choose a custom, pre-braided Dany hairstyle for it to arrive in. Or, you can purchase the wig without braids and do the work yourself. The options are seemingly endless.
And you can't be the Mother of Dragons without a dragon.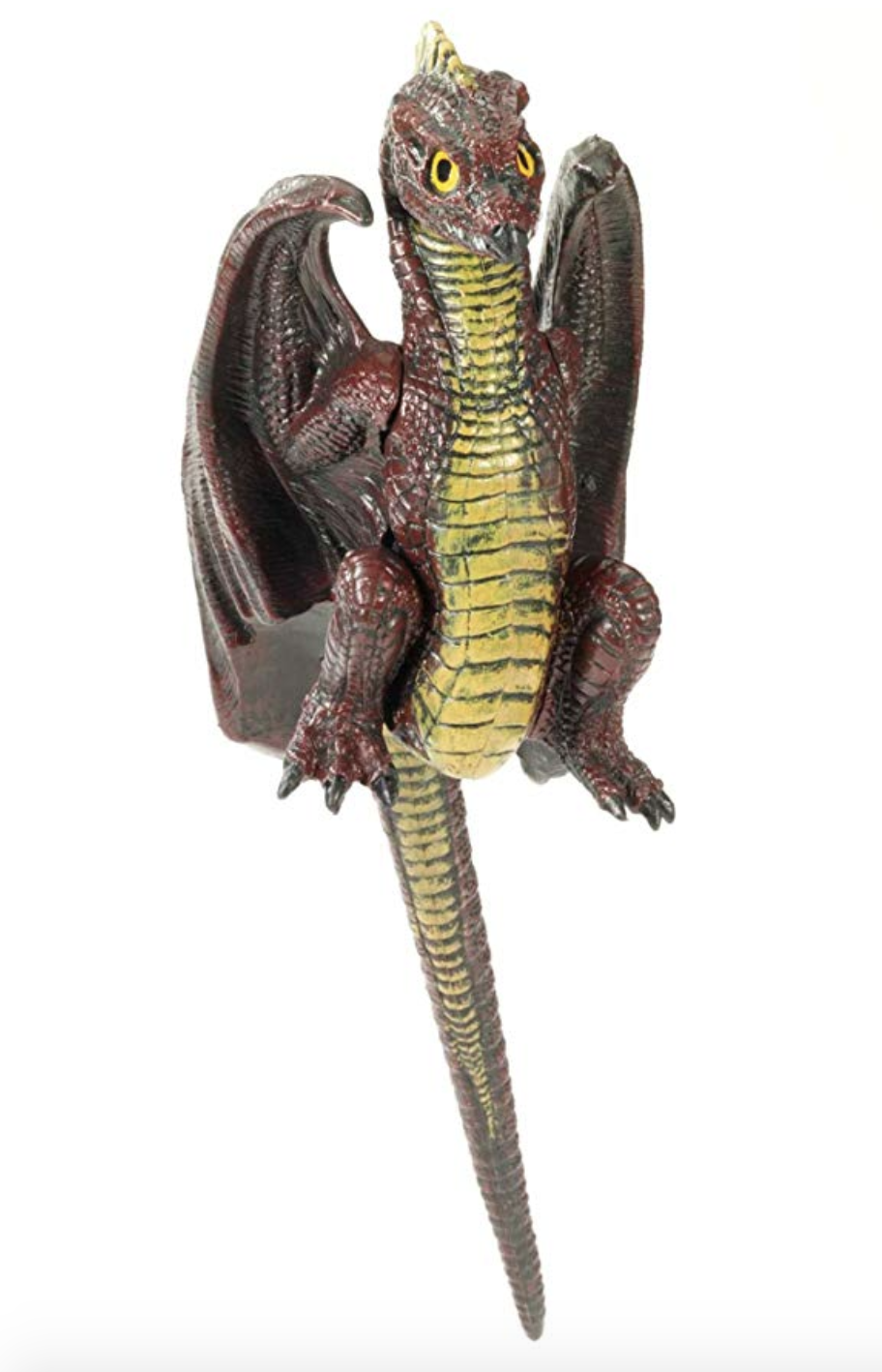 And if you're cosplaying as Dany from the earlier seasons, why no throw Viserion, Rhaegal, or Drogon onto your shoulder? This little guy is the perfect sidekick to your Khaleesi. Or, you know, have your BFF go as a life-size dragon. Either idea works.
Release your Daenerys Targaryen costume at this year's Halloween extravaganza. Just promise us in advance that you won't set anything on fire. Please? Our nerves can't take that emotional turmoil again.