10 unbelievably funny comedians that you can't end 2016 without falling in love with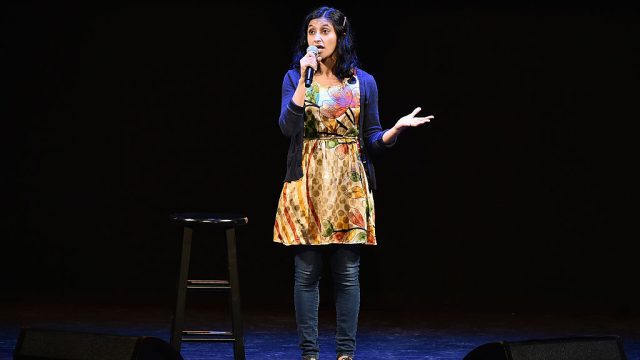 We can all pretty much agree 2016 has been a long emotional rollercoaster ride into the darkest timeline. We lost so many icons this year, endured an extremely toxic presidential election season, and now mentally preparing ourselves for a future that has more people than ever feeling anxious and uncertain. It's been rough, to say the least, but we did get some great comedy out of it. Now that 2016 is almost finally over, let's treat ourselves and fall in love with these incredible souls that will for sure make you laugh away the long arduous year.
Aparna Nancherla
https://www.youtube.com/watch?v=JztQwGaUDjs?feature=oembed
You might know Nancherla from her famous Twitter account and as a writer for Seth Meyers and Totally Biased with W. Kamau Bell. She also has a hilarious webseries with another funny lady on this list, Jo Firestone, called "Womanhood," which has major #wardrobegoals, that you need to watch right now. Nancherla's comedy is sharp and critical turning dark issues such as depression and anxiety into comedy gold. She began the year by releasing her heart-wrenching comedy album, Just Putting It Out There, which received critical acclaim.
Hasan Minaj 
https://www.youtube.com/watch?v=NUymQKZqP6w?feature=oembed
If you are not on the Hasan Minaj wagon already, where have you been? Seriously. Mostly known as a correspondent on The Daily Show with Trevor Noah, Minaj is the voice we are going to oh-so-desperately need to survive the next four years. His one-man show, "Homecoming King," based on true life events as a first generation Indian-American, perfectly encapsulates Minaj's charisma, heart, and passion for justice. Hiring Minaj before departing The Daily Show was the best present Jon Stewart could have given us.
Janelle James
https://www.youtube.com/watch?v=qDbctip2RwQ?feature=oembed
James is finally getting the attention she rightly deserves as one of hardest working people in comedy. She was recently on Comedy Central's @midnight, featured in Wyatt Cenac's Night Train on Seeso, and named one of the "50 Most Funny People in Brooklyn" this year. You can find her all over the country making white people uncomfortable and online posting witty commentary on everything from politics to the mundane realities of being a standup.
Roy Wood Jr.
https://www.youtube.com/watch?v=onZqFsJMNIw?feature=oembed
Another Daily Show correspondent, Roy Wood Jr. cannot stop making us laugh. His Daily Show pieces are consistently some of our favs and his standup will leave you on the floor in stitches. His Black Trump video, "They love me," made completely out of Trump tweets, might honestly be the best thing the Daily Show has ever produced.
Issa Rae
https://www.youtube.com/watch?v=G1qYxOF7TUs?feature=oembed
Rae's Insecure was easily one of the best TV shows of the year. One of the few women-led HBO comedies featuring mostly all people of color was the breath of fresh air we all needed. Insecure was recently renewed for a second season and we are counting down the days until it returns.
Bo Burnham
https://www.youtube.com/watch?v=rYy0o-J0x20?feature=oembed
Born of YouTube fame in 2006 as a teenager, Burnham's satirical musical comedy has significantly matured over the years.  His 2016 Netflix special, Make Happy, exploring the issues of fame, ego, and happiness, was so good that I legit cried. He's one of the few comedians that isn't afraid of being truly vulnerable with their audience.
Jo Firestone
https://www.youtube.com/watch?v=9Pznhe9ZK5Q?feature=oembed
Firestone has been a NYC comedy powerhouse with shows all over the city for years. This year she expanded outside the confines of a bar and into people's homes by appearing in Fusion's The Chris Gethard Show, Netflix's The Characters, Comedy Central's Debate Wars and the indie film hit, Don't Think Twice. 
Donald Glover 
https://www.youtube.com/watch?v=7lSxkOCNpK4?feature=oembed
Glover won 2016 full stop. In addition to creating one of the most original and innovative TV shows *ever*, Atlanta, Glover also dropped a well-received music album, landed the role of Lando Calrissian in the upcoming Han Solo movie, and had a baby with his partner. It really doesn't get much better than that, does it?
Kate McKinnon
https://www.youtube.com/watch?v=BG-_ZDrypec?feature=oembed
McKinnon won the hearts of America this year with her character in the all-woman reboot of Ghostbusters. And let's be real, we only survived the elections because of McKinnon's Hillary Clinton impressions on SNL. 
Wyatt Cenac
https://www.youtube.com/watch?v=rmhK4CXIMDo
A Daily Show alum, Cenac has had quite the year. He began 2016 with his Seeso stand-up series, Night Train with Wyatt Cenac, based on his weekly Brooklyn show and is currently starring in TBS' new show, People of Earth, about a ragtag group of people who have had "experiences" with aliens. For those of us that are lucky enough to call NYC home, Cenac also has a monthly comedy show with friend and DJ, Donwill, called "Shouting at the Screen" where they screen blacksploitation films ala Mystery Science Theater 3000 style. It's a guaranteed good time.