We found some of the best celebrity Halloween costumes from the weekend, and we are SO impressed!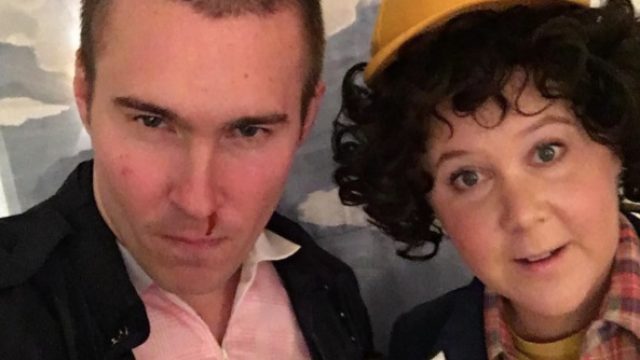 So today is basically the best holiday of them all: Halloween! And because it falls on a Monday, we've had an ENTIRE WEEKEND to soak up all that creative costume goodness. And since we also love us some stars, we've gone digging for the best celebrity Halloween costumes from the past few days.
Will they rival our favorite celeb Halloween costumes from last year, you ask? Or these Halloween-obsessed celebs who dropped perfect costume inspo? Well we think they pulled out all the stops, but you be the judge!
Here's what Ryan Lochte had going on.
"Last night me and my beautiful Alice in Wonderland🎩👸🎃#casamigos #halloween."
What a cute couple!
Kelly Rowland chose to throwback to our fave '90s rom-com, Clueless!
Katy Perry endorsed Hillary Clinton in the best way possible.
Demi Lovato was Dorothy…
https://www.instagram.com/p/BMN3Ce7gA5p
…with her best bud Nick Jonas as Scarecrow! Awwww.
Bette Midler reprised her role as Winifred in Hocus Pocus!
"Winifred Sanderson flies in to Hulaween! Says thanks to everyone who made it such an electrifying evening!!"
OMG, so gonna go watch Hocus Pocus right now.
Jacob Tremblay channeled his inner-Marty McFly.
https://www.instagram.com/p/BMIbeqoA-g_
"Rollin' up to my school #Halloween dance as the flyest guy I know! #MartyMcFly (Only the adults knew who I was...) #BackToTheFuture"
Yup, officially the coolest kid ever.
Amy Schumer and her BF stepped out as Eleven and Dustin from Stranger Things.
https://www.instagram.com/p/BMKlkZfjI62
Kourtney Kardashian SLAYED as a creepy zombie bride.
While sister Khloe seriously crushed it as Storm.
Victoria Justice as SEXY BEETLEJUICE!
Sooooo as you can see, everyone is at the top of their game this year…and Halloween isn't even over yet!!! Seriously, we can't wait to see what tonight brings…