Let's give a round of applause to the 12 best celebrity clapbacks of 2019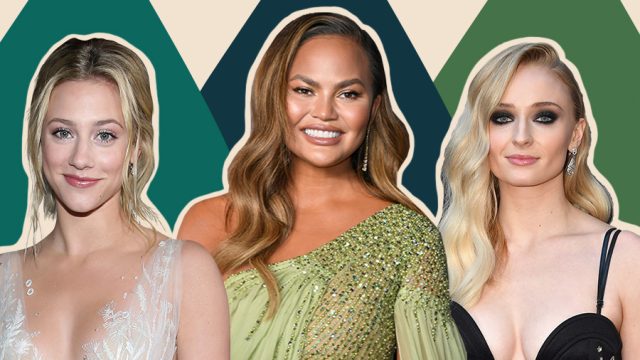 Sometimes it seems like celebrities on the internet, particularly women, can't breathe without being mommy-shamed, body-shamed, or otherwise shamed in some way. We shouldn't have to say that being a woman in the public eye doesn't give anyone the right to comment on your parenting, appearance, mental health status, or what you choose to wear when you're not on the red carpet, but alas, trolls are going to troll. And because celebrities are occasionally just like us, there are times they have just had enough and must clap back.
Grab your popcorn and pull up a chair because we're rounding up the best celebrity clapbacks of 2019.
Lili Reinhart on her right to talk about her OCD experience
No one should tell anyone that they can't speak up about their own lived experiences with mental health issues. Lili Reinhart clearly agrees. The Riverdale star got backlash after she spoke up about OCD on The Tonight Show with Jimmy Fallon.
People on Twitter called out Reinhart for what they believed was minimizing the very real struggles of living with obsessive-compulsive disorder. And if she were, that would be a valid point. However, as Reinhart reminded everyone, she has OCD, and she was speaking the truth about her experience.
Fans quickly had her back after the clapback, and many told her that speaking about her experiences helped them feel seen.
Lizzo drops truths on a fat-shaming tweet
Lizzo told us she was 100% that bitch, and still trolls try to fat-shame her. Don't they know better? In a "Mean Tweets" segment of Jimmy Kimmel Live! Lizzo read a tweet, and let's just say she got the last laugh. 100%.
"Lizzo. Bus passes and happy meals. Two things that I imagine Lizzo has seen a lot of," the tweet said.
In response, the singer said: "Yeah, I'm a big bitch, and I ride a bus. A tour bus, motherfucker. Where's yours?"
Lizzo: One zillion. Trolls: Zero.
Pink supports Jessica Simpson against mommy shamers
We love a women-supporting-women clapback. Pink has been at the business end of her share of mom-shaming on social media. She wasn't going to let Jessica Simpson face the same without weighing in.
It started when Simpson shared a picture of her daughter, Birdie. In it, Birdie's hair was streaked pink to mirror a character in The Descendants.
https://www.instagram.com/p/B0kAmYTAVmP
The comments quickly flooded with mom-shamers criticizing Simpson for letting Birdie express herself with hair dye. Pink didn't just comment with her support; she did one better.
"I heard people were bummed on Jessica Simpson for letting her seven year old get her hair colored," Pink captioned her own Instagram post. "So we thought we'd share what we did yesterday."
https://www.instagram.com/p/B0pOBsAg3u-
The hashtags are really just the icing on the clapback cake.
Disney's Freeform on Halle Bailey's casting as Ariel
We didn't expect a clapback so hard from a literal television channel, but here we are in 2019. When Halle Bailey was cast as Ariel in the new live-action The Little Mermaid, a very small but very vocal minority wasn't here for a Black actress in the role. (Ugh.) Freeform wasn't having it.
In a July 6th Instagram post, the network called out the "poor unfortunate souls" who had a problem with Bailey's casting.
https://www.instagram.com/p/BzmMah4gw-g
The entire clapback is worth a read, but we have to call out this moment:
Gigi Hadid on her "not sexy enough" style
Once more for the people in the back: Women aren't dressing for male attention or approval. Still, trolls came at Gigi Hadid for her "street style" not being up to their standards. Hadid, for the record,  looks both on trend and super cute in her puffer coat and leggings. But it shouldn't matter either way! She's literally just trying to mind her own business and is photographed by the paparazzi.
Hadid clapped back at the trolls, and we can picture a mic drop.
Amen, Gigi.
Lili Reinhart on her (ahem) "breakup" with Cole Sprouse
Don't come for Reinhart's relationship. She's already proven she can clap back with the best of them, and she fiercely protects her personal life. So when rumors started spreading that she and costar Cole Sprouse had split, they both had some *comments* on social media about it. The two each shared their W magazine cover.
Reinhart captioned her post, "BREAKING: A reliable source has confirmed that none of you know shit." Sprouse followed suit with, "UNPRECEDENTED: Cole Sprouse and Lili Reinhart consume the flesh of 'reliable sources' to fuel their bacchanalian sex cult."
https://www.instagram.com/p/B0WOffWgXJk
For a couple that never even confirmed they were together in the first place (though do love a social media PDA), we love a clapback that also still kind of keeps us in the dark.
Demi Lovato on being described as having a "fuller figure"
Demi Lovato has been open about her struggles with body image, and she was not going to let a headline shame her. The headline in question was from The Inquisitr, and it read, "Demi Lovato Appears To Have A Fuller Figure After Working Up A Sweat In LA." (Not okay.)
In a now-expired Instagram Story, Lovato showed a photo of the headline with the caption, "I AM MORE THAN MY WEIGHT."
And in a twist, the clapback was completely successful. The writer behind the story contacted Lovato to apologize. Demi shared the exchange to her Instagram Stories.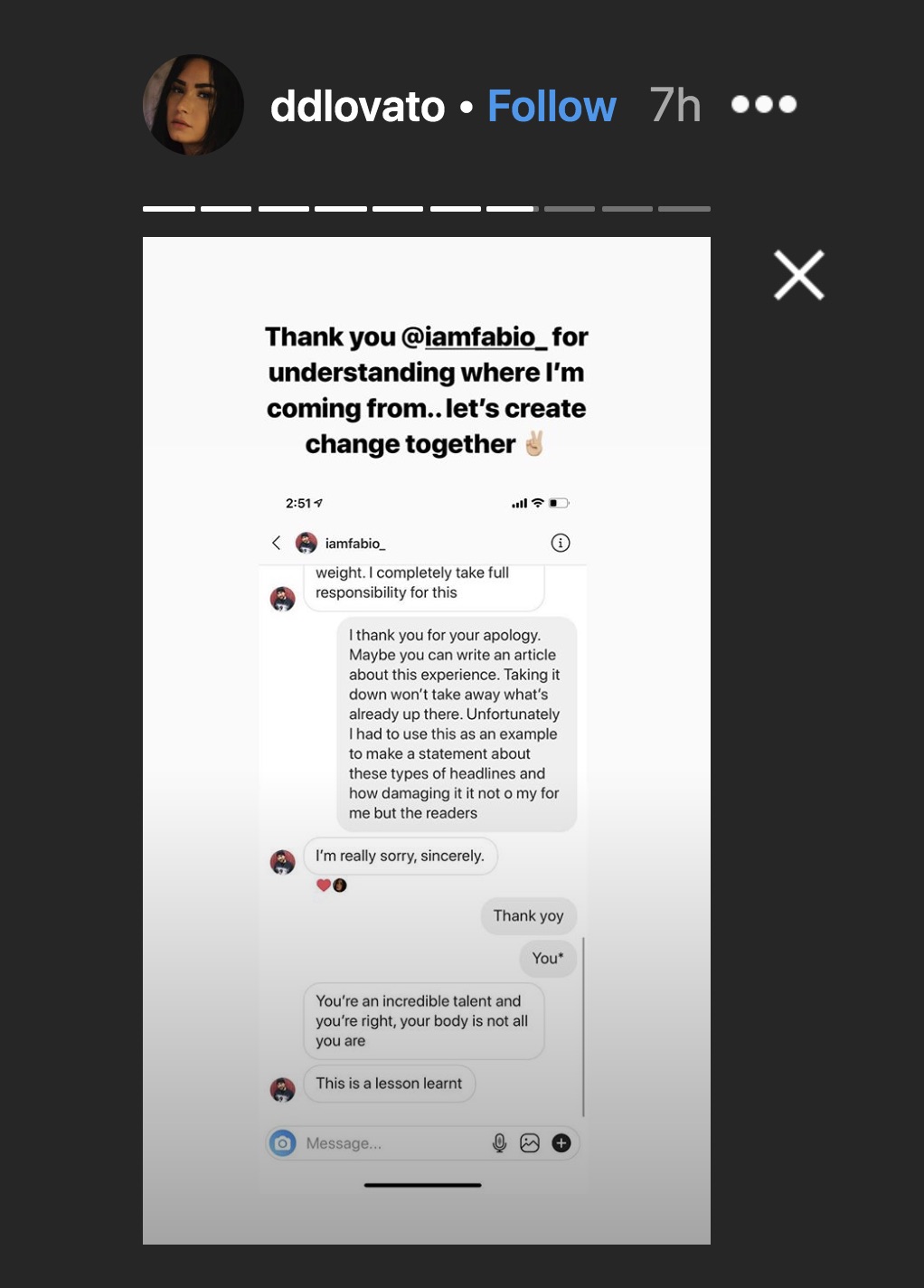 This is the best possible outcome of a clapback. (You know, other than if this body-shaming never happened in the first place.)
Shay Mitchell on expectations we put on a new mom
Shay Mitchell isn't afraid to troll a troll, and we love that about her. When people commented on her decision to attend Drake's party a few weeks after gifting birth to her daughter, Atlas, she didn't respond with annoyance or anger (though she'd be justified in doing so). Instead, she had a little fun with it.
In a video posted to her Instagram Stories, Mitchell scrolled through the comments, reading aloud the mom-shaming, and joking right back.
LOL. Amazing. You do you, Shay.
Sophie Turner on not silencing mental health stories
Back in January, Piers Morgan retweeted an article in which actress Beverley Callard said celebrities are trying to make mental health struggles "fashionable," writing "it's 100% true." First of all, ugh. Second of all, bless Sophie Turner for not having one second of this nonsense.
"Or maybe they have a platform to speak out about it and help get rid of the stigma of mental illness which affects 1 in 4 people in UK per year," she tweeted. "But please go ahead and shun them back into silence. Twat." false
We bow down to the Queen in the North.
Kate Beckinsale on being called "too old" for bikini photos
We have to start by saying we are here for Kate Beckinsale's social media. She always seems to be having a good time, whether she's slaying her Halloween costume, showing off her new blonde bob, or posing in a bikini while on a vacation that we'd very much like to be invited on. But, it was the latter pictures that seemed to offend some trolls who think there's an age limit to wearing a bathing suit to the beach.
Beckinsale clapped back in a thoughtful, lengthy post about the value we all place on youth.
https://www.instagram.com/p/B5deDSiArVT
Chrissy Teigen on the endless mom-shaming she experiences
Chrissy Teigen has been mommy shamed every possible way there is to be mommy shamed. And we don't know why people continue to come for her because a) everyone chill out and b) she will always make you look silly on the internet.
When Teigen posted an adorable video of Luna's first dentist appointment, the parenting police came swiftly. "What age do they start over there? My daughter started seeing a dentist at a yr old," one commented. Another person wrote, "Luna definitely should have seen a dentist multiple times by now as kids should go twice a year!" (This is real life.)
Sometimes the best clapback is showing a troll how unoriginal they are. "Was waiting for this. U guys never fail me," Teigen commented back.
https://www.instagram.com/p/By3ompeBwy8
Chrissy could add "clapback expert" to her already very long résumé.
Jameela Jamil claps back at all of us about Lady Gaga and Bradley Cooper
Okay, this one is tough for us. Were we also won over by *that* Oscars performance into thinking that Lady Gaga and Bradley Cooper were secretly swooning over each other IRL? Did we also think maybe Gaga and Cooper could make it work after his split from Irina Shayk? Maybe we believe too much in the movies, and sometimes we, too, need to be snapped back to reality. Jameela Jamil helped us there with her too-true tweet about the non-couple. (Though, to clarify, Shayk and Cooper were not married.)
https://twitter.com/udfredirect/status/1136914015203012609
Look, sometimes we all have to be on the other end of the clapback. Respect, Jameela.