Let these 9 body positive moments from 2019 inspire you as we head into 2020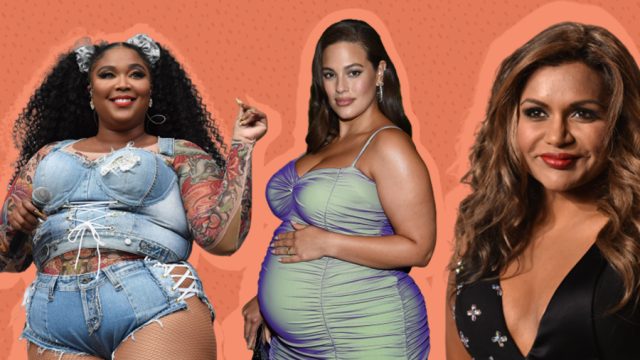 This has been a year full of spreading body positivity. From celebrating stretch marks, wrinkles, pregnant bodies, and all of our insecurities, 2019 has pushed the body positive movement forward monumentally, and we're cheering on everyone participating. It's important to acknowledge that body positivity is difficult for most people, and it's an ever-changing journey that will continue to evolve for years to come. We're here to celebrate the moments that have inspired us to love ourselves more this year.
Celebrities have been at the forefront of encouraging us to embrace our insecurities in 2019. From posting unfiltered photos on Instagram to standing up to their body-shamers, celebs have been all about championing themselves and other women everywhere this year, and we have a feeling that 2020 will include even more body positive moments.
To get you in your self-love feels, here are the most inspiring body positive moments of 2019.
1Ashley Graham's naked selfies
Model Ashley Graham has always been a fierce advocate for body positivity, but during her first pregnancy, she has become even more inspiring. In the midst of her third trimester, Graham posted a naked selfie to Instagram, showing off her stretch marks and changing body. She captioned the photo "same same but a little different".
In October, Graham sent a similar body-positive message on Instagram, this time with a video highlighting her pregnant belly. She captioned the post,
"Getting bigger and bigger and trying to embrace my new body everyday. It's a journey and I'm so thankful to have such a supportive community🤰🏻🤰🏻🤰🏻"
Pregnancy is such an amazing journey, and we love how Graham encourages mothers to embrace the beautiful changes their bodies undergo.
2Sarah Hyland celebrating her "KUPA"
During her first live televised performance of her new music at the Teen Choice Awards in August, Sarah Hyland rocked a ruffly pink dress with confidence. After the show, she coined the phrase "KUPA"—"kidney upper pussy area"—on Instagram by revealing that she opted to not wear Spanx to really feel empowered.
Hyland underwent kidney transplants in 2012 and 2017, and has spoken about her KUPA being a result of those procedures. Despite her admitted frustration with this part of her body, she let it "shine like the badass bitch she is" during her performance, and we were cheering her on louder than ever before.
Later this year, Hyland posted a photo paired with an honest message, reminding us all that being insecure about our bodies is okay, as long as we appreciate everything they do for us daily.
https://www.instagram.com/p/B5Nu8sulV0_
3Mindy Kaling's bikini photos
In July, Mindy Kaling reminded us that every body is a bikini body with these stunning poolside pics. She drove her message home by saying, "IDK who needs to hear this but… ? WEAR A BIKINI IF YOU WANT TO WEAR A BIKINI. You don't have to be a size 0." Preach, Mindy! (And keep the killer earrings-heels-swimsuit combos coming.)
4Lizzo's response to body-shamers
Obviously, Lizzo is no stranger to spreading body-positivity, but in December, she had to tackle more critics than usual. The singer wore a backless dress to a Lakers game and twerked on the sidelines (because she's Lizzo, duh.) People took issue with her appearance, but the Grammy-nominated artist put body shamers in their place during an Instagram live video.
"Nothing really breaks my joy," she said. "I'm a really solid, grounded person, and I know that I'm shocking because you've never seen—in a long time—a body like mine doing whatever it wants to do and dressing the way that it dresses and moving the way that it moves. But I don't ever want to censor myself because I'm suddenly famous... I'm not going to quiet myself."
Amen, Lizzo! We can't imagine a world where you let others quiet you—and we wouldn't want to live in one that did.
5The celluLIT movement
This past summer, model Iska Lawrence led a body-positive movement on Instagram by starting the hashtag #celluLIT, which encouraged women to proudly bare their cellulite in photos  on the 'gram.
Over 18,000 women joined the movement by posting similar photos with #celluLIT in their captions.
This is the type of content we like to see on social media, ladies! This just goes to show that one hashtag can make thousands of people feel seen and heard.
6Katie Holmes showing off her stretch marks
In November, Katie Holmes debuted some hot photos from a photo shoot with Vogue Australia on Instagram, and followers were quick to applaud her for going un-airbrushed and embracing stretch marks on her stomach.
"So bold!! I love that you're slightly showing the pregnancy warrior marks. You go girl!!!! a commenter wrote. "I love you lioness stripes @katieholmes212 😚❤️ true beauty of a mother. another added.
Stretch marks can be tough for women to embrace, but when we normalize these little lines by not hiding them, we can start to accept them for what they are—reminders of the true beauty of growth.
7Demi Lovato's unedited bikini photos
We can always count on our girl Demi to serve some realness and spread the body positivity, even when she admits it's not easy. In early September, she posted a gorgeous photo of herself in a swimsuit to Instagram, admitting that doing so is her "biggest fear".
"This is what I got. I want this new chapter in my life to be about being authentic to who I am rather than trying to meet someone else's standards. So here's me, unashamed, unafraid and proud to own a body that has fought through so much," she captioned the photo.
https://www.instagram.com/p/B2DLlZ4BfgP
"Just so everyone's clear.. I'm not stoked on my appearance BUT I am appreciative of it and sometimes that's the best I can do. I hope to inspire someone to appreciate their body today too." she continued.
This is one of the many reasons why we love Demi—she acknowledges that loving yourself is a journey that we're all in different stages of, yet continues to inspire us all to do so, even when it's difficult.
8Camila Cabello speaking out about cellulite
We all know that cellulite is totally normal, but sometimes internet trolls get inside your head and convince you otherwise. Back in August, Camila Cabello reacted to a headline she read about her body-shamers in the absolute best way. She used her platform to tell everyone out there that cellulite is indeed normal, and that the airbrushed photos we see of celebrities are fake and creating "a completely unrealistic view of a woman's body."
https://www.instagram.com/p/B0t5WxbnqNQ
"Girls, cellulite is normal. fat is normal. It's beautiful and natural," she wrote. "I won't buy into the bullshit today. not today satan!!!! and I hope you don't either."
We love moments like this where celebrities flat out shut. down. haters and send us an honest message that we all need to hear.
9Tracee Ellis Ross celebrating her age
Women are inherently beautiful at any age, and Tracee Ellis Ross reminded us of this on her 47th birthday this year by posing for an unfiltered bikini photo shoot.
"It's my birthday. I'm 47 today and I'm filled with gratitude. I LOVE getting older and I LOVE my life," she captioned the post. "I'm so grateful to be living this life I'm in. I've worked so hard to feel good in my skin and to build a life that truly matches me and I'm in it and it feels good. I remain curious and teachable and so it will all keep getting better. No filter, no retouch 47 year old thirst trap! Boom!"
We're thankful for all of these women who showed us this year that beauty comes in endless forms. These are the moments we need to keep championing and participating in come 2020.