11 Heels That Won't Sink Into Grass and Are Super Comfy, Too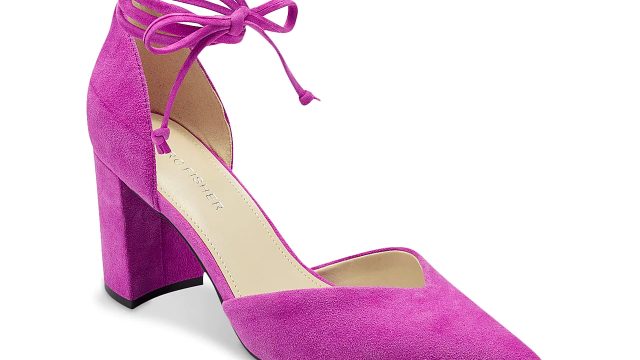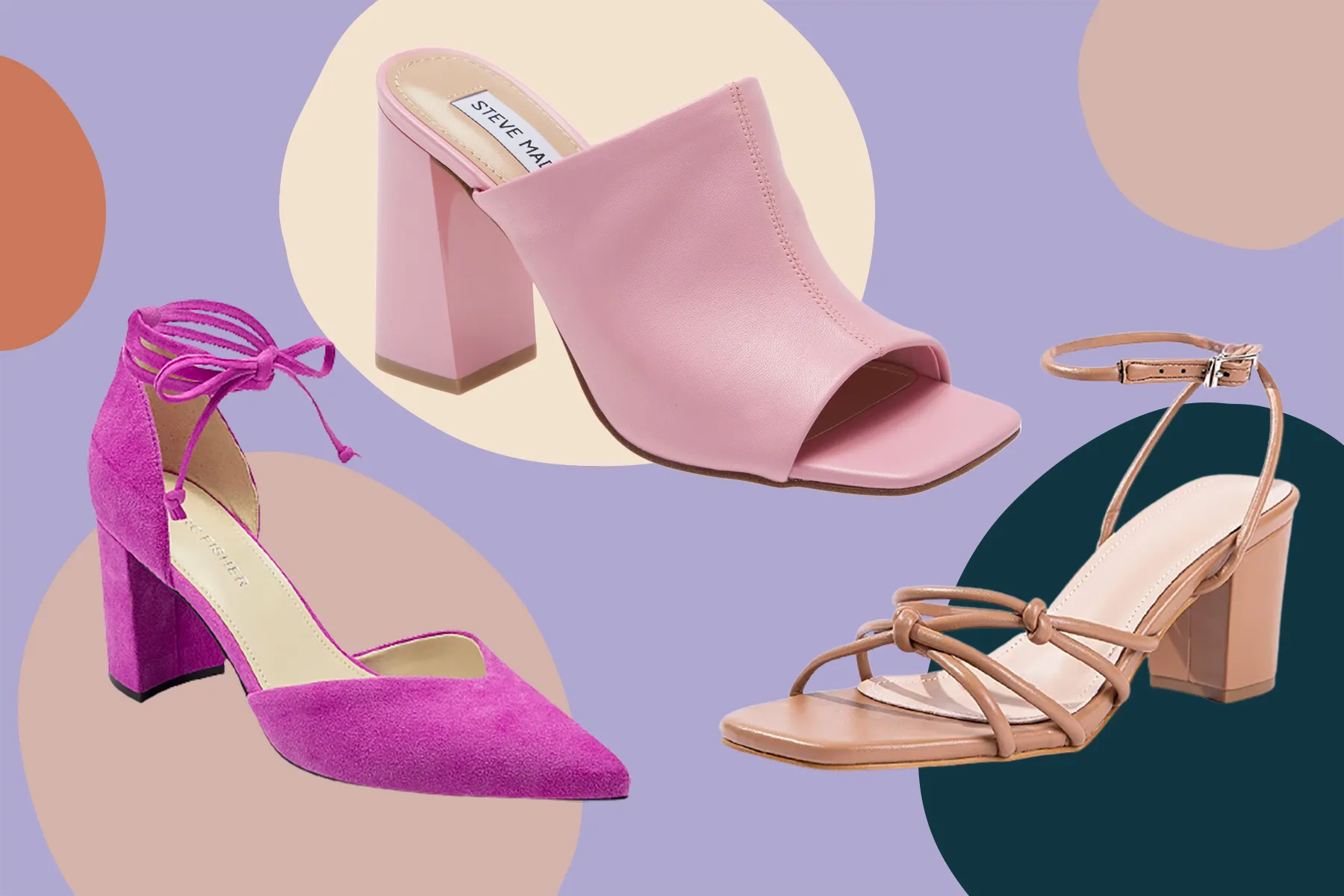 As in-person events return and social calendars fill back up, we're all trying to remember how to wear out-of-the-house clothes again—and the transition can feel a bit rough. Not only are we relearning how to wear pants with zippers again, but we're also relearning how to wear real shoes for periods longer than a trip to the grocery store. So, as we stare down invites for events in which heeled shoes are the norm, we're reaching for only the comfiest block heels to get us back in the swing of things.
With the renewal of wedding season and so many events taking place outdoors, block heels are the best way to avoid sinking into the grass or snapping a stiletto on uneven ground. Plus, for those of us who are prone to wobbling, block heels can offer more support and stability than a pointed heel ever could. With most people not wearing shoes as often over the past year, the pandemic has also led to an increase in foot pain, which is why it's an extra good time to opt for shoes with a bit more support.
So, we looked for block heels that are verified as both comfy and cute by reviewers and are sure to help complete your summer wardrobe. Keep scrolling to shop the best block heels for all your upcoming events below.
Best black block heels: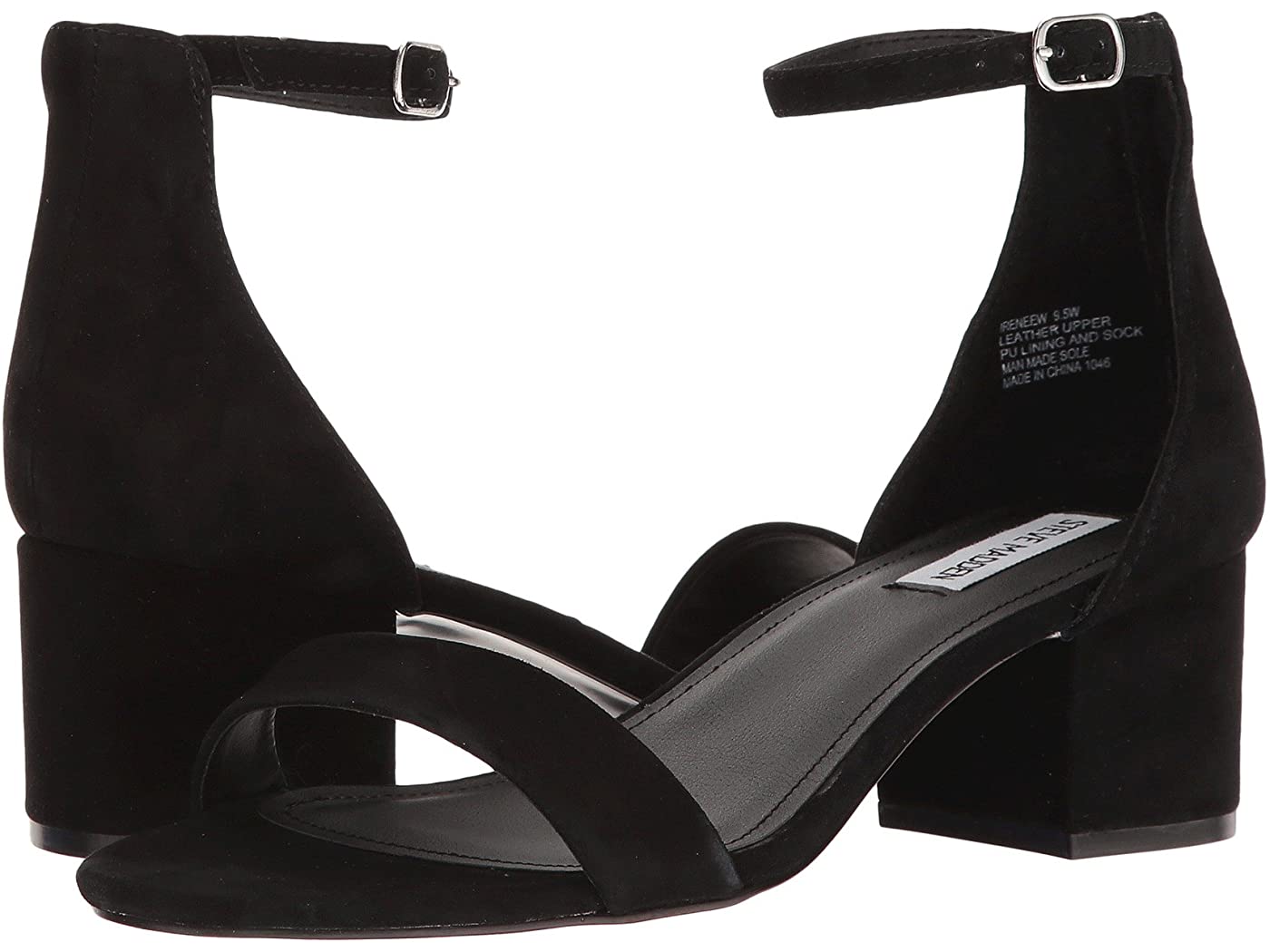 Steve Madden Irenee Sandal
$69.95
Shop it
Zappos
This classic two-strap sandal will become your go-to pair of heels whenever you need to dress up an outfit. They come in classic black, white, bright red, six different skin-toned shades, and more. Several Zappos reviewers said they loved the shoes so much, they bought them in several colors. One reviewer even put the shoes to the test at a homecoming dance, and wrote, "They went so well with my dress, looked great, and I was able to dance the night away in them."
Best strappy block heels:
N.N.G. Strappy Block Heel Sandals
$32.99
Shop it
Amazon
At just over $30, these strappy sandals are a great way to get in on a current trend while still getting something versatile and easy to wear. One reviewer says the shoes come in a "very soft and flexible material and fit great." Shop the style in tan or black and pair them with a slip dress for an effortlessly chic '90s-inspired look.
Best casual block heels: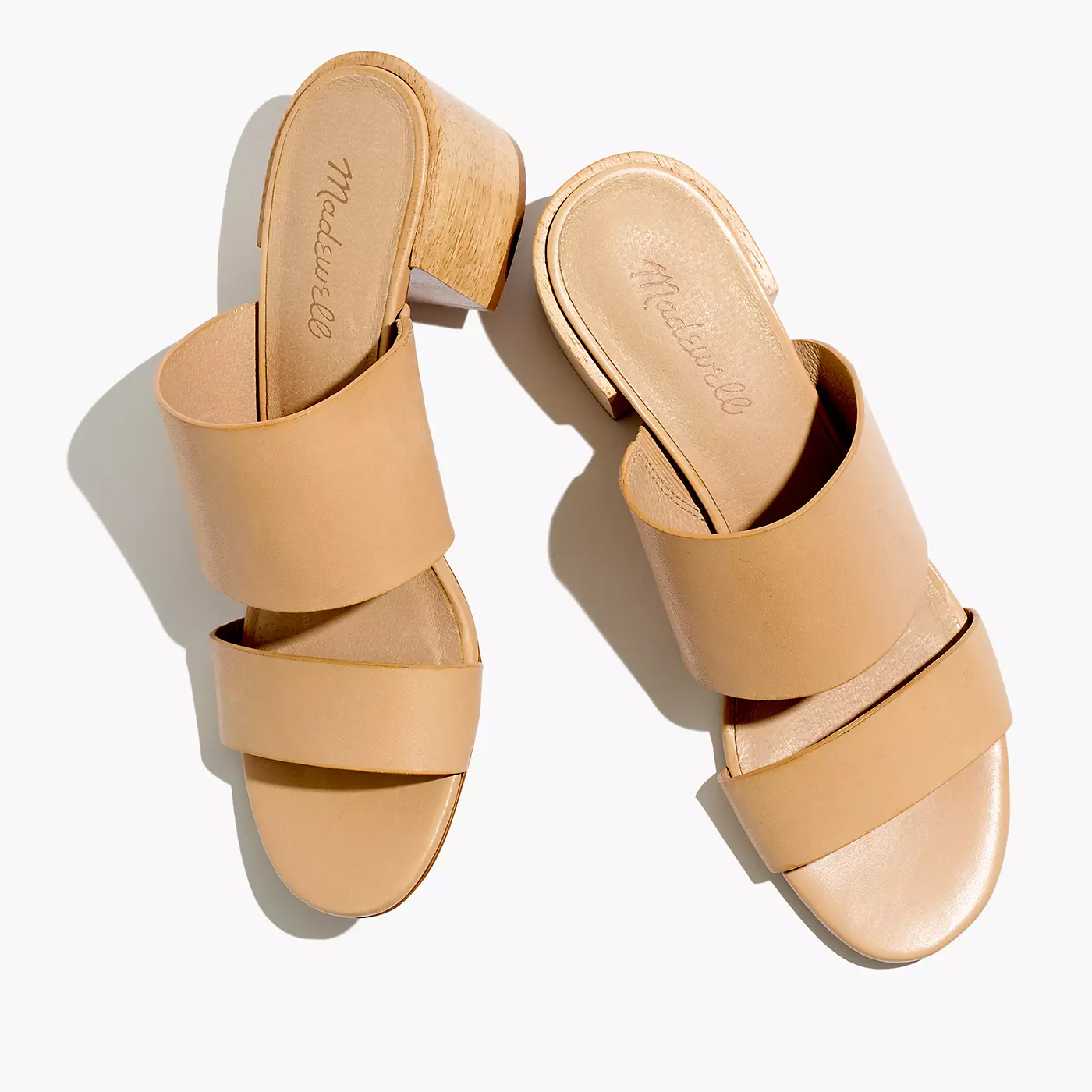 Madewell The Kiera Mule Sandal
$128
Shop it
Madewell
Say hello to your new everyday sandal. These block heel mules are a best seller at Madewell and the reviews speak for themselves. Calling the mules "fantastically made well shoes," one reviewer wrote, "I bought this for my spontaneous beach trip and didn't [have] the chance to break them in, but honestly, didn't even need to because it was so comfortable." The shoes come in beige and black, feature a two-inch wooden heel, and come with padded insoles to make them extra cushy.
Best dressy block heels: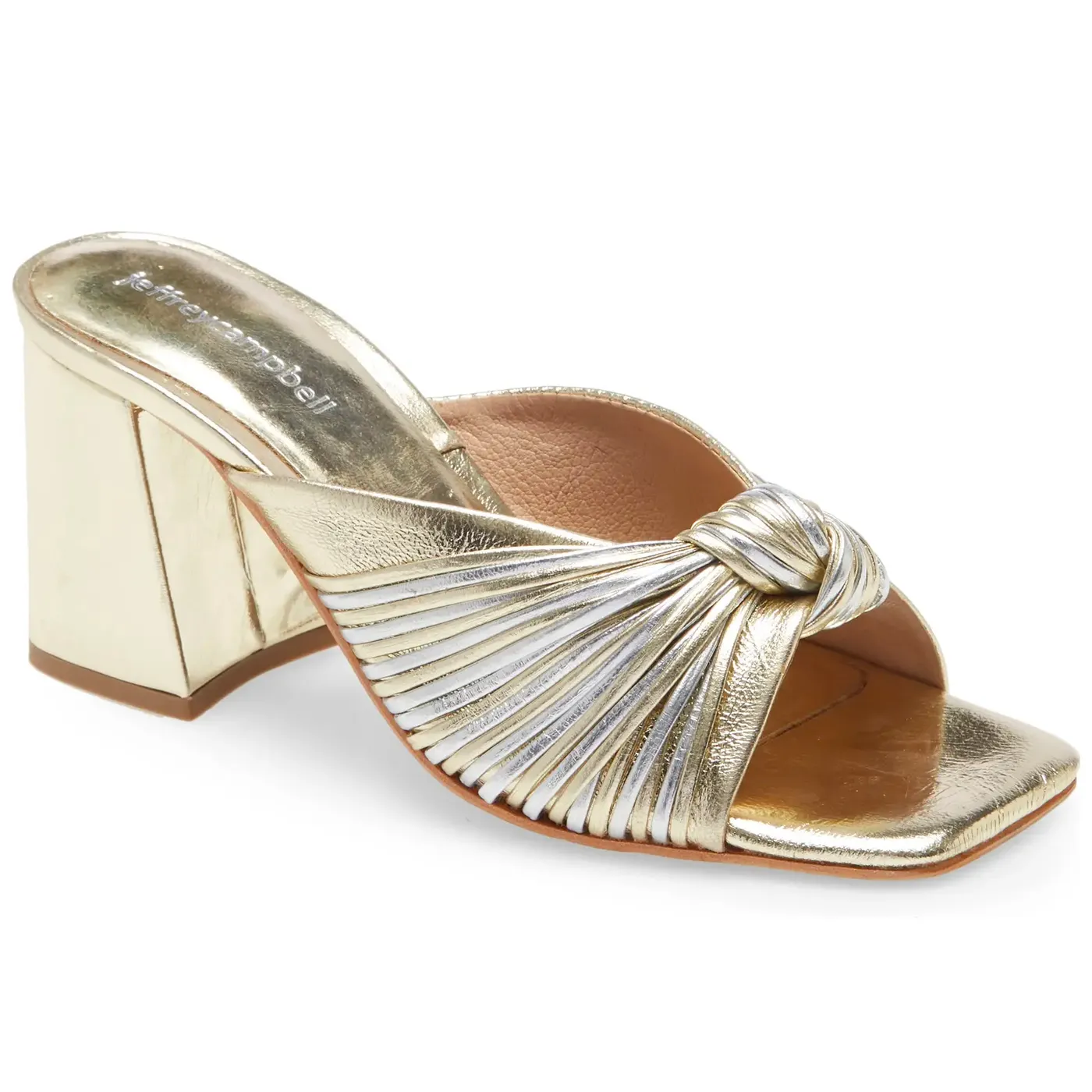 Jeffrey Campbell Melonger Block Heel Slide Sandal
$104.95
Shop it
Nordstrom
Who says you can't wear block heels to a formal event? These metallic block heel slides by Jeffrey Campbell will rewrite all the rules. Featuring a gold base and silver accents, these shoes will easily match whatever accessories you're wearing and you'll be dance-floor-ready as soon as you slip on these disco-inspired heels.
Best chunky block heels: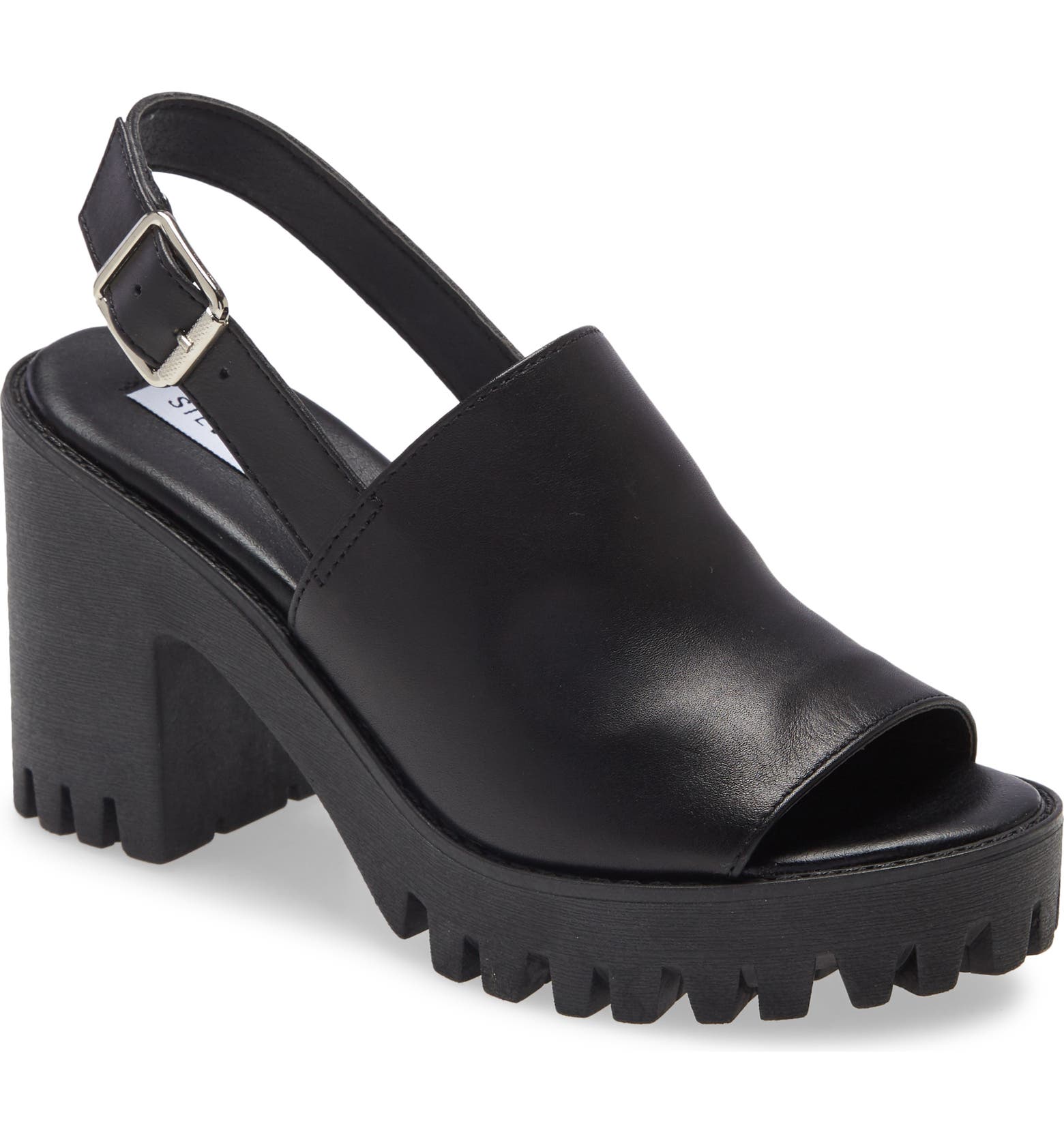 Steve Madden Sunnyside Block Heel Slingback Sandal
$69.95
Shop it
Nordstrom
This chunky block heel will transport you back to the time of choker necklaces and portable CD players. They're a twist on the original Steve Madden flatform sandals, featuring an ankle strap and leather material. Even with a nearly four-inch heel, reviewers say these shoes are comfy and easy to wear. "I'm not a heel wearer and I can wear these all day," one reviewer wrote. Another wrote, "I broke my ankle a few years back and I struggle with heels to this day but this was very very comfortable."
Best closed-toe block heels:
Toren Block Heel Square Toe
$130
Shop it
Sam Edelman
Whether you forgot to paint your nails or just don't like having your little piggies on display, these Sam Edelman block heels are a great closed-toe option. One reviewer wrote that the shoes are "great heels even for someone that doesn't wear heels," and that the ankle strap helps ease anxiety about the shoes falling off. In addition to the ivory shade, the minimal shoes are also available in black, tan, light yellow, and light purple. Note: Several reviewers recommend sizing down a half size to get the perfect fit.
Best tall block heels: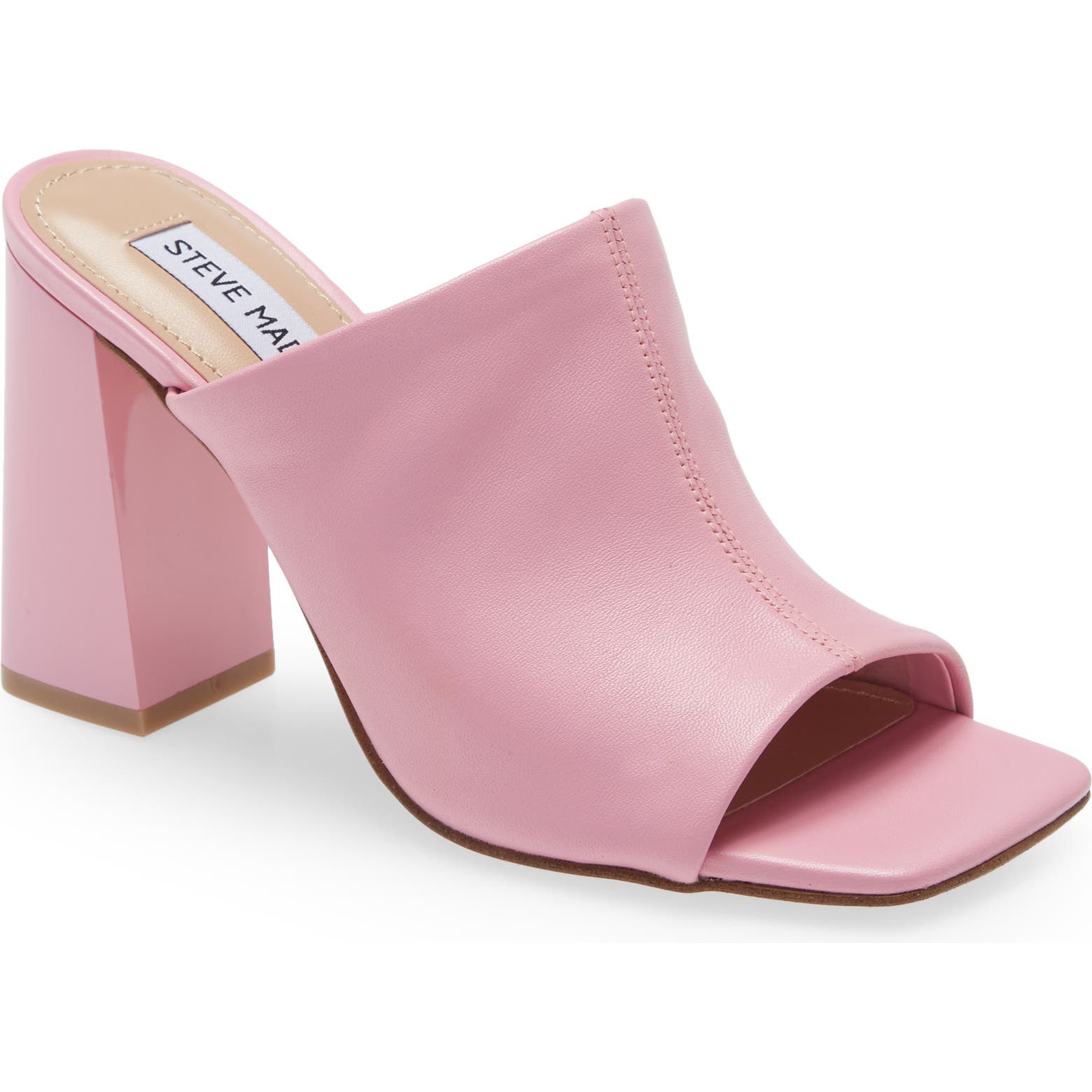 Steve Madden Tule Block Heel Sandal
$99.95
Shop it
Nordstrom
If you're someone who loves adding height, you don't have to give up the extra inches when choosing a block heel shoe. The Steve Madden Tule Block Heel Sandal has a four-inch heel and comes in so many fun colors, like the baby pink shown above, aqua blue, bright red, clementine orange, and two neutral shades. "They are true to size and so comfortable!" one reviewer wrote. "Def a 2021 staple item to purchase in any color."
Best square-toe block heels: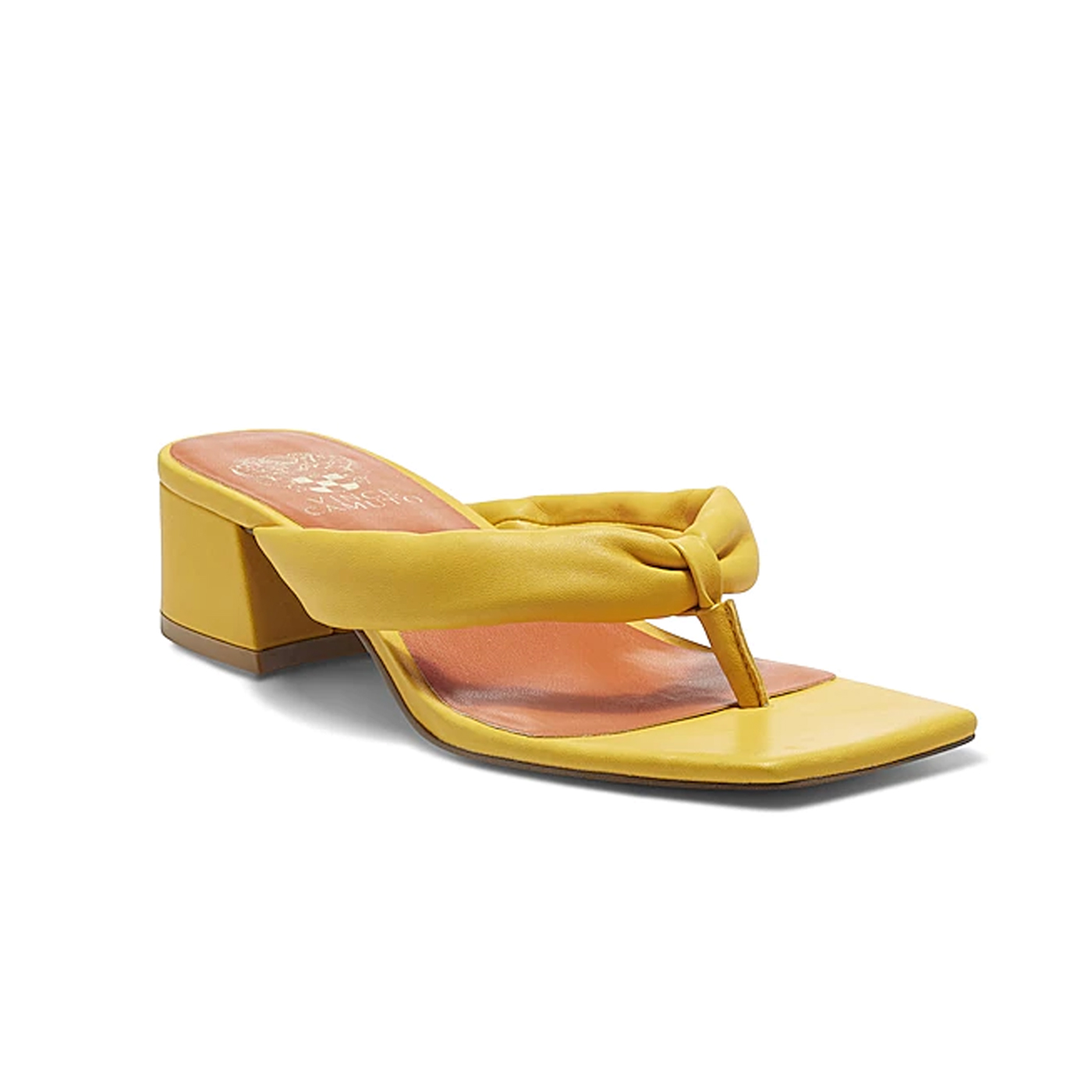 Sabrina Thong Sandal
$99
Shop it
Vince Camuto
This shoe combines two trends worth keeping an eye on this summer: square-toed shoes and thong-heeled sandals. While many thong strap shoes throw comfort out the window, these Vince Camuto sandals come with a thick, cushy strap and a block heel to give your feet a break. They come in the bright yellow shown above, aqua blue, tan, white, black, and a pink abstract print.
Best pointed-toe block heels: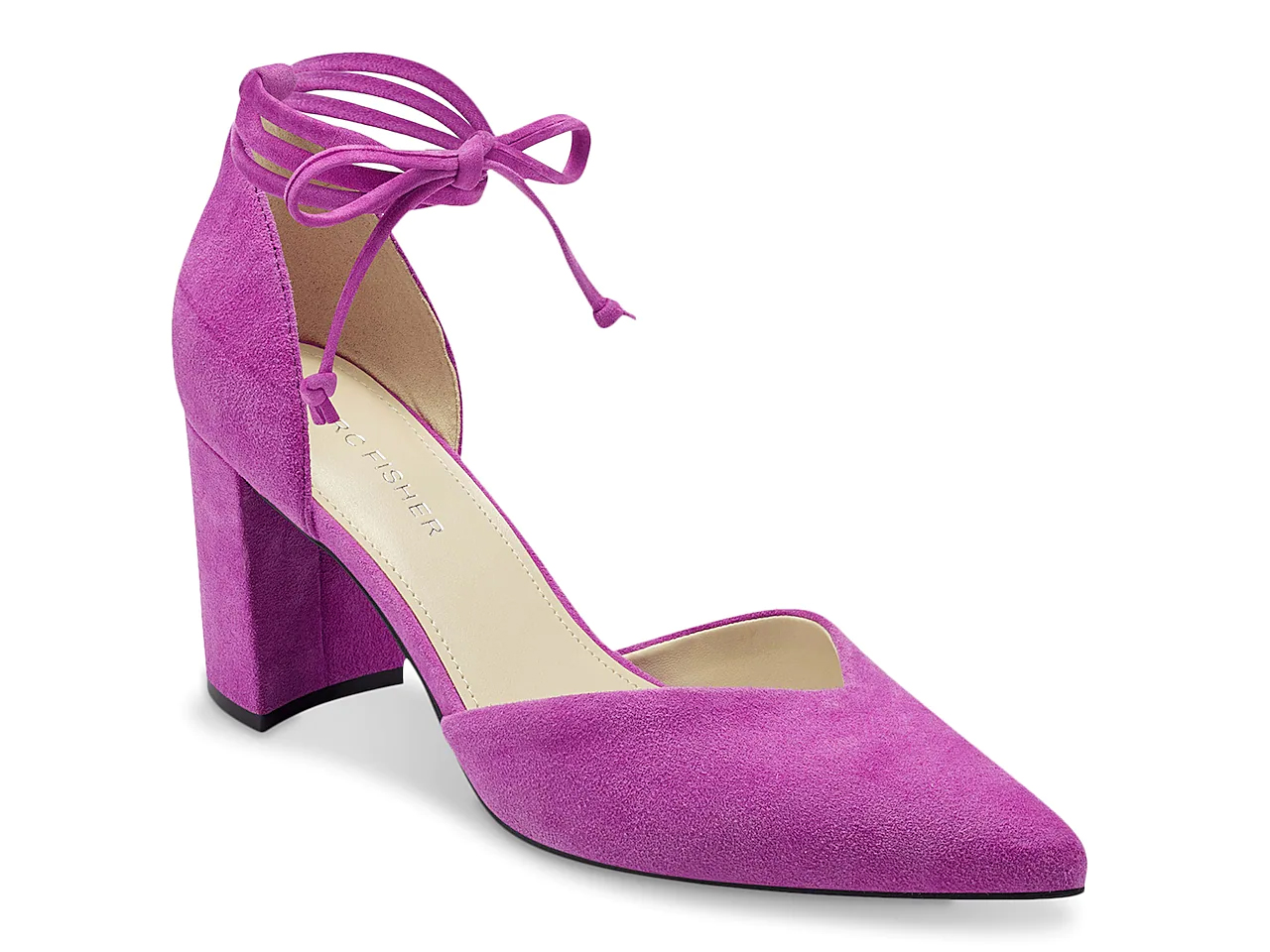 Marc Fisher Cerana Pump
$59.99
Shop it
DSW
These pointed-toe block heels are the perfect way to add a touch of sweetness and glam to a dressed-up outfit. For anyone searching for event shoes that won't leave your feet in pain, let this reviewer put your mind at ease: "I wore these for a wedding I was in and they were so comfortable." Another reviewer bought these for her daughter and says she loved them. "These were perfect for her first pair of heels," she wrote. You can shop them in the fun purple color shown above or classic black for something more versatile.
Best nude block heels: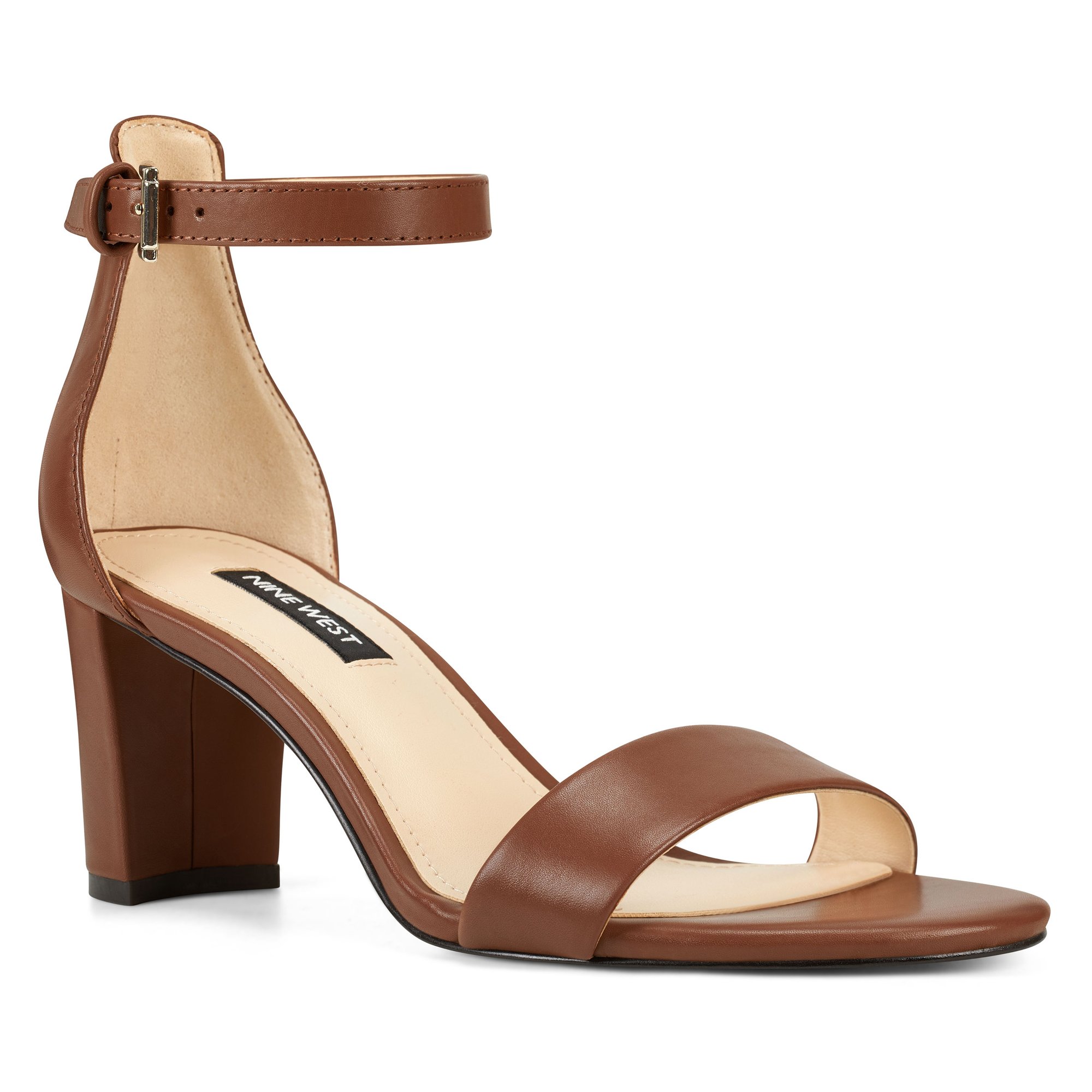 Pruce Ankle Strap Block Heel Sandals
$84
Shop it
Nine West
As part of Nine West's Nudes Collection, these ankle strap block heels come in a more inclusive range of skin-toned shades. From dark brown to light ivory, these leather sandals can become your go-to shoe whenever you need something neutral and comfy to complete an outfit. One reviewer is a big fan of the shoes for everyday wear. "I was looking for something to wear frequently with everything from distressed jeans to a dress and these fit [what I] need," the reviewer wrote. "They carry me through the workday and into the evening and don't leave me with aching feet!"
Best work-appropriate block heels: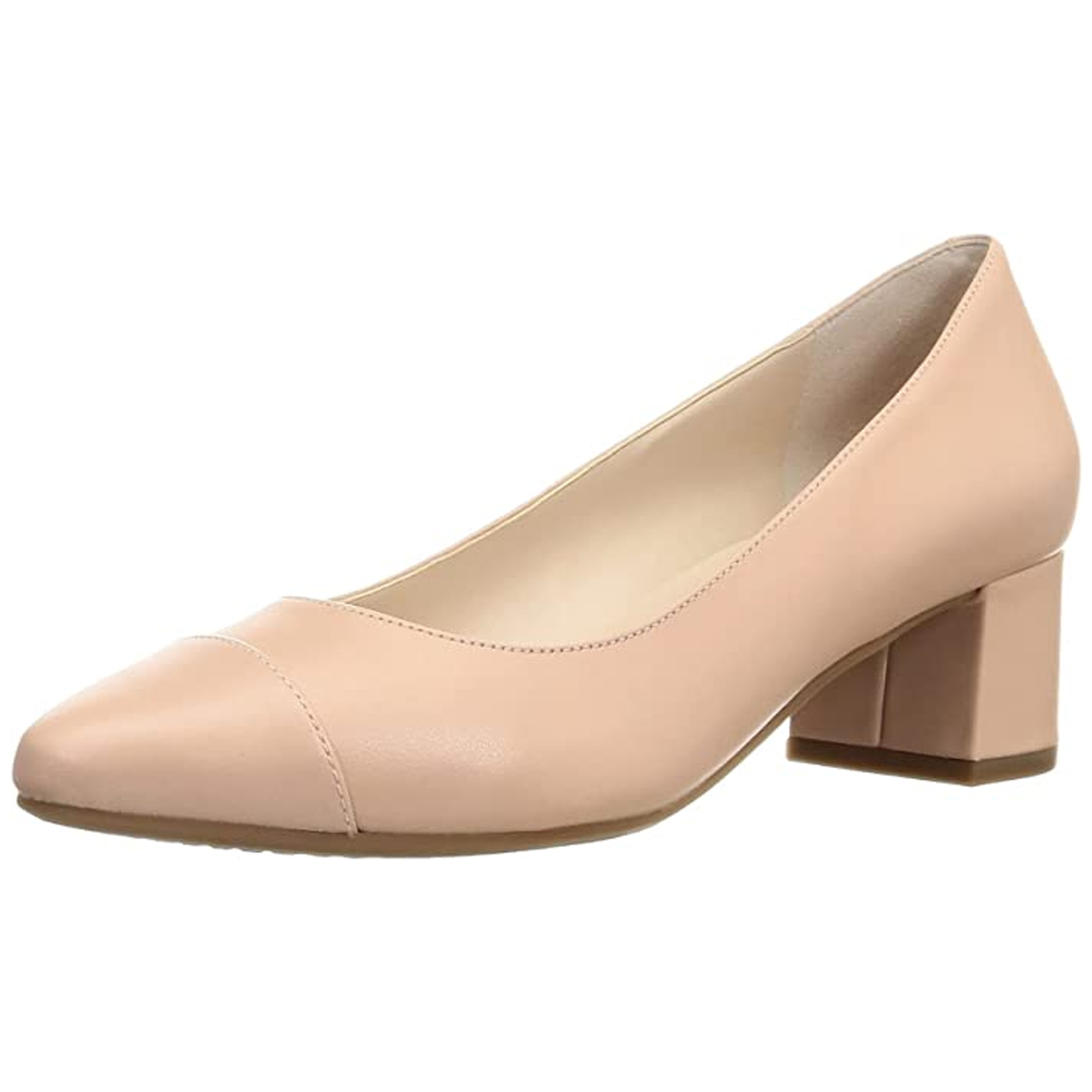 Cole Haan The Go-to Block Heel Pump
$120
Shop it
Amazon
If you're heading back into the office and need a pair of dressy-casual shoes to get you through the workday, look no further. These Cole Haan block heels are designed for frequent and long wear, featuring an extra cushioned footbed and rubber outsole for grip and traction. Reviewers say the heels are "classic" and "timeless," and they come in light tan as shown above, classic black, navy, and two snake-print options.