All the best bestie dates to go on this summer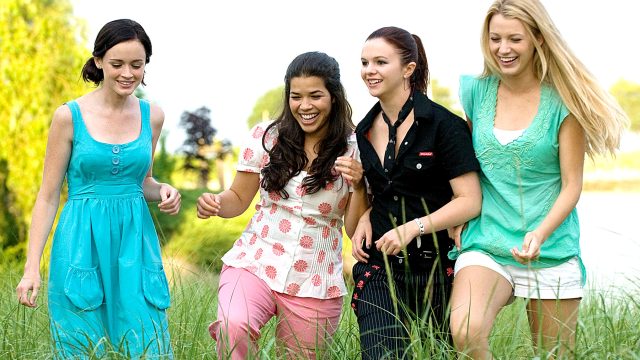 You guys: It's summer! You've probably already noticed, but it is still very exciting. It's happening! Let's do stuff and make stuff and lay on stuff in the sun! Let's grab our besties and go on adventures and take chances with the people we love and the people that put up with us during all the cold months when we just wanted to eat soup and watch Grey's Anatomy! Yay summer! Yay besties! Yay this article for giving you ideas on stuff to do with your besties because you've been spending a lot of summer nights wandering around Target! (Maybe that's just me and my besties but you get the point).
Summer is for fun, and for friends, and a lot of times for getting into bestie date ruts where you're doing the same thing every night wishing one of you had a would have a stroke of brilliance and would plan some amazing adventure that you'll remember when you're 92 and looking back through your photo albums/instagram profile. Here's a short little list of some super-fun bestie dates, I hope you'll take your favorite people and I hope you'll have a lot of summer fun and make a lot of memories.
Have a cute little picnic in the park
Picnics have a reputation for being inherently romantic, but I think they're much better suited to friends than lovers. Bestie picnics mean you can bring all your favorite foods and not have to worry about whether or not you have chocolate on your chin or ants crawling up your leg. You can lay back in the sun and talk about all the things you've been worried about or excited about or confused about because bestie picnics lead to a lot of honest bestie talk and usually a quality hug at the end when you're packing up the sandwiches and shaking off the blanket. Bestie picnics are also a great time to watch ducks and squirrels living their lives and being adorable.
A nice hike outside is pretty chill
I personally don't enjoy hiking. To me, hiking means going to the place where spiders are made and taking a look around. However, I think there is something remarkably beautiful about friends exploring nature together and letting the flowers and the trees and whatever else you find on hikes interrupt your usual screen intake and reorganize all your priorities to account for the pretty things this world has to offer. Hikes bond people, and since your bestie and you are already inseparable, a hike will probably turn you into telekinetic superheroes.
The classic dinner and a movie
I know, I know. How predictable. But you guys: it's a classic for a reason. Everyone loves movies, and everyone loves food, and who better to share the love with than your bestie? If you want to add a little twist, pick a movie you never thought you'd want to see. If you've been watching a lot of rom-coms, try on a horror movie for size. If you really like action movies, revisit your childhood and catch the latest animated animal flick. Afterward your bestie and you will have a lot to talk about.
Middle school-style dance party!
Remember when you were trying to figure out eyeliner and experimenting with crocs as a fashion statement? Remember when you legitimately thought you were going to marry Jesse McCartney? Remember when you wore braces and rocked a middle part like a boss? Let nostalgia guide your evening as you push the couches aside and crank up the jams to max volume so you can Dougie and One-Two-Step the way god intended.
Middle school dance parties make the best bestie dates because they're perfect for all kinds of besties. If you guys were actually friends in middle school, you can talk about all the people you knew and all the crushes you had and laugh at all the embarrassing stuff you did. If you guys are new besties, you can compare music tastes, tell stories about the bad old days, and learn a lot about each other to the soothing soundtrack of Flo Rida.
The beach, obvi
If you have access to beach you should go to the beach, it's really that simple. The beach is the best! There's sand and sun and a huge beautiful ocean in front of you that wants to play with you and get saltwater in your eyes. The best conversations and giggles happen on a beach blanket when you're sunburned and smiling and eating your 8th s'more. Go swimsuit shopping before you leave and take lots of pictures and do a high school musical jump in front of the waves so everyone on Instagram will know that you and your bestie are in this thing together.
Thrift shop shopping and general merriment
I have never taken a friend thrift shopping and not had a ridiculously fun time. There's something about all the 80s sweaters and copies of dog-eared Nicholas Sparks books that makes it the perfect place for silliness. Try on all the bad clothes, look at all the old toys, laugh at all the furry shoes, and maybe also look for cute stuff that you'd actually wear because then every time you put on that polka dot shirt you'll think about your bestie and maybe feel a little more brave.
Go on a Groupon getaway
Just pick a random Groupon activity and go for it. Take a paint class, go to a comedy club, hit up that new restaurant, get a couple's massage, you've got a lot of choices. Groupon and Livingsocial are amazing for coming up with plans when you have no idea what you want to do. It's gonna be fun and you'll also have that nice "I saved money" glow about you when you go back to work on Monday.
Engage in a karaoke showdown
You don't really know someone until you see them do karaoke. What song will they choose? What dance will they do? Will they be bad on purpose, or try to have a Jennifer Hudson moment in front of strangers? There's so many questions that need answers! Karaoke is a lot of fun, and if you have your bestie cheering for you and picking out a Spice Girls song to duet, you're guaranteed to have a memorable evening. If you want to push the envelope a litter further you could dress in matching outfits and tell everyone you're a girl band on the rise and you're treating this thing like an open mic.
Take a trip to the farmer's market and cook up a tasty dinner
Nothing can beat a summer farmer's market trip. Everything is so fresh and wonderful and all the vendors are friendly and happy and everywhere you look there's an adorable toddler with their face painted like a butterfly. My local farmer's market also has a resident psychic that will read your palm and make you a balloon animal, but I know that not everyone can be as lucky as me. Sit down with your bestie and find a recipe that sounds delicious and then head to the market to hand-pick fresh ingredients. You'll get the double bonding of cooking and shopping together and maybe when the food is done you can have a friendly board game competition to show her you're still the best at Sorry! even after all these years.
Try-something-new date
A couple weeks ago, my friends and I went to a lake we'd never been to and jumped off a rope swing into the unknown lake like gosh-darned water pioneers. It was thrilling, it was terrifying, and it was very cold. I'm not really the rope swing type so it flying through the air on a tether was a very big deal and I'll probably never forget it. Everyone deserves a summer day like that. If there's something you've been wanting to try or a place you've been wanting to go to you should do it and you should bring your bestie because sharing something new with someone you love is so special and so memorable and so very summer-esque.
Related:
101 things to do to make this the best summer ever
15 awesome summer recipes you need in your life
[Featured image courtesy Warner Bros.]