Everything you need to take the greatest bath of your life
While some people take baths whenever possible, others can't remember the last time they filled the tub. I fall somewhere in the middle. While I like the idea, in practice I find the whole process a bit complicated, and honestly, gross. But after adding a few well-placed plants to make my out-of-date bathroom feel more like an oasis, giving my tub a good scrubbing, and purchasing a few choice products, I get it. (A glass of wine and a good book helps, too.)
When done right, a good bath is almost medicinal. Sore muscles? Aches and pains? Prescribe yourself a bath. Stressed and worn out? A dip in the water restores your balance (just don't stay in too long.) You don't need an ailment to enjoy a bath, of course, but whatever the reason behind it, a hot bath is one of those activities you shouldn't skimp on. Load up on luxury. Stack on scents. Forget about the water bill. So grab a book or your iPad, a glass of wine, and sink into relaxation.
Here is everything you need, from beginning to end, for the perfect bath.
1Spa Pillow
I suspect you spend the majority of your bath laying down, and the hard porcelain tub isn't necessarily the most comfortable. Sure, you could stack a towel under your neck, but that will inevitably get soaked. Invest in a spa pillow instead.
2Bottomless Bath Overflow Drain Cover
A few extra inches can make all the difference. This drain cover prevents your bath water from escaping through the overflow drain, giving you a little more room in what is probably a tiny tub. Just keep an eye on the water level while you fill up.
3Bath Caddy, $42.97
For those baths you want to spend reading or watching a movie, a bath caddy is a must. It will hold your soaps, candles, and whatever else you need. This one even has a slot to hold your phone upright.
4Paddywax Mandarin & Lavender Candle
This candle from Paddywax combines the zing of mandarin with the soothing scent of lavender. Perfect for relaxing in the bath without falling totally asleep.
5SHHHOWERCAP
If, like me, you always end up with wet hair after a bath no matter how hard you try, you'll benefit from a shower cap. While there are less expensive options out there, none look as good as this one.
6L'Occitane Lavender Harvest Foaming Bath
Luxurious, lavender, and bubbly. This is what you need for that evening, winding-down bath. It'll look fancy on your counter, too.
7Lush Jasmine Flower Bath Bomb
If there's one thing Lush excels at, it's making bath bombs that smell heavenly, look gorgeous, and sometimes even surprise with a prize inside. This one won't leave any messy petals to clean up later, but it will reveal a special note inside just for you.
8Epsom Salt, 10lb Bag
Nothing is as good as a big old bag of mineral salt. Grab some in bulk from Amazon, and combine it with your favorite scents to customize your bath.
9Jo Malone Red Roses Bath Oil
A classic rose scent elevates your bath to sensual experience. This bath oil is made with skin softening ingredients, like sweet almond, jojoba seed, and avocado oil. It's also scented with lemon and violet leaves to brighten the fragrance.
10Soap Cherie Bath Soak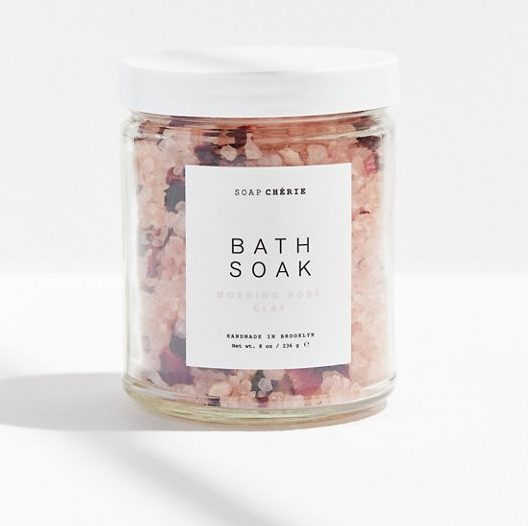 Dead sea salt, French pink clay, and dried rose petals turn even the worst rental bathrooms into your personal spa. It smells like roses and softens your skin.
11Spongelle French Lavender Body Wash Infused Buffer
Take advantage of the soak to exfoliate your skin. While you scrub, the sponge lathers up with lavender scented suds and buffs your skin. Use it up to 14 times.
12Elemis Skin Nourishing Milk Bath
For the ultimate bath, do it like Cleopatra and add milk. Don't grab the dairy from your fridge, instead use this blend with natural planet collagen to nourish skin and soothe dry skin.
13Kneipp Arnica Herbal Bath Oil for Joint & Muscles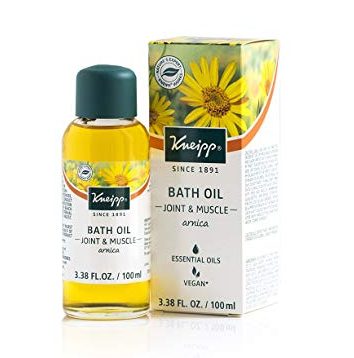 If you're taking a bath to heal sore muscles, up the soothing power by using a bath oil like this one to reduce pain. It smells fresh and moisturizes skin at the same time.
14NOW Essential Oils Variety Pack
Create your own scent experience by mixing and matching essential oils depending on your mood. This 3-pack with lavender, eucalyptus, and peppermint will cover most frames of mind.
15Spa Towels, $12.99
Don't ruin your freshly cleansed skin with an old, scratchy towel. Make sure you have a solid selection of plush, absorbent towels, like this one from Target.
16Aquis Rapid-Dry Hair Turban
If you wet your hair during a bath, dry it quickly and easily with this highly absorbent towel turban. While it won't completely rid hair of moisture, it will lessen frizz if you air dry and decrease heat damage (by cutting down the length of time you need to blow dry) if you style it.
17Classic Bathrobe
A bath isn't really a bath unless you put a robe on after. This long, cozy option is made with 100% Turkish cotton and available in a variety of colors.
18Kiehl's Creme de Corps Soy Milk & Honey Whipped Body Butter
After a bath, it's important to moisturize to replenish your skin. This thick body butter from Kiehl's does everything you want it to, and smells absolutely delicious. Put it on after your nightly bath and you'll wake up still smelling great.
19Soap & Glory Mist You Madly The Daily Smooth Body Lotion
Another great body cream that will keep your skin feeling pampered post-bath.