The best at-home wax strips, according to customer reviews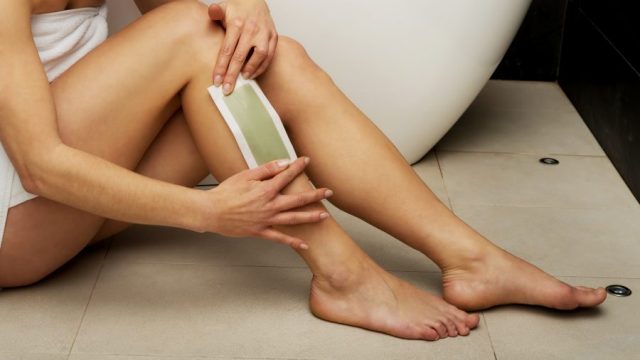 This article originally appeared on shape.com by Susan Brickell. 
If you religiously wax or just want to get rid of unwanted hair before your next vacation, you might look to book an appointment at your favorite salon for a quick fix. But what if your hectic work schedule or social calendar are keeping you busy AF? Well, wax strips are an affordable, effective alternative when you don't have the time or cash to get to the salon. (Or, just sayin', you could always grow it out like these ladies.)
Not only are they super easy to use, but they are a mess-free way of scoring a smooth upper lip, silky legs, or a razor burn-free bikini line all on a budget and from the comfort of home. Waxing strip newbies might be feeling a little overwhelmed at the thought of DIY hair removal, but *trust,* it's a foolproof way to get rid excessive hair—as shoppers can attest.
Just so you're as prepared as possible, experts share their tips and tricks for successfully nixing hair from your face, body, and bikini line, so you'll feel like an absolute pro at home. Here, the best wax strips you can buy online, according to customer reviews.
Prep the skin prior to waxing
While it doesn't make a difference whether you wax first thing in the morning or in the evening after a bath, you do want to avoid alcohol or coffee prior as they can tighten your pores and make it feel more painful, explains Natalie Ismiel, brand expert and ambassador for Nad's Hair Removal. Once you're ready, the number one rule of waxing body hair is to always exfoliate first, notes Ismiel. Scrubbing is critical in removing dead skin cells that can block the hair follicle, causing ingrown hairs.
Make sure the skin is clean and free of lotions and potions, says Gabrielle Ophals, co-founder of Haven Spa in New York City. "It should be dry and you can put a dusting of corn starch over the area to be waxed," she adds. (The corn starch removes excess oil and moisture from your skin, and also helps to dry and tighten it to make hair removal easier.)
Do not wax if you're using retinol, Differin, Acutaine, or any other medications or topicals that make your skin more sensitive and fragile.
Exactly how to use wax strips
Carefully read the instructions and precautions on your waxing strips or kit before you begin waxing as understanding the correct procedure will help minimize pain and irritation, points out Ismiel. "Sometimes the pain can be caused by anxietyyou may be feeling about waxing. Relax your body and take deep breaths!" she says.
Find a comfortable position where you can really see the area you'll be addressing. "Always work on one small area at a time, starting from the outside and working your way into the more sensitive areas," advises Ismiel. To use pre-loaded waxing strips, you may or may not need to heat them first, using a blow dryer or your hands. You'll apply the strip to your skin, smooth down to embed the hair in the wax, and tear the strip quickly in the opposite direction of your hair growth, says Ophals. Pro tip: Hold the skin taut with one of your hands and lift the end of the wax with the fingers of your free hand, instructs Ismiel.
If you miss hairs, just pluck what's left, says Ophals. You don't want to wax over the same area twice as you can rip off skin and cause scarring, she adds. While you can use wax strips on a multitude of body parts—from your upper lip or your armpits to your bikini line and your legs—Ophals recommends against waxing your own eyebrows at home since it's easy to rip off more than you want. Her suggestion: tweeze them. It might be more time consuming, but it's the safest route when you can't get into the salon.
Use baby oil to remove any waxy residue (and don't attempt to use water), says Ismiel. To reduce inflammation and irritation, Ophals recommends applying a soothing serum to the area or a cool compress of chamomile tea. And whatever you do, avoid the sun for at least 24 hours, since your skin will be more at risk of sunburn, says Ophals.
The best at-home wax strips
Ready to try your hand at waxing at home? These are the best wax strips for your face, bikini line, legs, and body, according to customer reviews.
No Mo-Stache Lip Wax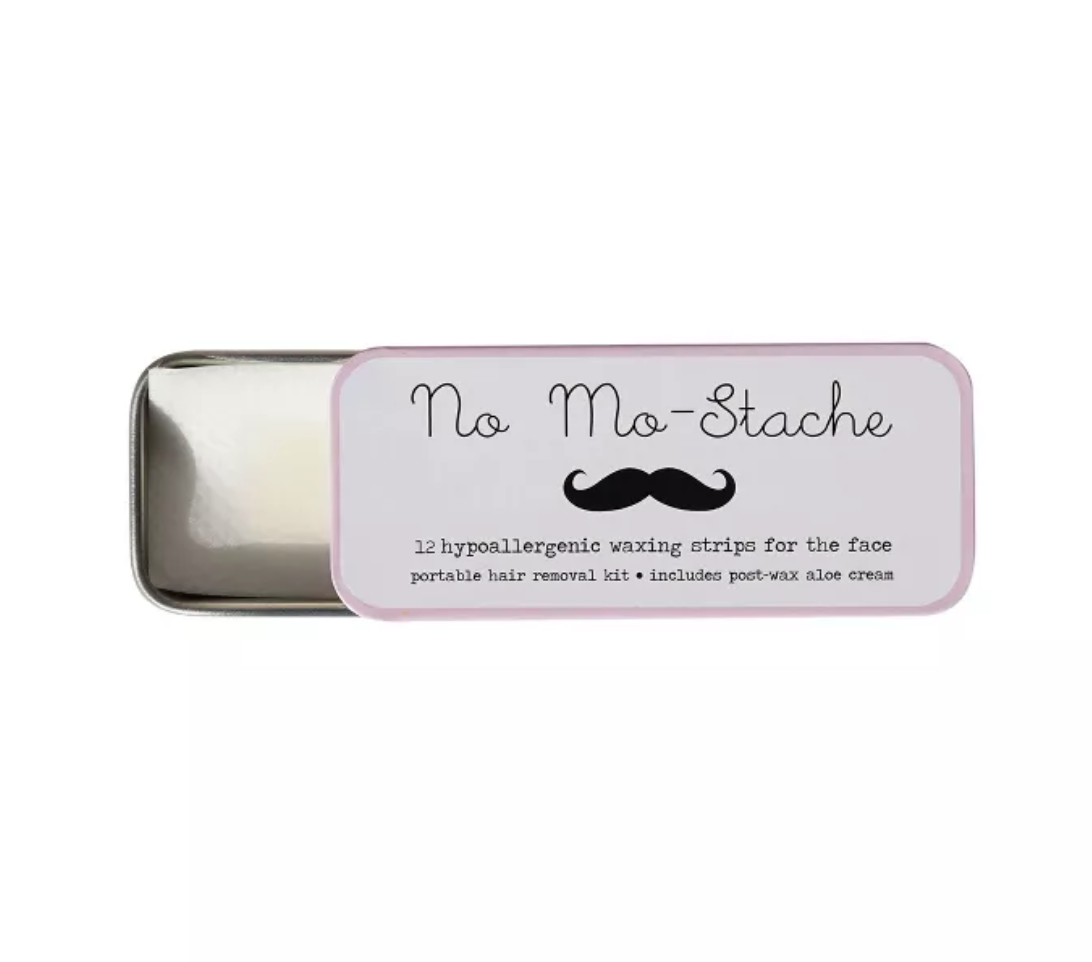 As seen on ABC's Shark Tank, this kit includes six double-sided, cold wax strips (12 total) that easily heat up with hand-generated friction, plus a post-wax aloe cream to calm irritation. The strips are free of artificial colors, fragrance, and parabens, and hair removal lasts up to three weeks. Also great: The tin is compact and discreet, so you can touch up on the go at the gym or on your next trip.
One reviewer wrote: "I'm so excited to have bought these on a whim. They're so amazing! I tried them for the first time today and they were so easy to use. I feel so much more confident with my upper lip cleaned up, and these strips did the trick in less than 5 minutes. It's so much cheaper and faster than going to a salon!"
Nad's Facial Wax Strips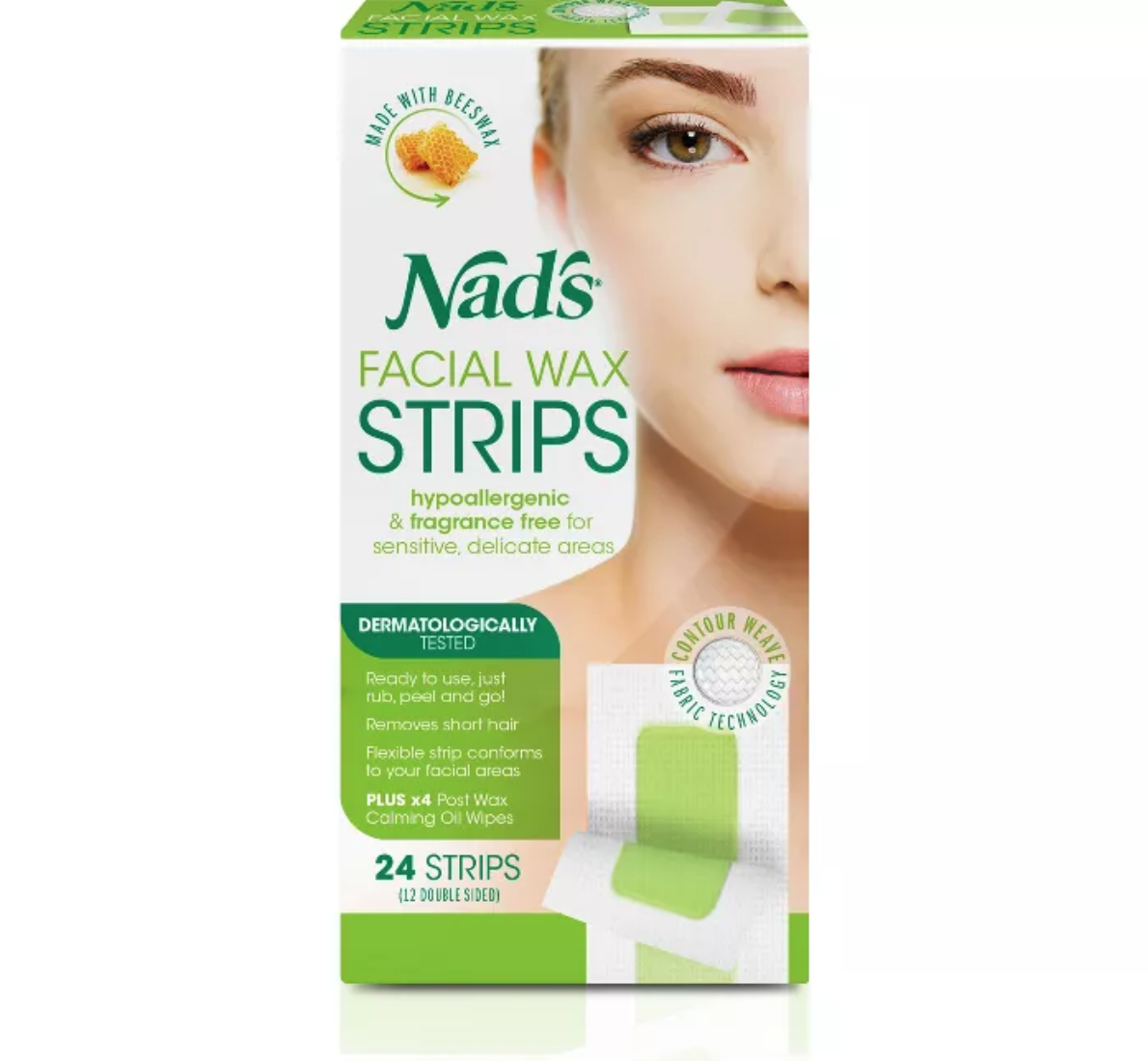 These wax strips are an unfussy, no-mess way to remove facial hair from the comfort of home. The soft, flexible strips easily conform to the contours of your face, and they contain natural beeswax to yank hair as short as 3 millimeters. The kit includes 10 double-sided strips and four calming oil wipes to soothe skin and remove wax residue. It's designed for all skin types, and you'll get a smooth finish for up to four weeks.
"I don't have time to go to a professional salon, and these things do the trick! I am always amazed at how much hair they remove. I have sensitive skin and I have never had a problem with these. My skin doesn't even get red after using them. I highly recommend this product. It has been a self-confidence booster!" raved a shopper.
Sally Hansen Hair Remover Face and Bikini Wax Kit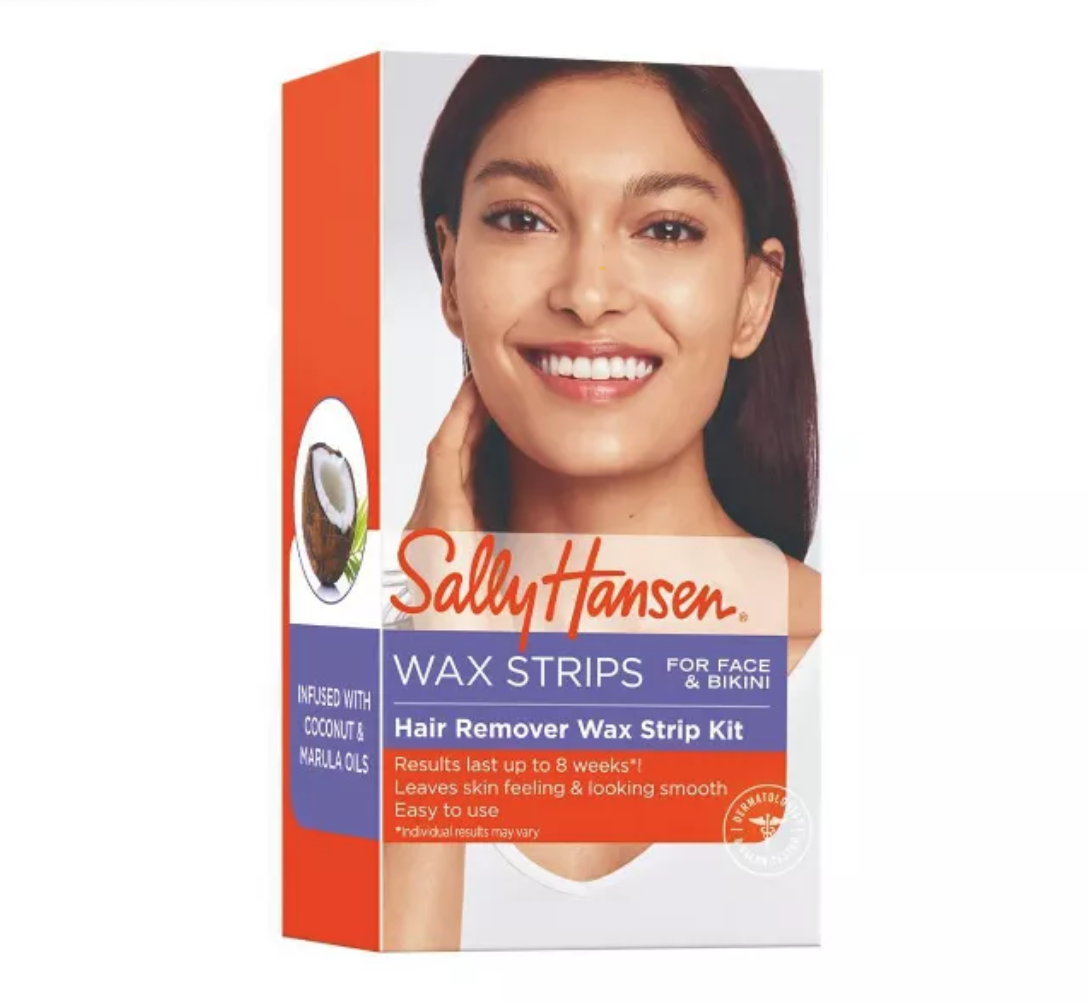 Great for the bikini line, upper lip, and even touching up brows (according to reviewers), this popular kit contains three convenient sizes of wax strips—four large, 12 medium, and 18 small—to accommodate whatever area you wish to work on. Finish your at-home waxing session with the included azulene oil to calm any redness and remove traces of wax. Believe it or not, this kit claims you'll have results that last up to eight weeks.
"ONE OF MY MUST-HAVE PRODUCTS. I use this to remove peach fuzz on my forehead as well as shape my eyebrows. It is easy to cut these strips into any shape that you need for the area you are waxing. I heat mine up by using a blow dryer to make the wax even more sticky. Love these so much," said a customer.
Nair Hair Remover Wax Ready-Strips for Legs & Body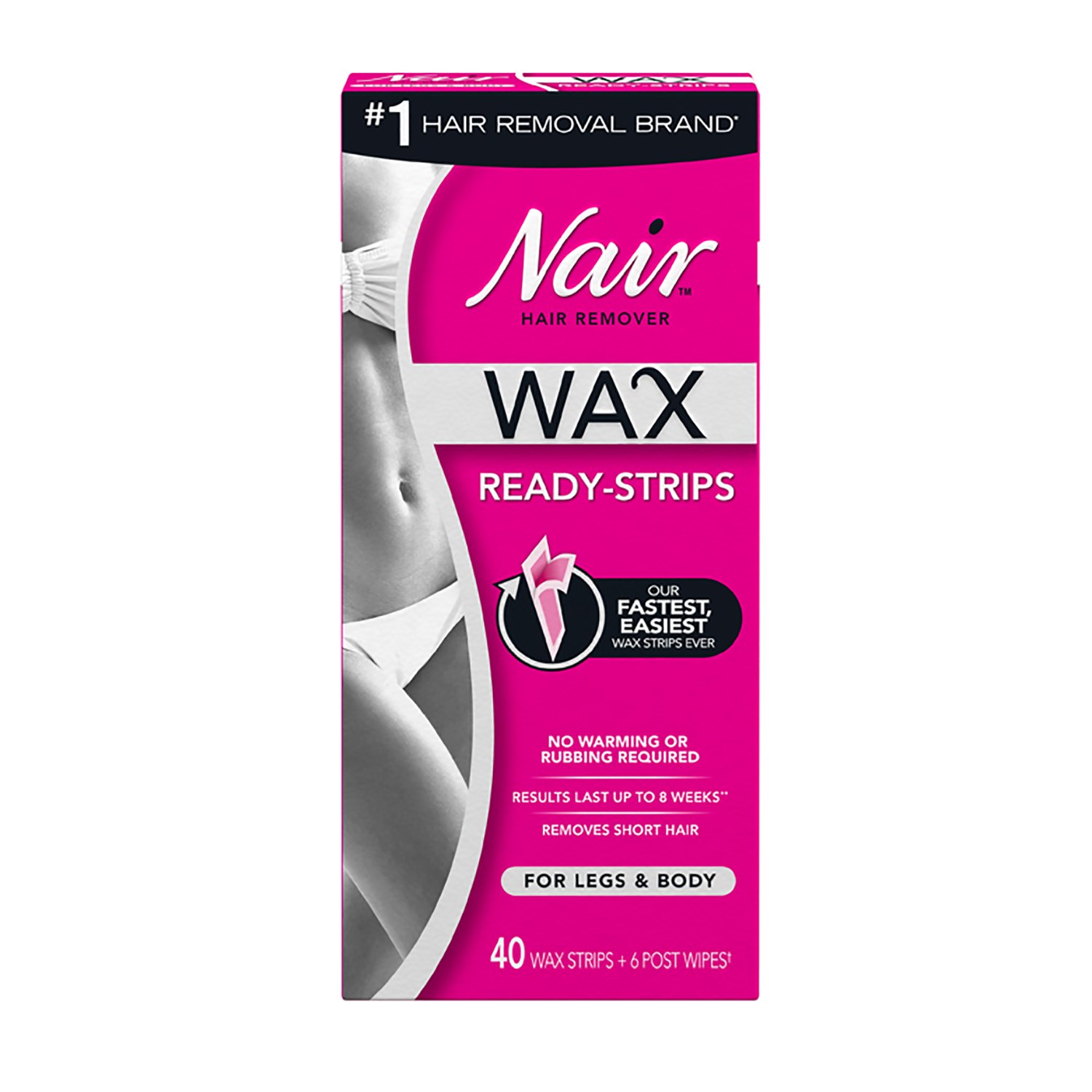 If you're looking to target your body or legs, these wax strips from Nair remove hair effortlessly and without making a mess, leaving you with smooth skin for up to eight weeks. You don't need to rub or warm them up—just press them on and peel off. And if one of your goals is getting rid of your body hair altogether (but laser hair removal is just a little too pricey), these strips will help minimize hair regrowth the more you use them.
One reviewer said: "Usually not a fan of ready-made wax strips, but these actually work."
Veet Ready-to-Use Wax Strips and Wipes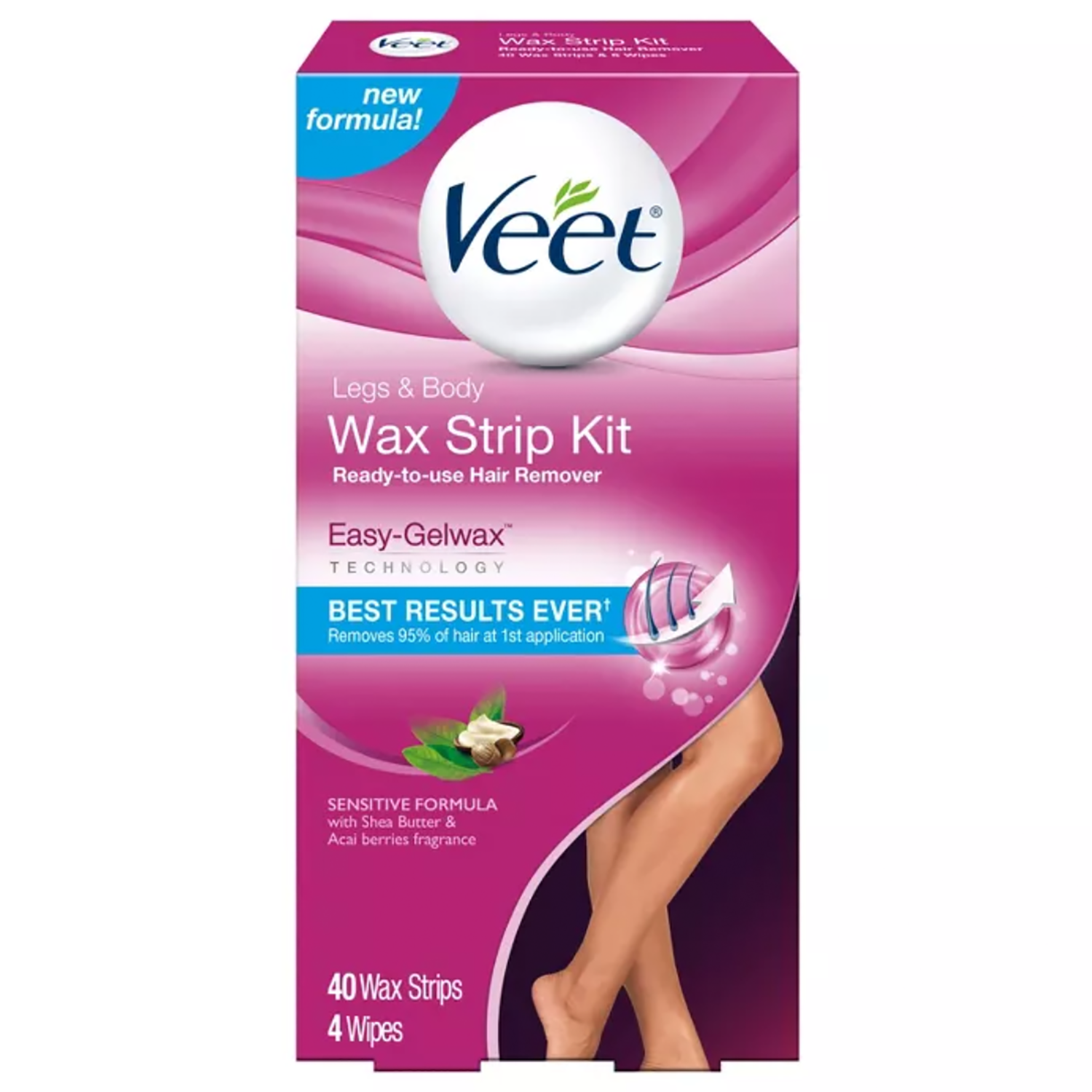 For a super smooth finish, these cold-pressed wax strips work to remove leg- and body-hair down to the root, so you're hair-free for up to four weeks. They're designed to act like a liquid during application to coat each individual hair—even those as short as 1.5 millimeters—so all you need to do is heat the wax strips by rubbing them between your hands until they feel warm (about five seconds). Another perk: The strips contain almond oil and vitamin E to repair and moisturize skin, and the kit comes with wipes to clean up any leftover wax on your body.
"Have only used on my armpits so far and works great! The boyfriend actually waxed them for me lol He warmed the strips above the stove for a little to warm the wax to help them stick better to my armpits then cleaned off the wax with a wax residue remover I bought from Sally's and the wax came off fine!" wrote a buyer.
Flamingo Women's Body Wax Kit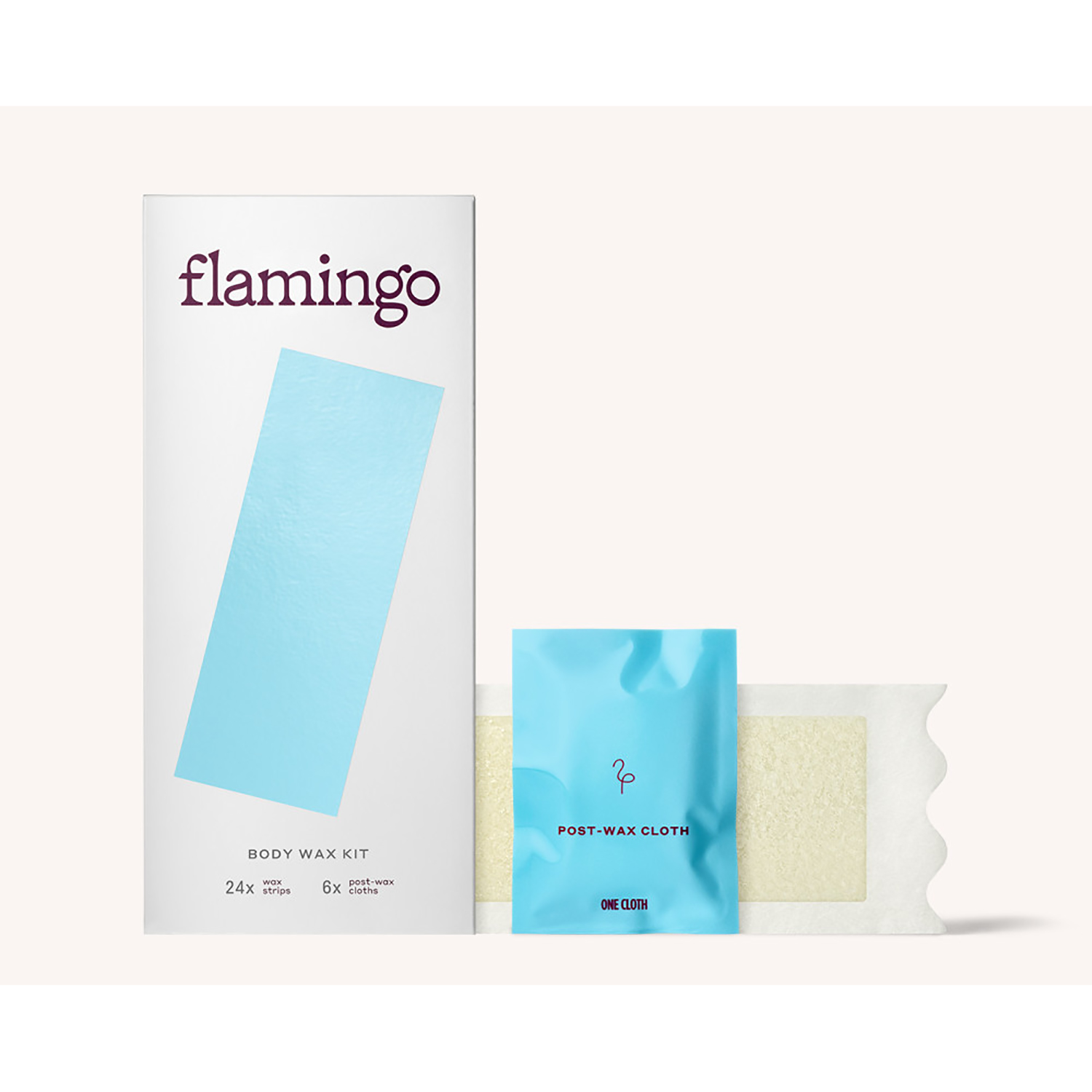 Many reviewers note that these waxing strips are great for those who already have some experience waxing at home. The no-heat sheets are prepped with a soft, gel formula, which is made without artificial colors, fragrance, parabens, or mineral oil. They're perfect for anywhere on the body, yield results that last up to four weeks, and the kit includes six post-wax cloths to clean up and soothe skin.
"I have extremely thick leg hair and I can use ONE strip about 4 times, 3 times with full efficiency," said a customer. "One pack of these lasts for about three leg waxes for me. I haven't shaved in years because my hairless legs last 2 days, whereas when I use this kit I don't have to wax again for 3-4 weeks. It's also a very light wax, so it doesn't irritate my legs. I truly recommend this product. I was surprised to like it so much actually."