The 17 best anti-aging products on the market, according to experts
Everybody at every age is beautiful, but for those who wish to slow down the clock, let it be known that many products can help prevent and reduce visible signs of aging. For the 2020 Beauty Crush Awards, we tested thousands of options, scoured through tons of studies, and interviewed 14 experts so that we could find the very best anti-aging products on the market. After five months of in-depth work, we found them.
Whether you're interested in a full-blown retinol product or are looking for a gentler version for sensitive skin, here are the items you should know about:
Best anti-aging serums of 2020
Best Drugstore Anti-Aging Serum: Versed Press Restart Gentle Retinol Serum
"This is a great intro to retinol serum for people who are looking to dip their toe into anti-aging. It really is much gentler than most of the formulas I've tried, and after two weeks of use, I saw less clogged pores," says one HG tester.
The reason it doesn't irritate sensitive skin is that it uses a microencapsulated technology, which sends the retinol into the deeper layers of the skin without irritating the surface.
Best Luxury Anti-Aging Serum: Dermalogica AGE Smart Phyto-Nature Firming Serum
Firm, lift, and revive dull skin with this mighty duo. It uses star skincare ingredients, like hyaluronic acid and Amazonian camu camu (which contains 30x more vitamin C than an orange!), that help to keep skin healthy and give it a radiance boost. It also uses peptides and coffee extract to firm and plump skin.
Expert-Recommended Anti-Aging Serum: Vichy LiftActiv Peptide-C Anti-Aging Ampoule Serum
"These ampoules (small, sealed vials) are perfectly dosed for a daily application of vitamin C to help fight free radical and pollution damage on the skin and brighten brown spots," says Kavita Mariwalla, M.D., a board-certified dermatologist based in West Islip, NY. "The sourcing of the ingredients is very high-end, but the retail price is a good buy for what you are getting."
Best anti-aging moisturizers of 2020
Best Drugstore Anti-Aging Moisturizer: Olay Retinol24 Night Moisturizer
This moisturizer received a 24/25 score, with testers praising how smooth their skin felt after using it. "I could instantly feel the difference on my skin the next day," raves an HG tester. "It's baby soft and the retinol doesn't feel intense at all for the results I'm getting. It's magic."
Best Luxury Anti-Aging Moisturizer: Good Science Beauty Skin Firming Cream
Using the brand's patented silicon+ technology, this cream combines barley extract (which improves elasticity) with Poria cocos (an antioxidant that aids collagen retention) for a mighty double-whammy. An independent clinical study found that after 28 days of daily use, there was a 21% wrinkle reduction amongst testers. Why 28 days? That's the life cycle of skin, so that's how long it takes to start seeing real results from skincare products.
Expert-Recommended Anti-Aging Moisturizer: Clinique iD Jelly Custom Blend Hydrator
Dr. Mariwalla praises this customized system since it allows you to pick a cartridge for your skincare concern—it's basically a "chose your own adventure" skincare product that you can tailor by mixing and matching the different cartridges. In this case, it's anti-aging, and because the base is a hydrating jelly, users still get that necessary moisturization.
Best anti-aging eye creams of 2020
Best Drugstore Eye Cream: L'Oréal Paris Age Perfect Rosy Tone Eye Brightener
Instantly reduce the appearance of dark circles with this color-correcting eye cream. Studies show that its star ingredient, peony extract, has anti-wrinkle benefits as well as the power to correct pigmentation concerns over time.
Best Luxury Eye Cream: Tatcha Silk Peony Melting Eye Cream
"The name says it all—this eye cream truly melts into the skin, making it super blendable and light," says one HG tester. "This cream has a pearlescent finish, so it lights up the under-eye area and subtly hides dark circles."
It uses white peony extract, silk extract, and the brand's custom Hadasei-3 complex, which is packed with anti-aging superfoods.
Expert-Recommended Eye Cream: Tata Harper Elixir Vitae Eye Serum
If you're searching for a truly high-end skincare experience, look no further. "[This clean product] contains 63 high-performance botanical ingredients to treat under-eye bags and wrinkles," says Ursula Carranza, the fashion and beauty director of People en Español. "It feels great on the skin and has a soft, natural smell."
Best dark spot treatments of 2020
Best Drugstore Dark Spot Treatment: No7 Dark Spot Correcting Booster Serum
This highly concentrated brightening formula packs on vitamin C with superstar ingredients Emblica (a powerful antioxidant) and sophora to significantly reduce the appearance of sunspots, age spots, and acne-caused dark spots in one month.
Best Luxury Dark Spot Treatment: Dermalogica AGE bright spot fader
Sadly, breakouts don't stop after our teen years do. This product contains salicylic acid to attack icky bacteria and uses a combination of niacinamide and hexylresorcinol (a compound with antiseptic properties) to fade dark spots and improve all-over skin tone. Plus, its tiny, pen-like size makes it easy to take wherever you go.
Expert-Recommended Dark Spot Treatment: Dr. Dennis Gross IPL Dark Spot Correcting Serum
"This serum includes l-ascorbic acid, lactic acid, and kojic acid. L-ascorbic acid is a highly effective form of vitamin C that helps protect skin against free radical assaults by neutralizing oxidative stress that can cause cell damage," explains Dendy Engelman, M.D., a New York City-based dermatologist. "The lactic acid in it will gently exfoliate and kojic acid will lighten the hyperpigmentation."
Standout anti-aging products
Best Anti-Aging Lip Treatment: StriVectin Anti-Wrinkle Double Fix For Lips
The skin on our lips is more than 10 times thinner than the rest of our skin, so signs of aging show up more prominently here. This product uses hyaluronic acid and tiny plumping spheres to counteract that effect and to restore volume loss.
Best Anti-Aging Device: Marmur Metamorphosis MMSphere
Light therapy for skin improvement isn't a new discovery, but this product helps bring in-office results into the comfort of your home. Even more, the brand offers a line of face masks that have boosted benefits when used under the MMSphere. "I think the at-home light technology paired with [the brand's] face masks is revolutionary and really works well considering it is an at-home treatment," says Dr. Mariwalla.
Best Anti-Aging Overnight Treatment: SkinCeuticals Glycolic 10 Renew Overnight
"Glycolic acid, derived from sugarcane, is the smallest AHA in size, meaning the molecule can get deep into the skin," explains Dr. Engelman. "This product uses 10% of the active ingredient, [proving] to be very effective in breaking down skin cells and removing dead particles."
Best Anti-Aging Retinol-Alternative: Indeed Labs Backuchiol Reface Pads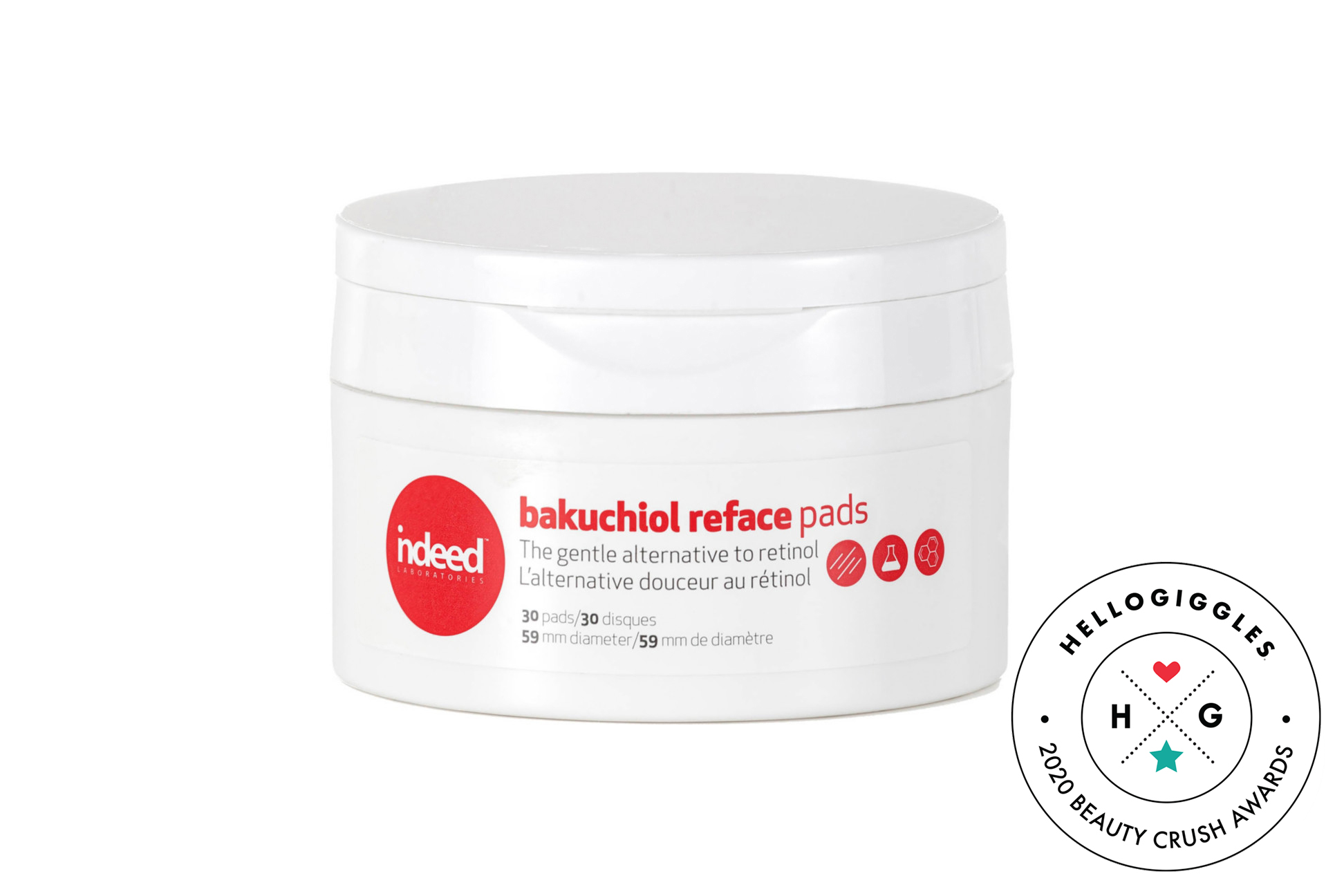 Shop it! $19.99, Ulta.com
While retinol may be the holy grail of anti-aging ingredients, not all skin types can tolerate the active ingredient. Instead, bakuchiol, a naturally-derived ingredient, offers very similar results without provoking irritation and dry skin sometimes caused by retinol. To apply, swipe one of these pads across clean, dry skin.
Best Anti-Aging Neck Cream: IT Cosmetics Confidence In A Neck Cream
If you're worried about tech-neck caused by looking down at your phone all damn day (…guilty), then this is a great cream to help combat it. The firming formula uses a patented complex of hydrating hyaluronic acid, collagen, and elastin that help to smooth fine lines. One tester highlights the subtle citrus smell and how quickly the cream absorbed into her skin: "Despite having a subtle orange tint, it blends into the skin very quickly, so I don't have to worry about it getting on my clothes or bed."