These are the 6 best '90s and '00s teen movies based on Shakespeare plays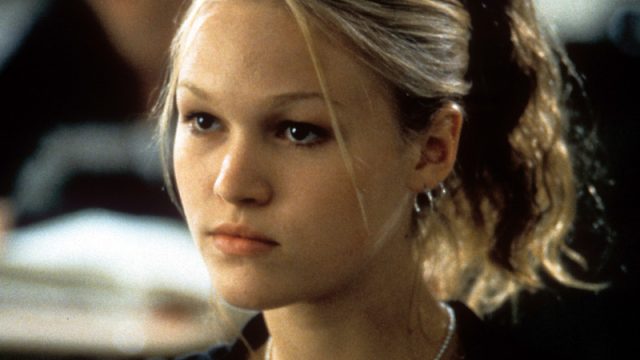 The '90s and '00s were a great time for film adaptations of classic literature. It gave us Clueless, based on Jane Austen's Emma. It gave us The Lord of the Rings, based on the work of J.R.R. Tolkien. But when I think of the '90s and '00s in terms of movie adaptations, I particularly think of Shakespeare.
In the late 1500s, William Shakespeare left his rural village and headed to the big city to write plays, quaff ale, and change the world of theater forever. 400 years later, we're still staging his plays in a dizzying array of performances—from the Globe Theater's productions in a rebuilt venue meant to mimic the Globe Theater of Shakespeare's time, to "What if this took place in a women's prison?" and "What if Romeo and Juliet were animated gnomes?"
The '90s/'00s era saw a blossoming of Shakespeare productions adapted to film, and in many cases, the plots were updated to match the realities of the contemporary audience. So, if you're in a mood to celebrate some Shakespearean teen movie treasures, here are a few of my favorites:
110 Things I Hate About You (1999)
https://www.youtube.com/watch?v=gGV4hxhxW8o?feature=oembed
What: This wry skewering of high school romance is a welcome update to the misogynist comedy The Taming of the Shrew. The plot largely focuses on the courtship of Patrick (Petruchio) and Kat (Katherine), a romance initially manipulated by rivals looking to date Kat's sister, Bianca. Bianca isn't allowed to date (or marry, in the Shakespearean original) until her older sister starts dating. Patrick initially dates Kat for money, then for love.
Why it holds up: This is a rom-com for the Sylvia Plath readers in the room. The weirdly intense feminist (Julia Stiles) and the punk boy everyone is scared of (the late, great Heath Ledger; RIP) find love in the end! The horny guidance counselor/romance novelist played by Allison Janney and the hopelessly crushing Cameron played by a young Joseph Gordon-Levitt only add to the film's everlasting charm.
2She's The Man (2006)
https://www.youtube.com/watch?v=jf67WlthWXk?feature=oembed
What: Shakespeare's Twelfth Night is a gender-bending comedy that has a perfect triangle of crushes and confusion (and twins!) to please any audience. The plot: Duke Orsino is in love with Olivia, who is in turn in love with the Duke's new servant, Cesario, who is really a recent shipwreck survivor. But Viola also has a crush on her employer, Duke Orsino. Then Viola's twin brother Sebastian shows up later on, only adding to the confusion. Okay, now set that in a high school and throw in some soccer, and you've got She's The Man.
Why it holds up: In Shakespeare's own time, this play was used to point out the ridiculous gender roles we put upon ourselves, and how easily changeable they are. This modern update starring Amanda Bynes is an excellent mockery of the gender roles ascribed to adolescent masculinity. Also, a young Channing Tatum makes for a perfect Orsino, this time characterized as a puzzled beefcake jock roommate to Bynes' Viola.
3O (2001)
https://www.youtube.com/watch?v=Yp6X2N7tcKQ?feature=oembed
What: Othello is a Shakespeare tragedy that gave rise to the expression "green with envy." It follows a successful Moorish (Black) general down a rabbit hole of jealousy as his completely unsubstantiated theory about his wife's non-existent lover gets egged on by Iago, a remorseless villain who happens to be jealous of Othello's military success. The consequences are devastating. This 2000s update (once again starring Julia Stiles) brings the characters to a high school setting.
Why it holds up: The film unfortunately underlines that this plot—a jealous white guy using contemporary racism to effectively set up his Black rival to fail—is still relevant. Come for Mekhi Phifer and Julia Stiles's performances, stay for evil Josh Hartnett. The '90s were A Moment.
4Romeo + Juliet (1996)
https://www.youtube.com/watch?v=8JoOpx6VwHk?feature=oembed
What: Oh, the Baz Luhrmann of it all. Unlike the other films on this list, Luhrmann's film sticks to the Shakespearean dialogue, but transposes it onto what can only be described as a Punk Catholic backdrop, making it contemporary for the mid-'90s. The original Romeo and Juliet is a tragedy, to be sure—really the tragedy—but this adaptation from the director who also brought you Moulin Rouge! (2001) and The Great Gatsby (2013) makes the pain of their doomed love beautiful to look at.
Why it holds up: First of all, Romeo and Juliet is a timeless love story that can always be revisited. Also, the '90s are back in fashion, quite literally, and this is a very particular flavor of the whole #aesthetic from that decade.
5Motocrossed (2001)
https://www.youtube.com/watch?v=sZyIZCHnNws?feature=oembed
What: This Disney Channel original movie basically shares the plot of She's The Man, which as we discussed earlier, is really Twelfth Night. Instead of taking place at a soccer academy, it's set in the world of competitive motocross (dirt bike) racing. As it was for many viewers, the scene where the main character cuts off her hair was my gay awakening.
Why it holds up: The Disney Channel original movie (or DCOM, as it is lovingly called) is a whole sub-genre of its own, and you should revisit this film if only for that specific nostalgia. Come for the Shakespeare, stay for the tips on how to stack shirts on top of each other and call it an outfit.
6Were The World Mine (2008)
https://www.youtube.com/watch?v=yLJe1QakzX4?feature=oembed
What: This take on A Midsummer Night's Dream veers farther from the original text but still retains the confusion that arises when those who aren't meant to fall in love are made to do so by a potion. When openly gay (and persecuted) high school senior Timothy is cast to play Puck in the school musical, he discovers a potion in Shakespeare's text, and then basically turns his entire homophobic hometown gay.
Why it holds up: Musical numbers, an interesting take on queer revenge, and modern language make this movie worth the watch.
Still need more Shakespeare adaptations in your life after making your way through these? Try Private Romeo (an atmospheric, gay Romeo and Juliet set in a military boarding school), Much Ado About Nothing (Emma Thomspon and Kenneth Branagh cement the parts of bickering Beatrice and Benedick), and My Own Private Idaho (a loose adaptation of Henry IV Parts 1 and 2 and Henry V by Gus Van Sant that became a cult classic of New Queer Cinema, starring Keanu Reeves and River Phoenix).