I'm never happier than when I'm slathered in grapeseed oil—here's why
Welcome to Game Changers, a weekly series where we talk about our holy grail beauty products we're loving now—the ones that saved our hair, cleared our skin, and in some way changed our lives. This week, travel writer Merissa Principe talks about how grapeseed oil improved her acne-prone skin and made her hair so much healthier. 
As a beauty aficionado, I know that beauty fads, trends, and products come and go—very few products rarely get sworn into my beauty cabinet and withstand the test of time. With the growing trend of plant-based oils flood the market—à la coconut and tea tree oil—it's my opinion that few oils stand in comparison to the incredible multi-tasker that is grapeseed oil.
As someone who lives with oily and acne-prone skin, my teenage years were spent trying every product I could find to tame my shiny skin, which in my opinion resembled the inside of Lay's potato chip bag. In a last-ditch effort to salvage my face, I sought the help of a holistic skincare specialist, who mentioned the benefits of combating oil with oil. Although it sounded crazy at first, with extensive research and the proper guidance, I ditched my traditional moisturizers for pure grapeseed oil. In good faith, I slathered my body from head to toe, and after noticing my skin had made a complete transformation to hydrated and dewy, I never looked back. It's been ten years since that consultation and I'm happy to report my greasy chip-looking days are far behind me.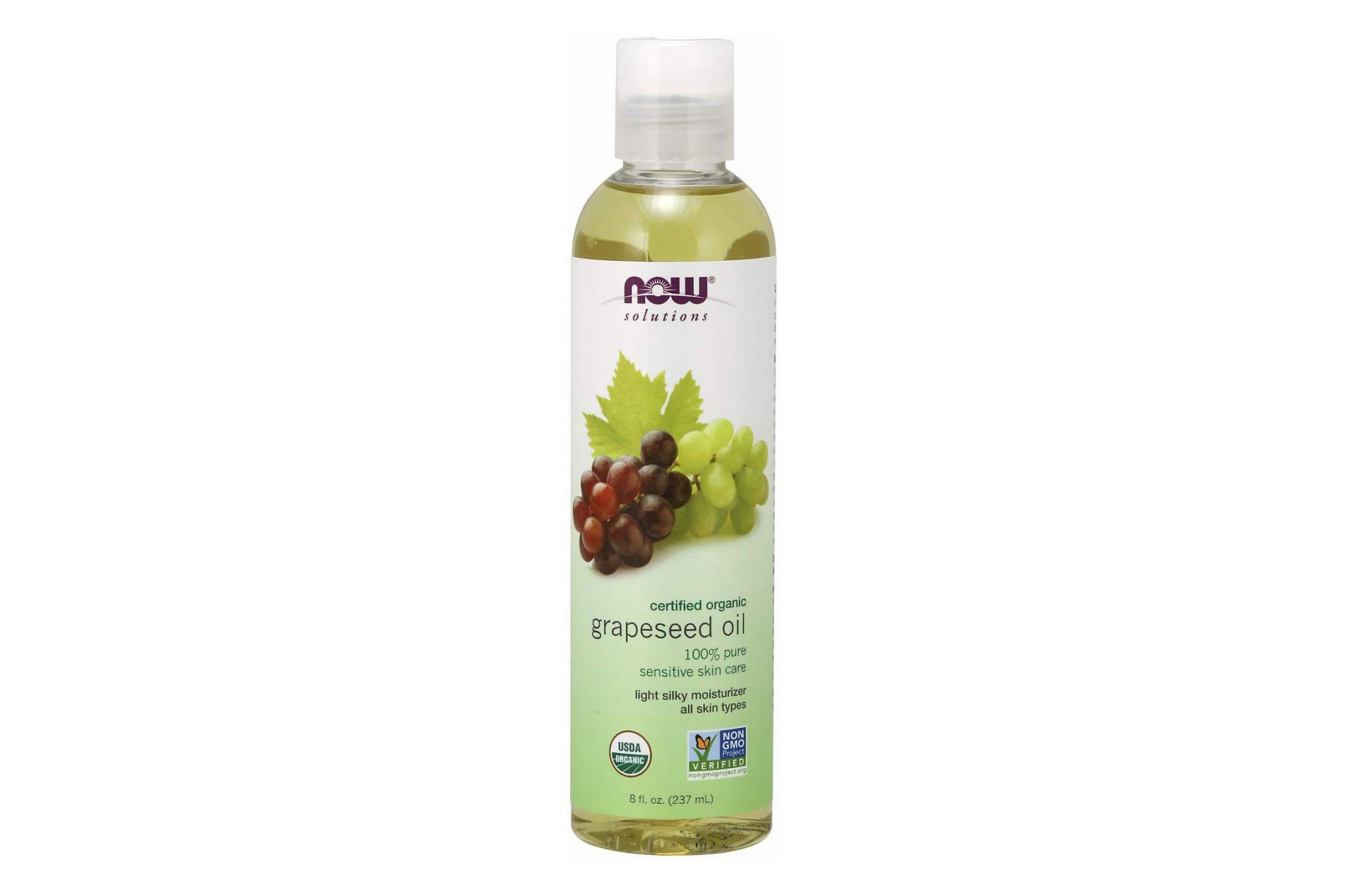 Shop Now! $8.41, amazon.com 
Upon doing more research, I discovered that over six thousand years ago, women in Ancient Greece used grapeseed oil to better their skin, and rumor has it that ancient Greek philosophers used it for traditional medicines and to achieve hydrated skin. Made as a by-product of wine-making, the grape seeds, albeit small, are pressed into a vitamin-packed oil rich in vitamin E, antioxidants, and omega fatty acids. Translation? It's extremely beneficial for locking in moisture, reducing the appearance of fine lines, and revitalizing dull skin and hair.
Grapeseed oil benefits for your skin:
Facial oils are no stranger to the skincare game, but you'd be hard-pressed to find a better oil than grapeseed. It contains key skin-friendly ingredients such as vitamin E, omega-6 fatty acids, and linoleic acid—everything you need for that lit-from-within glow. For years, A-list celebrities, such as Sofia Richie, Emma Stone, and the Goop queen herself, Gwyneth Paltrow, have been singing this oil's praises for its naturally anti-inflammatory properties, making it a dream for sensitive skin types.
It's also noncomedogenic (meaning it won't clog your pores) and has antimicrobial properties, meaning it's got a zero-tolerance policy for spot-causing bacteria, aka acne. If you're curious to try it, apply a few drops of grapeseed oil as the last step of your beauty routine to help retain your skin's moisture levels.
Grapeseed oil benefits for your body:
When applied topically to the skin, grapeseed oil promotes healthy, youthful-looking skin, as well as improves the skin's overall elasticity. Studies show that grapeseed oil works to repair the skin barrier, making it an effective ingredient in tackling fine lines and scars. As soon as I get out of the shower, I apply grapeseed oil all over my body to lock in moisture. Once it's absorbed, the result is silky smooth skin that won't stop glowing—hallelujah.
Grapeseed oil benefits for your hair:
As any good hairstylist will tell you, healthy hair needs one major ingredient to thrive: moisture. When it comes to moisturizing, this plant oil has you covered. Due to its lightweight texture, this oil is accessible to all hair types, even those with fine or thin hair as it's easily absorbed and won't leave hair greasy. For those with a sensitive or flaky scalp, you can use this oil as a deep-conditioning treatment, from your scalp to ends. Studies show that its fatty acids help nourish the roots to soothe the scalp, curb hair loss, and reduce dandruff thanks to the anti-inflammatory and antimicrobial properties.
After styling my hair, I spritz a DIY grapeseed oil spray onto the ends of my strands to add shine, tame frizz, moisturize, and protect my strands. The fatty acids help seal the hair's barrier and will work to fortify strands from deterrents such as excessive heat and harsh environmental elements such as pollutions. To make my DIY hair spray, simply add 15-30 drops of grapeseed oil to a spray bottle and fill it with distilled water. To use, just shake, spray, and call yourself Becky with the good hair. *hair flip*