We can finally contour like Kim Kardashian with Benefit's new Hoola Quickie Contour Stick
Even though the natural look seems to be coming back in a strong way for spring, there's no denying that contouring is here to stay — so anytime a new product comes out that makes contouring easier for normals like us, we're thrilled! Benefit's new Hoola Cream-to-Powder Quickie Contour Stick glides on so easily that it makes contouring simpler than ever before. Just swipe it on and go! We'll look like Kim Kardashian in no time.
We've seen contour sticks tons of times, and most of them are great, but there's no denying that a lot of them drag a bit on the skin, making it more difficult to apply accurately and blend. The new Hoola Quickie Contour Stick takes that completely out of the equation thanks to its cream-to-powder formula that glides on effortlessly and is buildable, blendable, and natural-looking!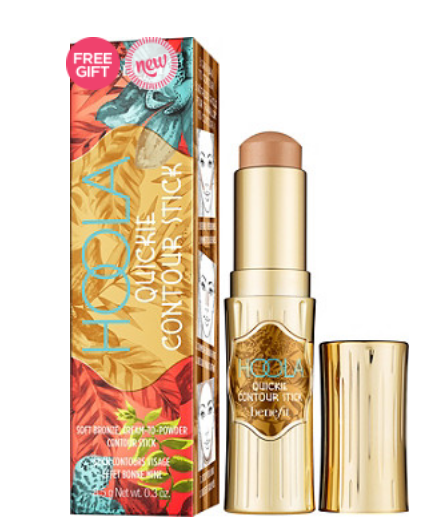 You'll be able to snag it everywhere else on April 7th.
We love that it gives you a natural contour glow without leaving you looking streaky or like you did your makeup in a dark car! And that shade is totally gorgeous, don't you think?  And if you purchase this beauty at Ulta before March 11th, you'll get a free gift with purchase in the form of a mini They're Real! Mascara. Not a bad deal if you ask us, especially considering that Benefit's They're Real! mascara is an awesome product!
Are you as crazy about the Hoola line as we are? If you are then you definitely need to check out all their new releases, you'll actually flip out when you see how many new choices there are to play with and how gorgeous they are!
If you need Benefit's Hoola Cream-to-Powder Quickie Contour Stick as badly as we do, head over to Ulta and get your hands on it today!