Benefit Cosmetics blessed us mortals with their new Cheek Parade Blush Palette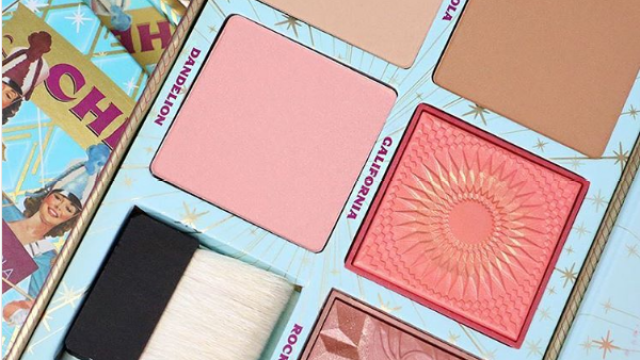 We find ourselves consistently pleased when it comes to new makeup releases and additions to the Benefit Cosmetics collection of goodies. So when we first spotted the Benefit Cosmetics Cheek Parade Blush palette and realized it was only for sale in the UK, we felt a flutter of disappointment. Yes, for a limited time we could technically order it from House of Frazer and have it shipped across the ocean, but that window quickly closed and we were left weeping, blushless in the lurch.
Luckily for us, the weeping can now end because according to Trendmood's Instagram the Cheek Parade Blush palette is now stateside. Unfortunately, and just as we imagined, the blush palette quickly sold out on Sephora's website, but we're crossing our fingers Benefit releases the palette on their site later this month! We'll be keeping our eyes peeled on Ulta Beauty, too.
Even just hearing this news, we can feel the sun shining on our faces.
The palette itself includes a Hoola Bronzer Lite, a dramatic Rockateur Blush, the bright pink (and new) Galifornia blush, the pastel Dandelion pink highlighter, and the original Hoola Bronzer.
As you can see, the five glorious blush shades were already available in Spain. Now we can catch up.
This whole palette looks like a spring daydream coming to life.
If you're feeling the Benefit blush vibe, but are not ready for the full palette, their '70s-inspired Galifornia blush is now available for individual sale on Sephora's website for $29.
It appears that Benefit Cosmetics is not only set on making our faces blush but also our wallets.