Benefit's sold-out collab with Desi Perkins is coming back, so you won't get bold brow FOMO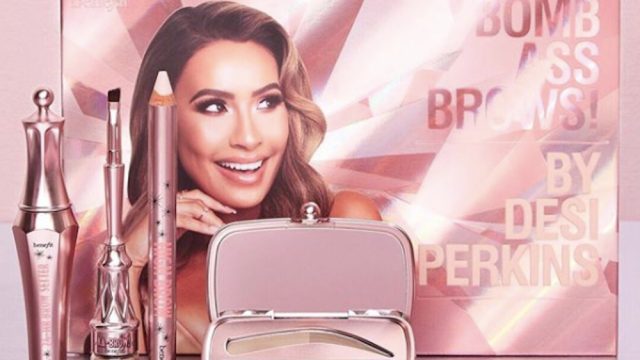 2018 might be coming to a close, but the bold brows trend is still going strong. If anything, it seems like maintaining your arch won't go out of style anytime soon. Why do we say this so confidently? Aside from the fact that it's our job to keep track of trends, Benefit Cosmetics (who is known for its amazing brow products) released the ultimate kit.
The brand teamed up with beauty influencer Desi Perkins on the rose gold brow set of your dreams, and the limited-edition collab is cheekily called Bomb Ass Brows. So now you can make your brows look like twins, not cousins.
The $59 kit launched on Benefit's site on November 28th and sold out within 24 hours. However, if you didn't get your hands (or brows) on the curated set, it's making a comeback. Starting tomorrow, December 4th, you can purchase it wherever Benefit is sold in-store and online (including Sephora, Ulta, Nordstrom, HSN, Macy's, and more). Score!
The Bomb Ass Brows Set includes the Foolproof Brow Powder, Precisely My Brow Pencil, 24-Hr Brow Setter, and High Brow (all full-sized). Plus, a mini Ka-Brow and double-sided angled brush and spoolie.
https://www.instagram.com/p/BqunLoYloSu
The kit also comes in five different brow shades.
Rose gold packaging FTW
https://www.instagram.com/p/Bq5QybBFxFo
Desi took to Instagram to share a heartwarming post about her collab with Benefit. "Who would have thought my biggest insecurity would turn into this! Still remember the fear I felt showing my brows without makeup," she wrote. "Now I feel like it's my superpower."
https://www.instagram.com/p/Bqvo-J0HdMq
Don't forget to set your alarms for December 4th, because this is one brow kit worth getting. Especially since bold brows aren't going anywhere.