Benedict Cumberbatch didn't know who Dr. Strange was before the role and we are like whoa
Doctor Strange hits theaters on November 4, and it's predicted to kill it at the box office. Because of course it is — the film stars the ever perfect Benedict Cumberbatch in a role that introduces the magical realms of the Marvel Cinematic Universe. What's not to love?
The intro runs like this: Selfish young neuroscientist Dr. Stephen Strange's life turns upside down when he loses the use of his hands after a car accident. He's unable to find the help he needs from traditional medicine, so he embarks on a maddening quest for a miracle cure and discovers that his reality as he knew it doesn't actually make any sense.
If you read the comics as a kid (or as an adult), you already know the Doctor Strange synopsis, and we probably just insulted you. Sorry.
But there are people out there who don't know anything about the character, Dr. Strange, at least they didn't until the movie popped up on their radar. And Cumberbatch, the star of the highly anticipated film, is one of those people. Woah.
"I wasn't familiar with Doctor Strange as a child, not at all, Cumberbatch told The Guardian. "So it's been a fast catch-up. But like all comics in their origination, they're very much tied into the era that they were born in, and so, you know, this one came about in an era of psychedelics and experimental drugs.
Doctor Strange was created in 1963 by Steve Ditko. We never thought of the correlation, but the black magic and the diving into different realms themes definitely go along with the era of psychedelics and experimental drugs! That's some Sherlock thinking right there.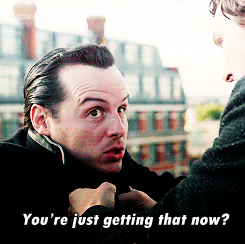 We're obviously shocked that Cumberbatch knew absolutely nothing  about his new character before taking on the role, but it's clear that he's made up for his lack of Marvel knowledge by being an all-around awesome Dr. Strange.