It's Ben & Jerry's Free Cone Day – here's the scoop on how to get one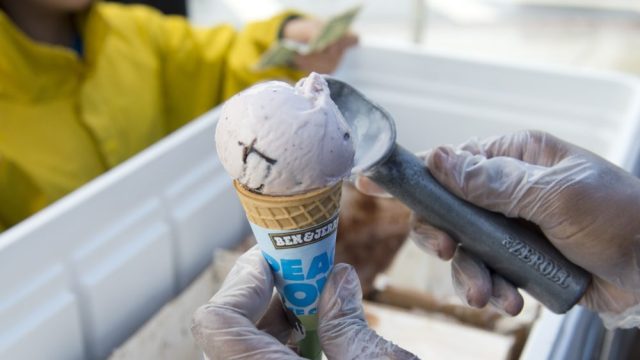 There's nothing we need more on a boring old Tuesday than an ice cream cone, so if you're slogging through your day today, we have the best news for you. Today, April 10th, is officially Ben & Jerry's Free Cone Day, and we have all the information you need to treat yourself. Here's the, ahem, scoop on how to snag your free cone.
From 12 p.m. to 8 p.m. local time, participating Ben & Jerry's Scoop Shops around the world — from Aruba to Australia and from Poland to Portugal — are offering a free cone to all looking for a sweet treat. This is the 40th annual Free Cone Day, which the iconic ice cream company started back in 1979 as a way to thank devoted customers for their loyalty after being in business for a year.
Ben & Jerry's CEO Jostein Solheim said in a statement, "We believe in having fun, and in thanking our fans with free ice cream as each year goes by. To us it's a chance to have a bit of a party, to build connections with our fans, and show them how much we appreciate them."
In order to scoop up your free cone, just head to the closest participating Ben & Jerry's Scoop Shop near you during specified hours. No need for any coupons or additional purchases — in fact, the hardest part might be deciding which flavor to choose.
But the best part? You can order as many free scoops as you'd like as long as you don't mind waiting in line multiple times. What on earth could be better than that!?
We'll see you on line! (And we definitely recommend calling the location near you ahead of time just to make extra sure they're participating).