Ben and Jerry might be adding some alcohol to their latest flavor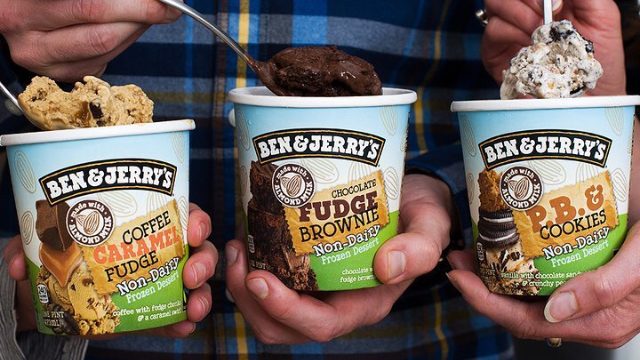 When it comes to staying in, binge-watching Netflix, and treating ourselves with ice cream, Ben & Jerry's is pretty much our go-to. After all, their top 10 flavors of 2016 are some of our favorite flavors of all time. And when they introduced their new "Core" flavors, that revolutionized our ice cream game. And now the legendary ice cream makers are doing it again.
Ben & Jerry's is introducing a new, boozy flavor — and we're kind of freaking out.
According to the experts over at Candy Hunting, Ben & Jerry's is introducing a new flavor called "Urban Bourbon." The burnt caramel ice cream will feature all kinds of goodies inside — most notably, the bourbon-caramel swirls that give it its name.
How delicious does that sound? Our mouths are already watering.
Though B&J haven't officially made any announcement, Candy Hunting is usually pretty spot on with this kind of news. Thrillist points out that the Urban Bourbon name has been trademarked by the company and that there's a Walmart landing page for the new Ben & Jerry's flavor.
Candy Hunting says we have a few months before the flavor officially hits stores
We don't know how long we can wait. It just sounds so good!
The sweet-spoiling Instagram has a few more treats for us, though. They're also teasing a "Truffle Kerfuffle" flavor.
And Canada just might be getting a Barenaked Ladies-inspired ice cream.
Those both sound delicious (and we'll definitely be making the trek up north to try "If I Had 1,000,000 Flavors"), but we just can't stop daydreaming about Urban Bourbon. We want to eat it for every meal of the day.
In the mean time, we'll just have to keep pigging out on our usual favorites.
You know what the studies say: eating ice cream for breakfast makes you smarter. Who are we to argue?