Ben Affleck just gushed about how lucky he is to have Jennifer Garner in his life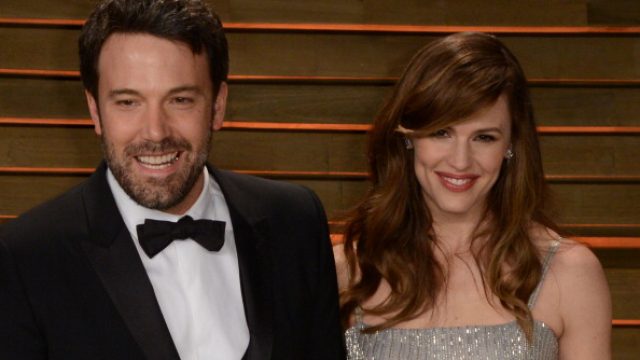 We can't help but notice and appreciate how Ben Affleck and Jennifer Garner are ruling at this whole amicable divorce-with-kids thing. Neither individual has bad-mouthed the other, and it's obvious that these two – who were married for 10 years before announcing they'd be getting a divorce last summer – are putting their kids first. Both Affleck and Garner have been candid but positive about the experience, with Garner having cleared up those nanny rumors in a Vanity Fair interview from last month's issue and also given Affleck major kudos for being such an awesome dad to Violet, 10; Seraphina, 7; and Sam, 4.
And Affleck has given that same support back to Garner, telling The New York Times in an interview last week to promote Batman v Superman: Dawn of Justice (out this Friday) that, "She felt like she wanted to discuss it and get it out there and get it over with, so she could say, 'Look, I already talked about it—I don't want to do it again…it's fine. She's allowed to talk about it." He also called Garner "a great person," and noted the two were on good terms.
And there's more. As E! News reports, Affleck had some more sweet words to say about the mother of his children and his soon-to-be-former wife at yesterday's New York City premiere of Batman v Superman: Dawn of Justice.
"You know, I just marvel at my mother, who did a great job of raising my brother and I. Parenting is hard work, but it's so rewarding, and I certainly do my best," he told Catt Sadler with E! News. "Jen is a superhero mom. She is an amazing mother and I'm really lucky to have her as a partner to co-parent these kids with. We try our best, we put them first and that's what we do."
Spoken like a parent who knows his children are the first priority, and how serious the media can spin information. Major kudos to these two for not allowing it to happen.
We know one day Affleck and Garner's children will look back and be so grateful their parents had an amicable split and put them first, and we're glad we can definitely continue to look to these two for inspiration on how to be responsible, strong people in general. It's obvious they care deeply for each other and have their children's best interests at heart, which is giving those of us who are parents (or want to be someday) major parenting goals. Go, Ben and Jen!