Ben Affleck and Jimmy Fallon acted out a play written by kids, and freaking LOL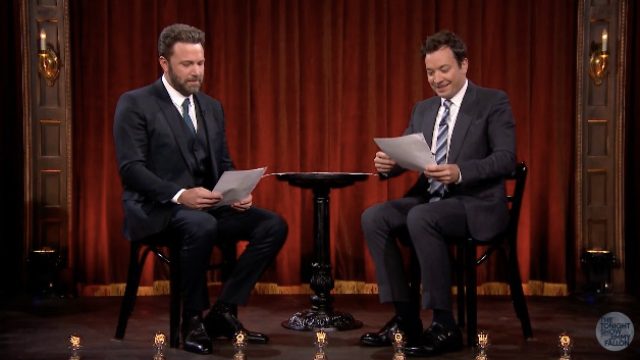 If you've ever seen a play written by a kid, you're probably aware that they have a certain… special quality. Kinda silly, sometimes magical, often surprisingly poignant. And always creative.
And lucky for us, Ben Affleck and Jimmy Fallon recently acted out some plays written by elementary school kids about accountants to get ready for Affleck's upcoming film The Accountant.
Basically the kids were given the title "The Accountant," and then were tasked with writing the story. As you can imagine, the results were cute AF.
https://www.youtube.com/watch?v=6ieinaBG09Y?feature=oembed
Nine-year-old Christine's play was up first, requiring Affleck to perform the role of "Little Boy," a character wrestling with the tough decision of whether to be an accountant or an astronaut when he grows up. Fallon was "Little Girl," and she influenced him in the most darling way.
The following plays saw Affleck in the role of a tough dad and an accountant who "loves numbers," (awww), and let's just say he nailed it.
And cutest of all was probably just watching these guys try to keep a straight face. Seriously — we DARE you not to smile.
If ever there was a way to encourage kids to get into creative writing, Fallon has hit the nail on the head. Nice one, buddy.