Watching Belle fall in love with Voldemort in this bizarre mashup is so wrong it's somehow right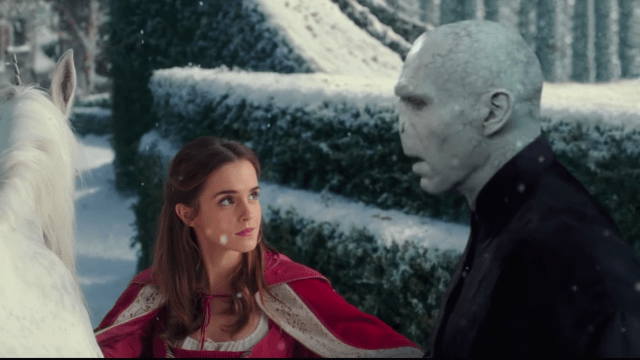 While some pop culture characters are just begging for a mashup — like Donald Trump from "reality" and Daenerys Targaryen from Game of Thrones, for example — others, like Belle from Beauty and the Beast and Lord Voldemort from Harry Potter, are a bit of a head-scratcher.
But that's just what we're dealing with today, as the YouTube channel PistolShrimps — maintained by a comedy duo from Norway — thought it would be cool to see Emma Watson's Belle and her former Potter nemesis, He Who Must Not Be Named, fall in love.
It's bizarre, sure, but the gorgeous, gothic castle scenery and dim lighting actually make the whole thing blend together pretty well? Nothing makes sense anymore.
https://www.youtube.com/watch?v=u0K-cHESi1c?feature=oembed
Let's just say we don't exactly ship it, but we're not calling Ron to snitch, either, you know?