Bella Thorne Just Broke a Huge OnlyFans Record—But What About Actual Sex Workers?
Thorne is being glorified, while actual sex workers are stigmatized and struggle to make a living.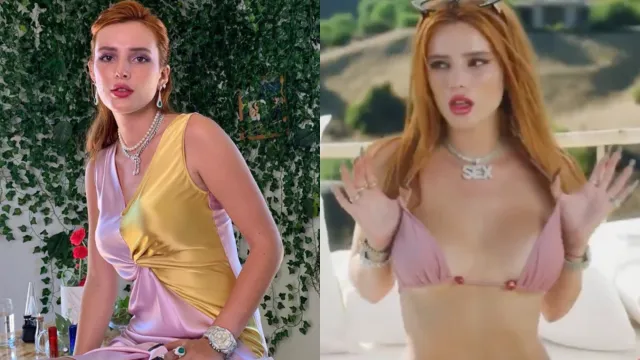 You may have heard the news already: Bella Thorne joined OnlyFans. It was the site crash heard around the world. Now, reports state that the former Disney star and award-winning porn director has become the first to earn $1 million in the first 24 hours of creating her account on the subscription-only social media platform.
On August 14th, Thorne announced the launch of her channel, which costs $20 a month to subscribe for exclusive content. In the past week since then, the 22-year-old's earnings have increased to about $2 million, Complex reports. However, Thorne didn't just join OnlyFans to make money and headlines. She told The Los Angeles Times that she created the account to conduct research for an upcoming film she's working on with Sean Baker, the director of The Florida Project and Tangerine.
"It's a feature we are researching as I'm living it currently," Thorne told the Times via text. "What are the ins and outs? What does a platform like this do to its users? What's the connective material between your life and your life inside the world of OnlyFans? … How can it change your life for the worse and the better? How far are you willing to go, and how far do you WANT to go? You can be me, or this talented girl from Montana, and OnlyFans could change your life—if you want it to, of course."
Thorne also told Paper that she felt comfortable being who she wanted to be on the site.
OnlyFans is the first platform where I can fully control my image; without censorship, without judgment, and without being bullied online for being me, Thorne said.
Thorne, who leaked her own nudes last year to thwart a hacker, announced over Twitter on Wednesday that, no, she will not be doing nudity. But she's not opposed to sharing sexually suggestive content on the site. As Complex reports, the actress asked in a recent poll if fans would like content that included tongue teasing, lingerie, booty, showering, and twerking, among other options. 
However, while Thorne is rising up on the platform, sex workers who have been using OnlyFans to make a living are getting overshadowed.
One Twitter user cautioned that celebrities like Thorne joining OnlyFans has the potential of "completely erasing the primarily black sex workers who were harrassed and attacked while making it popular/profitable" in the first place.
User @grey_eevee, a "Scientist/Stripper/Nihilist" according to the bio, felt torn, glad that the celebrity attention on OnlyFans could bring more normalization of sex work, but also worrying that "celebs and captialism are going to ruin the platform soon."
User @thoughtfulbae urged people to use the moment to create safer working conditions for sex workers, writing, "I hope huge celebrities creating an OnlyFans and making huge profits inspires America to decriminalize sex work. Bella Thorne is making millions within hrs while sex workers are dying each day due to the illegality of their profession. Change it!"
Another user pointed out the hypocrisy in the amount of praise Thorne has gotten for being sex-positive and sexually suggestive, "the same thing black women and women of color get bashed for."
Whether you choose to subscribe to Thorne's OnlyFan or not, it's important to consider how the lack of protection and support many sex workers, especially those of color, receive on a daily basis. Head to Sex Workers Outreach Project (SWOP) to find out more about what you can do to protect and advocate for the rights of sex workers across the country.