Bella Thorne is launching her own makeup line, and she teased her first lipstick
It feels like every day we wake up a celebrity announces their makeup brand is on the horizon, but we're not mad about it. Sure, it can be a bit overwhelming, but having more options is good news for everyone. It keeps prices lower and means that an abundance of different formulas and shades will be available for the masses. The latest celebrity to dip her toes in the beauty brand waters is none other than Bella Thorne.
Bella recently teased her first lipstick on social media and confirmed that her own line is in the works after a fan asked her what shade she was wearing. Bella Thorne is a total makeup lover, so it makes sense that she's making her way into the beauty industry.
We don't have any information on the collection other than Bella's Instagram photo, and it looks like the lipstick is a matte formula in a pretty red berry shade. Hopefully, it'll be available soon, so we can wear it during the summer months. It would look lovely paired with a floaty summer dress.
While we don't know what other products will be included in Bella Thorne's makeup collection, we know lipsticks are part of the lineup.
Now we're wondering if she's teased anything else in other photos. It's time to put on our detective hats and start scouring her social media for clues. The actress has been talking about making her way into other business ventures, so it's exciting to see that this is her next step.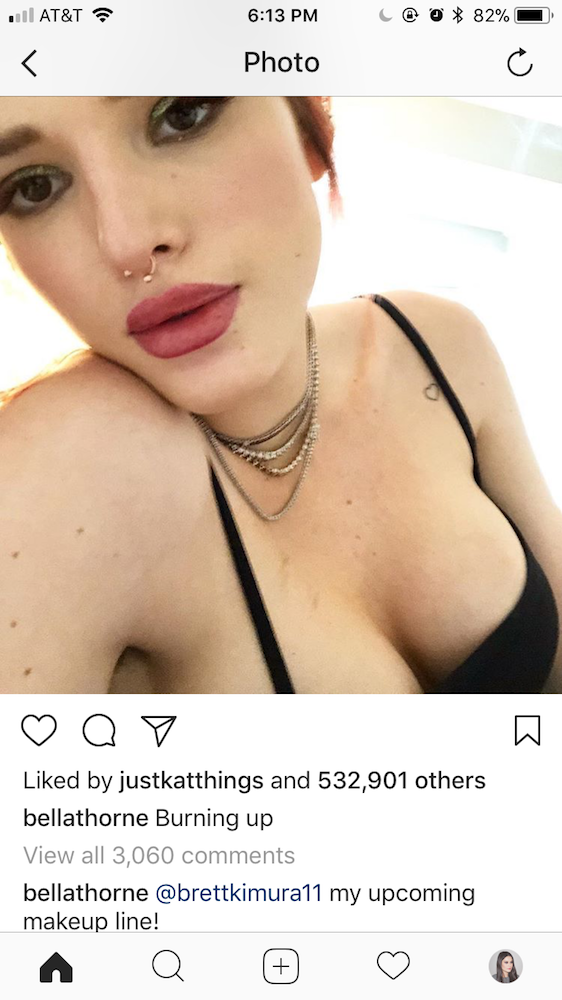 Keep those eyes peeled for more hints about the line, and when we can expect it to land.