Legit or Leave It: Bella Thorne used beer to lighten her hair, and we have questions
In our monthly column, Legit or Leave It, we explore whether certain beauty trends are an act of brilliance or total B.S. Experts school us on skin care myths, overhyped makeup products, and other beauty topics that may cause side-eye . 
Another day, another DIY beauty hack from Bella Thorne. The actress, who has in the past changed our lives with her tip to use a pencil to intensify freckles and beauty marks as a distraction from any unwelcome zits, just shared an Instagram video in which she appears to be doing a quick hair rinse…using beer?
https://www.instagram.com/p/BvKgq52FWu4
"For everyone harassing yes it's beer," Thorne captioned the video. "It naturally lightens ur hair and people say it's good for u. My next film my hair has to be hunny blonde, saving me a trip to the salon."
We talked with a couple of hairstylists to get the scoop on this beer sorcery, and it turns out that it's legit. (Though, you should definitely proceed with caution.)
Celeb hairstylist and owner of Beauty Social Salon, Angela Calisti, who actually does Bella Thorne's hair when the actress is in New York City, says:
"The alcohol content in beer is known to clear out any buildup, much like a clarifying shampoo, helping it strip away any artificial color."
Calisti adds, "To do it yourself, you can soak your hair in beer, wrap your hair in a plastic cap, and wait at least 30 minutes. To see results, you will have to repeat frequently, but too much of anything will dry out the hair. This treatment will only slightly change your hair in appearance, so if you are looking for a drastic color change, you are better off leaving that to a professional to make sure you are getting the desired results and maintaining your hair's health."
Calisti isn't alone in that belief. "While it's not going to be a very dramatic lift, beer can lift hair color very subtly," says Jason Lee, hairstylist and owner of Jason Lee Salon in Toronto, and colorist and stylist at Serge Normant at John Frieda in New York. "Beer is considered acidic in terms of PH levels (like lemon in its natural state). Those who would see any real difference are natural medium to light brunettes. That said, be prepared for some orange undertones because beer will taunt out those hues."
Lee actually recommends another controversial DIY ingredient to lighten hair:
"If you're looking to naturally brighten your blonde, I would suggest lemon over beer, in case beer stains your hair. That said, any kind of lifting action could possibly taunt out brassiness in blondes," he says.
If you want to dip your toe into the world of beer hair care in a less DIY way, shop the beer-infused hair products below.
Broo Invigorating Shampoo and Conditioner
Notes of mint, geranium, and rosemary make this shampoo and conditioner refreshing, too.
Haslinger Bier Shampoo
Made with Austrian ale, this shampoo is supposed to be great for treating dandruff.
Duffy's Brew ESB Craft Beer Shampoo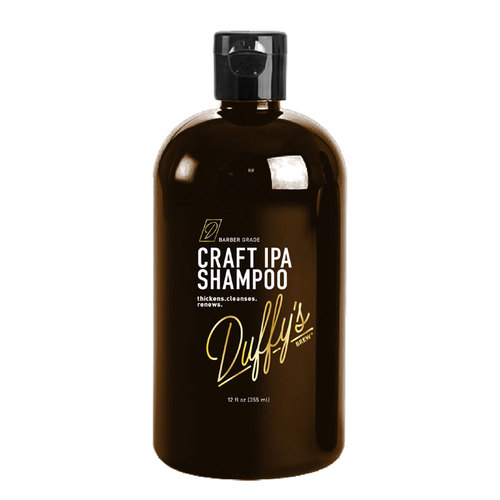 The spiced mahogany and caramel fragrances complement the beer scent of this shampoo, and leave hair looking shiny and healthy.