Bella Thorne celebrated her birthday at a cat café, gives us major FOMO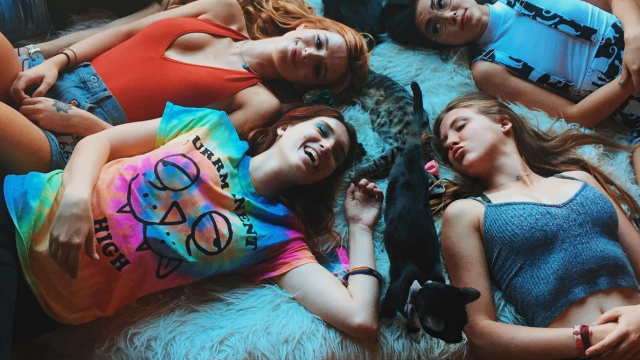 Look, it's not like we expected an invite to Bella Thorne's birthday or anything. But when we saw the pictures she posted on Instagram we experienced a serious case of FOMO. Her 19th birthday celebration looked like our picture-perfect version of a party: she had it at a cat café.
Yup, a cat café. As in a café filled with cats, aka our heaven. Bella invited a group of her closest girlfriends to Crumbs & Whiskers in West Hollywood for an afternoon of drinking coffee and lounging with some adorable kitties.
She captioned a photo of her lying on the floor with a pal in the cat café, "Birthday starting off right with lots of laughs and kitties. #19 #love #kitties #saturday." Bella is a girl after our own hearts. All we need in this life is laughter and good friends. And kittens.
Even though Bella clearly has a heart for cats, she's also a dog lover, too. After her cat café shindig, her boyfriend Tyler Posey posted a picture of him snuggling up to Bella and a sweet pup with the caption, "I love these women. My red haired beauties. Happy birthday my love @bellathorne. Sorry I was a couple hours late, I was too distracted by your face."
https://www.instagram.com/p/BLVhuoIl8O9
Ah, to be young, in love and surrounded by kittens. Happy belated, Bella!