Bella Hadid's new baby bangs slay, but are they real?
Bang up job, Bella Hadid! The 20-year-old supermodel did one of the things she does best, and shut down the crowd with a *stunning* beauty transformation. Bidding adieu to her usually long locks, Bella rocked short baby bangs  at the Spanish Steps in Rome. Basically, it was worthy of ~another~ iconic star's banged hairstyle who also took a liking to the Spanish Steps (cough, Audrey Hepburn in Roman Holiday, cough).
And while the mid-forehead bangs are obviously made for Bella's gorgeous face, we're not totally convinced that they're here to stay. As in, they may be some clever clip-in bangs, Just think about it.
As a supermodel whose job it is to switch up her beauty looks in an instant, that's a pretty drastic haircut to commit to long-term. Clip-in bangs, however, are much easier to swap in and out, and allow Ms. Hadid to keep her signature cut *and* still be able to experiment with trendy new 'dos.
But whether or not said bangs are "real," who cares? Bellas looks dayum good either way!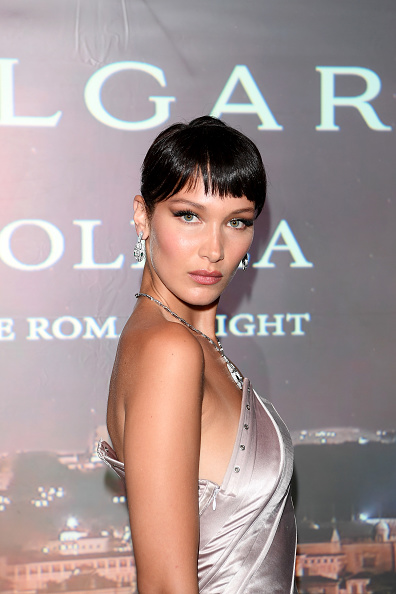 https://www.instagram.com/p/BUfi5gdhEoo
The social media sensation took a break from galavanting around the Cannes Film Festival with besties Kendall Jenner and Hailey Baldwin to promote her all-new Bulgari fragrance. As part of the launch event, the model descended the Spanish Steps in a truly showstopping vintage John Galliano gown, clad in — what else —but Bulgari jewels. And if her new scent, Goldea, The Roman Night, smells half as good as this presentation looks, then it's bound to be a best-seller in no time.
And back to the baby bangs…if they *are* real, then Bella sure knows how to rock the hell out of them!