Bless Bella Hadid who said she was "sewn into" her Met Gala catsuit and couldn't pee
Just under two weeks ago, we were blessed with what the fashion gods call the Met Gala. The event was honoring designer Rei Kawakubo and her label Commes des Garçons, and it was a night when the fashion set and celebrities alike had the chance to wear looks out of their wildest sartorial fantasies. Bella Hadid's catsuit was one of the talking points of the night, and now we're even more impressed with the sheer, bejeweled unitard because Bella just admitted she couldn't even pee in it. Designed by Alexander Wang, the outfit was so form-fitting, it turns out that Bella had to be literally sewn into it.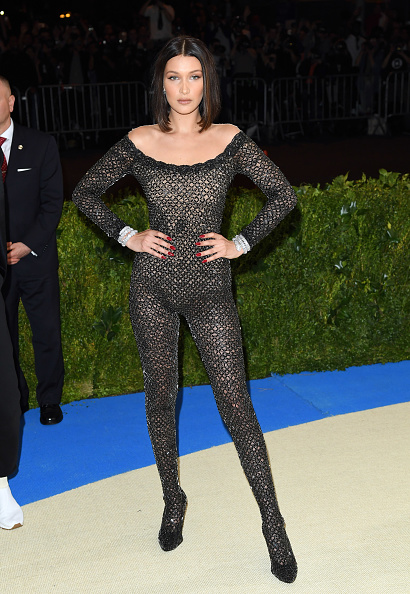 Bella told Harper's Bazaar UK,
"It was nerve-wracking. I couldn't pee because I was sewn in from the top. I put my foot in the wrong part of the leotard at one point, so I had to take it off and put it back on again. It was a hassle, but worth it."
Thankfully, Bella was an amazing sport for this. In the interview, she shares how much she trusts Alexander Wang, and that she's grateful he asked her to wear the jumpsuit because it's not something she would have thought of.
Another plus side to the look? The fact that it was so comfortable. Better believe that being both cozy and fabulous is as great as it sounds. In the interview, Bella said, "I was the one person who could actually sprint on the red carpet, so that was pretty ace." We love the idea of Bella skipping down the Met Gala carpet in this look! We just hope she didn't have to pee too badly!