Bella Hadid has a really good outlook about surviving a breakup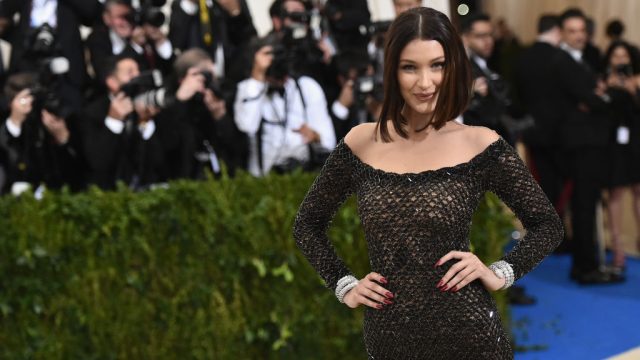 Although our logical brains know that our self worth isn't tied to our relationship status, that's a really hard thing to remember when you're in the midst of a breakup. Because breakups are terrible, even when it's for the best. If you're going through it these days, just know that they're terrible for everyone. Even Bella Hadid, who has some good breakup advice (or just a really good outlook on how to get through it all).
Ever since her breakup from The Weeknd last year, Hadid's been lauded for how "well" she handled the whole thing. Sure, most of us run into our exes only when we're randomly hungover on a Sunday morning, and Hadid got to see hers on the Victoria's Secret runway, but her attitude is still something people can learn from.
She told Grazia this month that she did her best to not focus on the lost relationship, but on her own self care. That's often easier said than done, but it is possible. The model said, "It's like I'm finally getting to the point where I can just think about what I want to do and the places I want to go."
"I want to be as independent as possible and worry about myself rather than anyone else."
That's not an easy thing to do, and it's definitely, like, stage FIVE of a breakup. And when you're in stage one or two, it can seem impossible. But eventually everyone gets to that point. Hadid said that it wasn't always a smooth ride. She told Teen Vogue earlier this year, "It was my first breakup…and so public. As an outsider, you might think I handled it so well, but it's always in your heart, and you always feel it very heavily. It'll be hard for a while." Hadid added:
"Love hurts, but you have to pull through."
That's no easy task when you're heartbroken, but if you can channel Bella Hadid's good attitude, it might get easier. Maybe. Trying on a backless Alexander Wang jumpsuit might help, too.