Bella Hadid Posed With Pregnant Gigi to Joke About Her Own "Bun in the Oven"
Auntie Bella loves to troll.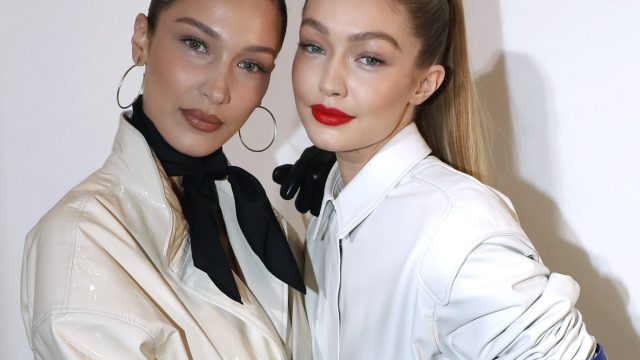 With sister Gigi Hadid due any day now (or, perhaps already a mom-of-one), Bella Hadid had to share a photo from earlier in Gigi's pregnancy. In a September 15th Instagram post, both Hadid sisters showed off their "buns in the oven," with Bella joking that she was expecting a food baby whereas Gigi is expecting the real deal.
June 11, 2020 …🖤 Bella began her caption, adding, two buns in the oven except mine is from my burger and gigi's is from @zayn.
Bella tagged Gigi's partner, Zayn Malik, and wrote "I love you both so freaking much," ending her caption with "can'tstopcrying." Bella must be one of those "moms-to-be" who doesn't really show her pregnancy much— her food baby stomach is more toned and flat than ours is pre-burger. Even so, we love this super cute sister moment captured in the pic.
Gigi hasn't been sharing much pertaining to her pregnancy, aside from a few photos from a shoot earlier this summer. She explained in an Instagram Live back in July that she feels there are more important matters at hand to use her platform for than showing off her pregnancy.
"I'm pregnant through a pandemic," she said in July. "Obviously my pregnancy is not the most important thing going on in the world. That's a reason that I felt that it's not really something that I need to share apart from with my family and friends."
"A lot of people have lost lives due to coronavirus that was in the beginning of quarantine and still happening," she continued. "And then we moved obviously into the reemergence of the BLM movement, and I thought that our presence on social media should be used for that."
Could Bella's post and "can'tstopcrying" caption mean that Gigi and Zayn have welcomed their baby into the world? Perhaps. But with their ability to keep things on the down-low, baby Malik's arrival most likely won't be announced until much later down the road.