Bella Hadid opens up about how she's coping after her breakup with The Weeknd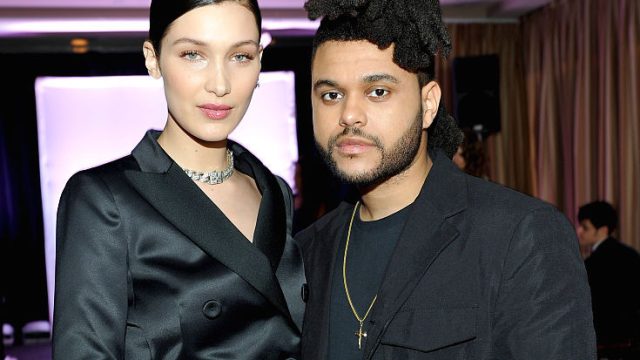 Just three weeks before the Victoria's Secret Fashion Show in Paris back in November, Bella Hadid and The Weeknd broke up. As far as the public could tell, she seemed to be in good spirits and coping pretty well, given the circumstances (she walked in the show while The Weeknd performed).
The Victoria's Secret Fashion Show was obviously a hugely publicized event, so Hadid probably felt like she needed to put on a strong face so people would assume she was fine. Because talking about a tough breakup RIGHT after it happens isn't anyone's idea of a good time.
Hadid even posted an Instagram photo where she calls out The Weeknd (AKA Abel Tesfaye) for being so incredible. She wrote,
"I can't believe it! 💘💘💘 I was smiling SO HUGE on the inside I promise!!!! The most fun and nerve racking experience of my life but I wish I could do it over and over and over again!!!!! 🎀🎀Thank you @theweeknd for being the best and most incredible performer on the planet. You KILLED it, as always 😍 ❤️ And not enough thank you's to @ed_razek @10magazine @johndavidpfeiffer @monica.mitro and the whole VS family!!!💕🙏🏼💗🎀thank you for believing in me I love you all so so so much 💗💗💗💗"
Since Hadid is just like anyone else going through heartbreak, her social media didn't paint the full picture of how she was really feeling.
And that's totally fine. She doesn't owe an explanation to anyone. But she did admit to Teen Voguethat she is still hurting more than she has let on.
"It was my first breakup ... and so public," Hadid told Teen Vogue. "As an outsider, you might think I handled it so well, but it's always in your heart, and you always feel it very heavily. It'll be hard for a while. Love hurts, but you have to pull through."
But her respect and love for her ex is unwavering.
"I'll always respect him, and I'll always love him," she said. "Sometimes you want to be sad about it or handle it differently, but at the end of the day, you never want to burn a bridge that you've fought so hard to build."
We hope her heart continues to heal.