Bella Hadid and The Weeknd were spotted kissing in Cannes, so they're *probably* back on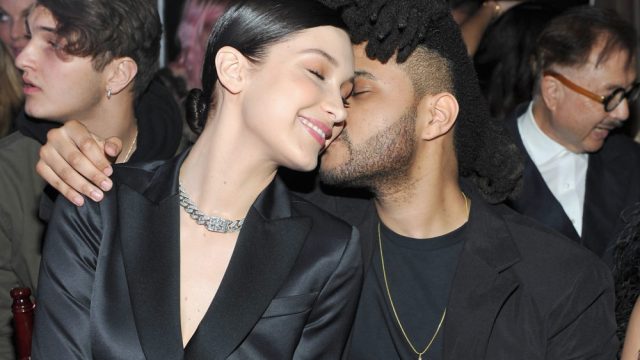 Exes Bella Hadid and The Weeknd were spotted kissing at the Cannes Film Festival on Thursday, May 10th, so seems like they're very much together again. The newly reunited couple dated from 2015 to 2016, called it quits in November 2016, and The Weeknd famously went on to date Selena Gomez. Eventually, Gomez and The Weeknd split and he released the EP My Dear Melancholy, where he crooned on "Wasted Times" about his desire to get back to Hadid.
Cut to Coachella 2018 and Hadid and The Weeknd were spotted "canoodling," though there are no photos of this supposed interaction. When E! News reported on the Coachella sighting, Hadid jokingly responded to the outlet on Instagram, writing "it wasn't me."
Well, it probably was her, because the happy couple was spotted both canoodling and kissing this time around, and there are photos to prove it. Hadid and The Weeknd attended the Magnum x Alexander Wang VIP Party (she's an ambassador for the ice cream collaboration) at the 2018 Cannes Film Festival. A Los Angeles Times reporter at the same party wrote that "the two spent the majority of the night at the center of the room in a VIP area, huddled close together as he placed his hand on her back and they kissed intermittently."
Obviously, those photos above only indicate that two exes greeted each other at a party in Cannes — to see images of Hadid and the Weeknd kissing, you can witness those here.
We love a good Hollywood reunion, so keep on keepin' on, kids.