Bella Hadid directly addressed speculation that Drake sings about dating her on his new album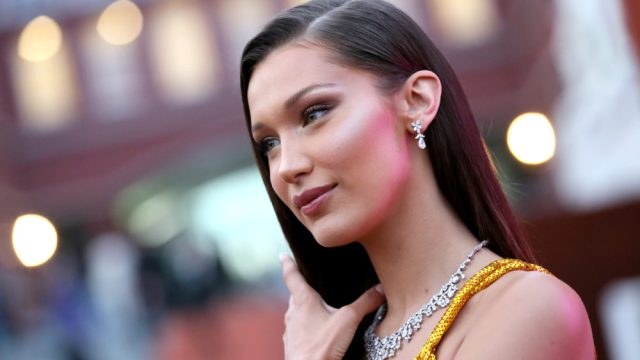 As every Drake fan surely knows by now, the rapper released his new album, Scorpion, in the early hours of June 29th. And while many listeners were initially preoccupied with the reveal that Drake does, in fact, have a son (he sings about his experience as a single father on the tracks "Emotionless" and "March 14"), others wondered who, exactly, he's singing about on the track "Finesse."
And many speculate the song is about model Bella Hadid.
Drake and Bella were spotted together several times last fall, and Drake even threw her a 21st birthday party. However, neither party ever confirmed or denied a romance. But some fans were confident that the "Finesse" lyrics pointed squarely back to Bella.
"I want my baby to have your eyes
I'm going against my own advice
Should I do New York? I can't decide
Fashion week is more your thing than mine
I can't even lie, I'd rather stay inside"
And:
"You and your sister
Too hot to handle
Things would get cancelled
I would make time for you
Commitment
Going the distance
I'm new to all of this"
It seems like Drake is definitely singing about someone in the world of New York fashion who also has a sister…so we can definitely see why some fans instantly thought of Bella. HOWEVER, Bella has officially shut down the rumors, firmly maintaining that she and Drake are just friends.
"Not me!!! that's disrespectful. WHY CANT PPL BE FRIENDS W/o all the insinuation"
So there you have it, people. Not only is "Finesse" not about Bella, but she'd (understandably) like fans to respect her platonic friendship with Drake — and we get it. It's hard enough being in the public eye, and constant speculation about one's dating life likely doesn't make it any easier.
Now, excuse us while we listen to Scorpion on repeat.