Bella Hadid sneakily addressed rumors that she spent Coachella with ex-boyfriend The Weeknd
It can be easy to get caught up in the love lives of celebrities, especially when they involve your favorite couples. After Bella Hadid and The Weeknd were reportedly spotted kissing at Coachella, fans were over the moon at the possibility of a reunion. However, the 21-year-old model has officially set the record straight over the reconciliation rumors.
On Sunday, April 15th, multiple news outlets reported that the former flames, who split in November 2016, were kissing at a Coachella after party. Eyewitnesses told Us Weekly that the two "were canoodling and being affectionate as she sat on his lap," while another onlooker told People.com that The Weeknd and Hadid "definitely looked like they were fully back together."
No pictures or videos of their alleged reunion surfaced online, nor did Hadid or The Weeknd — whose real name is Abel Tesfaye — post any photos together. So it seemed we'd just have to take the "sources'" words for it.
That is until now: Hadid has firmly stated that there's no truth to the rumors. After E! News reported on Instagram that the two were spotted "kissing all night," Hadid quietly took to the comments section of the post.
"It wasn't me," she wrote alongside a shrug and a detective emoji.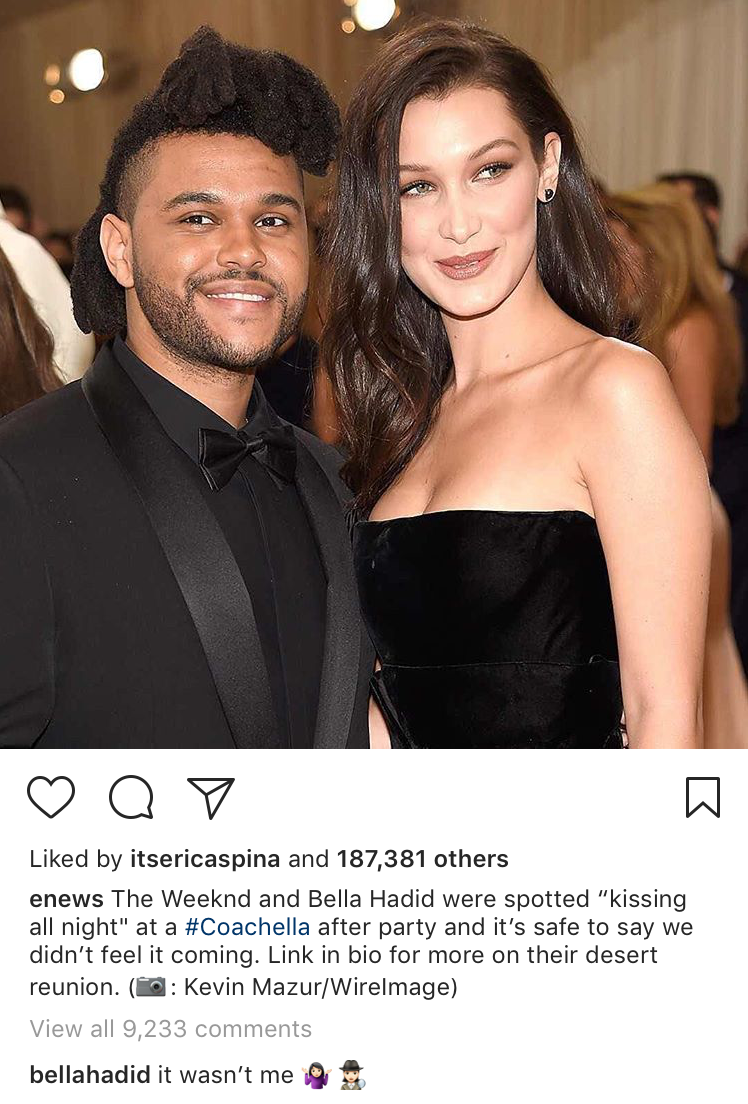 So until either Hadid or The Weeknd confirm a reconciliation is, in fact, happening, we're going to assume that's not the case. Thanks for the clarification, lady (not that you should have to provide it in the first place).