These behind-the-scenes pics of the "Will & Grace" reunion promo shoot will get you so excited for the new season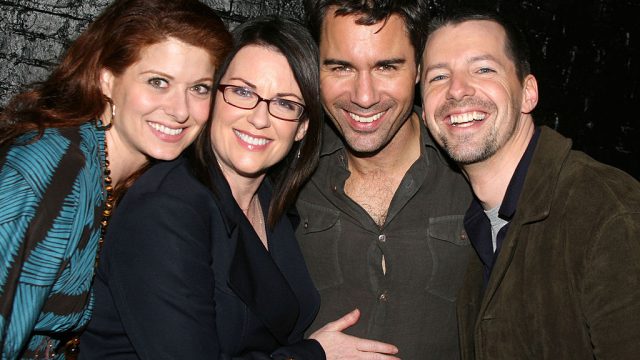 For a long while, we wondered if the much-anticipated Will & Grace reunion would ever happen. Now that we definitely know it's going down, every day we get more excited to see the gang back together. And, from these recent posts of the Will & Grace cast, it looks like the gang is just as happy about the reunion as the rest of us.
After teasing us a couple weeks ago with some delightful pictures, the stars of the original show and upcoming 10-episode revival are back at it again.
Eric McCormack, Debra Messing, Sean Hayes, and Megan Mullally got together for a recent promo shoot. Though we have yet to see the official footage from the day, they posted some super fun pictures on their personal accounts that have us buzzing with anticipation.
These guys can obviously take an awesome selfie, given the epic nature of this picture.
Clearly the bond between these hilarious performers is as strong as ever.
It looks like Karen and Jack will be back at it again with their goofy antics.
And leave it to Karen (aka Mullally) to make us laugh the hardest with one simple wisecrack.
Their infectious smiles and enthusiasm for this show's reunion are making us so stoked to see the new episodes.
If this short promo shoot is any indication, this talented crew are going to have the time of their lives filming together this summer. Plus, the new episodes are being executive produced by the same showrunners from the original show ~and~ the director of every episode of the original run, James Burrows, will also be returning to direct. So they'll be surrounded by all sorts of familiar friends and super funny people.
We absolutely cannot wait to see this fun in action.