Behati Prinsloo opened up about postpartum depression, and we're listening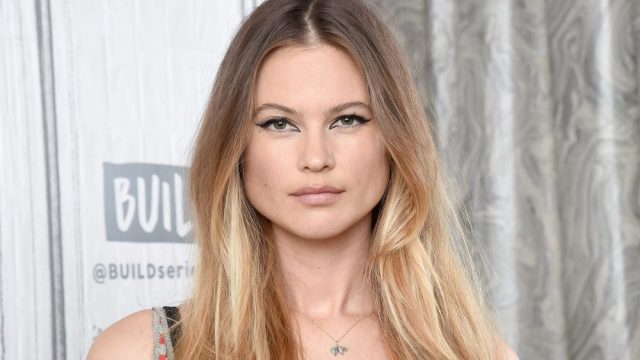 For many new parents, postpartum depression is a very real struggle that can make adjusting to life with a baby even more difficult. Despite how common the condition is, though, it's still highly stigmatized—which is why we're always glad to see people opening up about it. Recently, Victoria's Secret model Behati Prinsloo talked about her own struggle with postpartum depression and offered a message to others who might be going through it, too.
In a June 19th interview with Today, Prinsloo shared that she struggled with her mental health after the birth of her first daughter, Dusty Rose (now 2). Thankfully, she said that she had a lot of support from her husband, Maroon 5 frontman Adam Levine.
"I had moments of postpartum [depression] after our first baby that I felt like it was coming through," she said. "But my husband was so incredibly supportive and always got me out of it. I think it's very normal, though, as a young mom and a new mom to feel helpless and to feel overly emotional, you know."
The model continued by noting that while her depression wasn't severe, "you can still see yourself spiraling." She encouraged other new parents feeling overwhelmed to seek help.
"I think that the message is just that it's never too little to ask for help," she told Today. "So no matter how small your feelings and stress—or whatever it is about being a new mom—there's always help out there and support from family and friends. And I think nobody judges anyone."
This isn't the first time Prinsloo has talked about her postpartum challenges. She first shared her experience in a January interview with Net-a-Porter, saying "it was difficult to get back into normal life" after Dusty was born. She also said that the period after the birth of her second daughter, Gio, now 1, was easier.
"It was easier for me to work out, breastfeeding was easier," she said. "No one pressured me to return to work, not even Victoria's Secret, who I was under contract with—they never asked me when I was going to be back."
According to the American Psychological Association, as many as one in seven women suffers from postpartum depression. Given how pervasive it is, it's important to be open about it. We're glad to see Prinsloo speaking up and working to end the stigma.