Behati Prinsloo is being mommy-shamed for pumping and dumping her breastmilk at Coachella, and what else is new?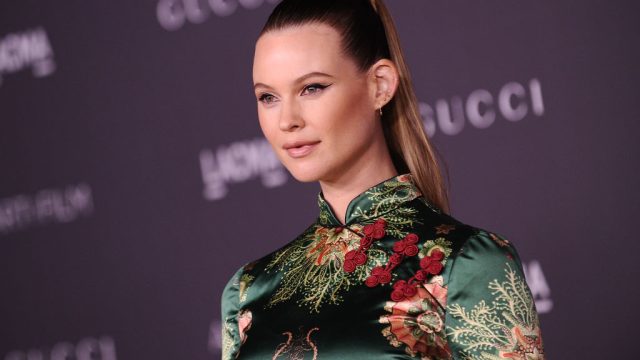 Another day, another mother being shamed on the internet for just doing her best. The internet seems to have a serious problem with the choices mothers make, famous or not. The latest mommy-shaming victim? Model Behati Prinsloo.
When Coachella kicked off last weekend on Friday, April 13th, the shamers and commenters were already out in full force. Kylie Jenner and Kourtney Kardashian were roasted for attending the music festival. The reason? They thought the mothers should be home with their children. Also, they thought the women should have never left sister Khloé Kardashian's side after she gave birth on April 12th. Speaking of Khloé Kardashian, she was also mommy shamed before she even had her daughter, True Thompson. Khloé was shamed for traveling while she was eight months pregnant, though we think we can go ahead and assume she had her doctor's approval.
And now, Behati Prinsloo is being mommy-shamed. On Friday, April 20th, Prinsloo Instagrammed a pic of herself pumping at Coachella. But that's not what people are upset about. They're upset about the caption (which she has since deleted): #pumpanddump. In case you are unfamiliar with the term, "pump and dump" is when someone pumps their breastmilk and has to discard it for any reason. Meaning, Prinsloo pumped breast milk and threw it away rather than saving it for her daughter Gio, who was born in February.
Can we stop mommy-shaming celebrities, please?
This technique is often used when a breastfeeding mother wants to get rid of alcohol in her system. Though there are many different studies discussing whether or not "pumping and dumping" removes alcohol or drugs from your system, it's a common thing that many moms do.
However, "pumping and dumping" is also a technique for when a mom is away from her baby and can't carry the milk around for a prolonged period of time. So maybe let's all chill out about Behati? It's up to her what she wants to do with her body.
Instagram user jazmagic06 wondered, "But whhhyyy? There is really no reason to pump & dump unless you are trashed."
"When you're the worst mom ever who prefers going at Coachella instead of staying with your just born child. Soooo pathetic!" wrote user annesophiethellier. If that wasn't rude enough, they also said, "She's doing her slut at Coachella instead of being with her just born child! What a mother!"
"zero class!" added Instagram user julieyak1stphorm.
Many people decided to tell Prinsloo what her milk is good for. Instagram user clairy_bear1 commented, "Breastfeeding for 6 months now! Don't pump and dump, bath baby in the milk, it's sooo good for their skin! #liquidgold"
And user alekr92 simply commented, "attention seeking sponge," which is just a downright ridiculous thing to say.
People need to chill out. What Behati does with her body is her own business.
Prinsloo, who has two daughters with husband Adam Levine, is probably most certainly aware of her options. We don't know where she was or what she was doing when she needed to pump, and it's none of our business. We just hope she isn't reading the comments. But if she is, she'll definitely see some supportive ones too!
"Aren't women fricken amazing. To make & nourish another life. Now that's a superpower!!!" wrote Instagram user avalon_skin.
"Ignore all the hate for the dumb people getting on you about pumping and dumping!!! It's ridiculous the hate you are getting! A lot of moms have frozen back up milk and do this! Even if you don't you are just being responsible!! Sorry you are dealing with all the ignorance!" user shannonbeaubier commented.
And fellow model and actress Brooklyn Decker commented, "Same. Right now. Same." We love to see mamas supporting mamas.
The mommy-shaming thing needs to stop.
Sadly, as long as we share pictures, people will share their opinions about them. Keep doing you, Behati. You're a great mom!