Behati Prinsloo proudly showed off her pregnant belly on Instagram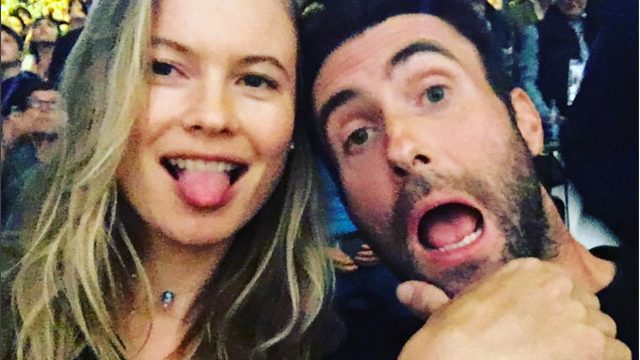 Behnati Prinsloo's pregnancy with her hubby Adam Levine has already been a pretty exciting one. The pair are totally adorable together wherever they go and she has been proudly showing off her baby bump (and looking gorgeously glowing in doing so) for a while now. Even her superstar husband has been happily showing off his wife's bun in the oven.
And her latest Insta post showing off her pregnant belly is actually pretty epic. Not only because her eggo looks so adorably preggo, but because her caption and sticker flair she's added to make the picture pop (as much as her belly) are pretty amazing.
I mean, the level of cuteness on here is pretty amazing, and not just because it's punctuated by a giant rainbow and some playful Facebook stickers. Let's start with her simple caption "Belly button still on point lol" which points out that at least her belly button is doing well amongst all this huge motherly growth. And then she added all sorts of rainbows and kittens and sunshine and candy to really add to playfulness of the picture.
Like… she added a ton of it to make it so over-the-top it's hilarious. Either that or the nesting instinct has really pushed her over the edge (temporarily!) It's freaking adorable, whatever the cause. And from these two sillies, it's exactly what we expect!
From the looks of it, these pregnant belly pictures will soon be (hopefully) replaced with pics of the beautiful little baby pictures. And from the pure gorgeousness of the parents, we highly doubt they'll need any little stickers to make each pic even cuter (though, of course, she is more than welcome to because we do love us some silly stickers!).